FAQ - Frequently Asked Questions
On average, WSOU gets more than a 500 e-mails a week with all sorts of records. We try to respond when we can, but since just about everyone at WSOU is a fulltime student, we simply can't reply to all the e-mails we receive. So before sending us a question, please see if your question is answered in our FAQ. We've grouped our FAQs based on the common questions we get from listeners, bands, students and others. Read them all or jump to the topic that interests you.
Thank you for being curious about WSOU!
Listeners
How do I make requests?
Simply call or text 973-761-9768 (WSOU)
Do you take e-mail requests?
No, we cannot check our e-mail minute-by-minute, so it is best to call or text your request to 973-761-WSOU (9768). Our DJs try their best to look at our Facebook page and Twitter feeds, but calling/texting is the most effective way to get a hold of us.
When can I make a request?
The request lines are open 24 hours a day.
Your signal does not come in so clear, can I listen online?
Yes, by clicking the "Online Streams" graphic in the middle of WSOU.net. You can also listen to WSOU on your mobile devices via the iHeartradio App available for download at http://news.iheart.com/go/radio_app/
Do you have an app for my phone?
Yes! WSOU is partners with iHeartradio.com, which offers apps for most types of mobile devices. Simply visithttp://news.iheart.com/go/radio_app/ to download your app so you can start listening to WSOU.
What are the rules regarding contests and giveaways?
Band Demos, Airplay, Interviews & New Music

Bands/Promoters – Before submitting music to WSOU, please make sure that the music fits with WSOU's format or specialty shows. Since 1986, WSOU has been playing almost exclusively heavy metal and hard rock music, so pitching us singer-songwriter, country, jazz, or EDM for general rotation makes no sense. If you do your homework and send submissions that make sense for WSOU, we will do our homework by checking your music out!

Can I send my demo to WSOU?
Part of WSOU's mission is to nurture new music. To that end, if you are an unsigned band, please send your demo to Street Patrol, WSOU's program dedicated to local and unsigned artists:
Street Patrol
WSOU-FM
Seton Hall University
400 South Orange Ave
South Orange, NJ 07079
wsoustreetpatrol@gmail.com
You may also send your CD to our music department:
WSOU-FM
Attn: Music Dept.
Seton Hall University
400 South Orange Ave
South Orange, NJ 07079
wsoumusic@shu.edu

All incoming CDs go through the music department, and are forwarded to the proper show producer/host. If your CD isn't accepted for our new music rotation, the most likely place it will go is the show for local and unsigned bands known as Street Patrol. However, if appropriate, your demo might go to a specialty show like Punk University or Under The Stars.
Does WSOU accept demos via mp3 files or links?
No. We've had too many problems with bad and infected files to risk opening up attachments of any kind. As for links, we are flooded with e-mails every day and often do not have time to follow every link sent to our music staff. If you want your music to be heard, it is best to send a CD.
What should I send along with my CD?
Please remember to send a press kit or "one sheet", as well as your contact information and what genre you consider the band to be. If you have a lyrics sheet, you should send that as well.
How do I get my band an on-air interview?
All interview requests must go through our music department. You can make your pitch to wsoumusic@shu.edu / 973-761-7546.
What drives the music department the most nuts?
Bands and representative who have no clue about our format and what we air. It simply makes no sense to pitch WSOU, a loud rock station, a solo acoustic artist or pop artist. When pitching yourself or a band to 89.5 FM, please do your homework and tell us why the band's sound fits our sound. Please don't assume that because we are a college station we will air just about anything.
Programming
Can I view your playlists online?
You can check out all new music playlists every week at https://open.spotify.com/user/wsou?si=d83d2d4b2fb04fcf
How do I get a Public Service Announcement on WSOU?
If you're a nonprofit organization, please send your PSA to wsounewsdirector@shu.edu. Please understand that we cannot air all the PSA requests we receive, but we do our best to help local organizations.
Is it true that WSOU isn't a typical college radio station?
We are a non-commercial radio station licensed to Seton Hall University. Unlike many other college radio stations, WSOU plays one kind of music, loud rock, instead of having blocks of different kinds of music. It also takes much longer to become a DJ on WSOU than it does at most college stations.
I thought you were a loud rock station, why does the music change at certain times during the week?
WSOU's core format is Modern Active Rock and that accounts for most of our programming hours. You can hear our unique mix of heavy metal, hardcore, punk and hard rock Monday – Friday from 6am to 8pm and again from midnight to 6am. WSOU does offer "specialty shows" every night from 8pm to midnight and many of these shows, such as Punk University, For the Record, Under The Stars, Street Patrol and Vintage 80s, complement our format by digging deeper into a particular genre that makes up our regular rotation mix of music.

Saturday mornings and Sundays are also a bit different on WSOU. Saturday mornings feature a variety of news and public affairs shows, plus music on Quest. Sundays is a mix of religious and ethnic programming.
Seton Hall is a Catholic University, does WSOU have any Catholic programming?
Yes, we do. In partnership with the Office of Campus Ministry, WSOU airs Mass live from Our Lady of Sorrows Church in South Orange every Sunday at 10 a.m. Father Frizzell, Director of our Institute of Judeo-Christian Studies hosts The Kinship of Catholics and Jews on Sundays at 11:00 a.m. WSOU also carries a number of other Catholic programs including Personally Speaking with Father Jim Lisante and Christopher Closeup.
Why does the radio station at a Catholic university play heavy metal music? Isn't it anti-religious?
We know that our music might sound scary to some, but the music played on WSOU is actually much more family-values friendly than the sexually-charged lyrics you'll hear on a hit radio station. Many non-WSOU listeners are surprised to learn that 89.5 FM regulars such as Demon Hunter, Norma Jean, As I Lay Dying, For Today, Beartooth, and Underoath are Christian bands. All songs on WSOU are screened for content to ensure that lyrics do not undermine the mission and values of Seton Hall University or the Catholic Church. If a band or song isn't appropriate for WSOU, we don't play it.
How WSOU supports the University's mission?
WSOU's ongoing support of Seton Hall University's mission is too extensive to be fully listed in a short FAQ. However, the station's support of the university can be seen in several key examples: 1. Within the College of Communications and the Arts, WSOU provides invaluable support to academic departments, while also increasing awareness of faculty, departmental, and other achievements through news reports, interviews, and on-air announcements. 2. WSOU's students and professional staff offer direct educational and technical assistance to SHU students involved in broadcast courses. 3. More than 200 announcements promoting Seton Hall undergraduate and graduate open houses as well as specialty certificate and online courses were broadcast on 89.5 at no charge in FY 13. 4. WSOU was the only broadcast outlet for Seton Hall women's basketball games, as well as baseball, softball, and men's and women's soccer. The station continued to broadcast men's basketball, making WSOU one of the few student-run stations in NCAA Division One that does a full schedule of play-by-play for all its school's men's and women's basketball teams. 5. The station provides free promotional announcements for the Archdiocese of Newark and is key emergency communications conduit for South Orange and Maplewood. In short, if it's part of the University's mission, the station is likely doing something that supports it. These are just a few of the ways WSOU annually supports the mission and values of Seton Hall University.
Staff & Membership
How can I become a staff member of WSOU?
You have to be a member of the Seton Hall University community. Students, faculty and administrators can apply at the beginning of each semester and applicants will be interviewed. Accepted candidates will take a course teaching the standards set forth by WSOU, Seton Hall University, and the FCC. After the course is over, candidates will take a test and must pass it in order to be a fully accepted member of WSOU. Only undergraduate and graduate students can be designated as WSOU Staff Members. Faculty and administrators may participate at the station but they are not considered staff members.
Students who are interested in joining the staff of WSOU may fill out an online application or email the station manager at wsoustationmanager@shu.edu. Faculty and administrators may contact the WSOU programing director at wsouprograming@shu.edu.
Can people not affiliated with Seton Hall University be part of the station's membership staff?
No.
Can individuals not affiliated with Seton Hall University get shows on WSOU?
On Saturday mornings and for most of Sunday, WSOU airs a number of public affairs, religious and community programming shows. These are hosted, in some cases, by community volunteers. WSOU's community programs, such as Polka Party, Arab Caravan, and Quest are designed to serve "under-served" audiences. If you want to propose a public affairs show or community program to WSOU, please contact Jennifer Kajzer, General Manager, WSOU-FM, Seton Hall University, 400 South Orange Ave., South Orange, NJ, 07079 or jennifer.kajzer@shu.edu.
Seton Hall University
WSOU, which began broadcasting in 1948, is the student-run, award-winning radio station of Seton Hall University. Visit the Seton Hall Home Page to learn more about the University and to apply.
Visit Seton Hall
Listen Live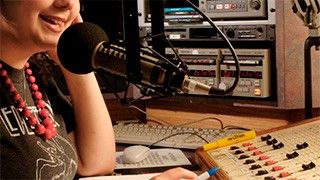 Stream Now
Listen to 89.5 WSOU online live from your computer of mobile device.
Merchandise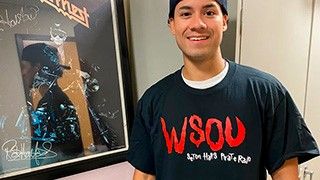 Online Store
Check out the WSOU online merch store and rep the LOUDEST rock.