WSOU Celebrates 70th Anniversary
Date: April 18, 2018
This past weekend WSOU celebrated our 70th Anniversary with a reunion dinner. Over 260 people consisting of current members and alumni of WSOU united on this special occasion to share memories and honor exceptional staff. To honor former exceptional staff three honorees were inducted into our Hall of Fame; Frank Garrity '82, Bishop John O'Hara '67, Professor Stanley Kosakowski, and the Young Alumni Honoree was Gabby Canella '12. All WSOU Hall of Fame inductees can be found on our alumni page.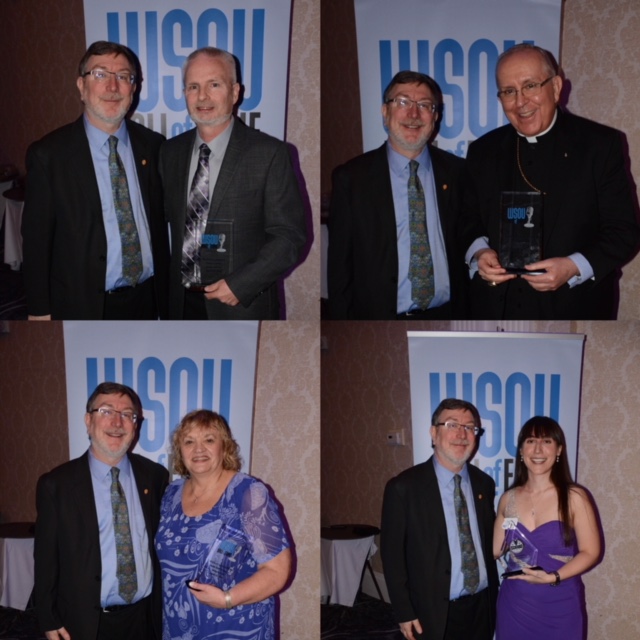 Photos provided by Sarah Yenesel. Awards recipients with Mark Maben, WSOU General Manager. Top left; Frank Garrity. Top right; Bishop John O'Hara. Bottom left; Marie Zach. Bottom right; Gabby Canella.
WSOU has been on the air since 1948, and has been broadcasting the loudest rock since 1986. Throughout the generations, WSOU staff members have been successful in the radio broadcasting field. Thanks to WSOU and its 70 years of broadcasting, many students have learned the trade and gotten a feel for the radio industry. 
"WSOU really helped me develop my voice on and off the air. The station has given me the confidence to make persuasive presentations in law school, and the skills to adapt to new situations." Brian Kane '16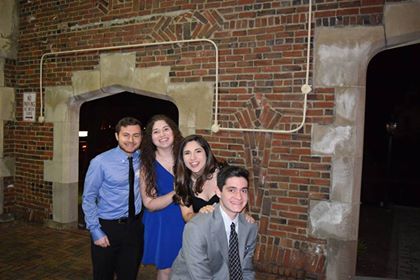 Picture submitted by Katie Fatzler. From right to left; Giancarlo Carnavale '16, Katie Fatzler '16, Jocelyn Rogalo, and Robert Towey. WSOU's four most recent News Directors. 
"It was incredible to see and be with so many people who all shared the same start in radio. Whether we went on to join the industry or not, WSOU helped so many students get to know themselves better. It offers so many students opportunities they would never imagine. I'm so grateful for that and for the life-long friends I know I've made through WSOU. It was amazing to have most of them in the same room that night, celebrating what connected us together from the beginning - WSOU." Katie Fatzler '16
"Having a passion for sports broadcasting, WSOU has provided me not only on-air experiences, but the knowledge of how a successful radio station runs. The professionalism within our broadcasts in WSOU sports, from our live tweeting to our presentation bumps, inspires me to be the best broadcaster I can be. Finally, the friendships I have made with the staff members at WSOU has been so impactful since each of us share a love for not only the medium of radio, but the motivation of becoming better in the field of communication." Frank Frasco '19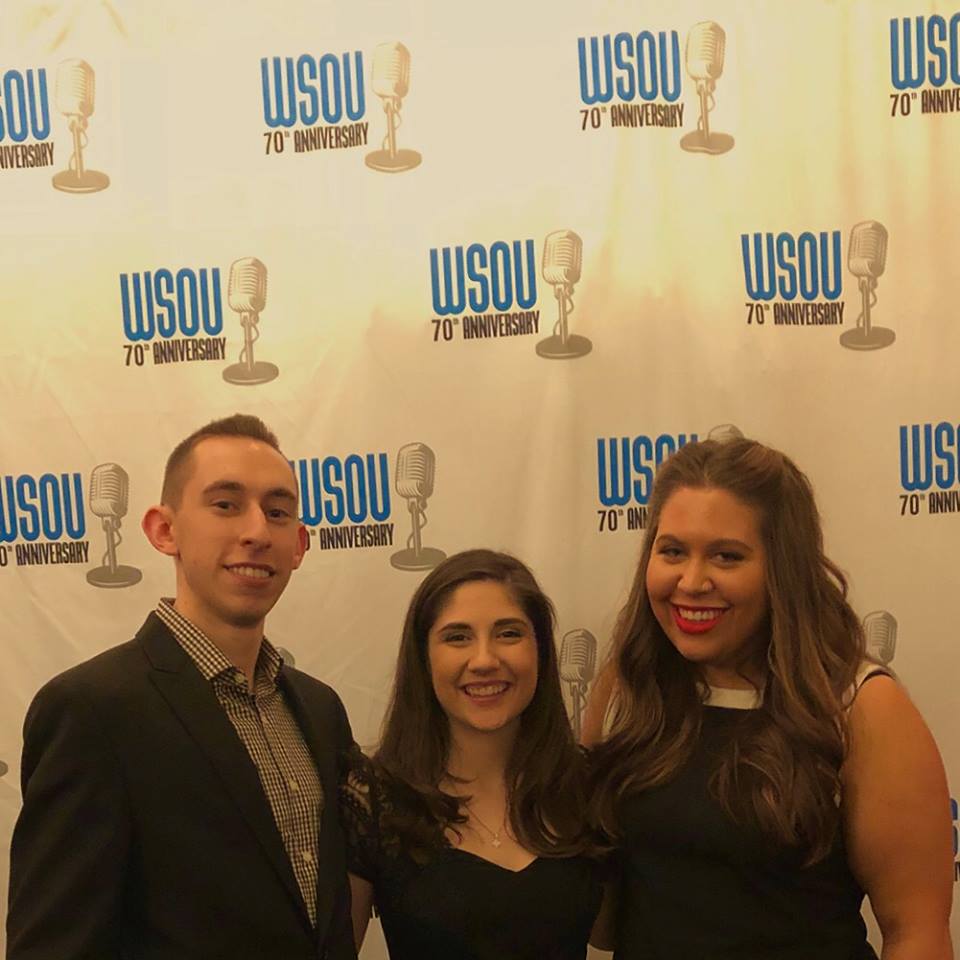 Picture submitted by Tim Veiga. From right to left: Tim Veiga, Jocelyn Rogalo, Leah Scalzadonna.
"Five years ago, I walked into WSOU for the very first time, totally unprepared for how life changing it would be. We weren't just a team… we became a family. Reflecting on my experiences as we celebrate 70 years of radio magic, I'm just grateful to have played a small part in it. I wouldn't change a single thing, and I have a feeling I'm not alone in that," Tim Veiga '16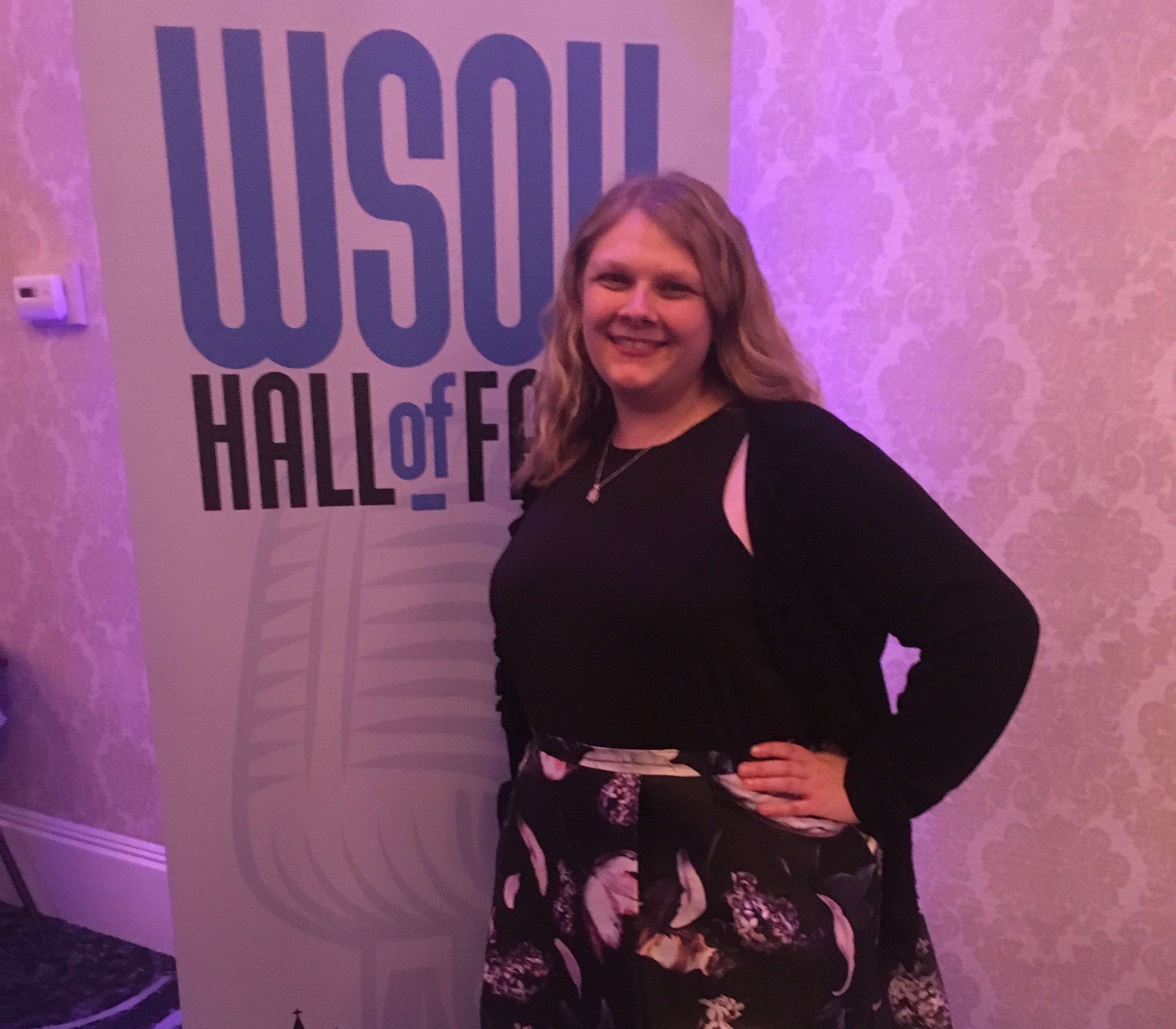 Picture submitted by Erin Kelly.
"WSOU has given me a second family at Seton Hall and friendships I hope last after graduation. WSOU is my heart and soul and too see so many people under on roof who share a love for the station- it's a powerful thing." Erin Kelly '19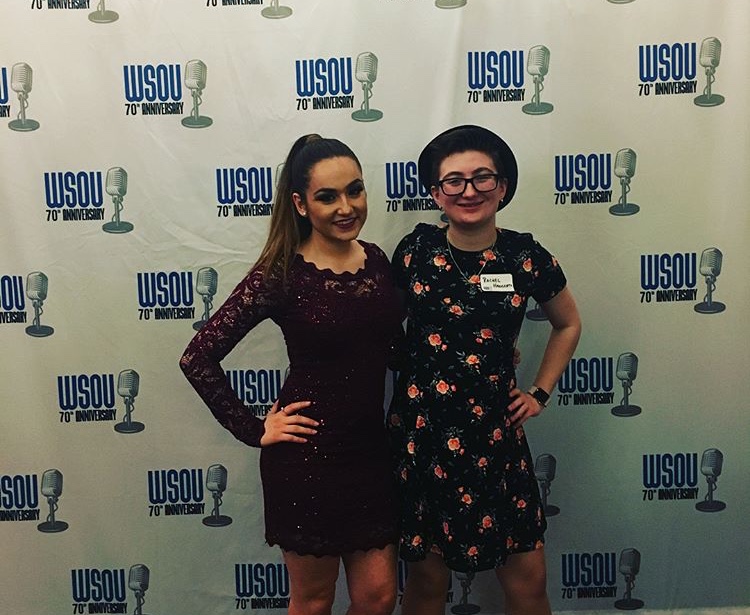 Picture submitted by Rachel Haggerty. From right to left: Tayla Frey, Rachel Haggerty. Social Media Manager and Technical Operations Director. 
"WSOU has opened up a whole new world for me. I don't know where I would be without it. I've learned how the radio business works, and I've fallen in love with it. After I graduate, I will continue to listen to and love WSOU." Rachel Haggerty '19
Posted in: Alumni, WSOU, WSOU Hall of Fame