Top 10 play-by-play announcers of all time
Date: November 18, 2020
By: Michael Daly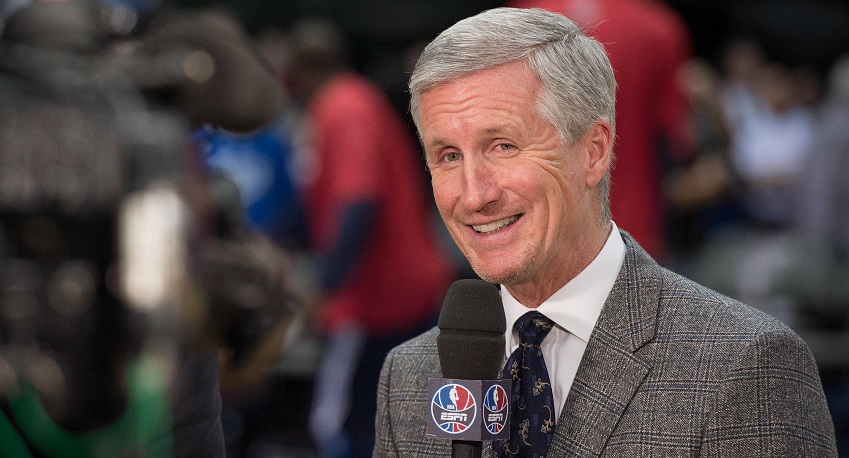 Jerome Miron/USA TODAY Sports
Children across America grow up watching sports on television and they idolize athletes who inspire them. There is one important person who makes the experience of watching sports on television second to none. That person is the play-by-play announcer.
Since the 1930s, sports broadcasters have played such an important role in the fan's experience because they make sense of what is taking place on the screen. A good broadcaster could make the difference between a fan turning a game off or staying tuned. The play-by-play announcer serves as the narrator of the action and they use the game as a canvas to paint the picture by describing the game.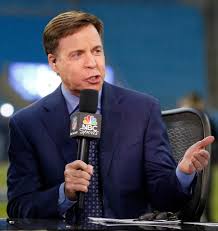 Associated Press
Fans grow close to their team's announcer and they become accustomed to their home play-by-play announcer calling their games. National play-by-play announcers become the voice of an entire league based on a network's broadcasting rights. Several national announcers have stood out as elite play-by-play men amongst their peers.
This list includes national and local play-by-play announcers who began their careers in the 1940s and announcers that are still calling games. The announcers on this list have called basketball games, baseball games, football games, hockey games, and boxing matches.
Honorable Mention: Mike Patrick, Dick Stockton, Mike Tirico, Mike Breen, Lindsey Nelson, Bob Costas, Jim Lampley, Curt Gowdy, Joe Buck, and Verne Lundquist
10. Jim Nantz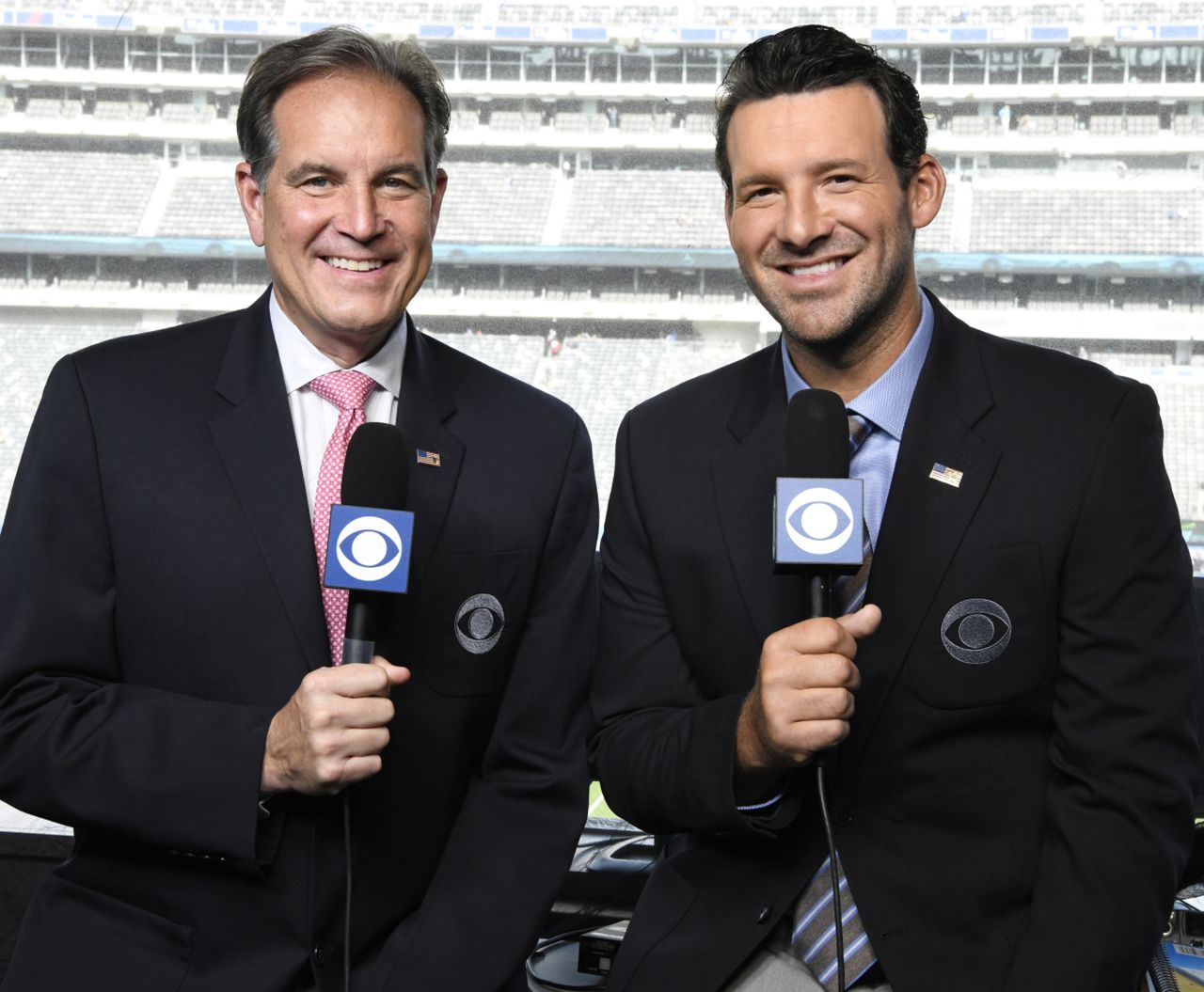 John Paul Filo/CBS
Nantz has been the face of CBS Sports for more than 30 years with his experience calling NBA games, college football games, college basketball games, NFL games, and golf matches. CBS' three biggest sporting events are the Final Four, the Super Bowl, and the Masters. Nantz broadcasts all three events for CBS and he is an extremely versatile play-by-play announcer.
Whenever Nantz is on a broadcast, it must be a big game because he is a topflight broadcaster, regardless of the sport. He doesn't seem to be slowing down any time soon and he still has many years left broadcasting.
9. Keith Jackson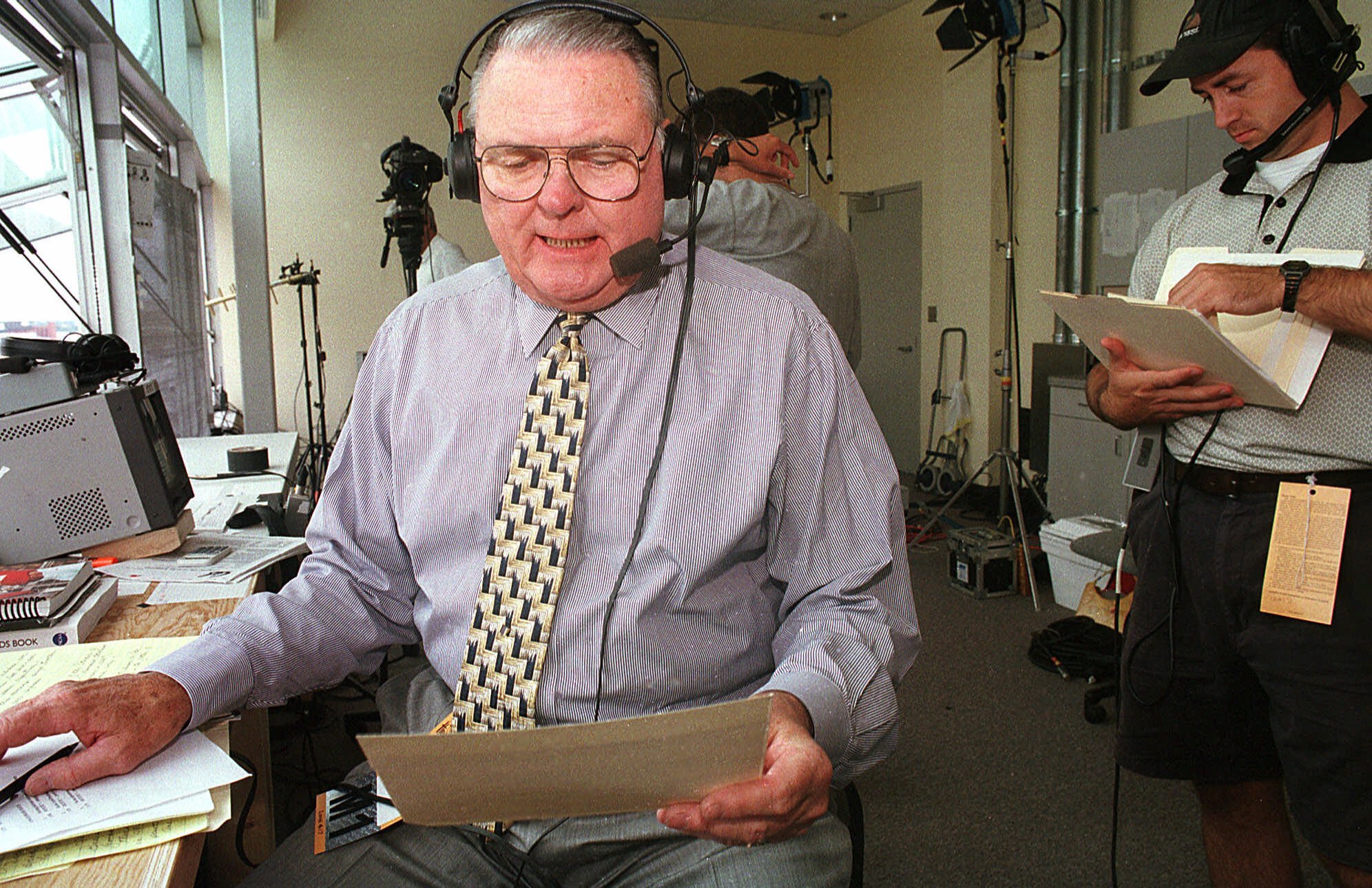 S.E Mckee/Associated Press
'Whoa, Nellie,' was a catchphrase Jackson coined and it could be heard on a television tuned into ABC every Saturday during a college football game. Jackson was known most for his time as the lead college football announcer on ABC from 1966-2006. He was the play-by-play announcer for "Monday Night Football" during its inaugural season in 1970.
He also was the lead play-by-play announcer for ABC's coverage of the MLB in the 1970s. Jackson's voice was synonymous with college football until his retirement following the 2006 Rose Bowl. Jackson called the biggest college football games on a yearly basis and he found ways to capture the biggest moments with his unique Southern drawl.
8. Brent Musburger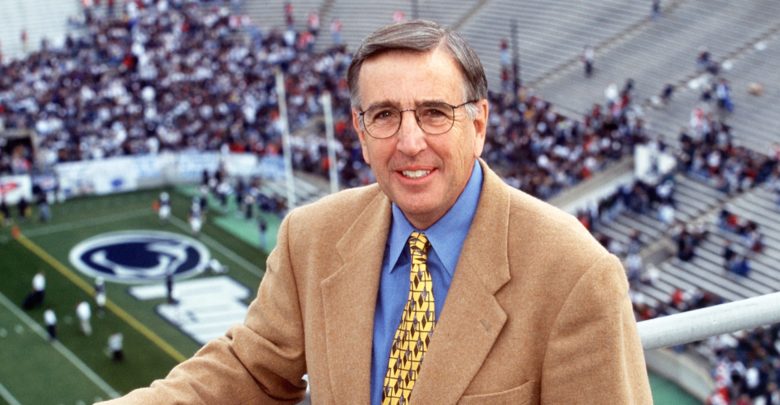 ESPN Images
Longevity is the best word to describe Musburger's career because he has been broadcasting at a high level since the 1960s. Name a major sporting event and Musburger has probably called it or at least covered it in some capacity. He rose to prominence working at CBS as a play-by-play announcer for their NFL games and NBA games. He was known for his in-studio hosting role at NFL Today and that was a pivotal pregame show in the NFL's broadcasting history.
Eventually, he moved over to ABC in 1990 and called college football games, college basketball games, and NBA games. Towards the end of his time as a national broadcaster, he was ESPN's top play-by-play college football announcer. He remains in broadcasting as the radio play-by-play announcer for the Las Vegas Raiders.
7. Jack Buck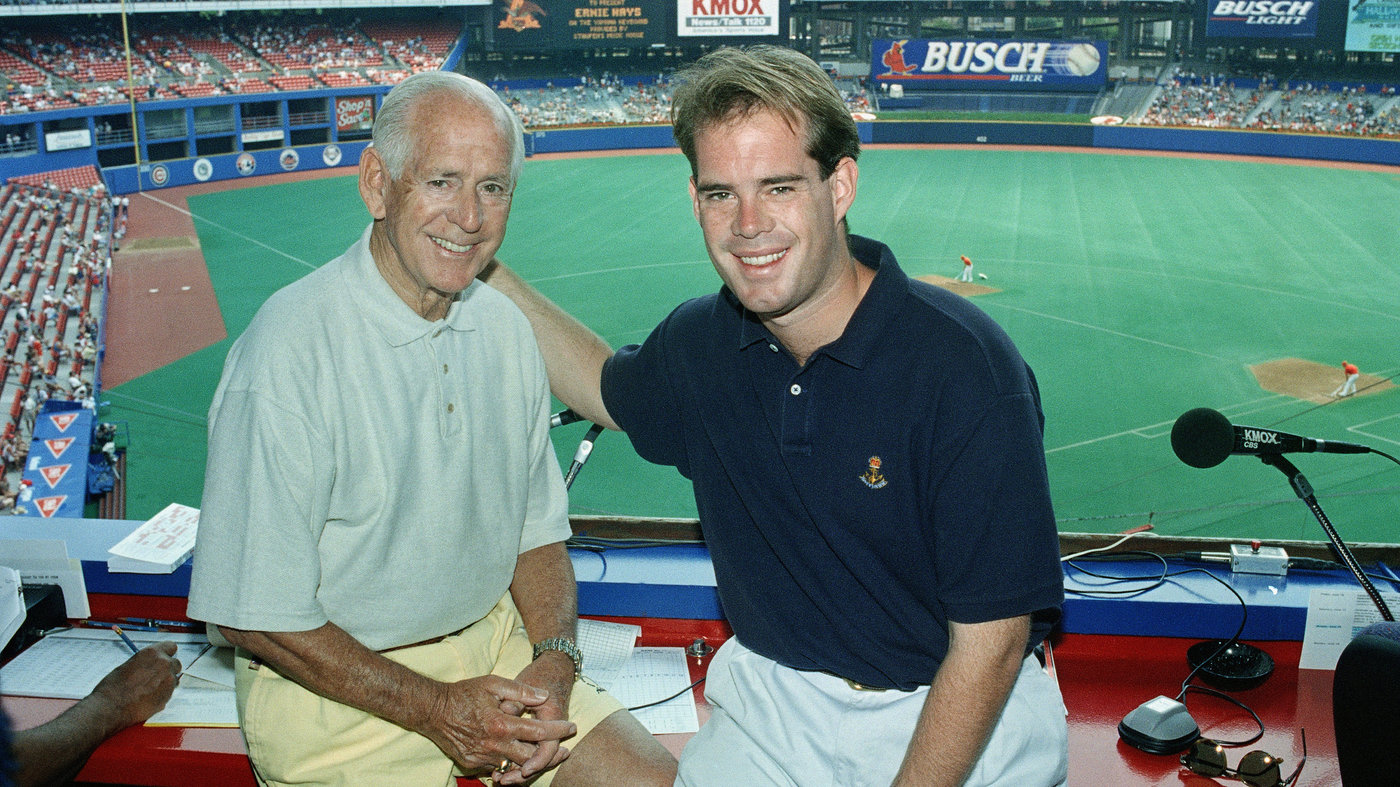 Leon Algee/Associated Press
Buck famously called MLB games on CBS for their television and radio broadcasts for over two decades. Buck was the top MLB announcer for CBS until 1991. He also announced NFL games as a play-by-play announcer for CBS on TV and the radio.
On a local level, Buck was a long-time radio and TV play-by-play announcer for the St. Louis Cardinals. He was the voice of the Cardinals and he eventually worked with his son, Joe Buck, on Cardinals' games. One of his most notable sayings were, "We'll see you tomorrow night." In the 2011 World Series, Joe honored his late father by saying his signature phrase at the end of game six when David Freese hit a walk-off home run.
Buck's legacy lives on through his son and the time he worked with Tim McCarver at CBS will be remembered as one of the greatest announcing teams in MLB history.
6. Dick Enberg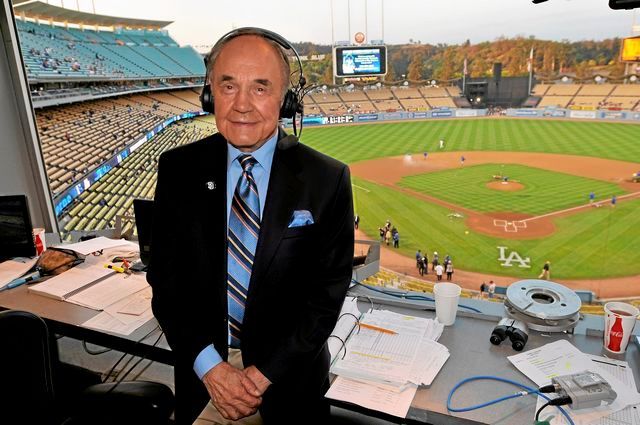 John McCoy/OC Register
Enberg started his career as the voice of Los Angeles sports as the radio announcer for the UCLA Bruins men's basketball team, the Los Angeles Rams, and the Los Angeles Angels. He voiced the "Game of the Century" in 1968 between UCLA and the University of Houston.
When he joined NBC Sports in 1975, he stepped into a role as the network's lead sports broadcaster and he covered all of the major professional sports, as well as collegiate sports. Enberg announced Olympic events on NBC during his 25 years with NBC.
When he switched networks to CBS in 2000, Enberg announced PGA events, NFL games, college basketball games and tennis. During the final six years of his career, 2010-2016, Enberg was the television voice of the San Diego Padres and he retired at 81-years-old.
5. Marv Albert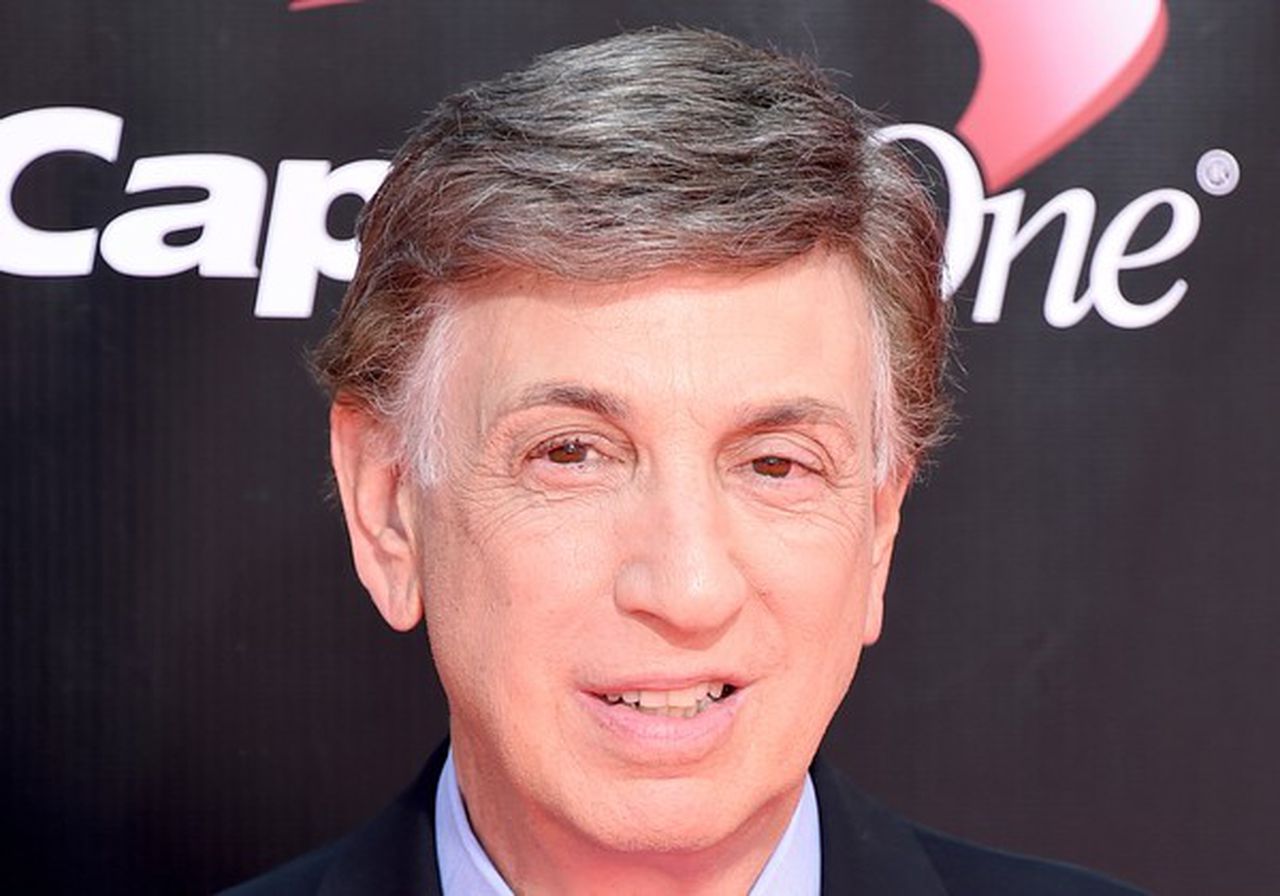 Jordan Strauss/Invision/AP
Albert was the voice that a generation of New York Knicks fans and NBA fans resonated with based on his omnipresence announcing NBA games. He was the radio voice of the New York Knicks, New York Rangers, and New York Giants for several decades. He was the radio and TV announcer of the Knicks from 1963 until 2004.
On a national level, he was the lead play-by-play voice for NBC Sports' NBA coverage from 1990-2002. He later moved over to TNT and assumed the same role as the company's top NBA announcer. That is a position he remains in currently. He has experience calling football, both locally and nationally, on television and radio for CBS and Westwood One.
Albert's "YES!" call is easily the most simplistic, yet accurate call a broadcaster has ever made during a basketball game. He is nearing the end of his career, but he has aged like fine wine behind the mic calling the biggest sporting events.
4. Pat Summerall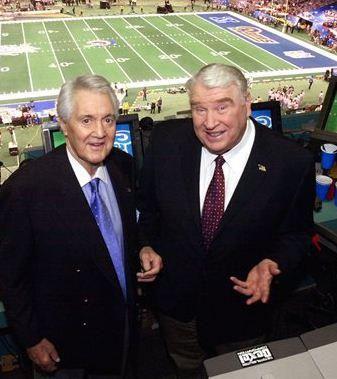 Ric Feld/Associated Press
No other play-by-play broadcaster was better at describing a play by saying more with less words. Summerall was a kicker in the NFL prior to the start of his broadcasting career. He started out as a color commentator on NFL broadcasters, but he eventually transitioned to the play-by-play role with CBS.
His broadcasting career took off when he was paired with former Oakland Raiders head coach John Madden. The pair became the sport's premiere broadcasting team, and they were together for nearly 20 years. In 1994, Summerall and Madden switched networks from CBS to FOX and Summerall remained as the lead play-by-play announcer for NFL broadcasts.
Summerall called a total of eight Super Bowls and his legacy will live on as one of the greatest play-by-play announcers in NFL history. The NFL may never see a player transition to the role of a play-by-play announcer in the same fashion as Summerall.
3. Al Michaels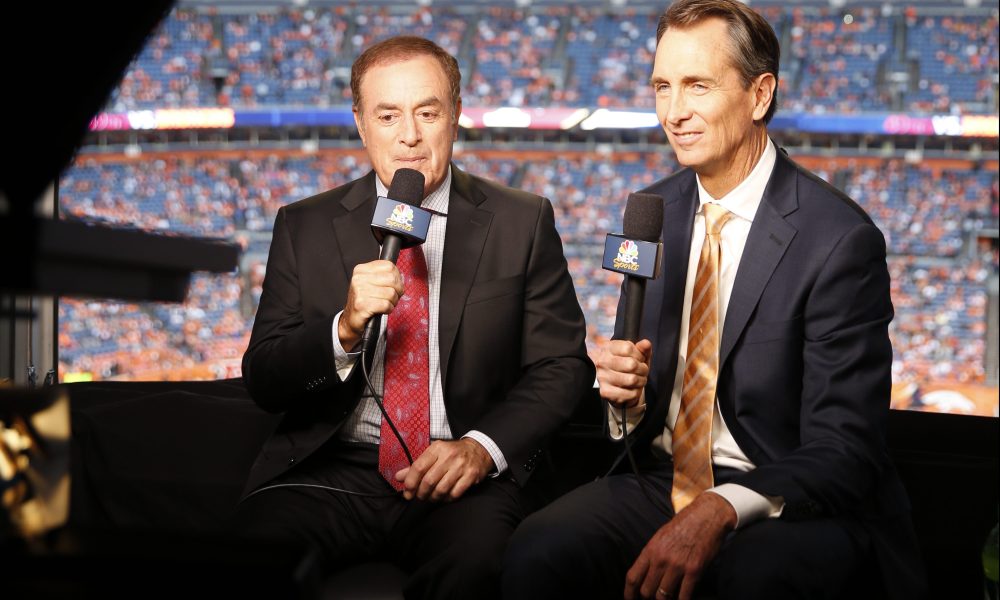 USA TODAY Sports
Michaels continues broadcasting at a remarkable level at this stage in his career. Michaels can be connected to many sports moments like the "Miracle on Ice" or the plethora of Super Bowls he has called throughout his career. During his time at ABC Sports, Michaels was the "Monday Night Football" announcer from 1986-2006. He also called several NBA Finals for ABC in the early 2000s.
In 2006, his contractual rights were traded to NBC in exchange for the rights to Oswald the Lucky Rabbit and highlight rights to the Olympics. Michaels teamed up with Madden on "Sunday Night Football," who he previously worked with at ABC. His career has hundreds of memorable moments and his talents has never withered throughout his 40-plus years announcing on a national stage.
2. Mike "Doc" Emrick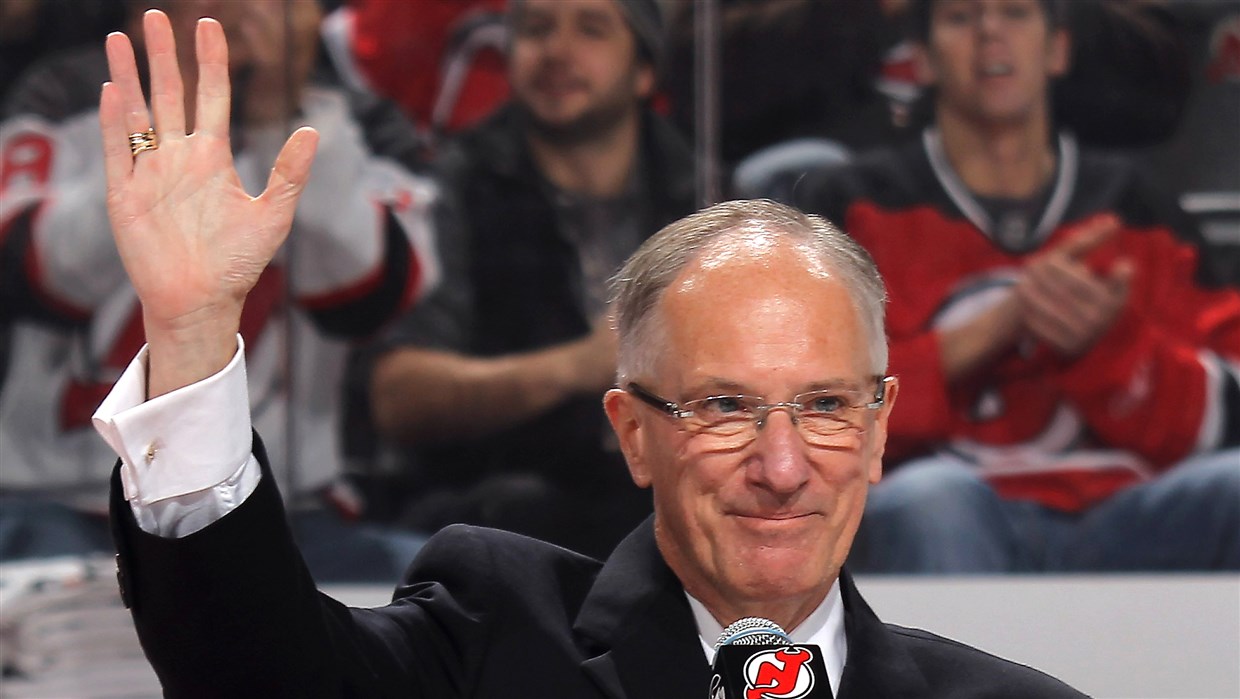 Bruce Bennett/Getty Images
"Doc" Emrick retired from broadcasting NHL games in October, but his career will never be duplicated. When it is all said and done, Emrick's career will be remembered as the pinnacle of NHL play-by-play broadcasting. Hockey fans remember him for his time as the lead national announcer of hockey broadcasts on ESPN, FOX, ABC and NBC, but he was the long-time play-by-play announcer for the New Jersey Devils until he stepped down in 2011.
Emrick had the ability to insert his vocabulary in a way that television broadcasts had never seen before. He always knew the right things to say at the perfect moment in a game. The Stanley Cup will not be the same without Emrick in the booth calling the series because he called 22 Stanley Cup Finals throughout his career. In addition to his work as the lead NHL announcer, he was the lead play- by-play announcer for five of NBC's Olympic hockey coverage.
1.Vin Scully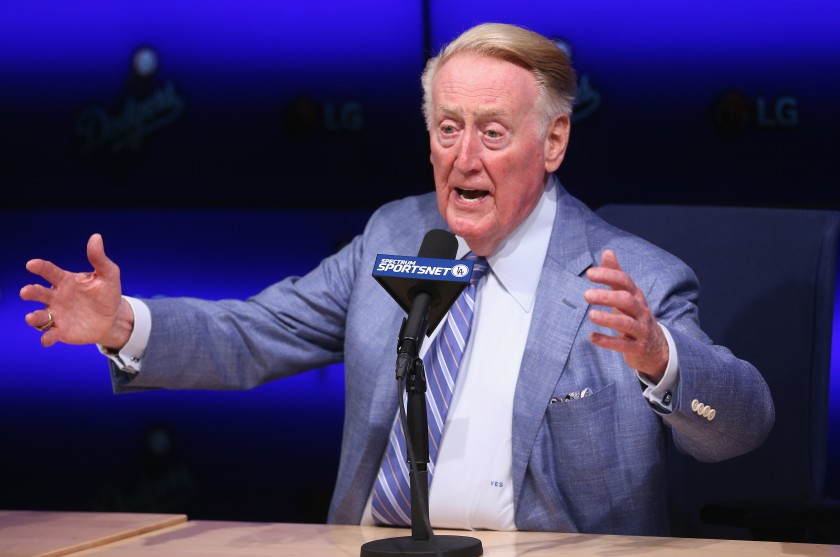 Stephen Dunn/Getty Images
Scully was the voice of the Brooklyn/Los Angeles Dodgers from 1950-2016, which was a run that probably will never be broken by any other local broadcaster. He was more recognizable than some of the legends who played for the Dodgers. His warm and soothing voice comforted millions of Dodgers and baseball fans for nearly 70 years.
In 1982, Scully was awarded the Ford C. Frick Award for his excellence in broadcasting MLB games. In 2016, President Barack Obama awarded Scully the Presidential Medal of Freedom honor for his public service.
Baseball was not the only sport Scully called on a national platform. He was a play-by-play announcer for CBS Sports' NFL coverage from 1975-1982. He moved to NBC in 1983, and he was their top baseball play-by-play announcer for six seasons. Scully had a passion for announcing the Los Angeles Dodgers well into his 80s, and his voice continues to be missed in the game.
Michael Daly is the station manager of 89.5 FM WSOU, and can be reached at wsoustationmanager@gmail.com.