The Best Uniforms in CFB: Week Three
Date: September 23, 2022
By Chris Kiely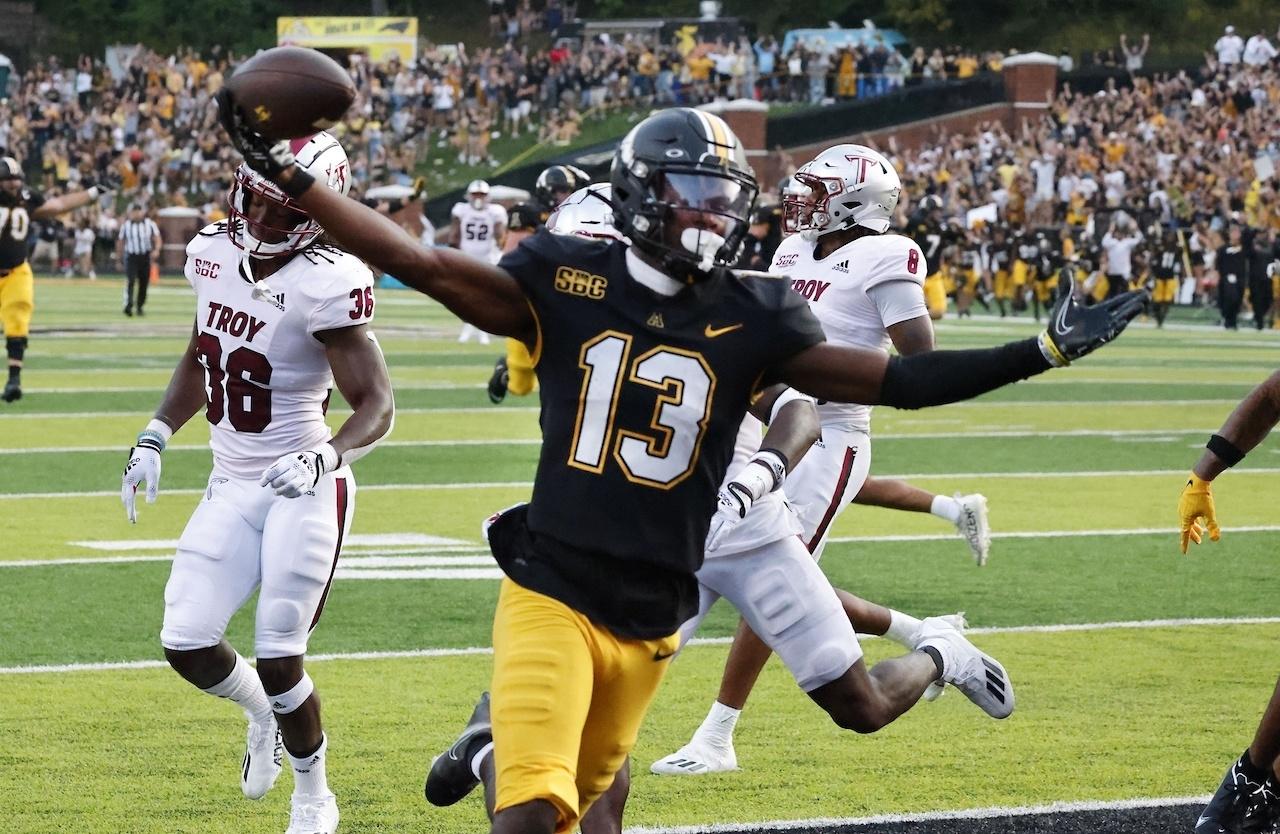 Reinhold Matay/USA TODAY Sports
Week Three was a Saturday that can be characterized as "Bounce back Saturday" for a multitude of teams. Schools like Texas A&M and Oregon had embarrassing moments in previous weeks, and both had massive wins on Sept 17.
In the world of college football, a season for many teams is a complete and total roller-coaster: you have peaks, and you have valleys. Teams are never guaranteed repeated good or bad performances.
One thing that is guaranteed in the college football season is a uniform matchup you have never seen before, but you will want to see it repeated every year from now on.
As the #1 pick for this week shows, you can have teams that you never considered, play just one time, and you will compare photos of their game to the painting of the School of Athens.
This week's honorable mentions include Florida State's whiteout versus Louisville's black and red, as well as South Florida versus No. 18 Florida.
With that, here are your best uniform matchups of Week 2.
Number Three: Colorado vs Minnesota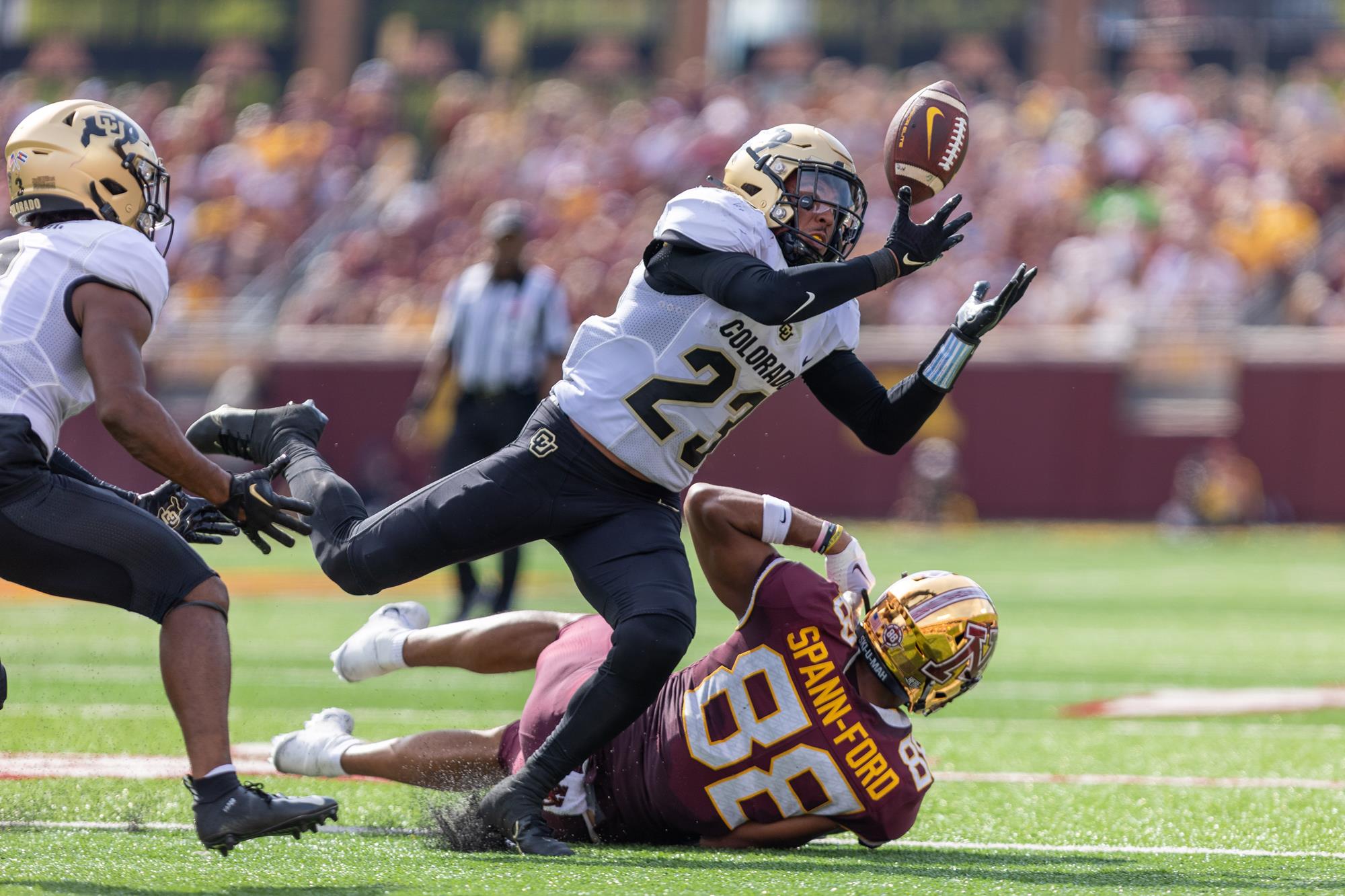 Matt Blewett/USA TODAY Sports
In the afternoon window, Colorado and Minnesota was a matchup that not many were circling on their calendar to watch. That turned out to be a wise choice for those at home, as the Golden Gophers dominated the inferior Buffaloes 49-7.
However, the two schools' picks for uniform combos were quite excellent. For Minnesota, they choose their best shirts-pants combo with the maroon on maroon. They added it perfectly with their "dart gold" chrome helmet that is a very underrated helmet in college football.
In addition to their traditional gold and white uniforms, they also have their anthracite suits and there new all blacks. A cumulation of all of these make Minnesota high up in the Big 10 standings for best uniform combinations.
⚫️ hello darkness my old friend ⚫️

new fits, coming this season pic.twitter.com/BWN4DLtFmC

— Minnesota Football (@GopherFootball) August 22, 2022
As for Colorado, there are many schools that try to pull off the black and gold aesthetic unsuccessfully, Wake Forest and Vanderbilt to be exact. One of the schools not in that list includes the Colorado Buffaloes.
Their black and gold go perfectly with a team name like the buffaloes. They also have one of the best tri-primary color uniform combos with gold-white-black. In my opinion, this is right up there with the Florida gators as a great tri-primary color uniform.
Number Two: No. 11 Michigan State vs. Washington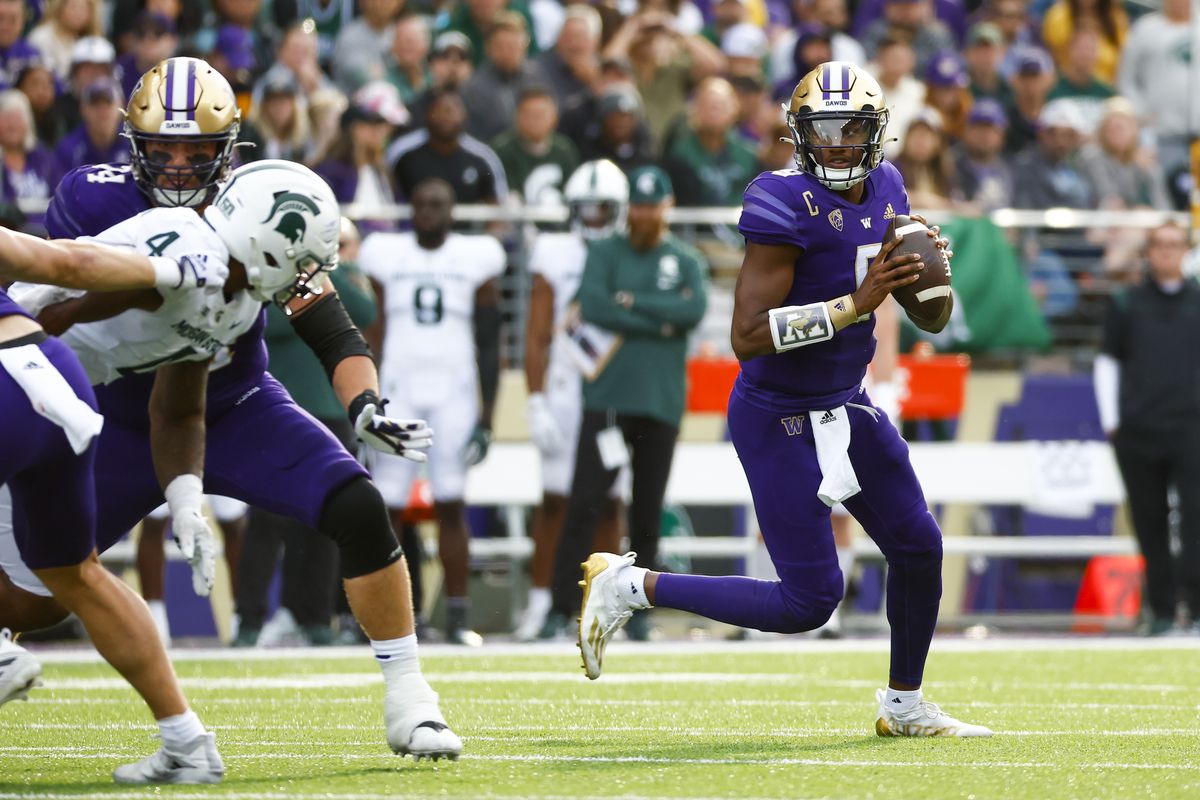 Joe Nicholson/USA TODAY Sports
For Week Three, the runner up is a game that got loose in the woodwork. With Mississippi State vs. LSU and Miami vs. Texas A&M playing at obscure times, No. 11 Michigan State and Washington was a game that a lot of people forgot about.
With a surprising upset, the Huskies stomped Sparty early on, making a lot of us ask those in East Lansing whether or not Tuck still comin'?
For those that bet against Washington, they should have been notified that Washington would be wearing their purple on purple. I say this because it makes their players look much faster running, compared to their purple on gold.
While those are their more common traditional uniforms, I personally think their purple-on-purple jerseys and pants are their best combo.
For Michigan State, they have really been a "Johnny come lately" in the uniform game. Once a program under Mike Dantonio that would just change between their green and white jerseys, the Spartans have plunged deep into the variety of uniforms options.
They have particularly done it with their helmets. While I think that their retro cartoon spartan helmet is the best option, I really liked their all white with their classic Spartan logo. This is an all-white uniform that looks perfect when it is worn in an afternoon overcast game in the Midwest.
Number One: Tulane vs. Kansas State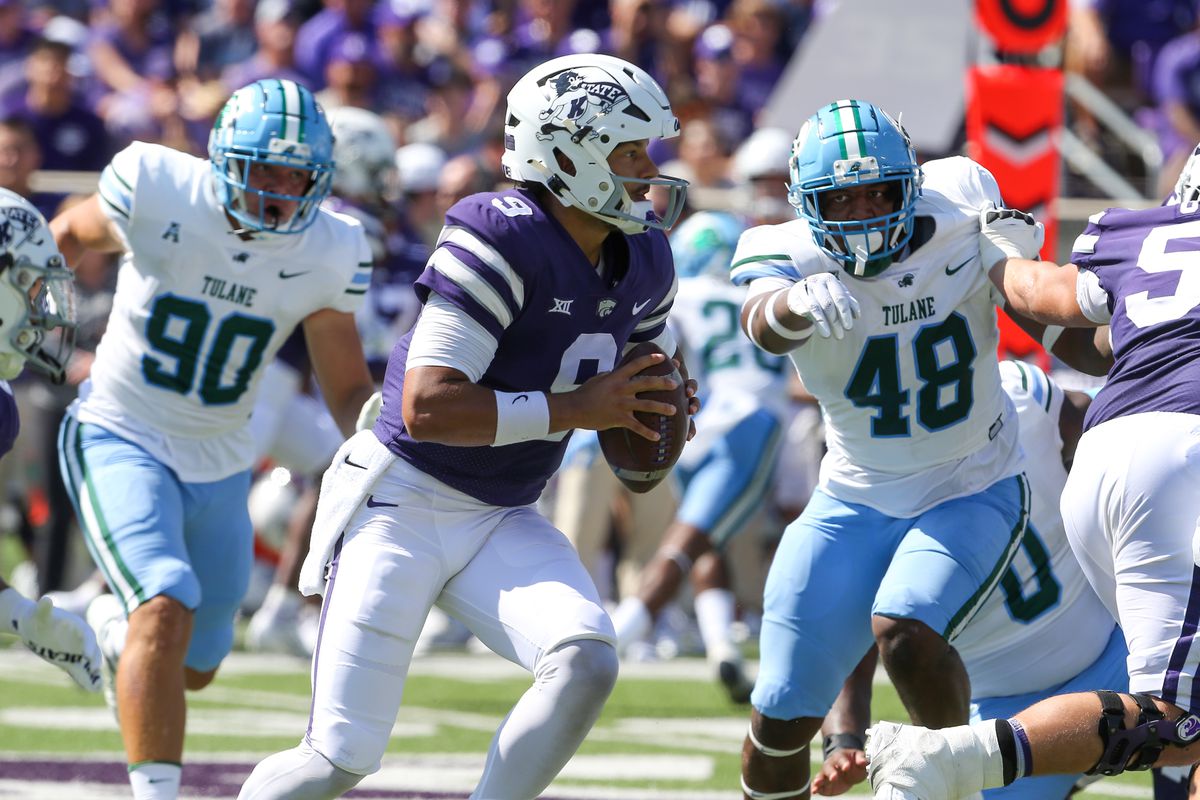 Scott Sewell/USA Today Sports
If you watched this game on Saturday, you knew that this was the best uniform matchup of the day. Tulane and Kansas State's equipment teams had to have either met beforehand to discuss their plans or it was a beautiful coincidence.
Starting with Kansas State, they are a program that has rarely deviated from their grey helmets, purple jerseys, and grey bottoms. However, they changed that against Tulane. In Manhattan, KS, the Wildcats wore a white helmet with a decal of their mascot, Willie Wildcat, carrying a K-State pennant on one side.
The other side had the players numerals. While this was a beautiful helmet with purple shirts and white pants, this should not be overdone. It should be used sparingly and not in a cool weather environment; keep it for September matchups.
Fresh off the lot pic.twitter.com/iamZBwEFfN

— K-State Football (@KStateFB) September 13, 2022
While Kansas State did fairly impressive work, it was Tulane that elevated this match. First, Tulane's combo of sky blue and Oliver green is one you never ask for, but you will love it the second you see it for the first time.
On Saturday, they chose the best road uniform they have, wearing the baby blue helmets that features the green wave mascot, with the white jersey and blue pants. It is a matchup that embodied the slogan "look good, play good."
Chris Kiely can be reached at christopher.kiely@student.shu.edu.
Posted in: Sports, College Football