Recap: Pirates Drop Third-Straight in 80-61 Loss at Marquette
Date: January 23, 2023
By: Alejandro Lopez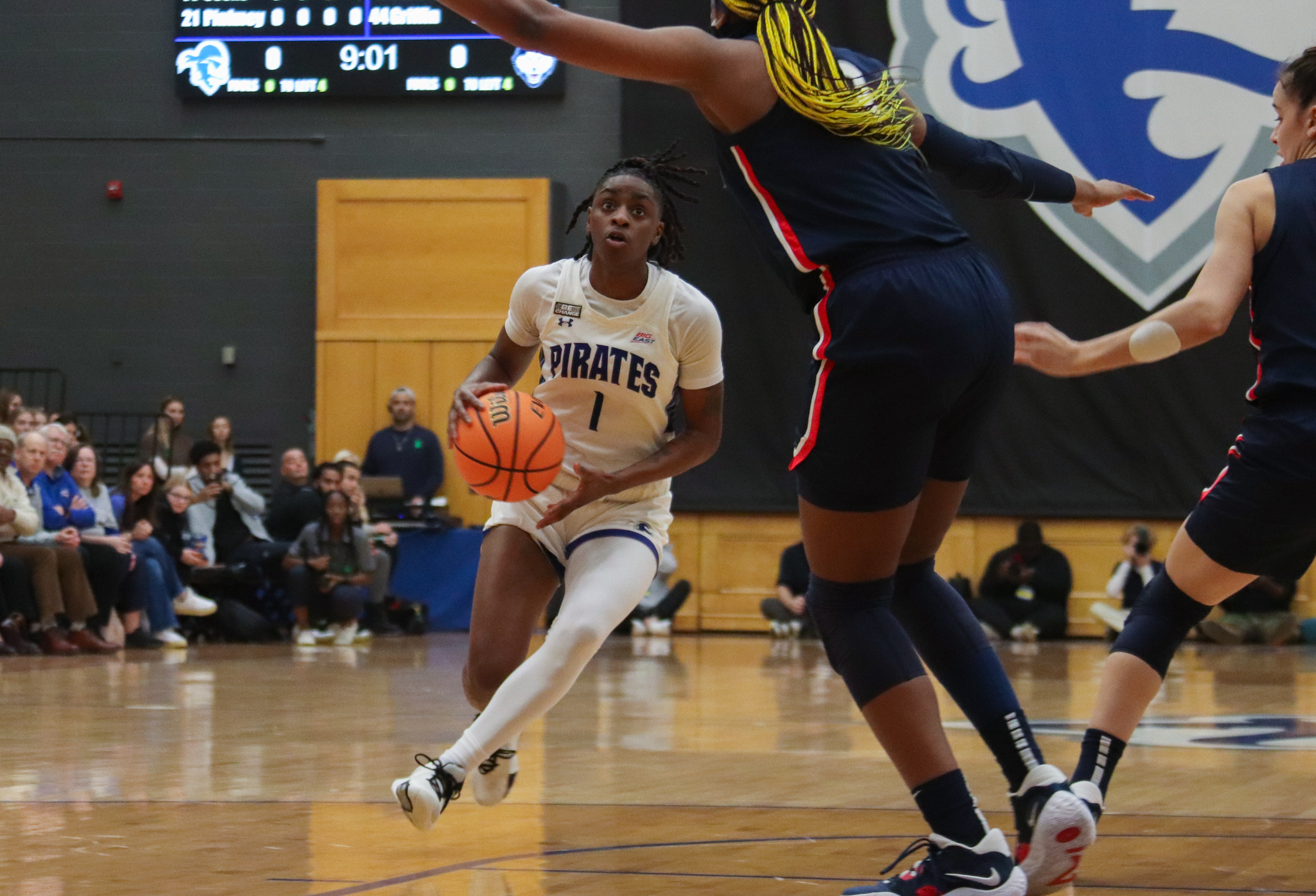 Kayla Fonseca/WSOU
Lauren Park-Lane and Jordan King were the players to keep an eye on coming into this BIG EAST contest between the Seton Hall Pirates (13-7, 6-4 CONF) and the Marquette Golden Eagles (12-7, 5-5 CONF). But in any sport, players are sure to have frustrating nights here and there, and that was certainly the case in Sunday afternoon's matchup between the conference rivals.
Fantastic pass from Kae Satterfield to LP underneath for the easy two!!#HALLin @marchmadnesswbb pic.twitter.com/Adf7UOnjUX

— Seton Hall Women's Basketball (@SHUWBB) January 22, 2023
Unfortunately for Seton Hall, their star's struggles would be indicative of the team's overall performance, as Marquette would cruise to an easy victory over the Pirates, 80-61.
The first quarter was a relatively close contest. Seton Hall came out struggling, but so did Marquette as the Golden Eagles would only see a five-point advantage at the end of the quarter.
Only one of these two teams would catch fire, as Marquette lit up their home court putting up 27 points in the second quarter alone to give them a 23-point lead entering the second half.
For the Pirates, the recipe for their struggles would be a combination of poor shooting and many turnovers. The team leading the BIG EAST in turnover margin would give up 15 first-half turnovers while giving up a 16-0 Marquette run.
The Hall did come out of the locker room for the second half showing signs of life. The Pirates would go on an 8-0 run early in the period, but were unfortunately met with timely buckets from Marquette each time Seton Hall looked like they were ready to make a meaningful dent in the lead.
Pretty floater by Sha'Lynn Hagans...#HALLin pic.twitter.com/t9osokGd9P

— Seton Hall Women's Basketball (@SHUWBB) January 22, 2023
Even though the Golden Eagles' top scorer Jordan King would be in foul trouble for most of the game, Marquette would find offense in a variety of other places. Mackenzie Hare would score a game-high 23 points off the bench for Marquette and Chloe Marotta would score an additional 19 points.
The Pirates, on the other hand, would struggle as a team from the floor. Seton Hall finished the game shooting just 34.5% from the floor and under 16% from beyond the arc.
This is the third straight loss for Seton Hall, all of them coming in blowout losses to BIG EAST opponents.
The Pirates will have another shot at getting back in the win column on Wednesday, when they travel to take on Georgetown at 7:00 p.m. Coverage for the game can be found right here on WSOU 89.5 FM where Louie Pasculli and Ryan Henry will be on the call.
Alejandro Lopez can be reached at alejandro.lopez@student.shu.edu.
Posted in: Sports, Women's Basketball