Preview: The Pirates Travel Down to Orlando to Take on the Memphis Tigers in the ESPN Events Invitational
Date: November 24, 2022
By: Andrew Raccuglia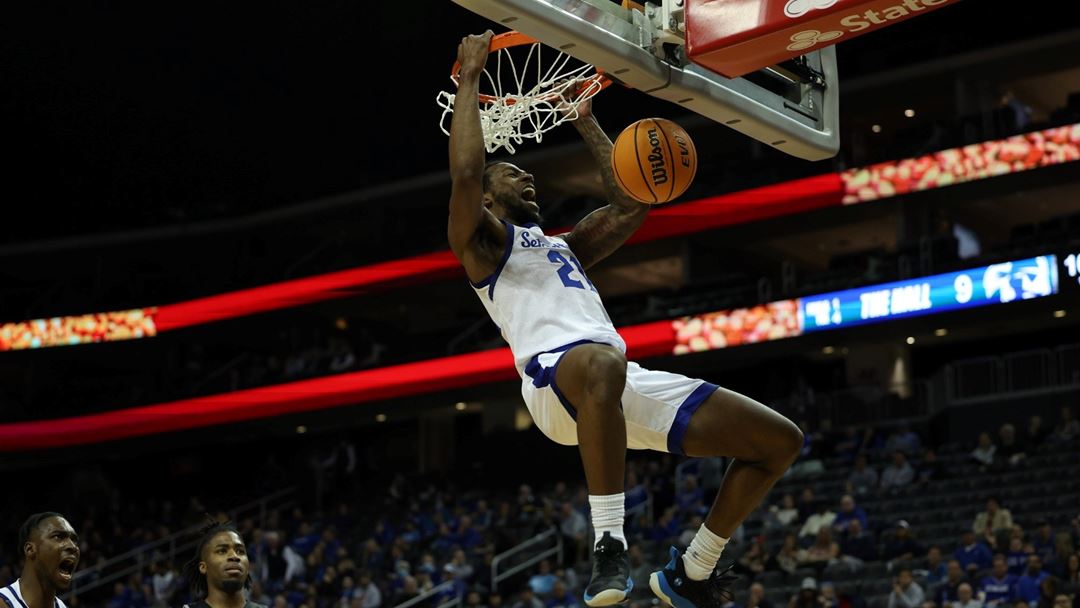 Seton Hall Athletics
The turkey will have to wait.
The Seton Hall men's basketball team (3-1) will be seeking their first big win against a major opponent on Thanksgiving night, and it will be against the University of Memphis Tigers (2-1) at the ESPN Events Invitational in Orlando, Fla.
Going into the heavily anticipated Feast Week matchup at Walt Disney World, the Tigers are coming off of a 62-47 win against VCU (3-2) on Sunday, led by a season-high 26-point performance by senior guard Kendric Davis.
Davis also earned seven assists on Sunday, and is now averaging 20 points per game and 5.7 assists per game on 42.9% shooting. His efforts are accompanied by senior forward DeAndre Williams, who scored eight points, ten rebounds, and four steals (averaging 19.0 PPG, 8.5 RPG, 60.0 FG%), as well as senior guard Keonte Kennedy's nine points and two rebounds on 4-for-5 shooting (7.0 PPG, 3.0 RPG, 1.0 APG).
Earlier on Sunday up north, the Pirates took care of business against the Wagner Seahawks (3-2) in an 82-44 victory at the Prudential Center, shaking off a hard home loss to the Iowa Hawkeyes (4-0) this past Wednesday.
Senior guard Al-Amir Dawes scored a season high 19 and had four rebounds in his first start for the Pirates, who paced the game by shooting 7-of-10 from the field and 5-of-7 from deep. The Clemson transfer and Newark native is now averaging a team-best 12.0 PPG with a 40.5 field goal percentage, plus going an impressive 50.0% from three. He also has 4.8 RPG, 2.0 APG, and 1.3 SPG.
It was also a very good night for senior forward Tray Jackson, who scored 16 points with a perfect 3/3 from deep, now averaging 10.3 PPG on 57.7% shooting, and also at 50% from three.
Jackson was critical to an explosive second half for the Pirates, with credit also due to KC Ndefo's 12 points, Femi Odukale's 11 points, and Tyrese Samuel's 10 points and eight rebounds.
They kept a comfortable final lead of 38 to allow the last few minutes to freshmen Tae Davis and Jaquan Sanders, plus the three walk-ons, David Gabriel, Jorge Mercado, and Elijah Muhammad.
That's how you make the most of your opportunity #HALLin ⚪️ pic.twitter.com/AoHM1aRpmL

— Seton Hall Men's Basketball (@SetonHallMBB) November 21, 2022
Yet, this Thanksgiving Day matchup is no cupcake. There is a lot of parity in this Feast Week tournament where many of the eight teams do have a chance to win all three games to be played on Thursday, Friday, and Sunday. The field also includes the Mississippi Rebels (4-0), Nebraska Cornhuskers (3-1), Oklahoma Sooners (3-1), Siena Saints (2-2), Stanford Cardinal (2-2), and Florida State Seminoles (1-4).   
However, the Seton Hall vs. Memphis quarterfinal game at 7:30 p.m. is arguably the best contest this tournament has to offer, as the Tigers are at 27 in the Kenpom rankings, compared to 30 for The Hall.
Case in point is how the Pirates average 77.0 PPG and allow 55.8, while Memphis is averaging 74.0 PPG but are allowing 68.0. They are also outperforming the Tigers in field goal percentage (45.4 to 43.9), three-point shooting (39.0 to 29.2), and rebounds (42.8 to 38.0).
On the opposite end, Memphis is out-assisting Seton Hall (15.7 to 12.5), as well as out-blocking (4.7 to 4.0) and out-stealing (7.7 to 7.5). Penny Hardaway's team thrives off of turnovers, averaging 20 points off of turnovers alone, as opposed to Shaheen Holloway's defensive tactics of limiting field-shooting.
What should be of note is that the Tigers' first two games were won and lost by single digits, with Sunday's 15-point win being their most convincing yet. They began with a 76-67 win against Vanderbilt before losing 90-84 to the Saint Louis Billikens, who beat Big East rival Providence, 76-73, following a blowout 95-67 loss to Kevin Willard's Maryland Terrapins at the Basketball Hall of Fame Tip-Off.
The keys for the Pirates on Thursday night are to defend heavily in the paint as well as limiting their own turnovers. Memphis is not a team that tends to make constant threes nor has a suffocating defense. The more that the Hall can score from beyond the arc and control their own possessions, the more favored they will be to get their first big resume-building win of the year.
Less than 2️⃣4️⃣ hours till tip here in FLA ☀️ #HALLin ⚪️ | @ESPNEventsInv pic.twitter.com/UPPtooNgqu

— Seton Hall Men's Basketball (@SetonHallMBB) November 24, 2022
Looking ahead, Seton Hall will face either Oklahoma or Nebraska on Friday, depending on Thursday's results. Winning against Memphis means an 8 p.m. tipoff for the second semifinal round game, and a loss would mean a 5:30 tipoff for the second consolation game. The Pirates' Sunday game will be anywhere from 11:00 a.m. (5th Place), 1:30 p.m. (Championship), 5:00 p.m. (3rd Place), or 7:30 p.m. (7th Place).
Jonathan Heite and Joe Matthews will be live from State Farm Arena at the ESPN Wide World of Sports complex with coverage of all three games on 89.5 FM WSOU this weekend. There is no guilt in tuning in during Thanksgiving dinner when coverage begins at 7:15 p.m. before the 7:30 tipoff.
Andrew Raccuglia can be reached at andrew.raccuglia@student.shu.edu.
Posted in: Sports, Previews, Men's Basketball