Preview: No. 4 UConn Comes to Walsh Gymnasium to Challenge Pirates in BIG EAST Brawl
Date: January 17, 2023
By: Jonathan Heite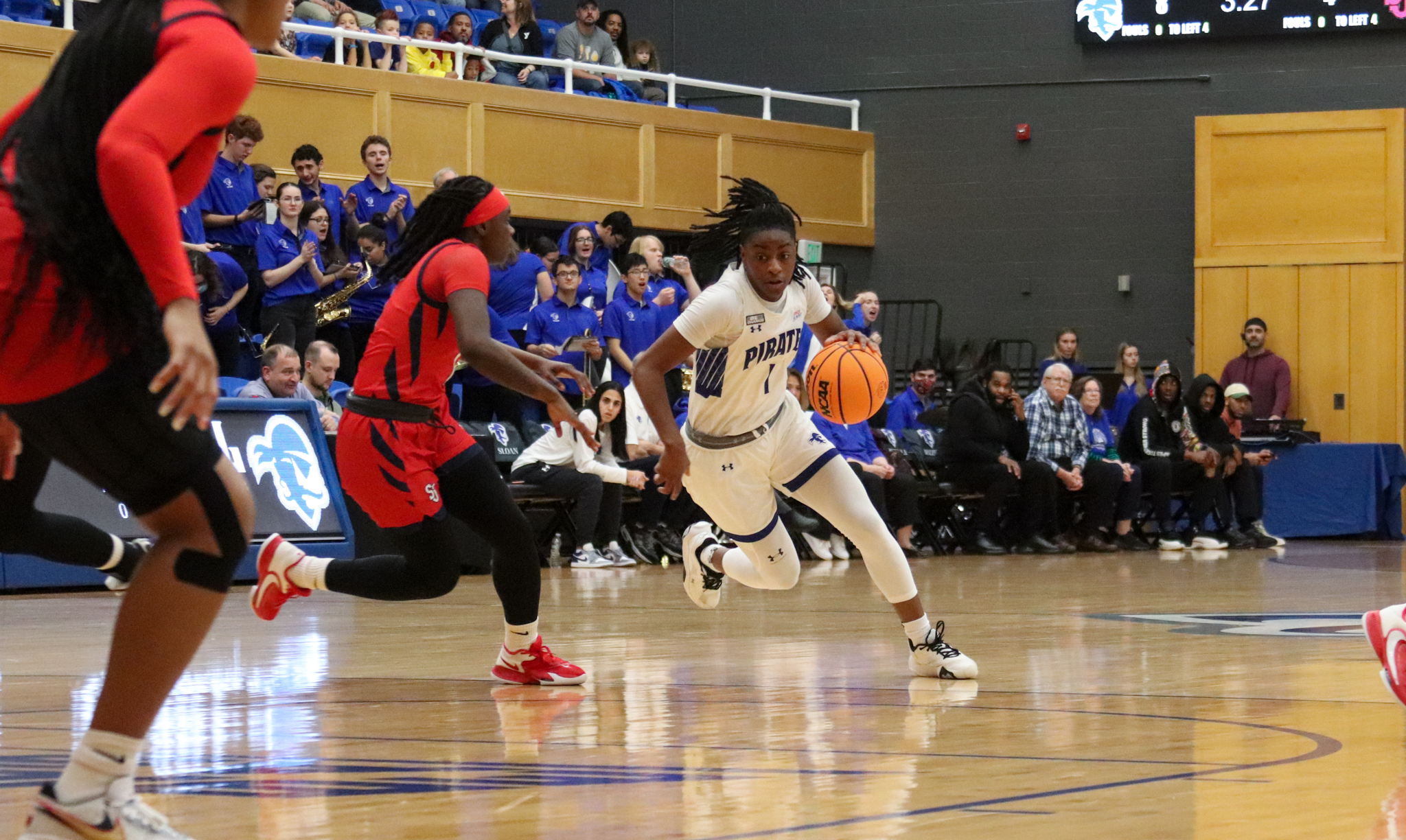 Kayla Fonseca/WSOU
It's time for a home showdown that's always circled on the Seton Hall women's basketball team's calendar every season.
Tonight, the Pirates (13-5, 6-2 CONF) will host the No. 4 UConn Huskies (15-2, 8-0 CONF) in a star-studded clash at Walsh Gymnasium, with tip-off set for 7 p.m.
These two teams last played on Dec. 21 at the XL Center in Hartford, Conn., where the then-No. 9 Huskies defeated Seton Hall, 98-73, but much history was made for the Pirates.
Lauren Park-Lane, who has already cemented herself as one of the best scorers and playmakers in program history, became Seton Hall's all-time leader in assists in this contest. She only needed two more in her 100th collegiate game at the time, and the point guard also scored 17 points and four total assists.
Sidney Cooks led in scoring for the Pirates with 18 on 8 of 15 shooting from the field, but UConn saw six players scoring in double-digits, including Aaliyah Edwards, who tallied 23 points.
Caroline Ducharme and Nika Muhl also each contributed 16 points (8/11 combined from three), Lou Lopez Senechal added 14 points, Aubrey Griffin tacked on 13 points, and Dorka Juhasz collected a 10-point, 10-rebound double-double.
Since this game, the Pirates have been on fire, securing four straight victories over Georgetown, Butler, then-No.24 St. John's, and Providence, before falling to Creighton on the road last Wednesday, 75-53.
FINAL | Creighton 75, Pirates 53

Sidney Cooks collects a team-high 20 points to go with six rebounds. Lauren Park-Lane has 14 points, seven assists and just one turnover.

The Hall will return to action on Tuesday when its hosts UConn at Walsh Gym.#HALLin

— Seton Hall Women's Basketball (@SHUWBB) January 12, 2023
Cooks was the team's highest scorer with 20 points (9 of 17 from the field) and six rebounds, while Park-Lane finished with 14 points and seven assists. Seton Hall was also a rare 0 of 12 from three-point range, something that will need to be fixed against a UConn team shooting almost 40% as a team from behind the arc.
The Huskies have two non-conference losses despite not having national phenom Paige Bueckers at all this season due to a torn ACL injury, with both occurring during the Jimmy V Women's Classic.
The Notre Dame Fighting Irish defeated UConn 74-60 at home, and after the Huskies took down Princeton, 69-64, in Storrs, Conn., they then lost to Maryland, 85-78, in College Park, Md.
The Huskies most recently defeated Georgetown, 65-50, on Sunday, which had unusual circumstances because the team had to postpone the game a week before because of a lack of healthy players.
Their leading scorer and star sophomore Azzi Fudd also reinjured her right knee in only her second game back after missing the last eight when she originally hurt that knee in December.
Still undefeated in BIG EAST play! pic.twitter.com/mQqJuKa56l

— UConn Women's Basketball (@UConnWBB) January 16, 2023
The Huskies were able to bounce back after a monster 17-point, 11-rebound double-double from Edwards. UConn was able to tally a 20-3 run in the third quarter, and a 12-0 run in the fourth to keep the team undefeated in BIG EAST  play.
The Pirates will look to play spoiler to UConn's recent success, and 89.5 FM WSOU will have all the coverage you need for tonight's huge matchup, with John Makuch and Justin Nicosia on the call from South Orange, N.J. at 7 p.m.
Jonathan Heite is an Assistant Sports Director for WSOU Sports and can be reached at jonathan.heite@student.shu.edu.
Posted in: Sports, Game Previews, Women's Basketball