Pirates Volleyball Prevails Over UConn Huskies, 3-2
Date: September 23, 2022
By: Robert Steiner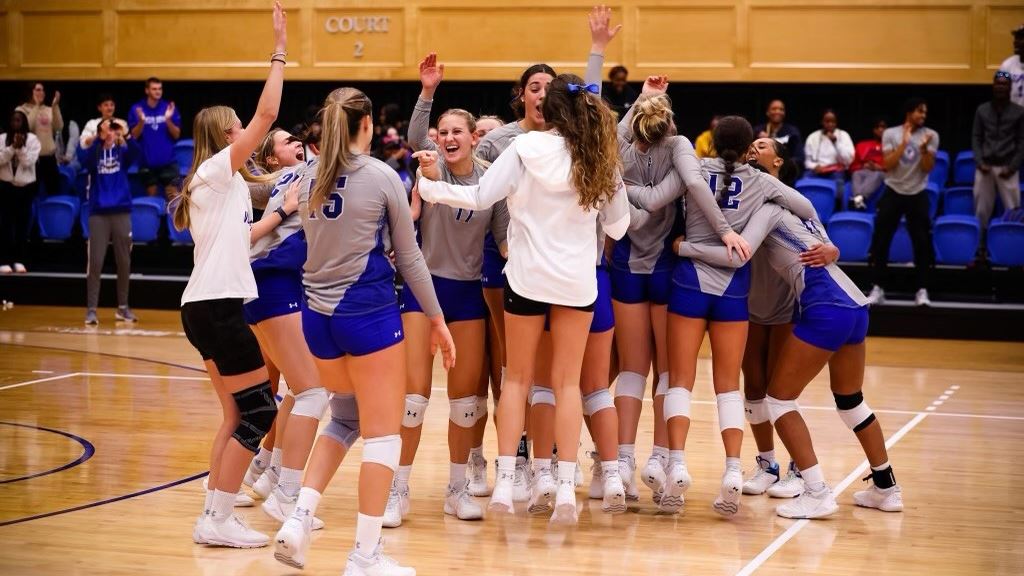 Seton Hall Athletics
The Seton Hall Pirates volleyball team (10-3) opened Big East play with a thrilling 3-2 win over the UConn Huskies (6-6) on Friday night.
The Pirates got a hard-fought victory against a UConn team that was red hot going into their meeting, with the Huskies owning a four-game winning streak. With this win, the Pirates now have a four-game winning streak of their own.
Seton Hall's offense was as well-rounded as it was powerful, with three Pirates having double-digit kills. Bianca Bucciarelli led the team with 18, then Jenna Walsh with 15, and in third was Perri Lucas with 12.
Defensively the Pirates put on a show as well, playing great up front and laying out countless times to save rallies. Taylor Jakubowski was the team's dig leader with 14, and both Asli Subasili and Maddie Klugel led in blocks with 4 each.
Subasili once again showed in the opening set that she is an elite server, tallying several aces.
Walsh, Lucas, and Bucciarelli all made their presences known on the court as well, leading the Seton Hall offense with powerful spikes. Behind this offensive attack, the Pirates took the first set 25-23.
In the second set, the Pirates relied on their defense as they were able to dig hard-hit spikes from the Huskies, play well at the net, and continue to hustle on saves.
This is where Klungel started to heat up, and where Bucciarelli continued her solid performance. Additionally, Hanna Tulli was a key player towards the end of the set, scoring crucial points for Seton Hall. The Pirates took another set, winning 26-24.
Hanna Tulli puts this one away for The Hall and the Pirates lead, 24-23, in set two. Timeout UConn!!#HALLin pic.twitter.com/mDJc7n0Ute

— Seton Hall Volleyball (@SHUVolley) September 23, 2022
In the third set, however, the Huskies looked different. They were hitting the ball harder than they did in the two previous sets, and the Pirates defense couldn't keep up.
Along with these powerful kills, UConn had solid placement on floaters that the Pirates couldn't defend. On the other side of the ball, Seton Hall found themselves making several offensive errors, leading to a 25-15 set loss, which was the largest margin of victory for the entire match.
The Pirates had begun to anticipate the Huskies' new plan of attack in the fourth, returning to form after an uncharacteristic set. They were able to limit errors as well, going back-and-forth with UConn for much of the set. Despite this, the Huskies were able to secure a 25-20 victory, forcing a decisive fifth set.
The Hall started this final set off strong, jumping out to an early 2-0 lead in front of a rowdy crowd at Walsh. Lucas and Walsh were once again overpowering the UConn defense, and Laila Wallace made her presence known.
After back-to-back blocks, Seton Hall won the final set 15-12 for a 3-2 match victory as the crowd erupted.
HERE'S THE WINNER!! A BUCCIARELLI BLOCK WINS IT!!!

THAT'S HOW YOU OPEN BIG EAST PLAY!!#HALLin ‍☠️ pic.twitter.com/Tr31hPkGcL

— Seton Hall Volleyball (@SHUVolley) September 24, 2022
Their next game is another Big East showdown at home against the Providence Friars (8-5) Saturday night at 6 p.m.
Robert Steiner can be reached at robert.steiner@student.shu.edu.
Posted in: Sports, Volleyball