One Giant Question Divisional Round: Where Do We Go From Here?
Date: January 23, 2023
By: Brian Henderson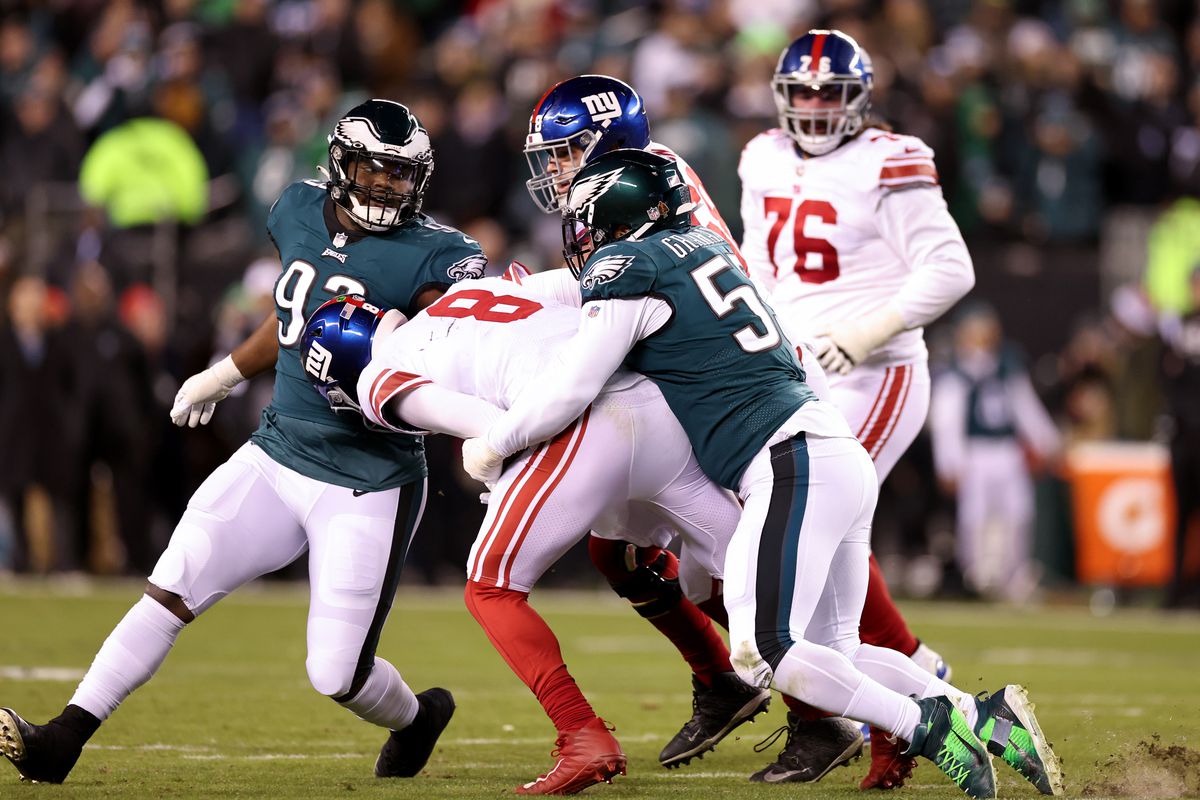 Tim Nwachukwu/Getty Images
All good things must come to an end.
It was a miracle this team made it this far. Projected to win 4-5 games. Had to cut our best corner because the previous GM handled the cap so poorly. New head coach, offensive coordinator, defensive coordinator, and GM. Banged up by injuries. No real WR1.
And yet, this team was above .500 and won a playoff game against a 13-win team. Regardless of what happened in Philly, this season was a huge success for the Giants.
All love

: https://t.co/n8kzjnkMAg pic.twitter.com/OnYTus6oAC

— New York Giants (@Giants) January 23, 2023
I do not feel like discussing the game on Saturday. It was a disaster. Matt Breida scored the Giants only touchdown. That's all there is to say.
Instead, I will look to the future. Free agency and the draft are coming soon and with them, a boatload of more questions. Who will the Giants sign in free agency? Who will they draft? Will they get a WR1? What's going to happen to Saquon, Daniel Jones, and all the other free agents?
I don't know, but I'll run through my thoughts real quick. When actual moves happen, I'll write about them.
I really do like Daniel Jones, but I just don't know if he's a franchise guy. He has talent and this was his best season yet, but I don't think it gets better than this. Daboll has done an amazing job playing to his strengths, but Jones hardly throws the ball more than 20 or 30 yards in the air. It's a lot of short passes that have receivers schemed open. He can run, but sometimes he runs instead of hitting a deep pass downfield.
What guy in NFL history has become a franchise QB after being on one team for 4+ years? I can't think of any. Jones is very talented, but I don't think he can take the Giants to the next level.
Daniel Jones: 'It's a special group of guys'

Full video: https://t.co/xtuqHtTCrR pic.twitter.com/0U3bra2c6T

— GiantsTV (@GiantsTV) January 22, 2023
But here comes the question – who can? Lamar Jackson is a pipe dream, Anthony Richardson might not be available in the late first round, and he's a project QB anyways.
It's a funny thing. This is the best the Giants have been since 2016, and yet there are so many more uncertainties this year than the last few years.
I'll probably put out a mock draft in late March or early April and then I'll recap the Giants draft as well.
It was a crazy season. Go Giants.
Brian Henderson can be reached at brian.henderson1@student.shu.edu.