One Giant Question - NFL Draft Recap: How Great was this Draft?
Date: May 5, 2023
By: Brian Henderson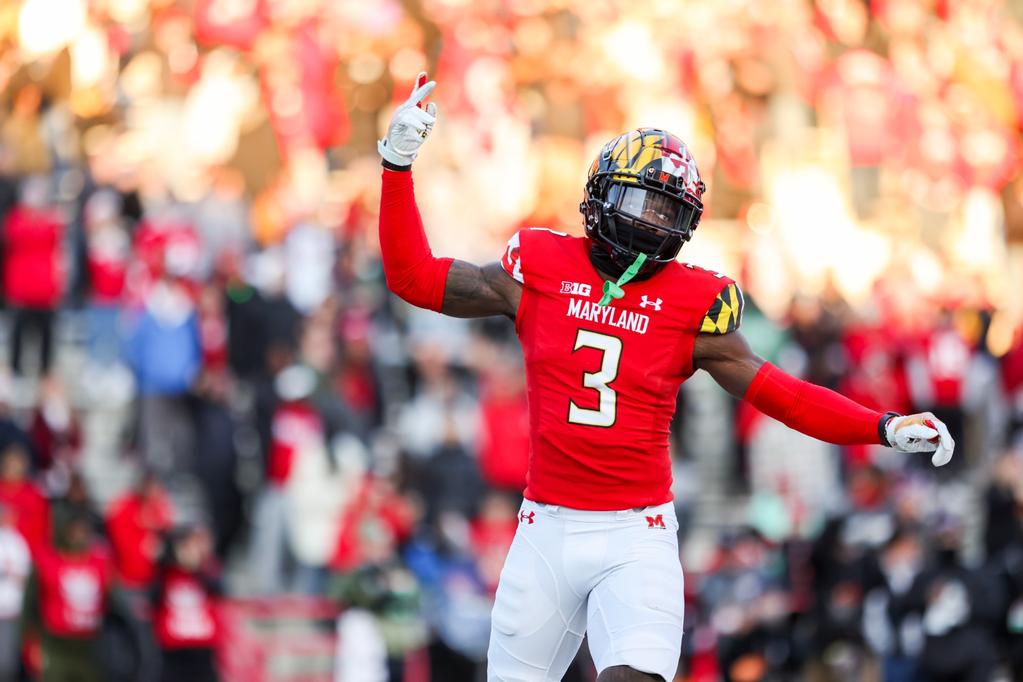 Maryland Athletics
The 2023 NFL Draft is over, and I feel pretty good about it. I'll talk about each draft pick and give my thoughts.
Rd. 1 Pick 24 – Deonte Banks. CB, Maryland. A- / B+
I love this pick and I think the picks before him make it better.
Hear me out. The big question was CB or WR going into this, and I am grateful that choice didn't have to be made. The big four receivers went the four picks before the Giants first round selection. I think Banks was the best CB on the board and will fit into Wink's defensive system well.
A big, physical corner who excelled in man coverage will be great opposite Adoree Jackson. The Giants secondary was severely depleted as well, so this was a great pickup.
Only reason this is a B+ was because I don't know why they traded three picks to move up one spot. Especially since no corner was drafted in round 1. "The Bank's closed on Sundays" is going to ring out in MetLife this year. Lockdown guy.
Rd. 2 Pick 57 – John Michael Schmitz. C, Minnesota. A+
Maybe the best pick of the draft. A masterclass in patience by Joe Schoen. This is a guy that was projected to be taken by the Giants at 25 in some mock drafts, and Big Blue gets him in the late second round.
John Michael Schmitz gets the call pic.twitter.com/c7tMog8d41

— New York Giants (@Giants) April 29, 2023
He's the day one starting center, no questions asked. Great run blocker and physical. Love this pick. Can't say enough about it. Interior O-line was an issue last year, and Schmitz is going to do wonders this year.
Rd. 3 Pick 73 – Jalin Hyatt. WR, Tennessee. A
The fact that the Giants got three guys projected to go to them at 25 with their first three picks is absolutely insane. The wide receiver need was addressed, and Hyatt is truly unlike any other receiver on the roster.
His game-breaking speed and explosiveness is exactly what the Giants offense was lacking in the passing game last year. While his route tree doesn't have too many NFL level branches, the routes he has mastered are on par with anyone.
Another Joe Schoen masterclass with this pick, trading up to get your guy all the way in round three. The Giants have a deep receiver group now. Scheming guys like Hyatt and Wan'Dale Robinson open will wreak havoc on opposing defenses.
Rd. 5 Pick 172 – Eric Gray. RB, Oklahoma. B-
Not a bad pick. A shifty running back who got a lot of 10-plus yard gains. Going to be a good redzone threat and hopefully can learn from Saquon.
Welcome to the Giants Eric Gray! pic.twitter.com/qfHjJL9IFl

— Bobby Skinner (@BobbySkinner_) April 29, 2023
One thing I noticed was that this dude won't be breaking away from anyone. He ran a 4.62 40 during his pro day. Regardless, still a fine pick. I thought the Giants were going to take a running back, and this was a good time to take one.
Rd. 6 Pick 209 – Tre Hawkins III. CB, Old Dominion. B
The Giants will keep an ODU player on their roster for four-straight years (Oshane Ximines 2019-2022). Extra corner depth never hurt anybody. Another athletic freak for this Giants defense.
Using RAS (Relative Athletic Score), Hawkins clocks in at 9.82/10. Pretty good value for someone drafted in the sixth round. He had two picks, three fumble recoveries, two forced fumbles, and a blocked kick last year at Old Dominion. Not bad.
Rd. 7 Pick 243 – Jordon Riley. DT, Oregon. C
Giants first pick in the final round. Going to be honest, I had never heard of this guy before. Had 21 total tackles last year for the Ducks defense. Defensive line depth I guess? Not sure. We'll see what he's got in preseason.
Rd. 7 Pick 254 – Gervarrius Owens. S, Houston. B-
After losing Julian Love to the Seahawks, I like the Giants closing out with a safety. Physical guy again. Seems to be the name of the game for this year's draft class. Great first name. I've seen a few plays of his and I like his game.
Overall, I'm giving the Giants draft an A or A+. Days one and two were pure perfection and day three has some nice guys as well. Would've loved Cincinnati's Ivan Pace Jr, but that's because I am a Bearcat fan. Can't wait to see what these guys do in camp over the summer.
Brian Henderson can be reached at brian.henderson1@student.shu.edu.