Women's Soccer Drops First Game of Conference Play to Providence, 1-0
Date: September 23, 2022
By: Michael Bellifemini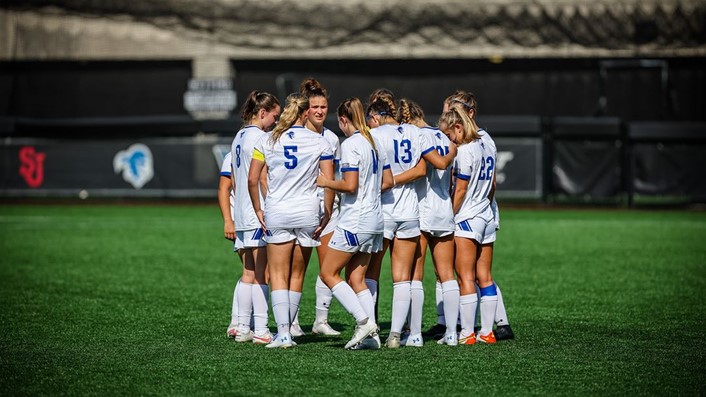 Seton Hall Athletics
The Seton Hall Pirates (4-3-2) lost in heartbreaking fashion to the Providence Friars (3-5-1), 1-0, in their first Big East game of the season last night.
The game was scoreless until the 87th minute when the Friars finally broke the ice and scored the only goal of the game. The goal was scored by graduate student Hannah Pinkus, earning her second goal of the season and the assist went to junior Kyla Gallagher, who is tied for the team lead in assists with three.
Pinkus scored the goal on Providence's 14th shot of the game and 5th shot on goal. The Friars outshot the Pirates in both halves and had better offensive chances throughout the whole game.
Despite the loss, Seton Hall's Grace Gordon played another great game going 4 for 5 on saves including one big save early on in the contest as she stopped a low shot by Thaea Mouratidis. Then in the second half, Gordon added to the highlight reel with another big save with this one coming on a partial breakaway.
GORDON AGAIN!

Grace Gordon once again steps up to make a HUGE save.#HALLin⚪ pic.twitter.com/4y6rWTDBbM

— Seton Hall Women's Soccer (@SHUWSOC) September 22, 2022
Gordon's shutout streak had reached over 578 minutes and the goal scored by Pinkus was the first one Gordon had allowed since Aug. 21 in a win at Central Connecticut State.
The Pirates got off to a sluggish start in the game as they were outshot 6-0 by Providence at one point, and the first half ended with the Friars up 8-2 in the shot column.
In the second half, Seton Hall was still outshot 6-3, but they had more scoring opportunities overall. The Pirates also were handed two yellow cards in the second half, one going to defender Chiara Pucci and the other going to the Pirates leading scorer, Natalie Tavana.
Providence goalkeeper Emma Bodmer went a perfect 2 for 2 on saves to get her 3rd win of the year while also notching her 2nd shutout of the season.
Seton Hall's record drops to 4-3-2 overall and their conference record starts off at 0-1. On the other hand, Providence's overall record is now 3-5-1 and their conference record begins at 1-0.
The Pirates have their next game on Sunday when they will host the Villanova Wildcats (1-3-2) at Owen T. Carroll Field in Villanova's first conference matchup of the season.
Michael Bellifemini can be reached at michael.bellifemini@student.shu.edu.
Posted in: Sports, Women's Soccer