Wiggins Shines in Game 5 as Golden State Defeats Boston, 104-94
Date: June 14, 2022
By: Victor Gonzalez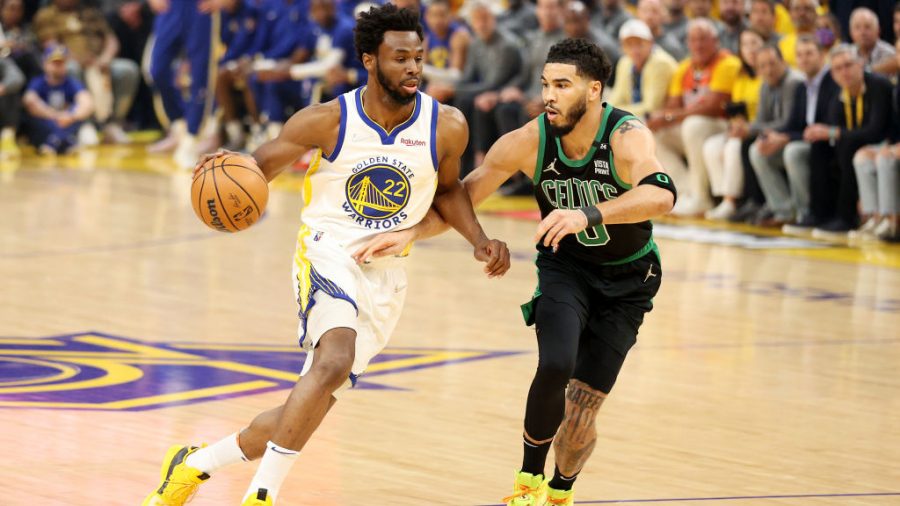 Ezra Shaw/Getty Images
The Golden State Warriors defeated the Boston Celtics Monday night 104-94 to take Game 5 and a 3-2 NBA Finals lead.
Forward Andrew Wiggins had a spectacular outing with the biggest game of his career leading the Warriors with 26 points and 13 rebounds, while Guard Klay Thompson added on 21 points. The Warriors were able to carry over the defensive dominance they displayed in Game 4 to Game 5 to limit the Celtics efficient offense.
Superstar Stephen Curry struggled in the loss, only scoring 16 points, and going 0-9 from the 3PT line, ending his NBA-record of 132 straight postseason games with at least one three as well as his NBA record of 233 consecutive games with a three between regular season and playoff games combined.
Forward Jason Tatum led the Celtics in scoring with 27 points while also recording 10 rebounds. Boston has suffered two consecutive losses for the first time this postseason, which only seemed to be a matter of time before happening.
The Warriors dominated defensively in the first quarter, holding the Celtics to only 16 points and went into the half with a commanding 51-39 lead. However, Boston showed fight in the third quarter, outscoring Golden State 35-23 sparking a comeback.
Guard Jordan Poole hit a 33-foot buzzer beater three to end the third quarter to go into the fourth with a 75-74 lead, shifting the momentum the Celtics had built.
The fourth quarter was all Warriors, as they outscored the Celtics 29-20, going up by as many as 16 at one point.
The @warriors win Game 5 and take a 3-2 lead in the #NBAFinals presented by @YouTubeTV!

Game 6: Celtics vs. Warriors
Thu. 9:00pm/et on ABC pic.twitter.com/6UPbphrZ53

— NBA (@NBA) June 14, 2022
Wiggins with 2:10 remaining in the game scored a forceful one-handed slam, and when asked what message he was trying to send with that dunk he said, "We're here…we want it man".
The Warriors have the opportunity to win their fourth title in eight years in Boston on Thursday Night, but if the Celtics can pull out a win in their most important game of the season, Game 7 will take place on Sunday in San Francisco.
Victor Gonzalez can be reached at victor.gonzalez1@student.shu.edu.
Posted in: Sports