Warriors Defeat Celtics 103-90 for Fourth NBA Championship since 2015
Date: June 18, 2022
By: Victor Gonzalez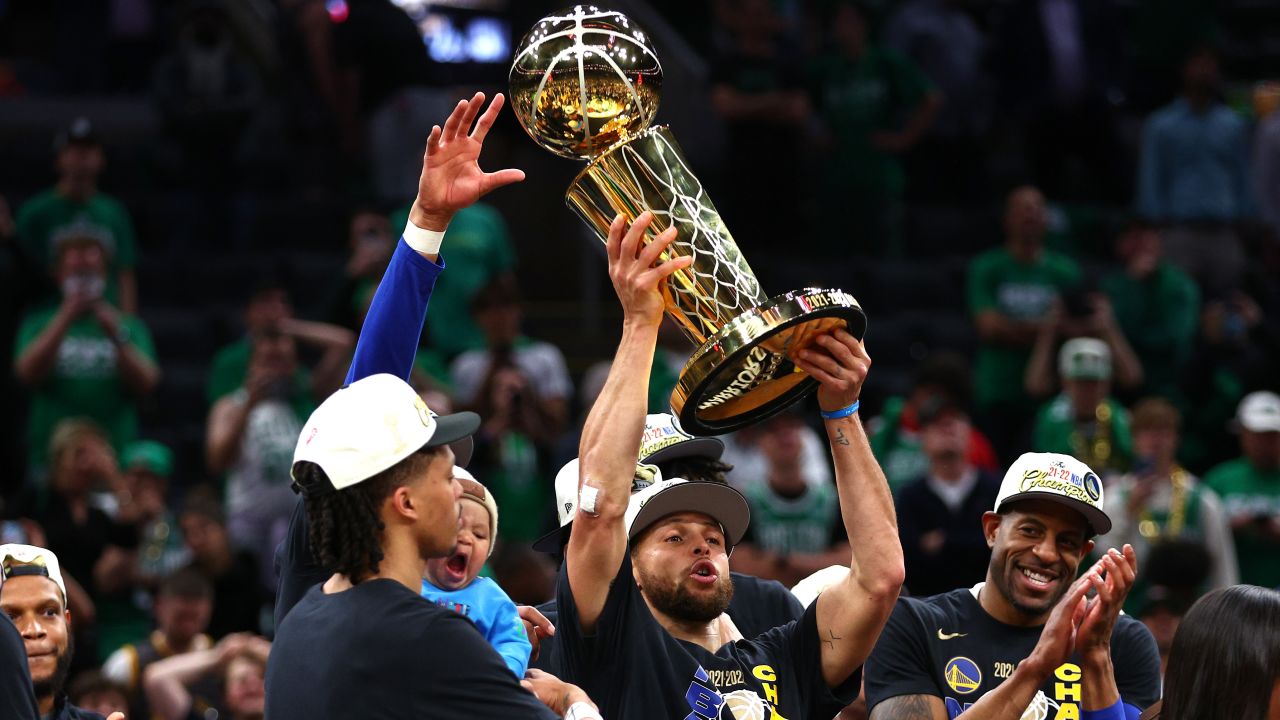 Elsa/Getty Images
For the fourth time since 2015, the Golden State Warriors have won another well-deserved NBA Championship. They defeated the Boston Celtics 103-90 on Thursday night in Boston, winning the series 4-2 and the franchise's seventh Larry O'Brien Trophy.
Guard Stephen Curry led the Warriors in scoring, recording 34 points while also nailing six threes to help that tally. Curry was awarded Finals MVP for his outstanding performance throughout the series.
Despite this being his fourth championship, this is Curry's first Finals MVP of his career.
When asked how he would describe this specific championship journey he said, "Combining our championship pedigree and our experience mixed with some fresh energy and some guys that are really hungry to take that next step… this one hits different for sure."
Steph Curry's updated resume

4 x NBA Champion
2 x MVP (Only Unanimous)
1 x Finals MVP
8 x All-NBA
2 x Scoring Champ
50-40-90 Club
NBA75 Team
All-Time 3PT Leader
Franchise Leader (PTS, AST, 3PT)
1st player with 500 Playoff 3PT

pic.twitter.com/jcBEI0lRfJ

— Ballislife.com (@Ballislife) June 17, 2022
This Game 6 victory was also fueled by a vintage performance from Forward Draymond Green, as he did a little bit of everything recording 12 points 12 rebounds and 8 assists. Draymond helped orchestrate elite team offense and defense that was displayed from start to finish.
For Stephen Curry, Draymond Green, Klay Thompson, and Andre Iguodala, this marks the 4th championship the group has won together, with their first three rings coming in 2015, 2017, and 2018.
For coach Steve Kerr, this is his 4th championship as a coach and 9th championship overall in his NBA career. He joins an elite group of coaches who also have won four championships, being Phil Jackson, Pat Riley, Gregg Popovich, Red Auerbach, and John Kundla.
THE 2022 NBA CHAMPIONS@warriors#NBA75 #NBAFinals pic.twitter.com/uOswBcKxZD

— NBA Japan (@NBAJPN) June 17, 2022
Guard Jaylen Brown led the Celtics in scoring with 34 points in the heartbreaking loss. Forward Jason Tatum went cold, only scoring 13 points, shooting 6-of-18 from the field. Boston also committed a whopping 22 turnovers as a team.
The Celtics opened up the game with a dominant a 14-2 lead, but the Warriors would quickly flip the switch and go on a 35-8 run that extended into the second quarter. Golden State would even get out to as big as a 22-point lead, and went into the half leading 54-39.
Boston stayed resilient, going on a 16-4 run in the third quarter cutting the deficit to only 10 entering the fourth down 76-66, but the Warriors never allowed the Celtics to get back into the game, holding them off until the clock hit zero.
From the collapse in the 2019 Finals, to having the worst record in the NBA the season after, to losing in last year's play-in tournament… The Golden State Warriors are finally back on top.
Victor Gonzalez can be found at victor.gonzalez1@student.shu.edu.
Posted in: Sports