Music News: Set It Off Dismisses long-time Bassist, Austin Kerr
Date: May 23, 2015
Set it Off "parts ways" with bassist, Austin Kerr on Wednesday, May 20, following sexual harassment allegations. The separation occurred as result of growing concerns from fans on their personal safety. The conversation of sexual assault spread rapidly, as apparently originating from a post via Tumblr user, @breadysetlowf.
The post included multiple incidents of sexual assault reportedly involving Kerr, and @breadysetlowf stated, "This band is a band I have grew up with, and I've lost so much already on telling my side of the story even briefly on Twitter. I would not lie about this, and I do hope no one discourages others in coming forward. I'm sorry if this hurts anyone, I really am." In response to their fanbase's concerns over the allegations, Set It Off made a statement on their Facebook page. As of 11:02 a.m. on May 20, 2015, Austin Kerr was no longer the bassist of Set It Off.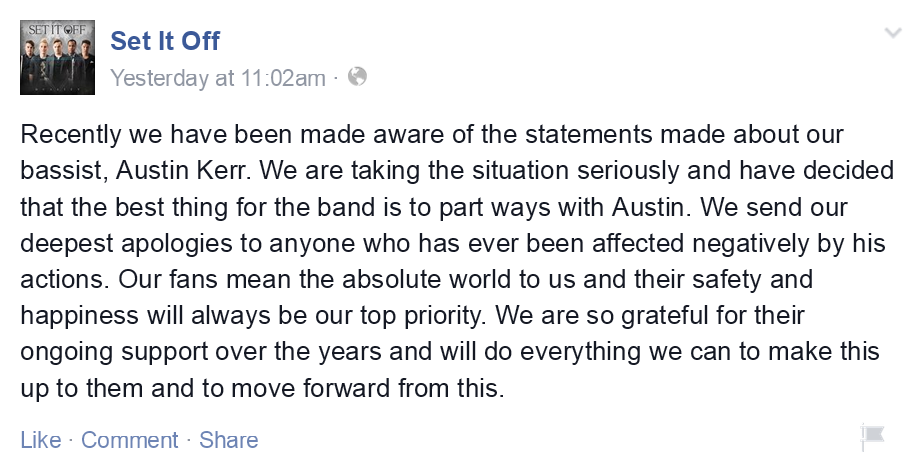 Kerr also made a public statement on his personal Facebook, since "there are two sides of every story."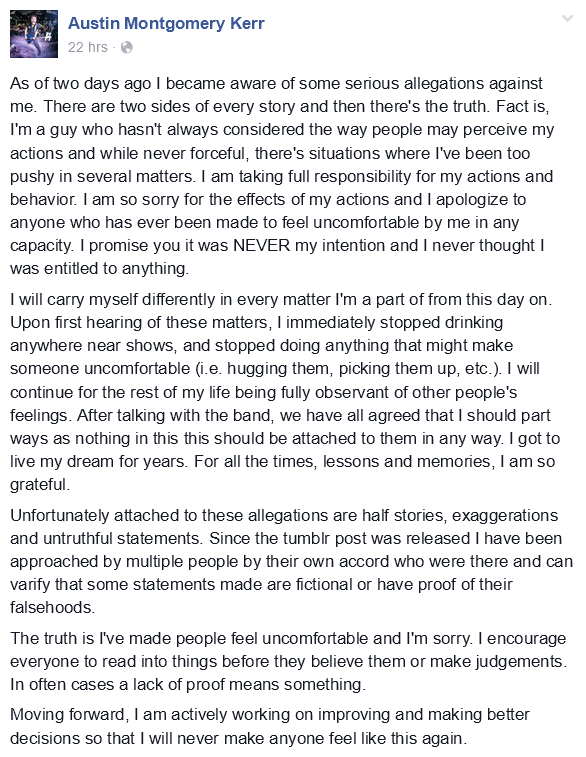 Certain fans expressed either skepticism of the accounts or support for the decision to out the bassist. Comments are swarming all means of social media including, Facebook, Tumblr, and Twitter.
When asked for comment, @breadysetlowf  stated, "I never wished for any action to be taken in the way that would hurt the band, the members, or the fans. I wrote on Tumblr to raise awareness.
I made contact with the band, and after no action was taken I proceeded to take matters into my own hands and write to warn others. I didn't realize such a post would gain vast leverage and lead others to come out about it: but I am more than glad people now feel safer and can tell their story. 
I would just like to apologize to the band and the fans, and hope they understand why I came forward about this. Thank you for those who've given me and others support on the matter."
Signed in 2011 to Equal Vision Records, Set It Off released 3 EPs with Kerr, as well as the band's first full-length album, Cinematics in 2012. The Florida band is described as pop, orchestral rock, and pop-rock.
UPDATE: Set If Off announces that the Duality European Tour is continuing and that no shows have been canceled due to current circumstances. 
Posted in: Under the Stars, WSOU