UFC 283 Fight Card Preview
Date: January 30, 2023
By: Chris Kiely
This article was originally written on Jan. 20, 2023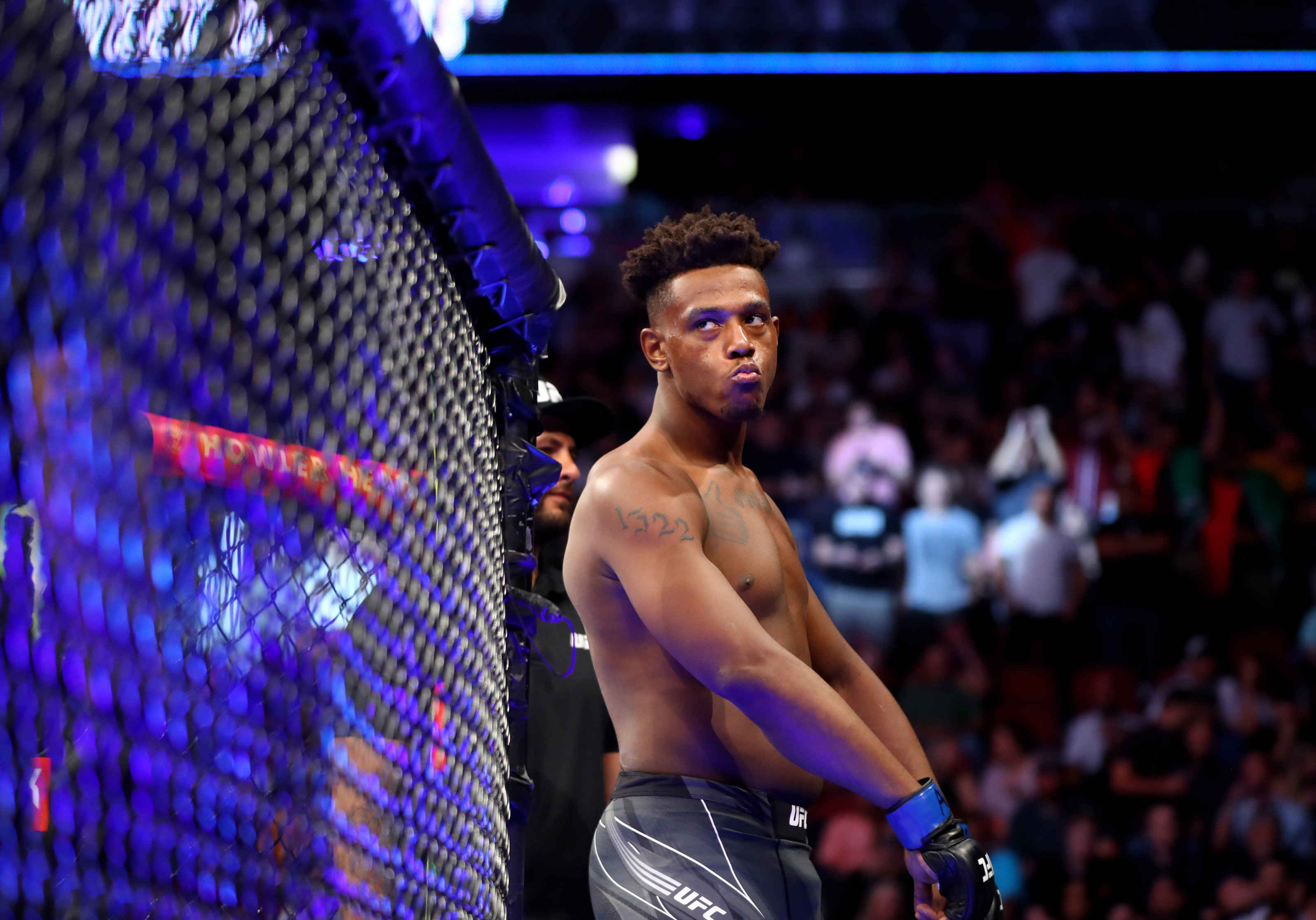 Mark J. Rebilas/USA TODAY Sports
In the world of the UFC, when one calendar year ends, another baker's dozen of pay-per-views is just on the horizon. Only one fight card into the year of 2023, and the UFC has already scheduled some extraordinary pay-per-views.
In March, Usman and Edwards in London for UFC 286, and Jones and Gane in Vegas for UFC 285. In February, Makhachev and Volkanovski in Australia for UFC 284, and the opener for 2023, UFC 283, in Rio De Janeiro, Brazil.
Over the past two years, Brazil has seen four of its fighters hear the coveted words ". . . and new . . ." Although there has not been a fight in front of a Brazilian crowd since November of 2019, this card is one that is filled top to bottom with the host country's best martial artists.
As the opener for this year, UFC 283 will hopefully address several questions that fans of the sport have wanted to be answered. They include settling which welterweight is a top five contender, what this year will look like for the light heavyweight division, and who is the baddest flyweight in all the land. With that, here is your UFC 283 preview.
Early Prelim Card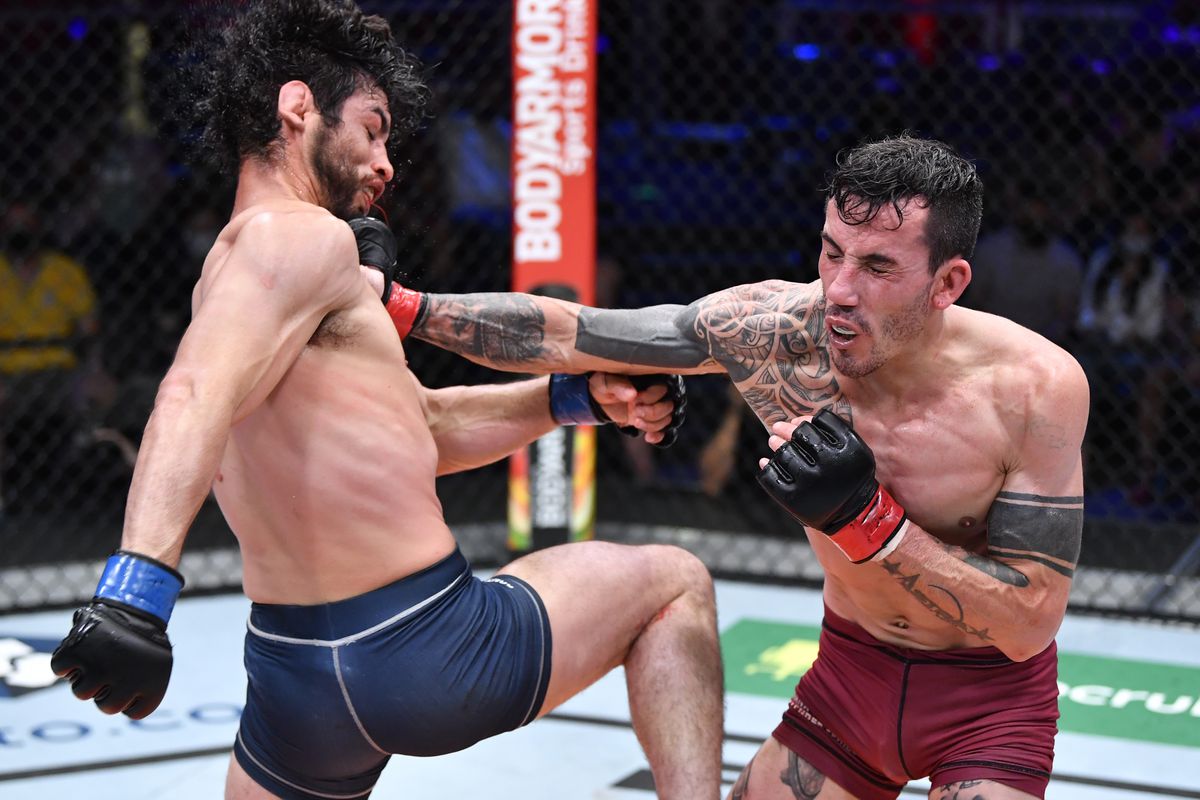 Chris Unger/Zuffa LLC
For the prelims, the focused fights will include several fighters from Dana White's Contender Series (DWCS). The first interesting bout is the opener between Daniel Marcos and Saimon Oliveira. Both arrived in the UFC by wins in DWCS, although Marcos's victory is more recent and much more impressive.
However, Oliveira has much more experience and he has faced much better competition. For the home opener before all the die-hard fans in the building, I expect him to pull out the win by decision.
The second fight will be Ismael Bonfim vs. Terrance McKinney at lightweight. For Bonfim, he is one of the underrated winners from DWCS in 2022. In September, he won a unanimous decision over Nariman Abbasov, who was then 28-3.
In addition to that triumph, the Brazilian is also on a 12-fight win streak. His opponent, Terrance McKinney, is a former loser in the DWCS in 2019, but was later signed in 2021 by the UFC.
He has quickly caught up for lost time, going 3-1, with three first-round stoppages. In a matchup of Bonfim's technical prowess versus McKinney's versatility, I like McKinney to overwhelm him and win by a first-round stoppage.
Punctuated his UFC debut with the FASTEST KO in LW history

[ @TWrecks155 | #UFCVegas43 | Nov 20 | Prelims 3 | Main Card 6 | Live on @ESPNPlus ] pic.twitter.com/65PokYxDiM

— UFC (@ufc) November 15, 2021
Prelim Card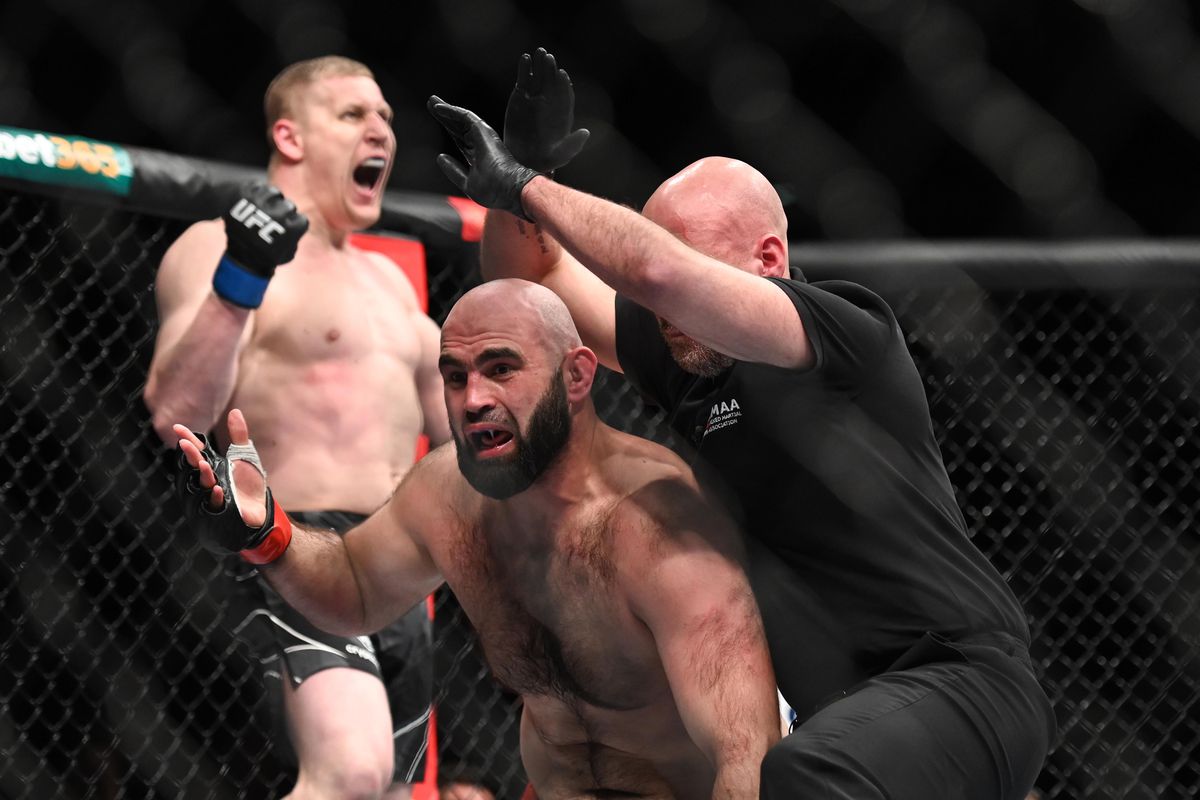 Per Haljestam/USA TODAY Sports
The must-watch fight of the prelims will be Shamil Abdurakhimov versus Jailton Almeida at heavyweight. After unsuccessfully scheduling these two fighters twice, UFC will finally put them across from each other in the octagon.
Almieda was awarded a DWCS contract in 2021 and was one of the biggest victors from last year's newcomers. In his three fights, Almeida went 3-0, all being first-round stoppages.
What he lacks in girth and size in the division, he has shown that he can make up for with his speed and fighting intelligence. Against a declining Shamil Abdurakhimov, I expect Almeida to have his hand raised and to keep climbing the ladder of the most dangerous division in combat sports.
The final undercard fight will be the first swan song of the year as Mauricio "Shogun" Rua will take part in his 42nd and final fight, this time against Ihor Potieria.
Having been a former light-heavyweight champion and having fought in the UFC since 2007, he will be remembered as a beloved fighter and the first to face a then young Jon Jones in a title fight.
His opponent, Ihor, is a raw 26-year-old that was impressive in his DWCS debut in 2021. After losing in his UFC debut last year, the last thing he wants to do is to really get behind the eight-ball in the sport.
It should be noted that 2022 was not a kind year to fighters that fought for the final time (Cowboy Cerrone, Luke Rockhold, Frankie Edgar). While it would be a sweet sight for Shogun to have a highlight finish in front of his home Brazilian crowd, the fight game has shown it is not that sentimental. It is why you can expect that Potieria would love nothing more than to be the contemptible villain in this fight.
Main Card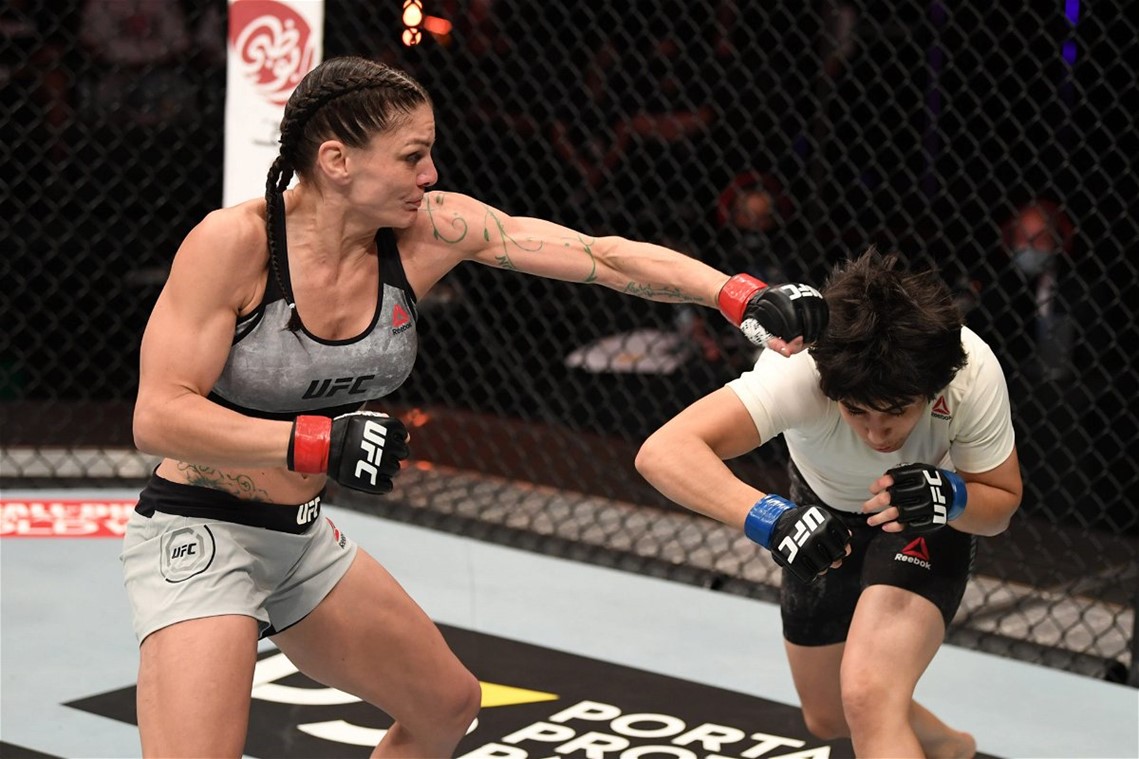 Josh Hedges/Zuffa LLC
A main card that has someone like Paul Craig in the opening and least significant fight truly shows how much of a powder keg this card can be.
A key fight to watch for is Lauren Murphy versus Jessica Andrade at strawweight. Andrade has had only one fight in each of the last two years. However, her most recent win over Amanda Lemos, where she won by a standing arm triangle choke, made her become a fixture in awards shows for best submission in 2022.
The last time she fought in Brazil, she became the UFC strawweight champion. A win here could put her back in contention for a title shot. Against Murphy, who has a three-inch height advantage and five-inch reach advantage, she will have to work in her jiu-jitsu creatively. I expect this to be awarded the fight of the night.
The antepenultimate fight will feature another must-watch Brazilian, as top five welterweight Gilbert Burns hosts Neil Magny, who is just outside the coveted welterweight's top 10.
Similar to Andrade, Burns only had one contest in 2022, but it was an absolute display of war at UFC 273. Facing a then unchallenged Khamzat Chimaev, Burns gave Chimaev all he had and recorded Chimaev's first ever lost round in Round Two.
Despite losing to the undefeated Chechnyan, Burns came away with his stock going up in defeat. Now he transitions from the veteran to young gun as he faces Neil Magny.
Having been in the UFC since 2012, Magny has been a fixture of the welterweight division, but has always been just outside of the daunting top ten welterweight class. A win for him on Saturday, and you may be seeing a late career climb, akin to what Charles Oliveira has done.
While Magny has a longer reach and has an advantage in size, Gilbert's blend of world-class striking and elite jiu jitsu are why I have him winning and returning to title contention at 170.
Champion Deiveson Figueiredo vs. IC Brandon Moreno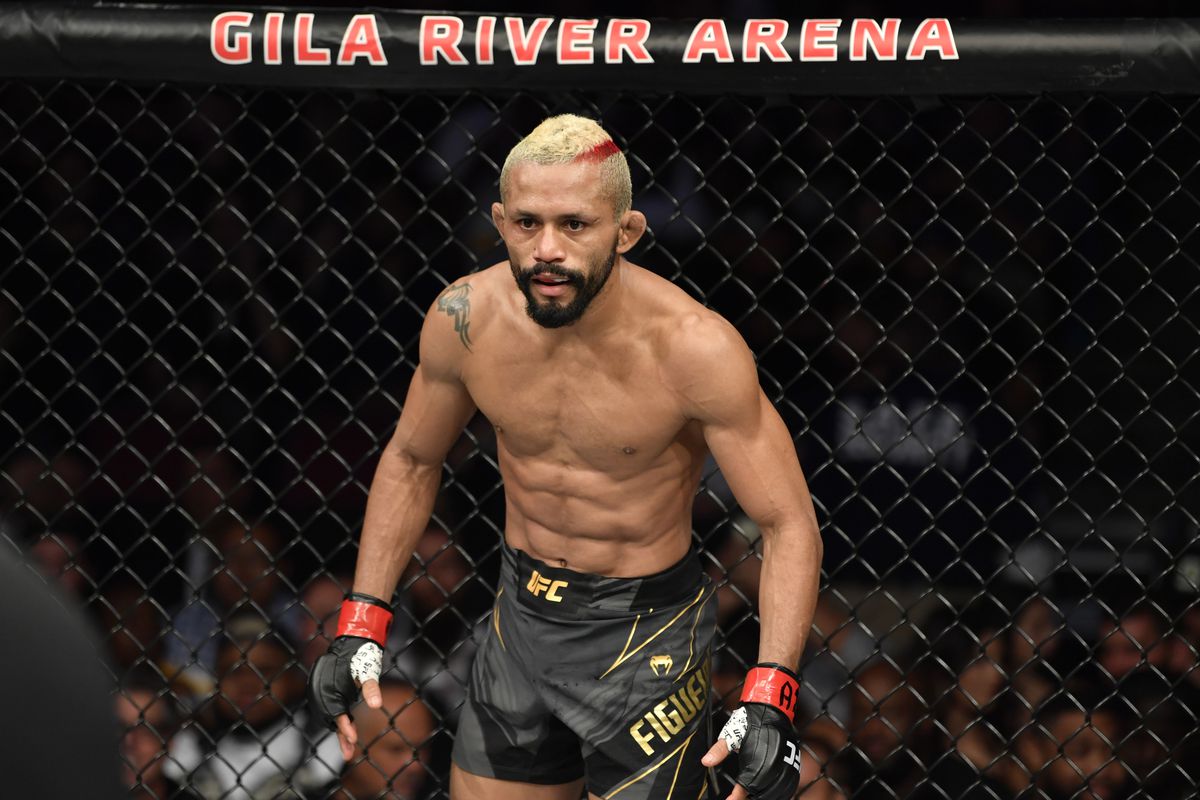 Jeff Bottari/Zuffa LLC
The co-main event undoubtedly will be the people's main event as two men that will forever be tied to one another will face off for the fourth time. The sport has seen many sequels, several trilogies, but it will see its first ever tetralogy between UFC flyweight champion Deiveson Figueiredo and interim champion Brandon Moreno.
The rivalry began in December 2020 when champion Figueiredo wanted a quick second defense of his title to close out the 2020 year. Unlike his previous two title fights, which were complete domination by Figueiredo, newcomer Moreno gave him a run for his money, ending in a majority draw. Now, the two sit with a win apiece and a draw, leading to a winner-take-all fourth fight.
When comparing them, they are both evenly matched. Neither is intimidated by a brawl in the center of the ring with punches being thrown. Neither fears a grappling match nor trying to win by submission. The only difference is their age. While Moreno is in his prime age of 29, Figueiredo is a much older 35.
However, in front of a home crowd of madman Brazilians, do you really expect Figueiredo to bow to a younger rival that easily?
Regardless, after Saturday, the UFC will look back for years to come and forever be grateful to these two men that truly saved a division that seemed to be on its way towards extinction. They saved it by having one of the top five greatest rivalries in UFC history, and four (hopefully) of the most rewatchable title fights.
While the public pick is Moreno, I think Figueiredo wins by a decision. Who knows? We might have a razor's-edge decision, that could make them want to fight for a fifth time. In all honesty, who would not want to see these warriors have ten chapters in this rivalry?
2Glover Teixeira vs. 7Jamahal Hill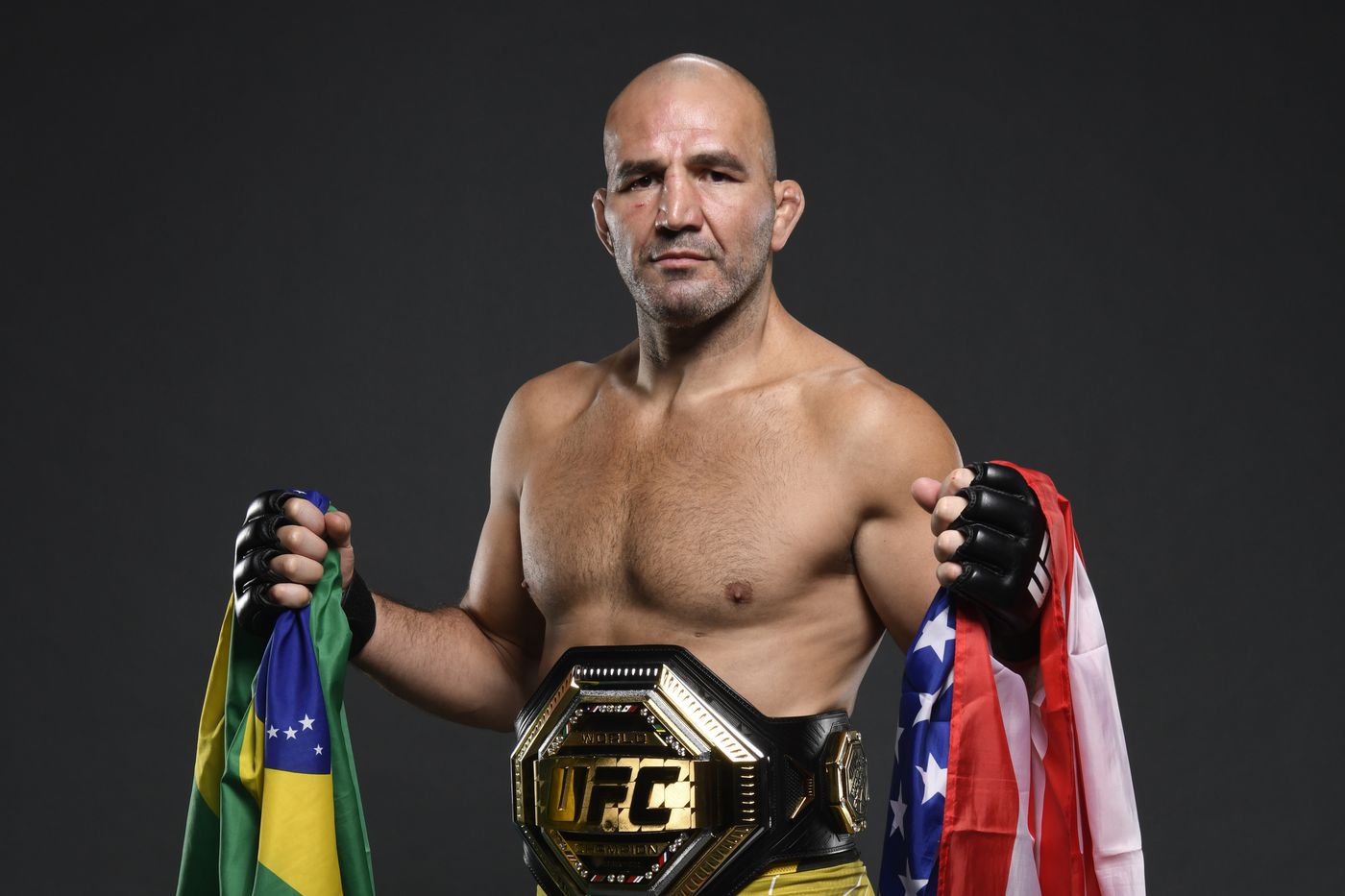 Mike Roach/Zuffa LLC
If there has ever been a division that has been turned on its head over the past couple of years, it has been the light heavyweight division. Prior to 2020, Daniel Cormier and Jon Jones were the only two men of the division to be champion over a nine-year span.
Ever since Jones vacated the title in August of 2020, we have seen the belt change hands three times. This instability at the top of the division peaked just last month, when the original fight for this belt, between Magomed Ankalaev and Jan Błachowicz at UFC 282, was declared a draw.
Now, the UFC hopes that either former champion Glover Teixiera or Jamahal "Sweet Dreams" Hill can put some of the division's turmoil to rest. The main event is one of those classic matchups between the old veteran and the relative newcomer. Teixiera is 43 years old while Hill is only 31.
Hill's strength coming into this fight is clearly his power. He has won his last three fights by knockout, including two main events. Along with way less mileage, Hill has the speed that should give him the advantage in the early rounds. These qualities set him up perfectly to end Glover's late-career breakthrough. If Jamahal lands one of those devastating hooks of his, Glover will be having many dreams, if not sweet dreams, in the center of the octagon on Saturday.
While that is the common viewpoint for many of Glover's recent fights, he has continued to defy the odds, having not been knocked out since 2017. The former champion showed in his last fight against Jiří Procházka that he is made for those championship rounds.
While many fighters meet adversity in Rounds Four and Five, Glover takes them head on, by working his jiu-jitsu on the ground very effectively. Facing Hill is the perfect set up for him, as Jamahal is much less experienced on the ground. So long as Glover can avoid catastrophe in the early rounds, the odds will favor him as they go later into the night.
However, Glover is still coming off his most grueling and exhausting fight of his career to Jiří. It would not surprise me that if Glover loses, he will unwrap his wrists and call it quits. In my opinion, that will not occur, as I expect Glover to regain the UFC Light Heavyweight Belt.
Chris Kiely can be reached at christopher.kiely@student.shu.edu.
Posted in: Sports