UFC 277 Fight Card Preview
Date: July 30, 2022
By: Chris Kiely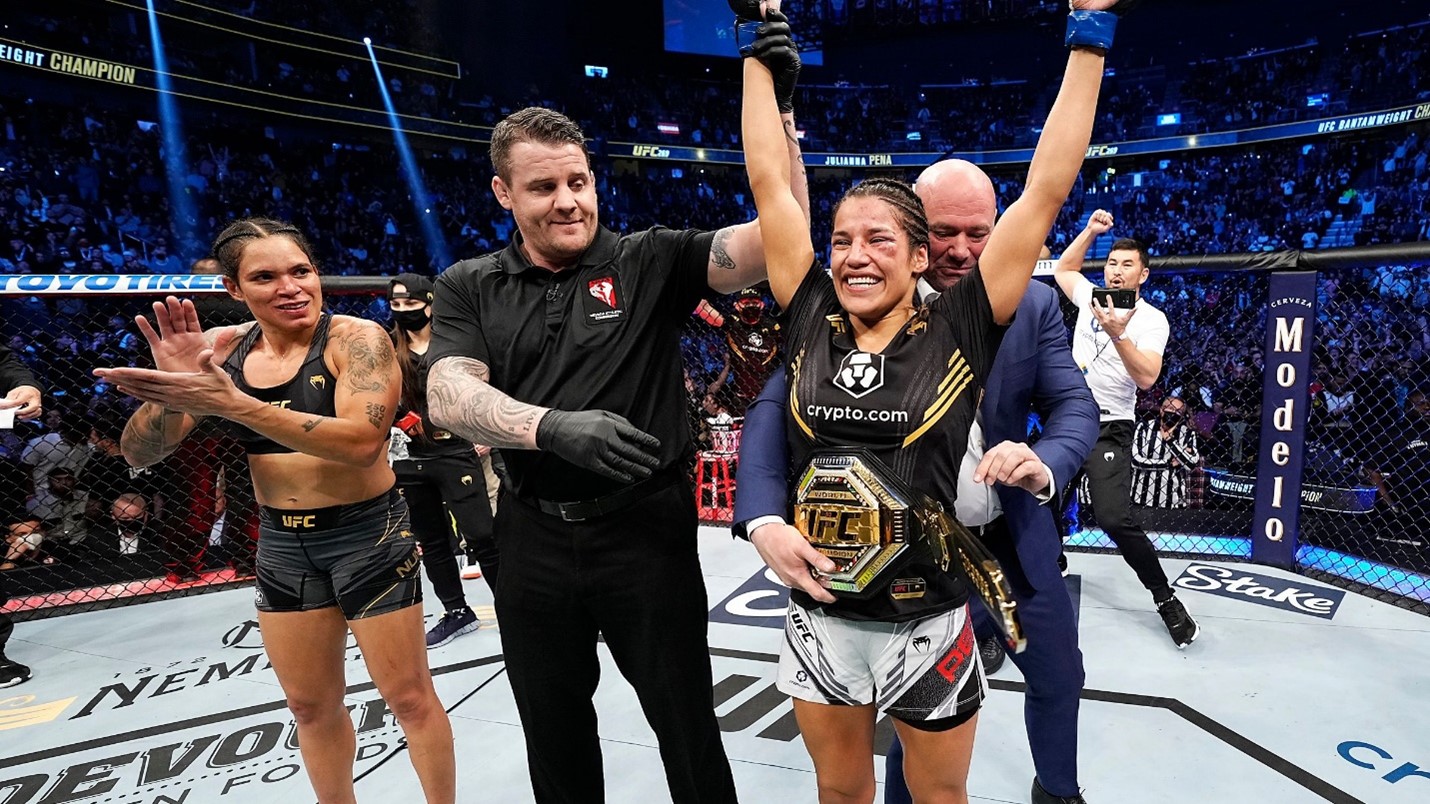 Jeff Bottari/Zuffa LLC
How does one deal with disappointment? Forgive and forget, move on, let it go.
And then, there is another way: revenge.
For UFC 277, the main event is all about revenge for Amanda Nunes against Champion Julianna Peña. Eight months ago, Nunes was coming into UFC 269 with a 12-fight win steak, nine of which were her either winning or defending the Women's featherweight or bantamweight title.
She entered her co-main event match as a -1000 favorite on nearly every betting site. But on Dec. 11, late in the first-round and in the second, the perception of her invincibility all came crashing down as she was submitted by a rear naked choke from Peña.
Now, the UFC's version of Mike Tyson-Buster Douglas does what the 42-1 bout in Tokyo could never create: a rematch.
As possibly the biggest women's title fight in UFC history, Julianna Peña, having seized her once in a lifetime opportunity, can now prove that her win in UFC 269 was not a fluke, and that she is indeed the Lioness' kryptonite.
In addition to that, the co-main event is another match that also had a previous chapter between the two fighters.
With Brandon Moreno and Kai Kara France fighting for the Interim UFC Flyweight Title, expect the two of them to show once again that the flyweight division is here to stay.
In the American Airlines Center in Dallas the main card also will include the knockout king and another Dagestani Russian on the path towards a possible title.
For UFC fans, a rule of thumb I have always had is that it is impossible to complain with two PPV in one month. With that, here is your fight card preview:
Early Prelims and Preliminary Card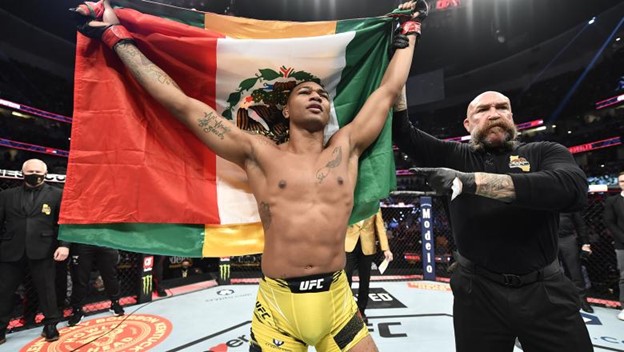 Esther Lin/MMA Fighting
For the Early Prelims and Prelims, there are two main fights, and specifically fighters, that I am looking at.
The first one to watch is Michael Morales vs Adam Fugitt in the Early Prelims. If there is a fighter to buy stock in at low value and jump on his bandwagon right now, this is your guy.
Similar to how Khamzat Chimaev was the newcomer in the welterweight division that shot up the board in 2020, I see Morales doing that this year at just 22-years-old.
In his debut in UFC 270, he made an early statement with a first-round KO against Trevin Giles as the main card opener. As a consistent -600 favorite against a no-name Adam Fugitt debut, I see him as a likely early contender for Performance of the Night and a future problem for this division.
In the featured bout of the early prelims, the undefeated @MichaelMMA21 welcomes the debuting @JustFugitt to the Octagon!

[ #UFC277 | TOMORROW | Early Prelims 6pm ET on @ESPNPlus ] pic.twitter.com/yMKdx2xLEU

— UFC (@ufc) July 29, 2022
The other fight to watch for is Don'Tale Mayes vs. Hamdy Abdelwahab in the Prelims.
The heavyweight division is not one of the most packed divisions, and Tai Tuivasa has proven how just three wins and Performances of the Night can skyrocket you in the division.
Personally, I can see that happening with the 6-foot-6-inch American who has shown his ability to, let's say, become viral on social media with his form of attacks.
Similar to Morales, he is facing a newcomer in Hamdy Abdelwahab, who is joining on short notice and has very little experience with just five fights.
Main Card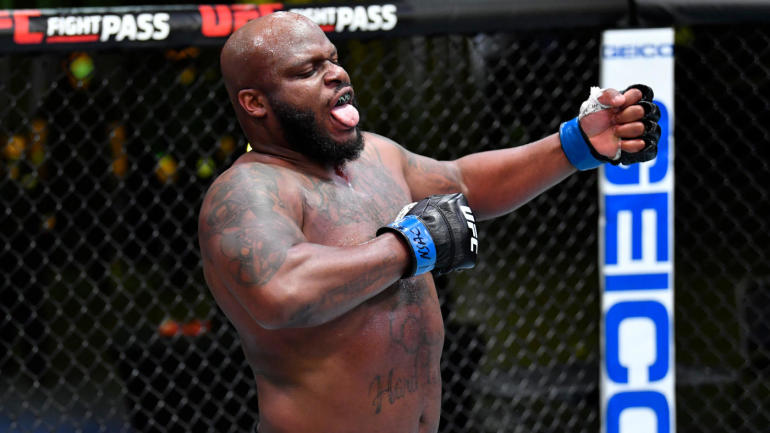 Getty Images
For the main card, once again, there are two fights that attract the eye. First is the opener between Magomed Ankalaev vs. Anthony Smith.
In a match such as this, I see this as a massive instance of a Dagestani bias. At nearly -500, Magomed's recent fights do not seem to translate to that heavy of a favorite, even with some insane highlights.
For Anthony Smith, he has been an absolute gamer in the octagon. 34 of his 36 fights have been stoppages and only five fights overall have gone to the Judges' scorecard.
In addition to that, Smith is a known competitor for the Performance of the Night award with seven overall, and he could add an eighth as a massive dog in this bout.
Lastly, the winner of this fight can be expected to be second in line for a title fight, only behind former champ Glover Teixeira.
The second one is the public's main event with Texas-native Derrick Lewis and Sergei Pavlovich.
While KOs and Lewis go together like PB&J, his wrestling is no longer a meme. Even though he lost to Tui Tuivasa in the last match, he was able to take Tuivasa down to the matts twice.
In addition, while people scoff at his cardio, Pavlovich has an even smaller gas tank, and has been unproven past round one. I see the knockout king finally getting his much-desired victory in the state of Texas and adding another notch into his knockout belt.
Brandon Moreno vs. Kai Kara-France II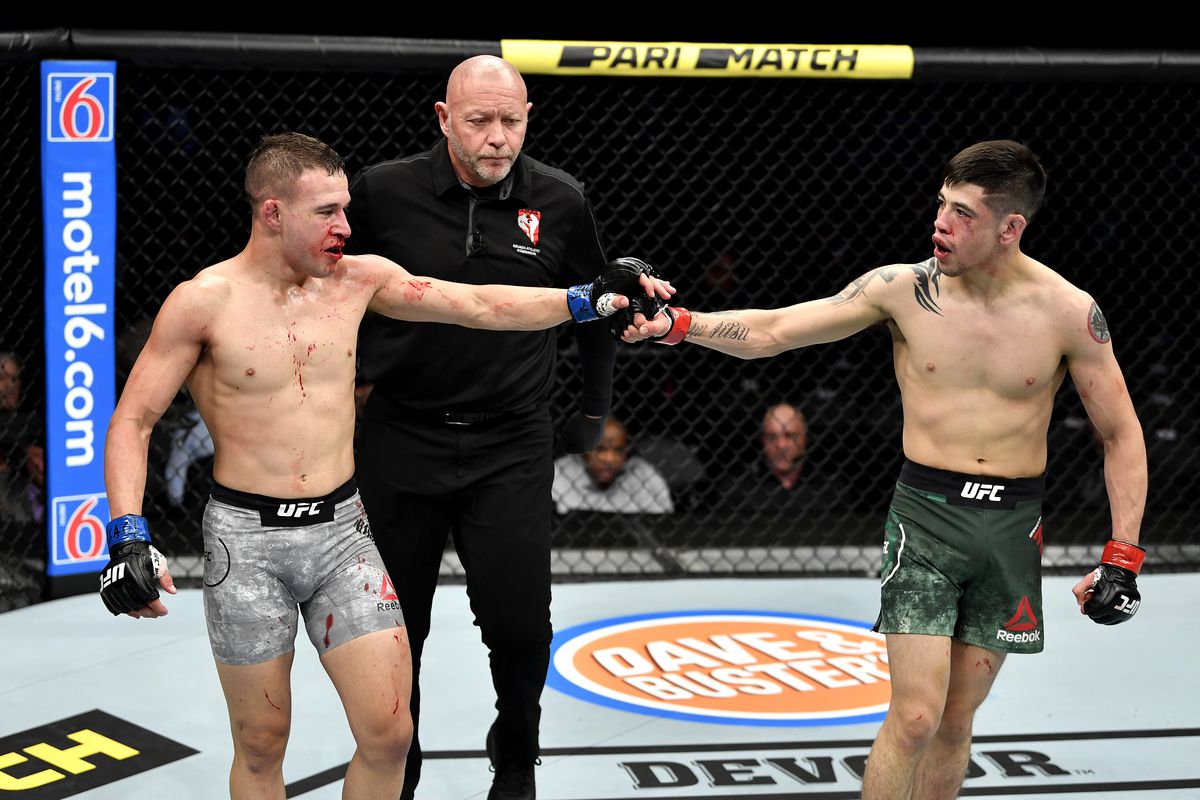 Jeff Bottari/Zuffa LLC
As refenced earlier, the UFC's flyweight division is definitely going through a Renaissance period it was in dire need of.
After sitting on brink of being scrapped, both Brandon Moreno and Deiveson Figueiredo put together one of the top-5 greatest trilogies in the sport in just 14 months, producing a tie and each splitting at one piece, saving the division.
However, the fourth-and-final chapter of that rivalry has been put on the backburner due to Figueiredo negotiations. It has set up an interim title between Moreno and Kara-France, which is not the first dance between the two of them.
In December of 2019, Moreno won by unanimous decision over Kara-France. Since then, Moreno has gone 4-1-1 and Kara-France 4-1, showing how much the two have improved. Moreno is well established amongst the UFC fandom, not only as a fan favorite, but as a guy who called his shot of becoming champion one day.
BRANDON MORENO DEFEATS DEIVESON FIGUEIREDO TO BECOME THE UFC FLYWEIGHT CHAMP #UFC263

(via @ufc)pic.twitter.com/3M8pXPhpxn

— Bleacher Report (@BleacherReport) June 13, 2021
Kai Kara France was much more of a quiet guy that flew under the radar, emphasis on was. That's because he was until his stellar first-round KO against Cody Garbrandt at UFC 269. In addition to a unanimous decision back in March, Kara-France is one win away from turning this division into a monster top-three trio.
As much of fan I am of Kara-France, I see this fight as an exemplary display of the difference between Moreno and Figueiredo. It will ultimately lead to an unprecedented fourth chapter between the two for the title, hopefully in Mexico.
Champion Julianna Peña vs. Amanda Nunes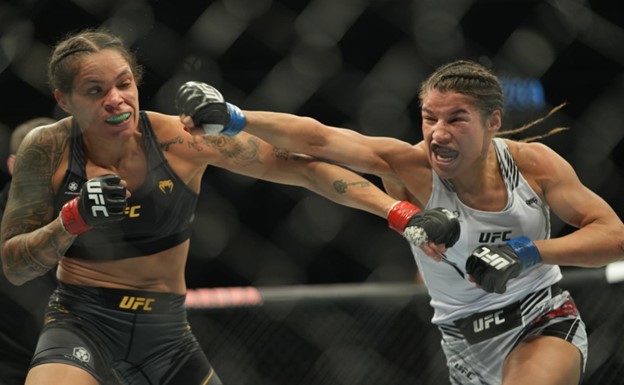 Jeff Bottari/Zuffa LLC
UFC's 277 is capped off by the Women's bantamweight champion Julianna Peña and the greatest women's fighter of all-time in Amanda Nunes. However, one must ask: If Julianna beats the best of all-time twice, what does that make her?
Regardless, from 2015 to 2021, Nunes was an unstoppable force. Rousey, Cyborg, and Holm were all breezes for her that she obliterated in the first-round.
Now with an unforeseen loss, many of the headlines and previews for this fight are centered around Nunes. This is the precedent when a dominant fighter loses a significant bout for the first time.
The public's reaction is more focused on seeing the favorite as not being invincible, rather than giving high praise to a massive underdog. That seems to have translated to the betting markets, with Nunes still a favorite in this sequel.
It can be presumed that much of the public saw UFC 269 as Nunes just having an off night.
Nunes might be great, but there needs to be some respect on Julianna Peña's name, Champion that is.
While she lacks the peak athleticism that many former Nunes opponents boasted, she makes up for it in her determination to go straight ahead at her opponent. As well as having solid ground game and conditioning, I cannot see a way for Nunes to defend besides cracking Peña's chin, something that Peña showed she is not timid about at all.
In the narratives war, there are only two outcomes for this fight:
A Nunes win, and Peña's previous win will indeed be seen as just a fluke. A win for Peña, and an era in the UFC might officially have come to an end.
It gives a great reason for fans to be wide awake at 10 PM EST when Bruce Buffer says, "It's time".
Chris Kiely can be reached at christopher.kiely@student.shu.edu.
Posted in: Sports