UFC 276 Fight Card Preview
Date: July 4, 2022
By: Chris Kiely
(This article was written before the events of UFC 276 on July 2nd)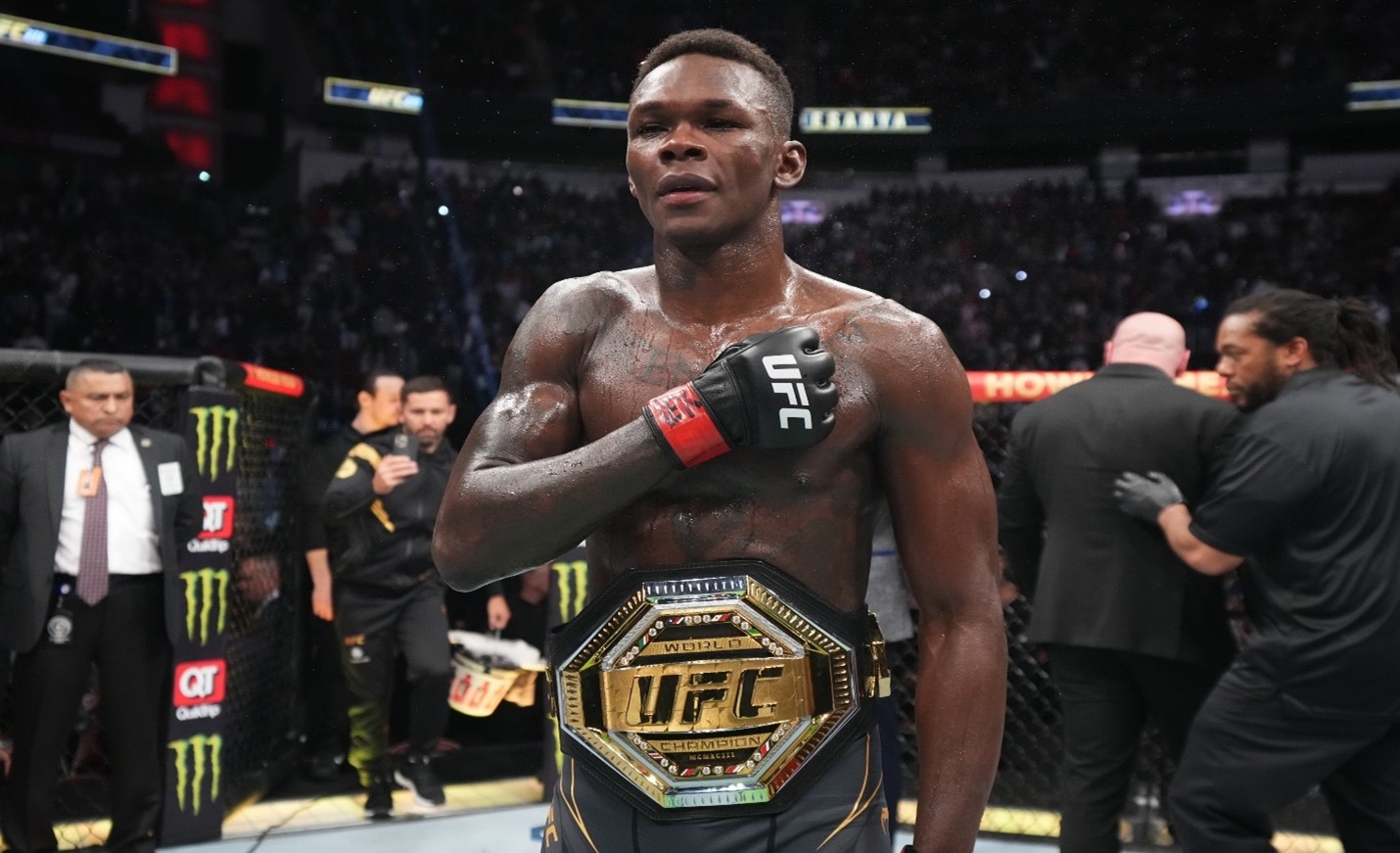 Josh Hedges/Getty Images
In every calendar year, the UFC always has that one card that is elite top to bottom.
In 2021, it seemed that card was UFC 268 in November at "The Mecca" in New York City. This year though, I can personally say that the entire card for UFC 276 on July 2nd blows UFC 268 out of the water.
The number of notable names makes this International Fight Week one to remember for the people that will be in T-Mobile Arena on Saturday night. Besides one or two early prelim and prelim fights, I cannot find a point where I would step away from the broadcast.
In addition to that, the festivities heading into Saturday night have already taken place, as the UFC inducted both former champions Daniel Cormier and Khabib Nurmagomedov into the UFC Hall of Fame on Thursday night.
Having two guys that cleared through their respective divisions be inducted into the UFC Hall of Fame this week is perfect timing, as the UFC 276 card is topped with the co-main events featuring two champions that have both been lapping divisional compadres since 2019.
In the first title fight, we see a matchup that fans have been waiting to see since July 2020. With another five rounds between Champion Alexander Volkanovski and Max Holloway, it will be another amazing fight between the two best welterweights in MMA history.
To close out the incredible week is a fight between Israel Adesanya, who is chasing the great Anderson Silva as the greatest middleweight, and Jared Cannonier, one of the hardest hitting punchers in the company.
With that, here is your fight card preview:
Early Prelims Card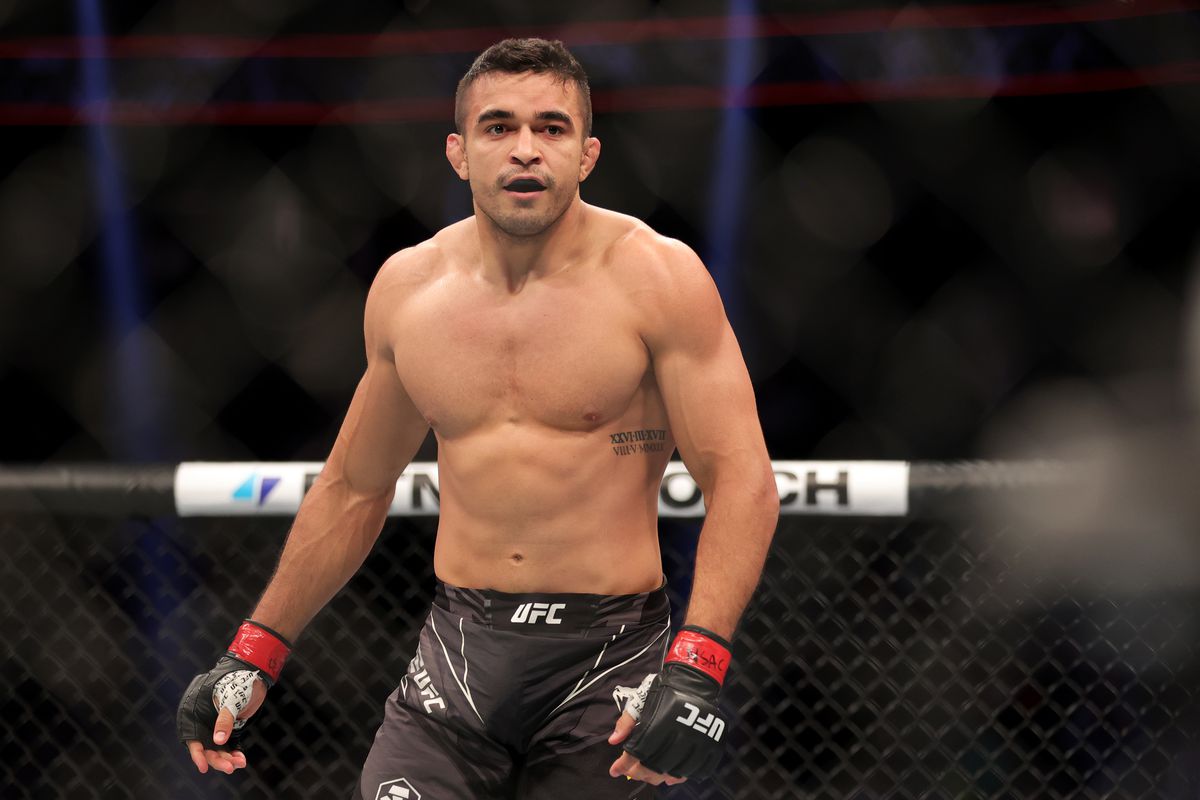 Carmen Mandato/Getty Images
For the Early Prelims, the fight that immediately stands out is Uriah Hall and Andre Muniz.
While it seems that Uriah is always discussed in the "what if" or "could have been" conversations among UFC fans, a major advantage he holds in this bout is his takedown defense.
He showed this particularly in 2019 against Antonio Carlos Jr., who unsuccessfully tried to transfer the match to mats. To be able to do that against a top-15 fighter in the division, I can see Uriah showing that poise once more.
As for Muniz, the name of his game is his submissions. Of his 22 wins, only six of them have not come from submitting his opponent. He truly showed his talent in UFC 269, where he broke Eryk Anders' right arm in just the first round.
The true jolt in the muscles seen on the replay by spectators make everyone realize that Muniz is truly a "bad man" when he takes his fights to the ground, however his consistent problem has been getting the fight there.
For Andre, his efficiency of translations is only 46%. With this inconsistency, it seems that it will be hard for him to translate his game against Hall.
Due to this, I see Uriah keeping the fight at his pace and looking for one of his cannonball hits.
Prelims Card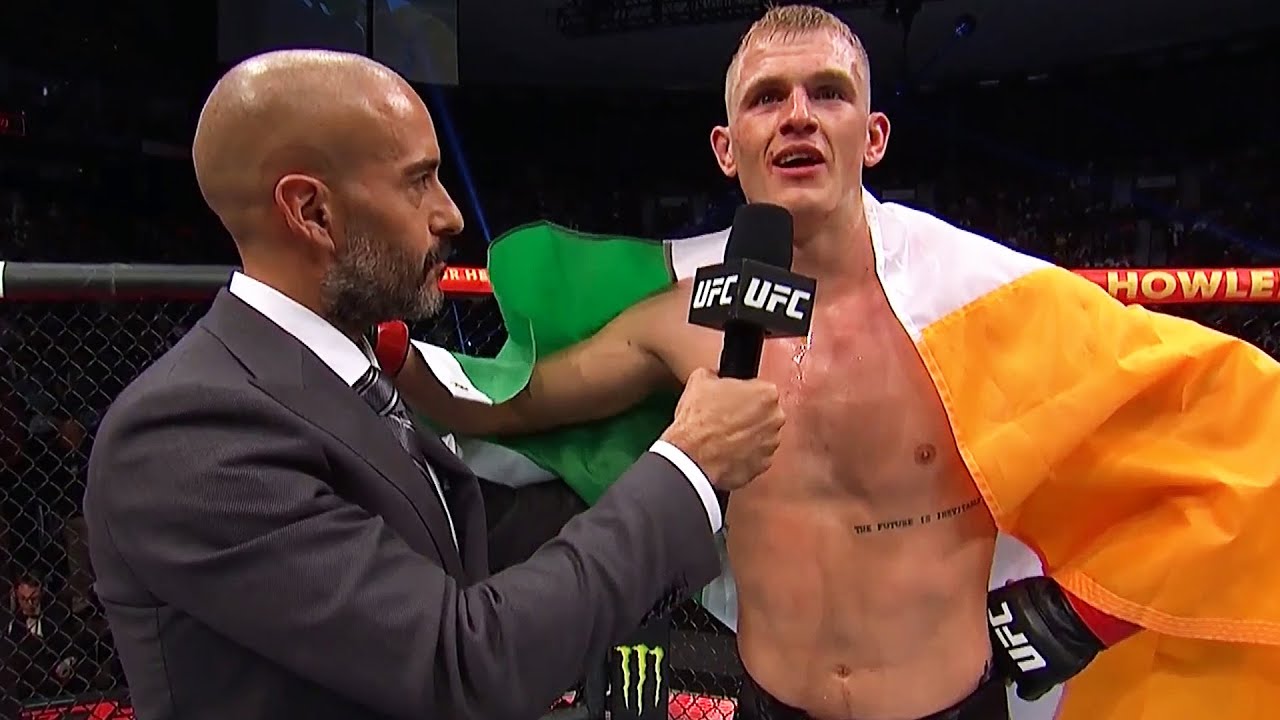 UFC
The quartet of prelims is loaded with several very notable names.
To begin, you have South Africa's Dricus Du Plessis against Brad Tavares. While Tavares is a decade long seasoned veteran, Du Plessis is a raw mixed martial artist who showed his massive potential in last year's international fight week with an out-of-nowhere KO against Trevin Giles.
The card also consists of Cowboy Cerrone and Jim Miller. Having 102 total fights between the two of them, they both have shown the ability to knock out and submit their opponents' multiple times.
With Cowboy twice having to push back his 2022 debut, it will be good to see the 39-year-old for one of the last times of his career.
Another name that has been growing in this prelim is Ian "The Future" Garry. With his height advantage, stellar timing, and effective counterattacks, it makes sense why this Irish welterweight is already in his third PPV in nine months.
Garry showed that potential in "The Takeover Part Two" with his first round KO against Jordan Williams in UFC 268.
His opponent, Gabriel Green, is much more of a grappler, which would give Ian a disadvantage here, but Green is much more of a slopy defender, and can recklessly fly at his opponents, an action that Ian Garry can turn into a McGregor like highlight.
#UFC276 Odds History: Ian Garry & Gabe Green

Garry
— UFC Rec. vs. Underdogs: 2-0
— KO'd Jordan Williams during UFC debut in MSG while favored @ -445

Green
— UFC Rec. vs. Favorites: 0-1
— Lost to Daniel Rodriguez via unanimous decision in UFC debut @ +292#GamblingTwitter pic.twitter.com/Ga8fIVNtWQ

— MMA RAX (@MMA_RAX) June 29, 2022
Pedro Munhoz vs. Sean O'Malley &
Sean Strickland vs. Alex Pereira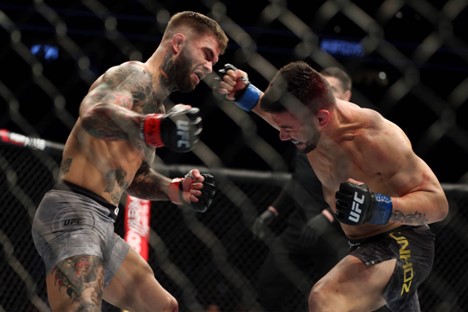 Erik Verduzco/Las Vegas Review-Journal
While this card does feature two massive title fights, it also consists of two fights that showcase some of the most polarizing fighters in the business, and the two most polarizing Seans.
To begin, you have Sean O'Malley going up against Pedro Munhoz.
For O'Malley, he has quickly created a massive divide in the UFC fanbase, where some love him, and others pray on his downfall. While the tattoos and Candyland hair dye are what people immediately focus on, Sean's talent has everyone in the bantamweight division on notice.
Those skills will be tested by Munhoz, a top-15 fighter at 135. While he holds a recent record of 1-4, the men he has shared the octagon with are some of the top contenders at bantamweight.
From Dominick Cruz to Jose Aldo to Aljamin Sterling, Munhoz is a guy that truly fights the best of the best.
This is a fight where O'Malley's ceiling is measured: either he gets a reality check and puts his future title fight hopes on pause, or he shows the fans, haters, and the boss that he is the real deal.
SEAN O'MALLEY WALK-OFF KO @espnmma #UFC250 ➡️ https://t.co/X4B1SILu68 pic.twitter.com/COwfyQCoSJ

— SportsCenter (@SportsCenter) June 7, 2020
When it comes to the people that are not fans of O'Malley, I can make a highly educated guess that they are also not part of the Sean Strickland fan club either.
The last non-title fight of the card features a likely picture of who gets the next shot at the middleweight crown with Strickland and Alex Pereira. Strickland is a filter-less mad man on the microphone, displaying that in his bickering with Adesanya on Thursday.
In the octagon, he is just as ruthless, and is undefeated at 185 pounds. In addition, he is quite underrated at wrestling, and can give his opponent a run for his money.
While Strickland is the favorite to win, it seems clear to that him winning is not what the business wants. Though Pereira only has two UFC fights, everyone is getting Jiří Procházka vibes from him with two dominants wins so far.
The most important reason for why it seems Pereira is being groomed for a title fight is that he has been the only man to knockout the "Last Stylebender".
In a kickboxing fight in March of 2017, Pereira hurt Izzy so bad that Adesanya was breathing from an oxygen tank. When you see the punch and the aftermath, it makes complete sense why this is a "winner gets a title shot" fight.
Israel Adesanya required oxygen when knocked out cold by Alex Pereira. #UFC276 pic.twitter.com/qjgp3P6qLc

— Roots Reggae Loud (@RootsReggaeLoud) June 29, 2022
Champion Alexander Volkanovski vs. Max Holloway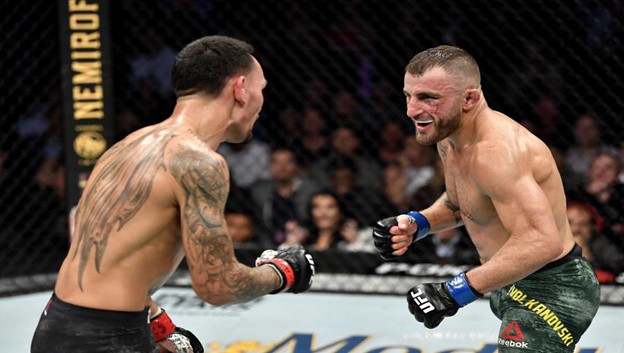 Jeff Bottari/Getty Images
The Co-main event is the trilogy fight between champion Alexander Volkanovski and Max Holloway.
For Holloway, his 13-fight win streak from 2014 to 2019 made many consider him to be the greatest featherweight of all time. That was until Volkanovski beat him not once, but twice. A win here, and there is no doubt that Alexander cements his spot atop the featherweight greats.
Even though many fans still think Holloway won the second fight, Alexander is still standing with both wins, and as Daniel Cormier said, "if he wins both fights there is no rivalry."
While the champ's rise was not the loudest, he has made up for it with his unanimous win over Brian Ortega and his domination over the "Korean Zombie". A win on Saturday for Volkanovski and you might see him go for holding belts for multiple weight classes.
If Max loses, you might see the same thing with him going up a weight class. If Max does win though, a rematch with Ortega is possible, or let Josh Emmett have crack at the title.
Nevertheless, this is a fight that fans have been begging for since the rematch on Fight Island in July of 2020.
Champion Israel Adesanya vs. Jared Cannonier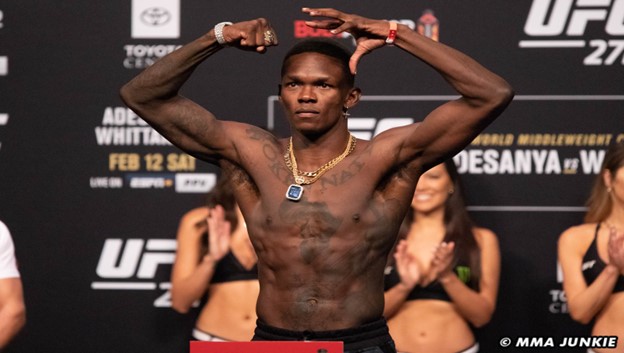 Yong Teck Lin/Getty Images
At last, the main event: Champion Israel Adesanya and challenger Jared Cannonier.
For Israel, the comparisons between Anderson Silva are increasingly becoming more and more substantial. What was once a passing of the torch has grown into the successor outshining the predecessor.
With what will now be his fifth defense of the middleweight title, a win here could make him reach a status that very few combat athletes ever reach. Since he obtained the interim title in April of 2019, he has never looked back.
Other than one good lick by Romero, the defending champ has never been hurt at 185. Since his last two fights have not consisted of a highlight punch or kick, Izzy is making it clear to fans that something special will take place in the T-Mobile Arena.
Jared Cannonier is a scary man pic.twitter.com/RYjuBikZMG

— ᴛʜᴇᴀʀᴛᴏꜰᴡᴀʀ (@TheArtOfWar6) June 26, 2022
But while he is already preparing for a parade, Jared Cannonier has other plans.
Similar to Pereira, Cannonier does have the power packed punch that needs to be considered. As probably the strongest middleweight, Cannonier's punches have a knack for crumbling what is in their way.
With a stadium filled with fans that have flown all across the world to see the "Last Stylebender", Cannonier is coming in with nothing to lose.
Lose to Israel and the "Killa Gorilla" will be just another statistic, but if he wins, Cannonier will almost certainly get the kickback proceeds and a guaranteed rematch, like Jullianna Pena had secured with her upset win over Amanda Nunes last December.
With the most stacked card of the year and two title fights, expect drama at the offset in Las Vegas.
Posted in: Sports