Top Three NFL Games to Watch: Week 5
Date: October 9, 2021
By: Chris Kiely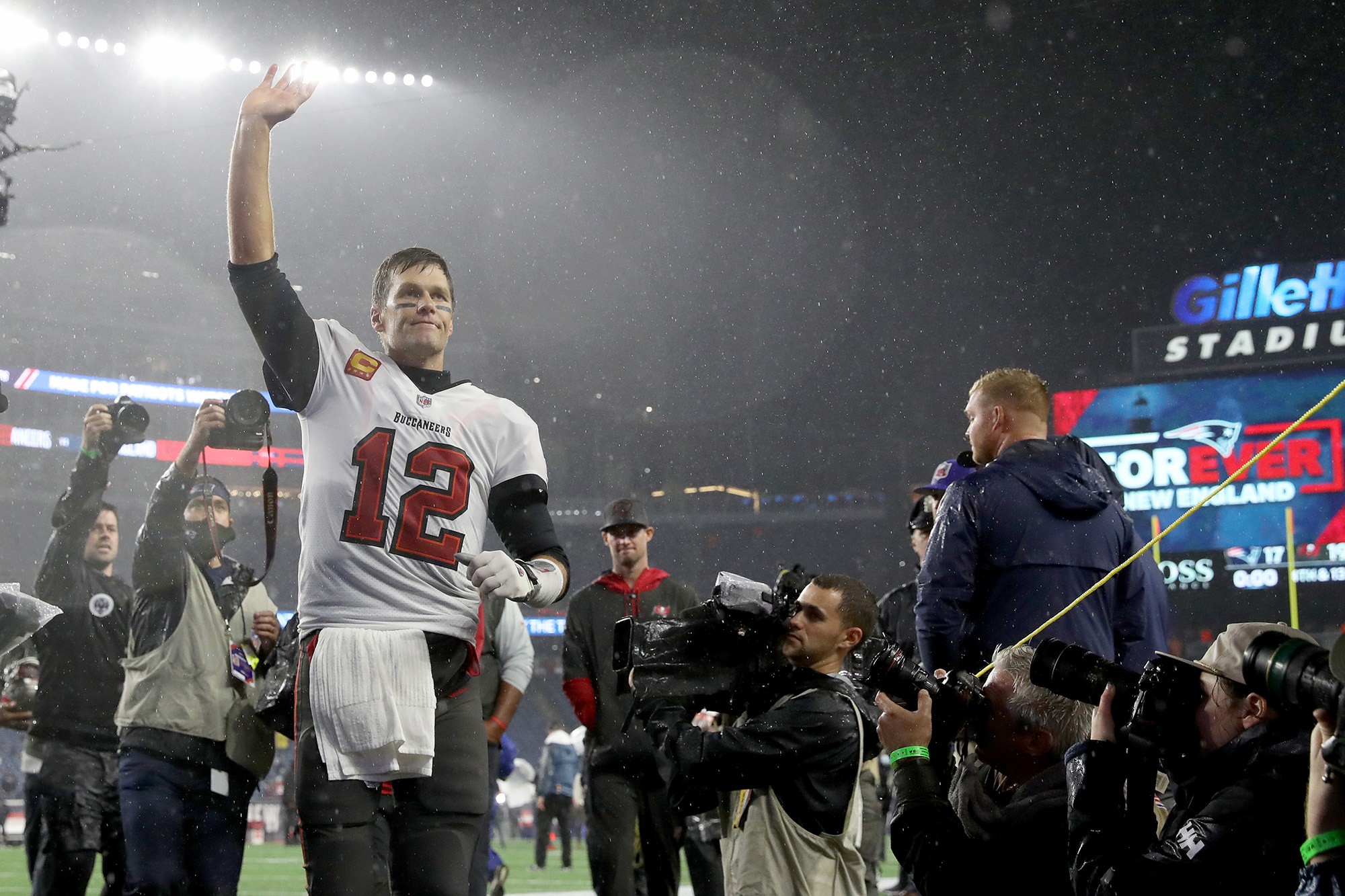 Getty Images
With now four weeks of games to look at now, I believe we are now reaching the point in the season where the opinions we make based on expectations in the preseason are now overridden by what our eyes have seen.
Some of these include: The AFC East is the worst division in the NFL. Ben Roethlisberger is really bad at this stage in his career. The Cardinals and Rams are legitimate and going to be a tough problem for a lot of opposing teams. But there are still a couple we need to be answered.
Are the Panthers legitimate? Are the Broncos for real? Will the Bengals keep this momentum. All three of these 3-1 teams are going to have these questions answered with these four weeks in October.
As for this week of games, it is strange and funny at the same time, but it seems that all games are either between struggling teams, .500 teams, or top-tier teams. I find this to be a benefit as it can be a big "put or shut up" for several teams that are looking to make the playoffs this year. With that, here are your Week 5 games to watch.
1. Green Bay Packers (3-1) at Cincinnati Bengals (3-1) - 1:00 p.m.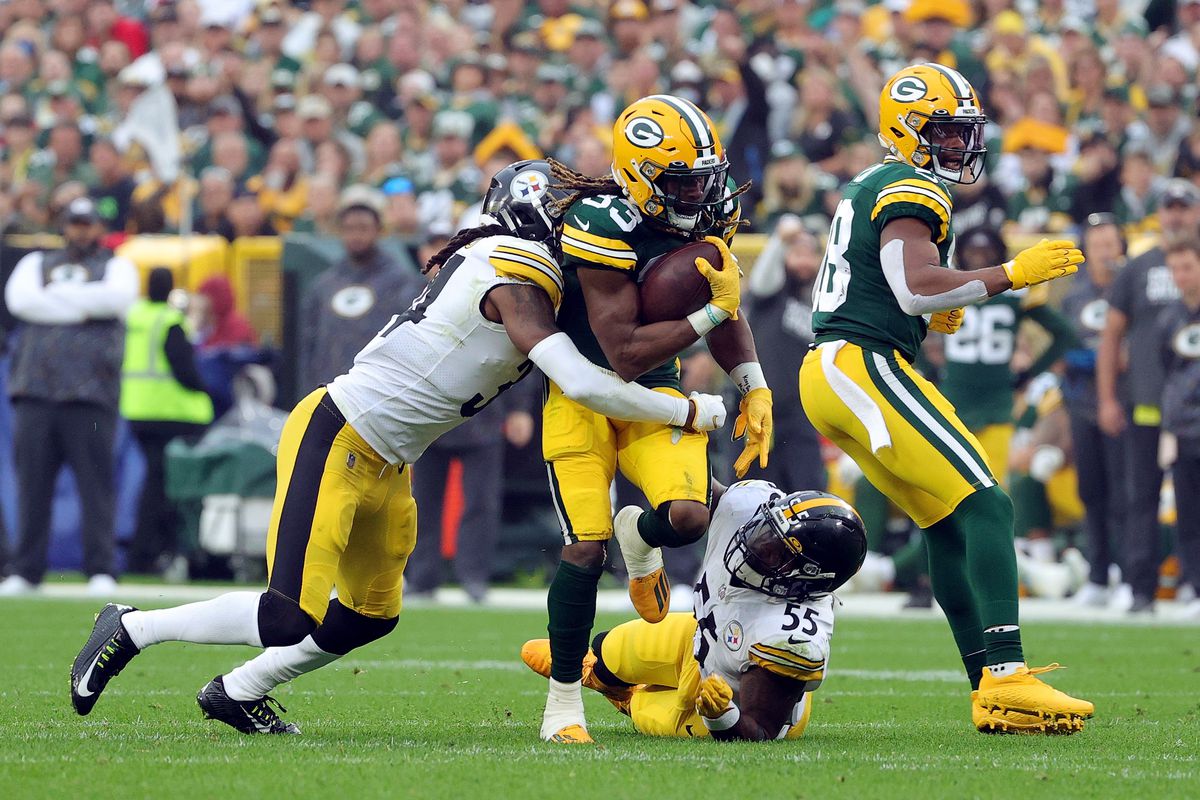 Stacy Revere/Getty Images
As mentioned earlier, the Bengals are one of the teams that define "put up or shut up." Their three wins are teams with a combined record of 2-10 and their loss was to a Bears team that is average at best. Now they hold a prime position of hosting the Packers and being a major takeaway for people on Monday.
A loss and they sit at 3-2, having yet to play either the Ravens or the Browns within the AFC North. On the bright side, Joe Burrow has looked really good and has a TD-INT ratio of 7-1 if you take the disaster he had versus the Bears. The jokes of Ja'Marr Chase have completely simmered, with his big play catches four weeks through.
The defense is still very much unproven which could show their legit facing the Packers. I cannot stress this enough, but a win here could be monumental for the Bengals, considering they have the Lions and Jets in two of the next three weeks.
Both 3-1. Who wins this one?

@packers vs @Bengals
Sunday, 6pm
@SkySportsNFL pic.twitter.com/w2uKpwLiKC

— NFL UK (@NFLUK) October 9, 2021
After Week 1, you would have thought that every single emergency alarm went off in Green Bay losing 38-3 to Saints. Since then, Green Bay's offense has been in high gear, scoring 92 points in these last three games.
Aaron Rodgers has been amazing in his two straight primetime games and absolutely cut through the Steelers defense last week. The offensive line has improved game by game, and Randall Cobb has silently been establishing himself as a solid No. 2 receiver for this offense. Even with this three-game win streak, they still do not look spectacular.
The defense has been average, and should have looked a lot better, facing off against Jared Goff, Jimmy Garoppolo, and Ben Roethlisberger. These next three weeks, this matchup, as well as against the Bears and Washington, are all games Green Bay could take care off before they hit the gauntlet of their schedule which consists of Arizona, Kansas City, and Los Angeles.
2. Cleveland Browns (3-1) at San Diego Chargers (3-1) - 1:00 p.m.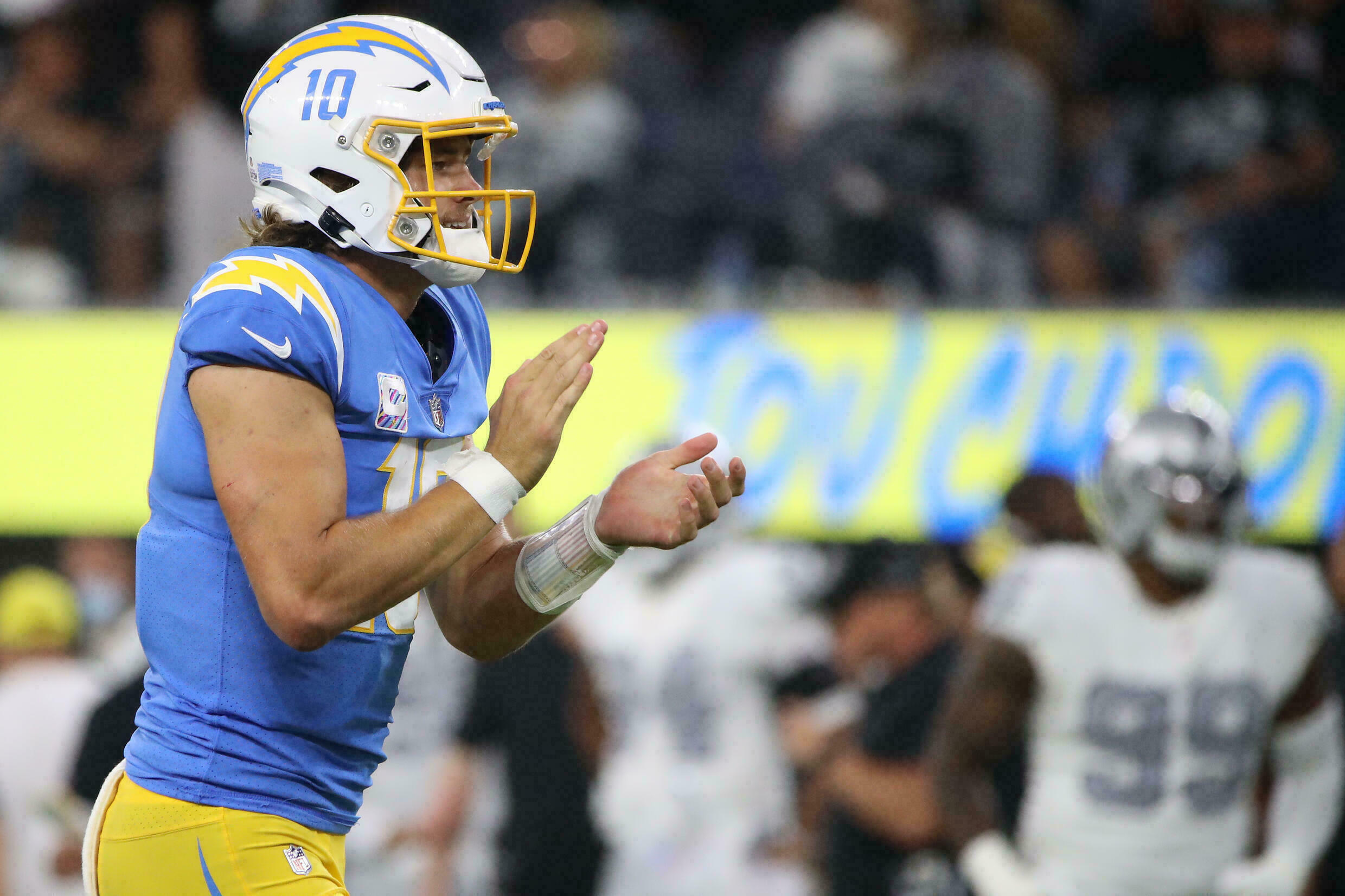 Katelyn Mulcahy-North America-AFP/Getty Images
Similar to the game above, this is a battle featuring two 3-1 teams, both of which are in a division that make out of division wins so valuable. Also, both are teams that in just two years have shown the ability of building through the draft, trades, and free agency and how good you can become.
Looking at the Chargers, they can easily be 4-0 if Greg Zuerlein's 56-yard field goal was slightly off. They have gotten booed in their own stadium twice, but they have looked pretty impressive. Both Brandon Staley, who could silently be making a really good case for Coach of the Year, and Justin Herbert are looking like a fantastic combination.
The spreading of the wealth on offense with Mike Williams, Keenan Allen, and Jared Cook makes them much more dangerous. Their defense could be the most underrated in the NFL, as they have held all of their opponents to their lowest scoring totals this season. As much as this defense has been getting loads of love, Staley's background with the Rams seems to be making a major impact.
A couple of 3-1 teams meet out west.

Herbert. Mayfield. Who you got?@Chargers | @Browns

: #CLEvsLAC -- Sunday 4:05pm ET on CBS
: NFL App pic.twitter.com/bjnUBCOqDZ

— NFL (@NFL) October 8, 2021
Last year, the Browns had several wins in October and November that were really ugly but counted and every other resulted in them making the playoffs. Last week's victory against the Vikings was much of the same as well. The team should embrace their defense being the better part of the team, with how they have held the Bears and Vikings to 13 points combined.
The front four, thanks in large part to sleeveless Myles Garrett, have been a force to not be reckon with. That, combined with their effecting rushing game, make me see that Kevin Stefanski is showing an obvious but rare talent for coaches in the NFL, which is playing to your strengths effectively.
As mentioned, both of these teams are divisions that total dog fights. The winner is going to be sitting comfortably at 4-1 and be in great position of winning their respective division.
3. San Francisco 49ers (2-2) at Arizona Cardinals (4-0) - 4:25 p.m.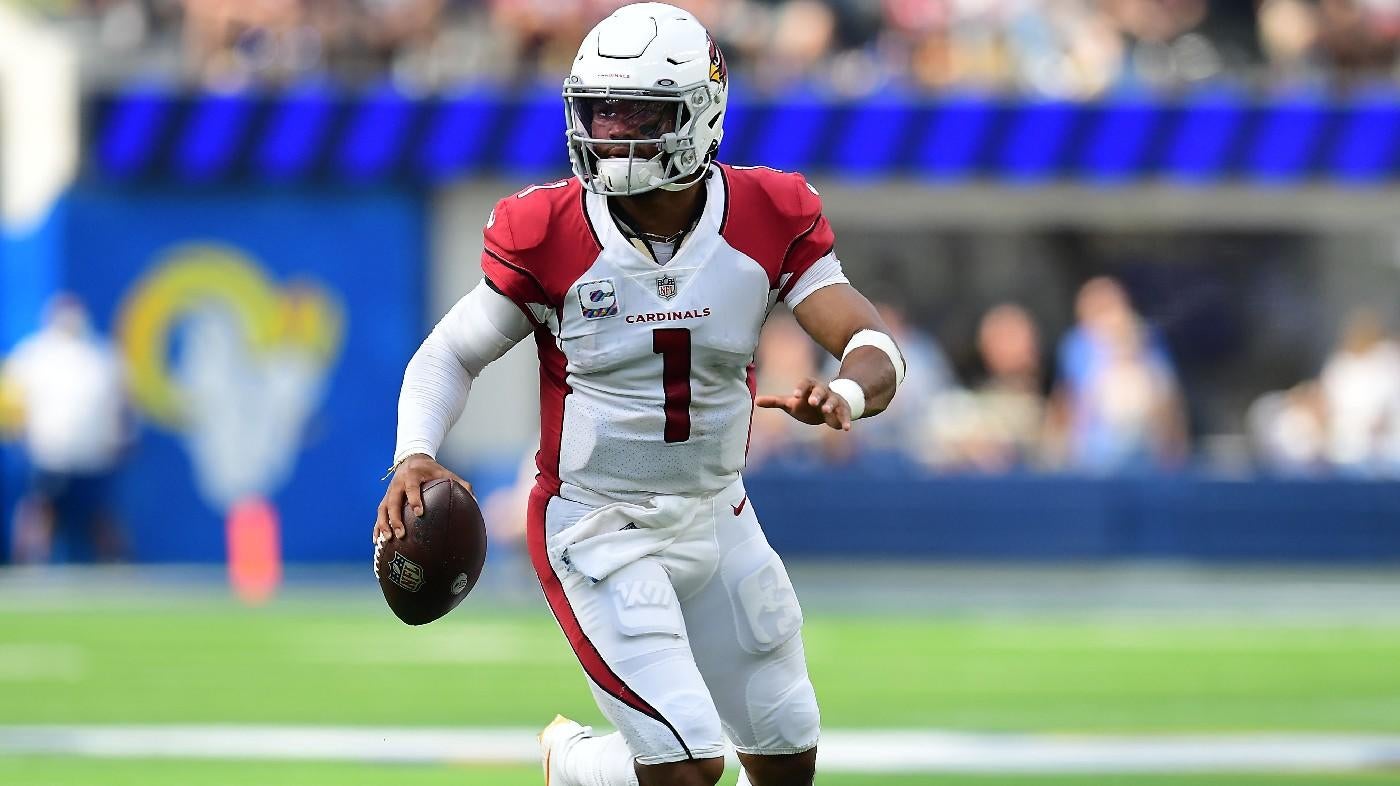 Gary A. Vasquez/USA TODAY Sports
Teams that are 2-2, other than the Chiefs, are pretty unpredictable and hard to get a pulse on how good they actually are.
For the 49ers, they sit at 2-2, but they are certainly a dangerous one, considering how tough of a schedule they have had the past two weeks. The big thing that makes these 49ers so dangerous, but unpredictable at the same time is the injury with Garoppolo, and Trey Lance being thrown into the starting quarterback job in just his fifth week.
When Kyle Shanahan drafted Lance over Mac Jones and Justin Fields, a key reason they said was having a guy that could immediately start and manage games well. With Lance now as the starter, this is where Shanahan proves if his scouting last year was correct.
A loss here could set the 49ers at 2-3 and really put them behind the eight-ball in a division like this.
Trey Lance is prepared to make his first NFL start vs the undefeated Cardinals.

(: @49ers) pic.twitter.com/MfMymFPppb

— theScore (@theScore) October 8, 2021
After beating the Buccaneers, the Rams had the definition of a layover game, as the Cardinals offense continued their purge upon defenses. With the Cardinals beating the Rams, you might say they are now in prime position of a letdown game.
However, this is the first time that Kyler Murray and Kliff Kingsbury beat the Rams, which is a major monkey off their back now. This seems to be the pinnacle of how good they have shown themselves to be in these first four games, particularly winning three of these four games on the road.
Their offense is the only one in the league with over 400 yards and at least 30 points in every one of their games. Similar to the Chargers, but on a grander scale, Murray has spread it really well with his receiving corps. Their top five receivers with the most catches are only differentiated by 5 receptions, with all of them having between 15 to 20.
As much as we think of the Murray-Hopkins connection, it is much more than that. Since their kickoff against the Titans, they have been flying up everyone's power rankings. A win here and at Cleveland next week could make them the potential top Super Bowl favorite.
Chris Kiely can be reached at christopher.kiely@student.shu.edu.
Posted in: Sports