Top Three NFL Games to Watch: Week 2
Date: September 19, 2021
By: Chris Kiely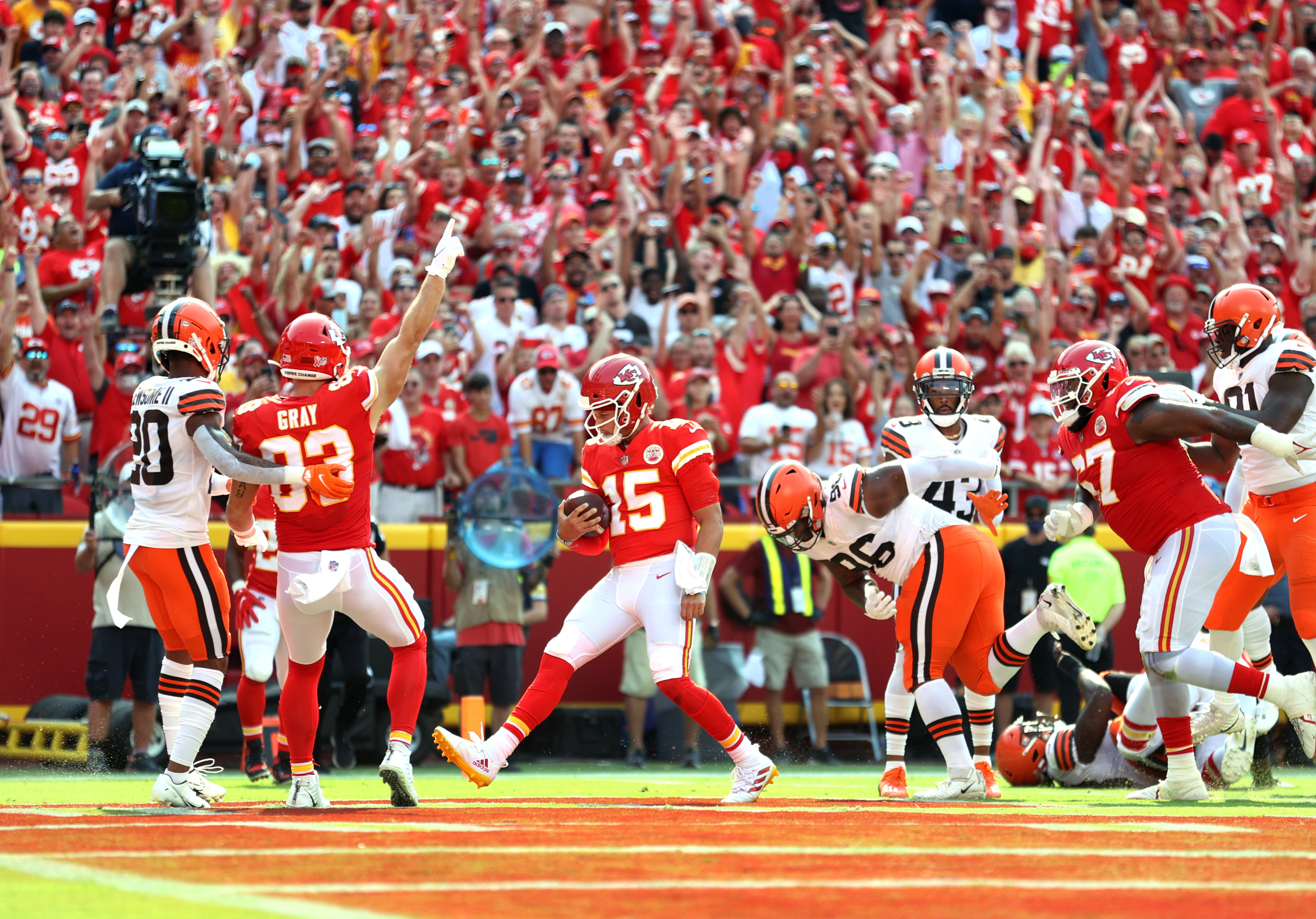 Jamie Squire/Getty Images
Boy was it is good to be back. Fewer words could not be spoken to eloquently describe the feeling that many of you had last Sunday. The first time in months where you were able to watch the NFL truly back with stadium atmospheres. It resulted in some great feelings for many fanbases to finally see their teams in person.
Now looking at Week 2, we have at least one game to reference when talking about teams and the season as whole. While we all say not to make knee-jerk reactions based off Week 1, it is still easy to do. Teams like the Arizona Cardinals and Miami Dolphins were big winners, while the Tennessee Titans and Green Bay Packers were major losers.
However, I have two feelings regarding Week 2. First, this is where water starts to find its level, as you see if a team is not a fluke. Second and more importantly, several teams that lost in Week 1 need to bounce back in a major way. The NFL is a fast league where you can easily see your season start off in an 0-2 hole.
While it is not impossible to get out of, it has a track record of being an early warning sign for a team's season to be potentially rough. With that said, here are your Week 2 games to watch.
1. Los Angeles Rams (1-0) at Indianapolis Colts (0-1) – 1:00 p.m.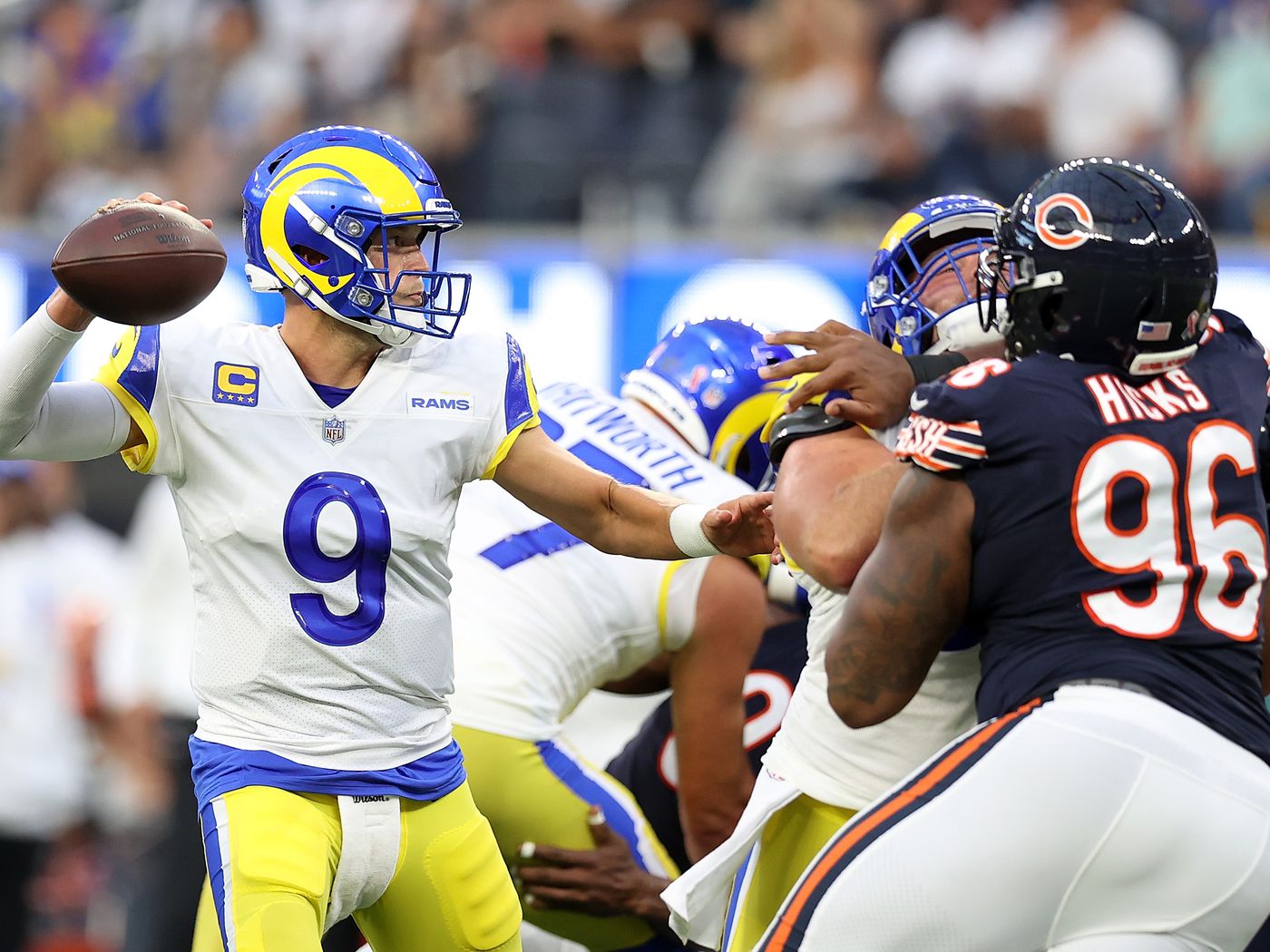 Ronald Martinez/Getty Images
Before we begin with any particular team, we must start out with giving major props to the four West teams from both conferences that combined to go a staggering 8-0. Of those eight, the team that looked the best were the Los Angeles Rams.
While they might have just beat a below average Bears team, the way they won was much more significant as they showed their potential to be the best team in the NFL. In his first game, Matthew Stafford threw 20/26 for 321 yards and three touchdowns. His two 50+ yard plays were unthinkable these past two years when comparing this to former Rams quarterback, Jared Goff.
MATTHEW STAFFORD WELCOME TO LA
pic.twitter.com/QgYQpMtMV2

— PFF (@PFF) September 13, 2021
Stafford's connections with Van Jefferson and Cooper Kupp proved he has been more than capable to handle his own when he is with elite teammates. Now that they are facing a much better team in Indianapolis, I would expect them to have to rely a little bit more on that passing game with how fierce the Colts front seven can be on defense.
Nevertheless, the Rams are stout as well on their defensive line, as it is a breath of fresh air to talk about them and the first three sentences not have to be about 1. Aaron Donald, 2. Jalen Ramsey, and 3. Donald and Ramsey. Expect this team to be top 3-5 all year.
Another one: Matthew Stafford slings a 56-yard TD to Cooper Kupp. No one close to Kupp.

pic.twitter.com/5EhifE9UQc

— Ari Meirov (@MySportsUpdate) September 13, 2021
The Colts are one of the teams getting a rude welcome to this season by having to play the Seahawks and the Rams in the first two weeks. This is a team that has been accustomed to this however. Similar to the Giants, except Indianapolis may make the playoffs, the Colts have shown that they tend to get their gears rolling as the season gets going later on.
On the bright side, the team should be happy with Carson Wentz's performance. His 233 passing yards and two touchdowns were good to see for a man that they have put a lot of resources into. As for worries about their rushing, I have little reason to panic as I am very comfortable relying on Jonathon Taylor finally getting into a grove. The keys for this game will be who wins: Colts' offensive line or Rams' defensive line and who gets a better quarterback performance.
2. San Francisco 49ers (1-0) at Philadelphia Eagles (1-0) - 1:00 p.m.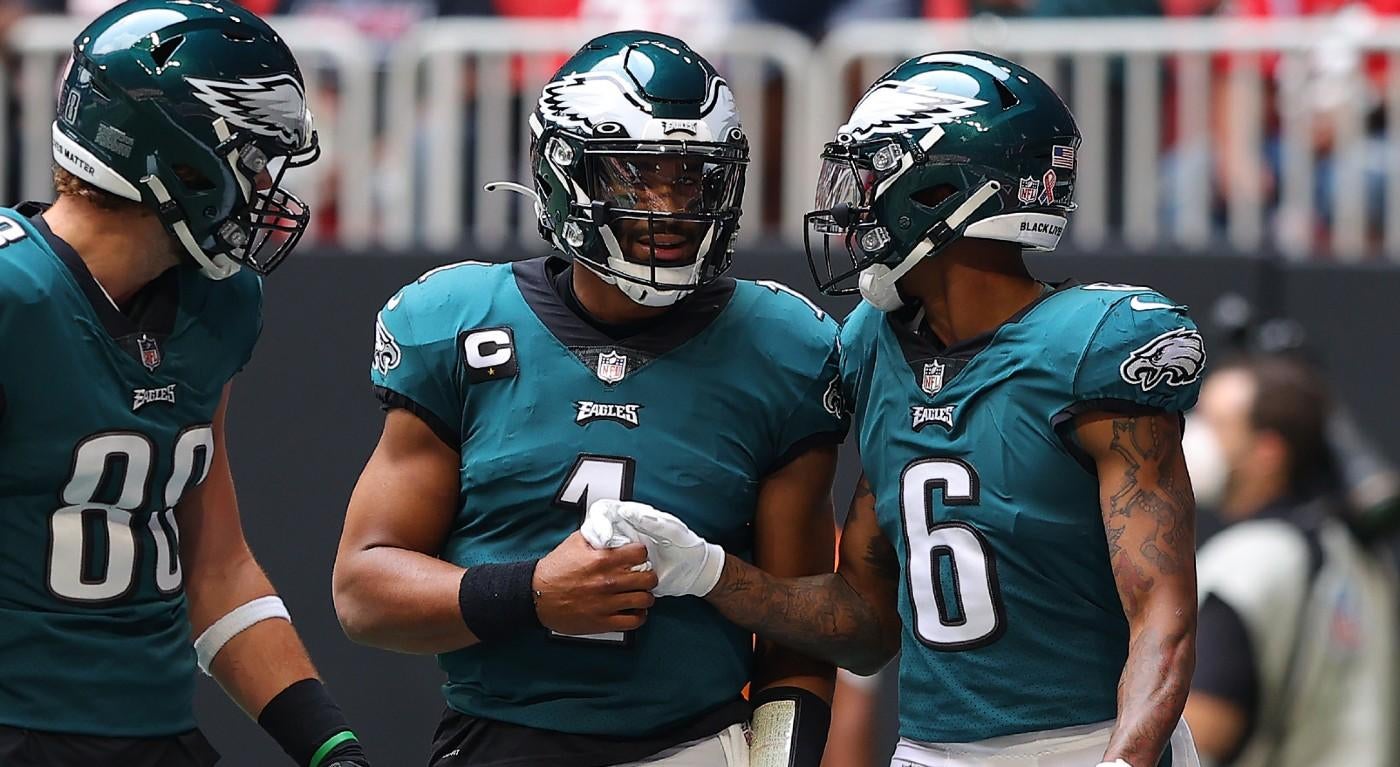 Kevin Cox/Getty Images
For everyone this offseason, the NFC was seen as a three-way race between Washington, Dallas, and New York. The Eagles came into Week 1 with a clear sense of urgency and gave everyone around the league a wakeup call as they throttled the Atlanta Falcons, 32-6.
Jalen Hurts, for many were already expecting he'd be replaced next season, showed he had other ideas by totaling over 300 yards and three touchdowns. He, along with his young receivers in Jalen Reagor and DeVonta Smith, looked incredible as they were one of the best teams in Week 1.
Just like old times! @DeVontaSmith_6 @JalenHurts

: #PHIvsATL on FOXpic.twitter.com/KnA1wVjOjE

— Alabama Football (@AlabamaFTBL) September 12, 2021
What was more impressive is that first year head coach Nick Sirianni's defense was amazing at defending the Falcons. While I am not sure that this will continue, people should be looking at the Eagles as a more serious threat to winning the NFC East.
Oh, so it's like that @JalenHurts and @goedert33?#PHIvsATL | #FlyEaglesFly

: FOX pic.twitter.com/1iNrCpM45N

— Philadelphia Eagles (@Eagles) September 12, 2021
Heading into the dwindling minutes of their game in Detroit, the 49ers were packing up on what looked to be a sure win. That win changed in less than two minutes as the Lions nearly completed their comeback, with the final scoring ending in 41-33. One of those last two minutes showed that the 49ers, under Kyle Shanahan, always find a way to fill a spot. With starter Raheem Mostert injured, Elijah Mitchell took the duties of running back.
Also, I could see this team being identical to the Dolphins last year by eventually giving the reins of the offense to Trey Lance, as he showed his potential in a just one play. Even with the Eagles' highs, I expect the 49ers to bring Philadelphia back down to Earth.
3. Dallas Cowboys (0-1) at Los Angeles Chargers (1-0) - 4:25 p.m.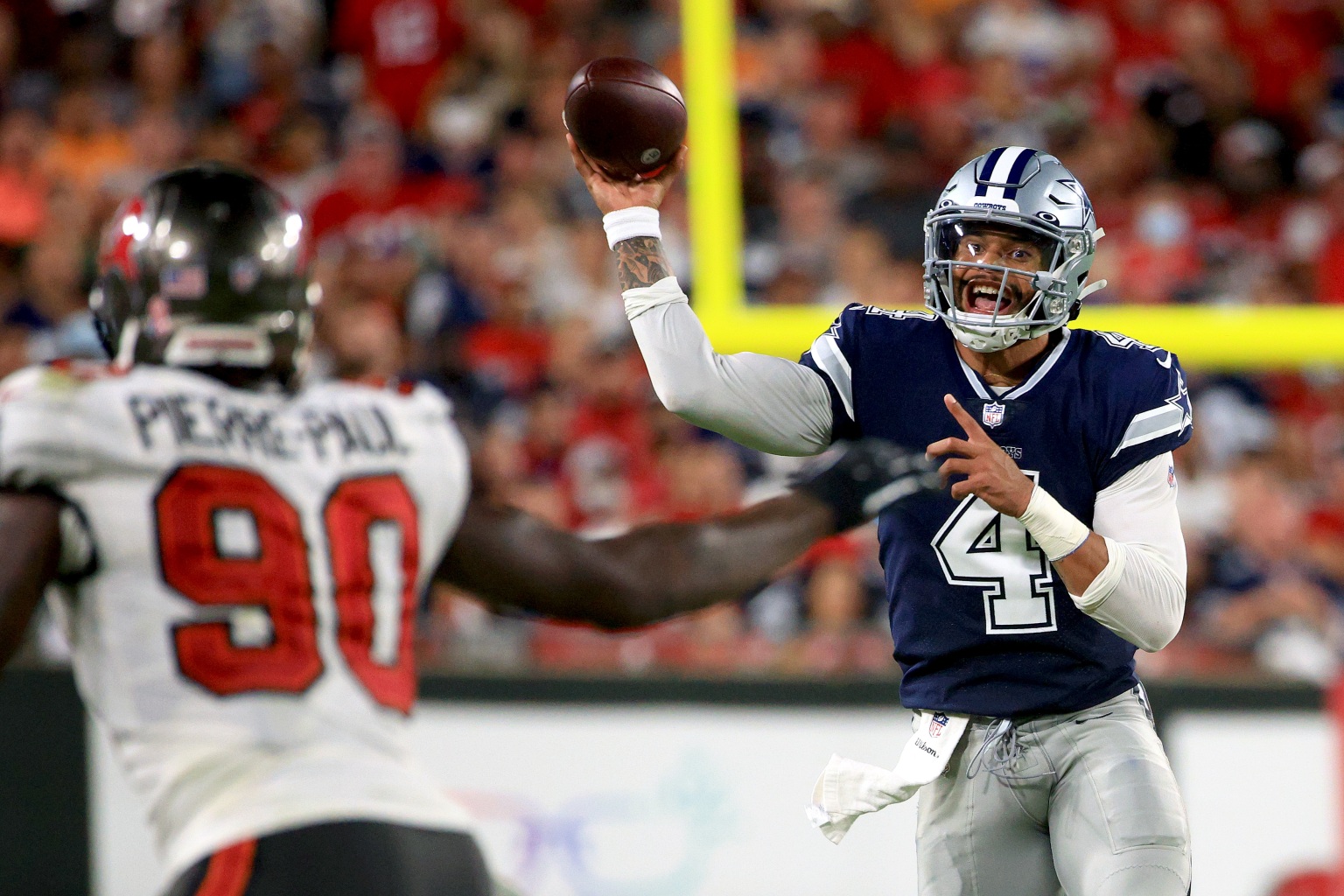 Mike Ehrmann/Getty Images
Even though the Cowboys had a heartbreaking loss on opening night on Thursday, they had some major positives that they can look up to for this season.
First, Dak Prescott looked like the best version of himself in that first game, and I expect that to continue. As the Cowboys' offensive coordinator, Kellen Moore called a great game that got his young star receiver CeeDee Lamb feasting on cornerbacks. Trevon Diggs also played phenomenal coverage on one of the best receivers over the past seven years in the NFL in Mike Evans.
Lastly, their next five games are not entirely intimidating, as it includes the Chargers, Eagles, Panthers, Giants, and Patriots. Not to mention how bad their division is, I do not think they need to sweat about how brutal of a loss they just had against the defending Super Bowl champions.
Tomorrow…#DALvsLAC | #DallasCowboys pic.twitter.com/q4o9V7YPcj

— Dallas Cowboys (@dallascowboys) September 18, 2021
While the Rams are getting major attention for their Sunday Night Football performance, the team that they share the building with also played pretty well in Week 1. Well, the major takeaway from their game against Washington was that you can experience sewage showering on you now at FedEx Field. The Chargers were 14-19 for third down conversions, and their rookie offensive tackle Rashawn Slater dominated against Chase Young and was reminiscent of his college performance against Ohio State at Northwestern.
Chargers LT Rashawn Slater achieves the angle, uses upper body and grip strength to control and steer Chase Young away from making a play on the edge, creates the outside lane for Larry Rountree.

Nice block by Stephen Anderson to erase the LB, too. pic.twitter.com/DoLSjJLQz7

— Gavino Borquez (@GavinoBorquez) September 13, 2021
Justin Herbert's connections with Mike Williams and Keenan Allen also make this a team that that is going to be an offensive dynamo every week. Expect a high scoring game in this one.
Chris Kiely can be reached at christopher.kiely@student.shu.edu.