Top Three College Football Games to Watch: Week 6
Date: October 8, 2021
By: John Makuch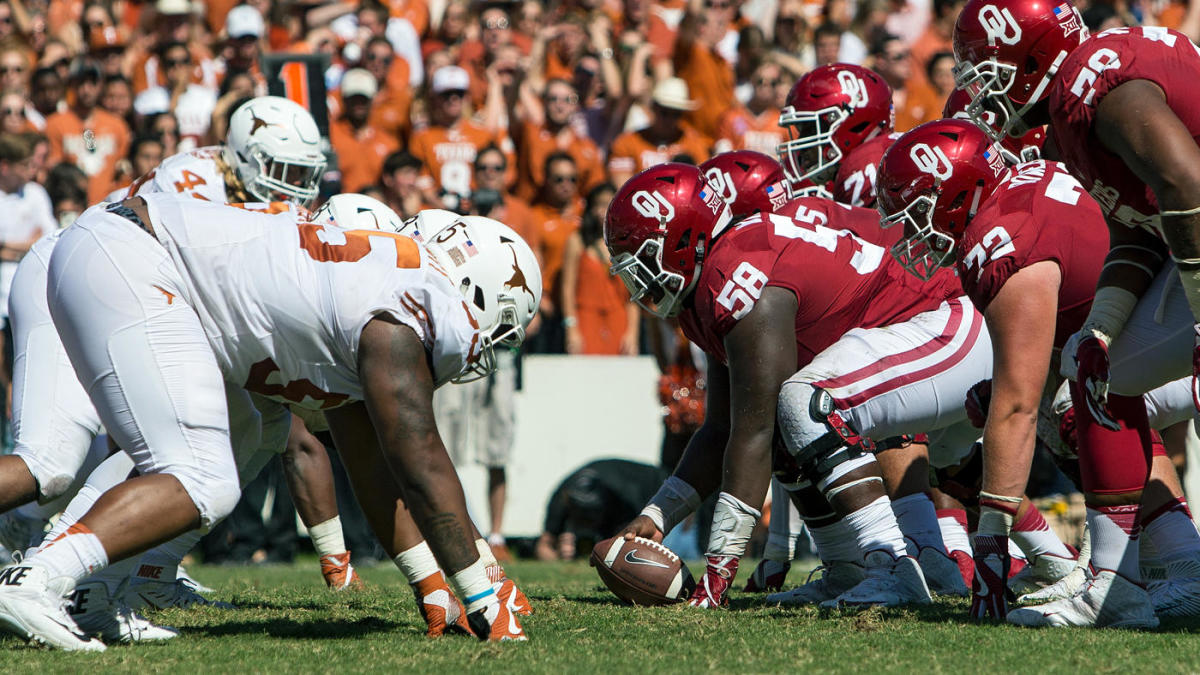 Getty Images
We are already in the sixth week of the college football season, and the games have been exciting as ever. This week, we have some classic rivalries, along with some that are etching their own history, and this edition will be another chapter.
There are more than three great games to watch this week, but here are the ones that stand out the most.
3. No. 6 Oklahoma vs No. 21 Texas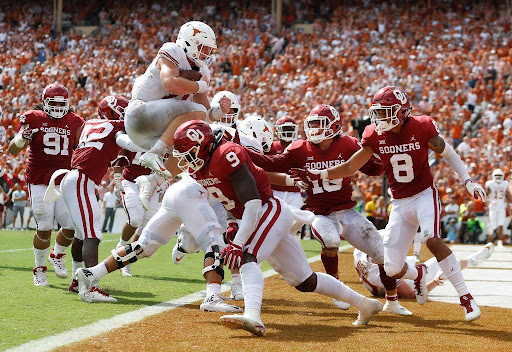 Vernon Bryant/The Dallas Morning News
The Red River Showdown at the Cotton Bowl has been the best way to start a day of watching college football in its long history. One of the most storied rivalries in the history of the sport continues this Saturday, and the stakes are as high as ever.
The Sooners come in with a clean undefeated record, but not without some struggles. They are coming off a close game against Kansas State, which is a team that had beat them in back-to-back seasons. The offense started to get going again for Oklahoma, who put up 37 points in the victory. That side of the ball has been an issue for the Sooners, especially after a 16-point performance against West Virginia.
Spencer Rattler has come back to form as well and should be at his best against the main rival Longhorns. The run game was not as much of a factor against the Wildcats, but Kennedy Brooks and Eric Gray remain a dynamic duo. There is untapped potential Oklahoma has not reached just yet, but Texas can be a chance for this squad to do just that.
Texas is a team that has had very high ups, but also very low downs this season. However, their best wins have come after Casey Thompson has stepped into action at quarterback.
Hudson Card was not the answer for the Longhorns, and Thompson has played well in the past three games. In their 70-35 blowout of Texas Tech, Thompson threw for 303 yards in that victory. The TCU game could be a cause for alarm, as a 32-27 victory is much closer than expected, but being able to claw out the victory, along with being in control for most of the game is impressive.
Oklahoma is a different animal, but one player to watch is running back, Bijan Robinson. Robinson is averaging 6.2 yards-per-carry for 652 yards and seven touchdowns. He is great at breaking tackles and getting into the second level, and Oklahoma is going to need to have a great defensive performance against this run game. The defensive has had their struggles at times, but if this offense can continue to be explosive, there will be room for error on the defensive side.
This is the first game these two teams will play against each other since they announced joining the SEC together. The rivalry will still live on in their new conference, and the bad blood will always be there.
Last time @texasfootball won the Golden Hat, Dicker the Kicker lifted Texas over Oklahoma.

What's your favorite Red River Rivalry moment? pic.twitter.com/oALnpeJBwz

— Longhorn Network (@LonghornNetwork) October 6, 2021
As for the College Football Playoff, both teams still have a chance to get in. Oklahoma has a much better chance with an undefeated record, but Texas could still win the Big 12 and maybe have two wins against the Sooners to beef up their resume.
Either team would need to win the conference to get into the Playoff, but the journey begins with this game at the Cotton Bowl.
2. No. 13 Arkansas vs. No. 17 Ole Miss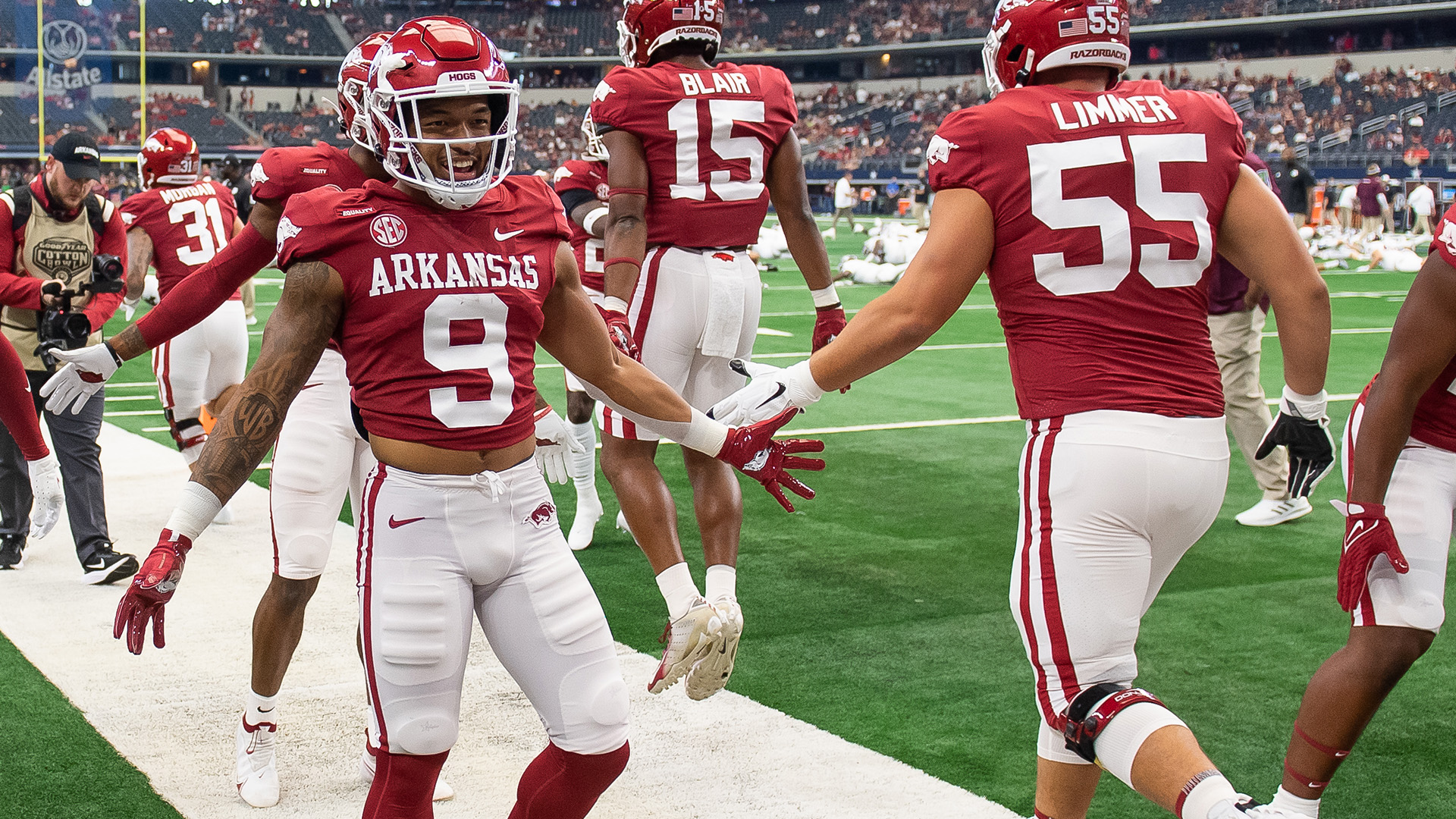 University of Arkansas Athletics
These two teams got the unfortunate reality check of playing the top teams in the SEC. Arkansas had to take on Georgia, while Ole Miss had to take on Alabama, and both games resulted in blowout losses.
The Razorbacks were unable to score against a top dog Georgia defensive unit, and even elite offenses are going to have a hard time scoring against that squad. They were completely shut down, with only 65 passing yards from their starter and 28 yards from AJ Green on the ground shows nothing to celebrate here.
Arkansas was hyped up to get back to being an elite squad, but Georgia showed they have work to do to get there. The defense also did not do any favors for the Razorbacks, giving up 37 points in the game. Only Razorback fans thought they had a chance against Georgia, but now it is on to the Ole Miss Rebels.
Ole Miss has a high-powered offense, but a defense that is easily exposed, especially against teams like Alabama who dropped over 40 on them. Like Arkansas, it would have been a longshot for them to win this week, and to put up 21 points against Alabama shows that this offense can produce against anybody.
Matt Corral has been on the elite tear that he was expected to go on, as he has thrown for 1,210 yards, 10 touchdowns and zero interceptions this year, and his draft stock should be rising. Their run game could look to see a bit more production, but when you have a quarterback like Corral, a pass-heavy offense is expected.
The defense has made plays when needed, but there is still more work to do on that front. However, their pass rush has done solid with 12 sacks on the year.
Ole Miss is going to need to put up a lot of points to beat Arkansas, but that is not going to be as much of a challenge as it was against the Tide. Arkansas will have to continue to pound the ball and not allow the Rebels to have their offense on the field for as much of the game as possible. This Rebels team can score whenever they touch the ball, so controlling the pace is more key than usual here.
.

Arkansas
11am CT
ESPN

— Ole Miss Football (@OleMissFB) October 3, 2021
The Playoff is over for these teams barring miracles, but the winner of this game will find themselves a bit higher in the rankings, and either squad would enter at least the top 12 in the country soon after.
Ole Miss can find themselves unranked with a loss here since they sit at No. 17, and Arkansas could do the same but that all depends on the final score. This is a big game for SEC pride, and both of these units will be firing on all cylinders to get the victory.
1. No. 3 Iowa vs No. 4 Penn State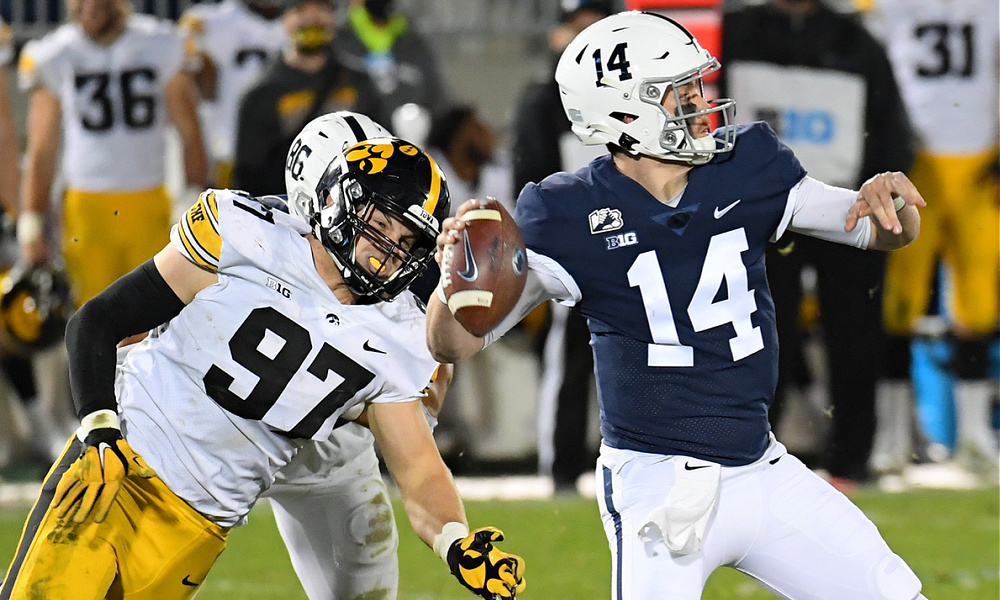 Rich Barnes/USA TODAY Sports
The most important game so far this season occurs at 4:00 p.m. EST on Oct. 9.
This Big 10 clash between undefeated teams that have both surprised this year will be a battle from start to finish, with both squads needing this victory. The Iowa Hawkeyes have taken down the likes of Iowa State and Indiana but have shown struggles against Colorado State. This team out in Iowa is all defense and can shut down just about anybody in the nation.
13 total sacks along with 12 interceptions and three fumble recoveries for this defense have shown that this squad can take over games on that side of the ball. The offense has not needed to do much this year, but Spencer Petras is playing well with seven touchdowns and only one interception along with 943 yards. One concern is that he has already been sacked 11 times, but this can be fixed with more offensive line experience.
This squad has earned their spot as the third-best team in the country, and they face their toughest test yet.
The Penn State Nittany Lions are yet another example of classic Big 10 football, which is winning the game with defensive performance. They are coming off a shutout of Indiana and have taken down Wisconsin and Auburn this season. Their quality wins are why they are in the position that they are, and Iowa would be yet another one.
While their defense has not created as many turnovers as Iowa, the results on the field have still shown impressive. Offensively, their passing game with Sean Clifford has been the part of their game this team was missing last year.
Clifford has thrown for 1,336 yards with 11 touchdowns in what has been a stellar season up to this point. The run game has only put up 663 yards, but they have not needed to do much with the passing game along with the defensive prowess of this team.
These two teams have similar strengths and weaknesses, so it will come down to who plays the better fundamentally sound football game. This game should be a classic for the ages in Big 10 lore, and the stakes are even higher than one might think.
This game could push the winner to the No. 2 or even the No. 1 team in the nation. If Georgia or Alabama struggle or play their opponents close, the committee might give the edge to one of these Big 10 teams especially if the score is not close.
Latest AP Poll:

Iowa is #3
Penn State is #4

Saturday will be the largest home game in Iowa City since #1 Iowa faced #2 Michigan in 1985

Goosebumps, can't wait.

— Barstool Hawkeyes (@BarstoolUIowa) October 3, 2021
Most likely, the winner will either move to or remain at No. 3, but this is going to be a step towards rising in the top four. The loser should remain in the top 10 and is not even taken out of Playoff contention. Depending on what help they get, the loser could get into the postseason as a non-conference champion No. 4 team.
This would be asking for losses in the Pac-12, Big 12, and a Big 10 champion that is not the winner of this game. The winner would have an easy path to the Playoff—just win and continue to do so. They would become the clear-cut favorite for winning the conference and would add a top-four win to their resume.
The stakes again, could not be higher, and both programs will be putting it all on the line for glory in the historic conference.
John Makuch can be reached at john.makuch@student.shu.edu.
Posted in: Sports