Top Three College Football Games to Watch: Week 12
Date: November 20, 2021
By: John Makuch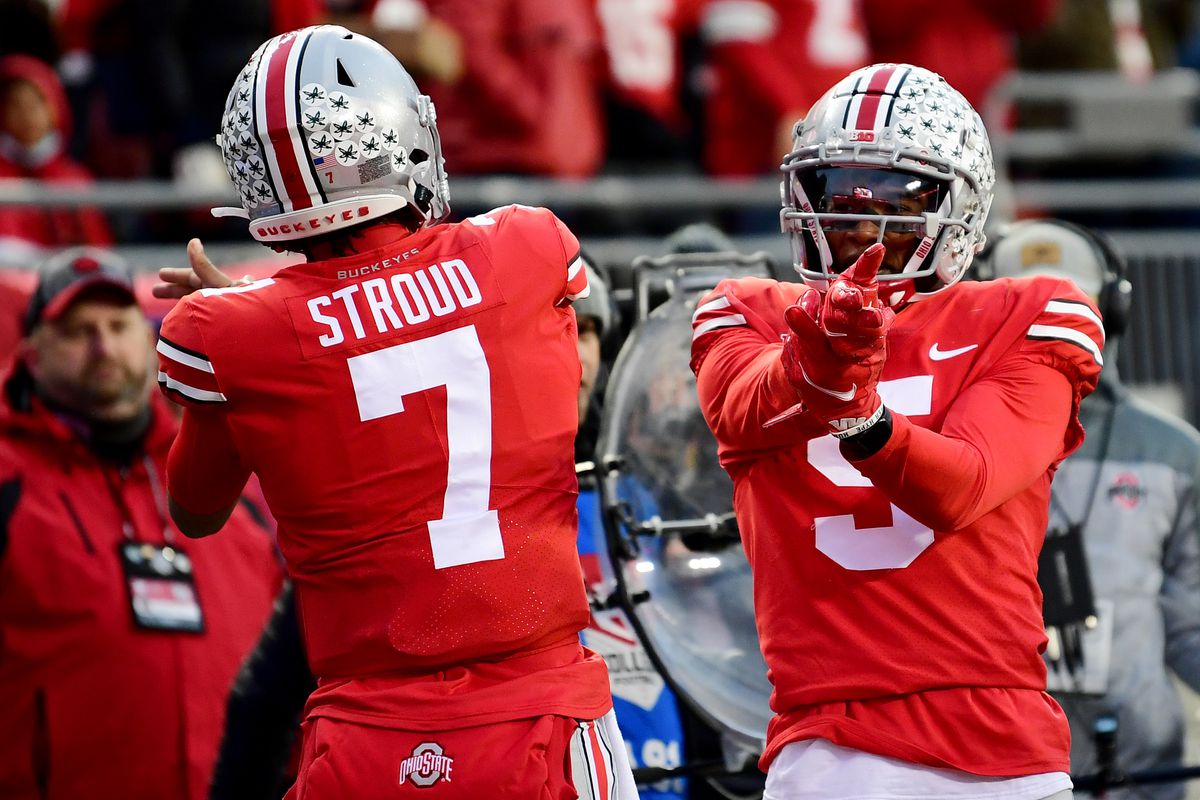 Emilee Chinn/Getty Images
Week 11 of the college football season saw teams like Oklahoma and Texas A&M take losses at a crucial point in the season. With two weeks remaining until conference championships, wins become even more important, especially for teams sitting within the top 10.
The potential chaos that can ensue this late in the season is what makes college football so exciting, and things can get hectic based on some matchups in Week 12.
3. SMU at No. 5 Cincinnati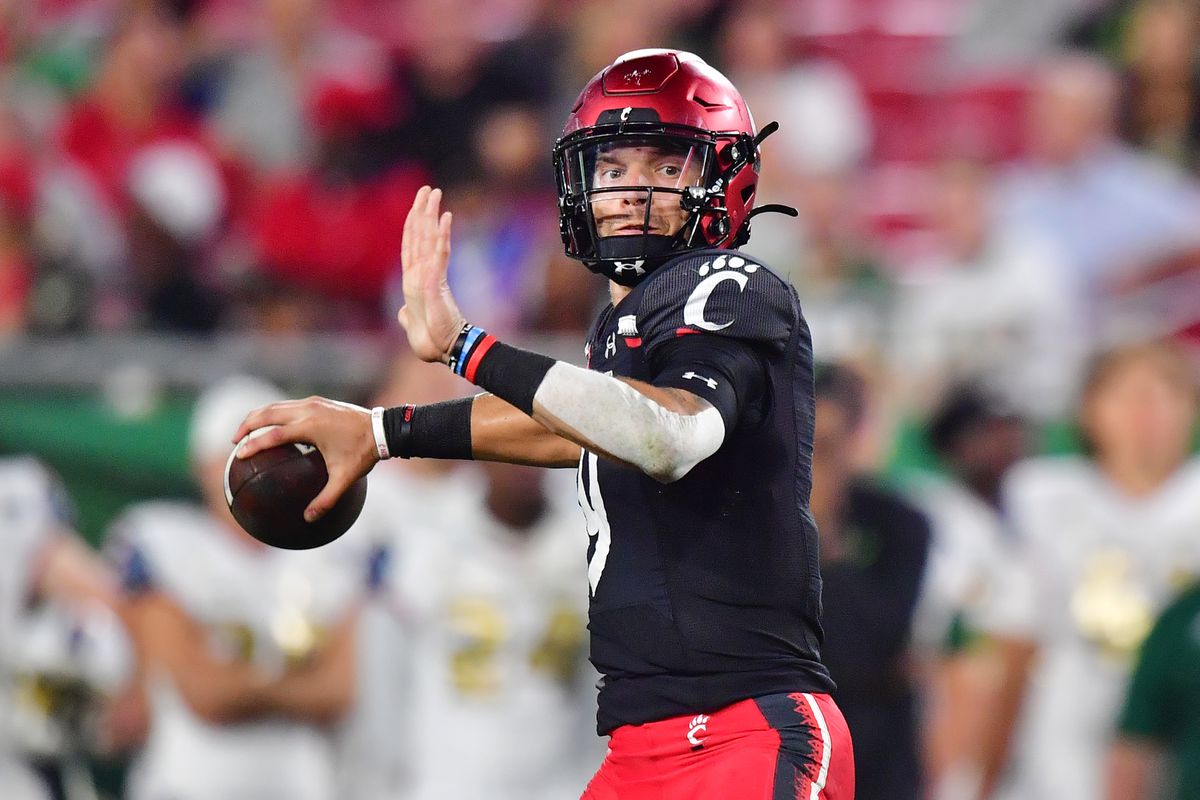 Julio Aguilar/Getty Images
Cincinnati faces an important test against a SMU Mustangs team that has shown they can compete in the AAC and put up plenty of points in doing so.
Taking down the No. 5 team in the country is tough no matter what conference that team belongs to, and a win against SMU in blowout fashion could prove that Cincinnati belongs in the top four.
The Mustangs put up 41.6 points-per-game, but they face a tough Bearcats defense that only allows 16.2 points-per-game. Oklahoma transfer Tanner Mordecai has thrown the second most touchdown passes in the nation, along with 3,264 passing yards, good for seventh in the country.
Mordecai has brought this SMU program to new heights and has proved that Oklahoma is the best functioning quarterback factory in college football.
SMU got off to a 7-0 start until they took on an impressive Houston team on the road, followed by another loss on the road to Memphis. They got back to their winning ways against UCF and can add an impressive win to their season against Cincinnati.
Giving the Bearcats their only loss of the season would be quite the parting gift from SMU if Cincy ends up moving to the Big 12 next season, but this is easier said than done. Cincinnati is one of the three undefeated teams remaining in college football, and they are led by their defense that only allows 16.2 points-per-game.
"I don't think SMU's going to be at ALL intimidated."

—@CoachNeuheisel's taking @SMU_Football over No. 3 Cincinnati in Week 12 pic.twitter.com/N0Vcjp7gaM

— CBS Sports Network (@CBSSportsNet) November 17, 2021
Ahmad "Sauce" Gardner is one of the best corners in the nation and can shut down an entire side of the field. Many defensive teams follow a formula of run first, and Cincinnati has done just that, rushing for 28 total touchdowns, 15 of them scored by star running back, Jerome Ford.
Their quarterback, Desmond Ridder has also done his job quite well, throwing for 22 touchdowns and only six interceptions, and has rushed for five touchdowns to boot.
For the College Football Playoff, this would annihilate any hopes for Cincinnati to get into the top four. Since they are not in the Power 5, they must be perfect and then some if they want to get in, and they have to take down SMU.
They will also be rooting for the underdogs in the next two games on this list, as a loss by either squad could put the Bearcats right into the top four.
2. No. 3 Oregon at No. 23 Utah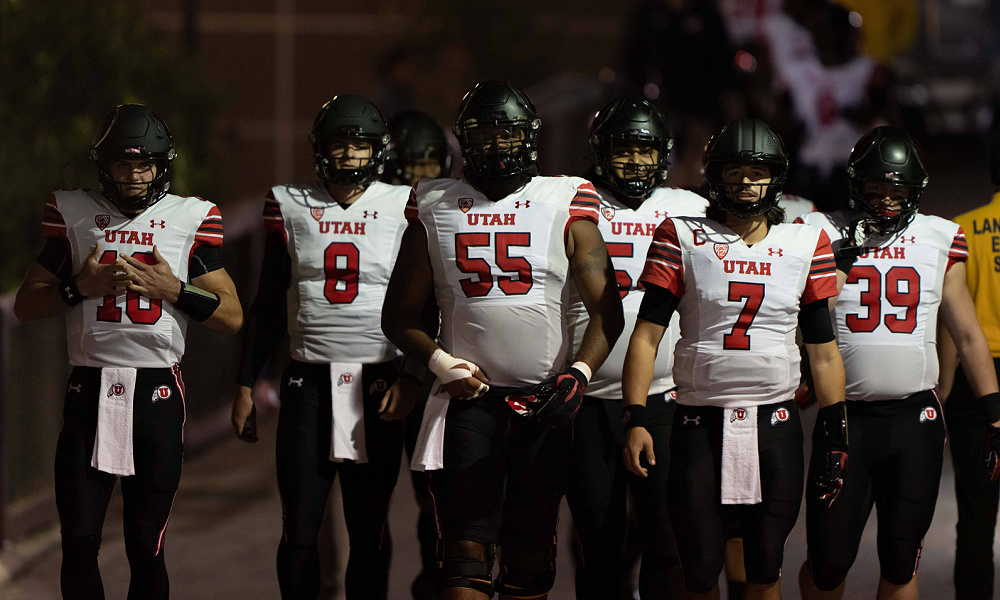 Stan Szeto/USA TODAY Sports
Oregon is on upset alert despite being the No. 3 team in the entire country, as even ESPN is favoring Utah, giving them a 61.8% chance to win. So why is that? What makes Utah such a dangerous team that has barely cracked the top 25?
Well, this Utah team is tough, their offensive line is elite, and they love to pound the ball against every opponent they face. As the 17th ranked rushing team in the country, they tire out opponents and win with their strength. Utah's defense also ranks first in the Pac-12 in sacks, as this team loves to manhandle opponents with their size and strength.
Oregon is not afraid of playing physical, as physicality is what got them a key victory against Ohio State and allowed them to avoid an upset against Washington. While this team misses CJ Verdell, Travis Dye has done his job in terms of stepping up for the Ducks, and quarterback Anthony Brown has put in work with his legs, rushing for 551 yards on the year.
This will be a run heavy game and will be an offensive line duel one might expect in Big Ten play. Oregon will try to catch Utah on some play action plays, as well as Utah, so both quarterbacks will have to keep their teams in the game and play clean.
Utah has only allowed Cameron Rising to be sacked three times, while Brown has been brought down 13 times. This is the test that Oregon needs to prove to the country that they belong in the top four and will solidify their resume quite well.
Utah vs Oregon will kick off at 5:30pm MT on abc! pic.twitter.com/YUWjrLmUXs

— Utah Football (@Utah_Football) November 14, 2021
An overtime loss against Stanford is their only blemish, while Utah has lost to BYU, San Diego State and Oregon State all on the road. Utah could also clinch the Pac-12 South with this victory and would set up a rematch with Oregon in the Pac-12 Championship game.
Utah cannot make the Playoff with three losses, even if they do take down Oregon twice and win the Pac-12, those losses are too much to overcome.
For Oregon on the other hand, this is all or nothing for a squad that is looking to return to the Playoff for the first time since the first Playoff in 2015 and will look to potentially set up another rematch with Ohio State if they are to get in as well.
1. No. 7 Michigan State at No. 4 Ohio State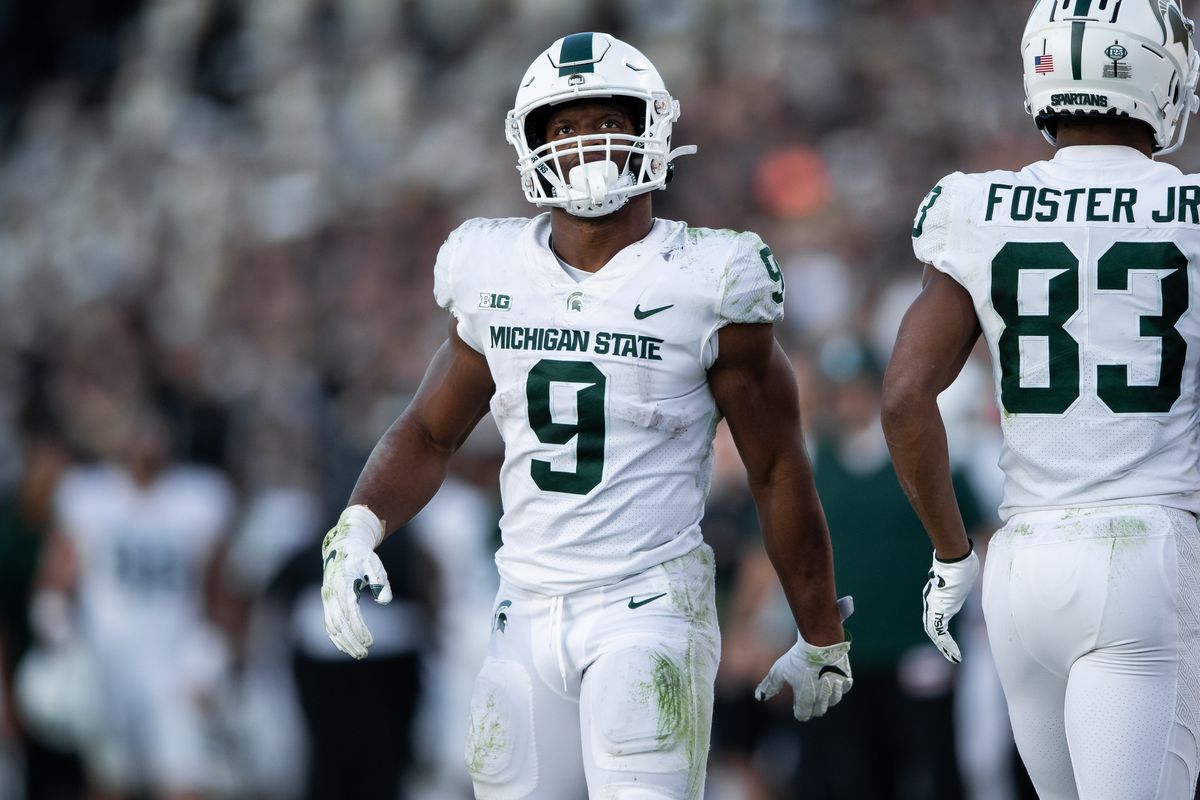 Zach Bolinger-Icon Sportswire/Getty Images
This win is what Ohio State needs to get in, but Michigan State is in the exact same spot as the Buckeyes. The stakes are also greater than just a Playoff spot, this matchup could also be for who takes the Big Ten East, since this would give Michigan State a tiebreaker over Ohio State.
Going by the numbers, Ohio State should be expected to beat the brakes off the Spartans, with ESPN giving Michigan State just a 13.7% chance to win. Ohio State leads the country in total yards-per-game with a staggering 550, and this allows them to average 46.3 points-per-game.
This is very much due to C.J. Stroud having a stellar season, as he has thrown for 3036 yards along with 30 touchdowns to just five interceptions. He has emerged as a Heisman candidate in his first year as a starter, but Michigan State has a Heisman candidate of their own.
The Spartans are led by junior Kenneth Walker III, who leads the league in rushing with 1,473 yards and 17 touchdowns. Both superstars will have their chances to have their Heisman moments on Saturday, and both are expected to show out strong.
No. 7 Michigan State and No. 4 Ohio State are set to meet on Saturday in Columbus

Flashback to when the Spartans pulled a huge upset in 2015: pic.twitter.com/2Bu91DKNjz

— ESPN College Football (@ESPNCFB) November 18, 2021
To look at Michigan State, their numbers are impressive but in no way are they close to the numbers Ohio State brings to the table.
The Spartans average "only" 34.6 points-per-game, and average just shy of 450 yards-per-game. Their defense has also been impressive, only allowing 22.5 points-per-game. They will have their hands full with the offensive firepower that is Ohio State, so their best chance is to match that offensively, and create a few key turnovers that put them on top.
This is much easier said than done, but it helps when you have a superstar running back that is as great as Walker. The Spartans will look to take a lead early and allow Walker to tire out the Buckeyes defense and chew as much time as possible.
Ohio State will not allow this to happen very easily, and they can also score whenever they want it seems, but there is a chance for Michigan State to pull out the upset.
A win for the Buckeyes would set up a season finale with Michigan that would be for the Big Ten East and could also be for a Playoff spot. The stakes for both teams could not be higher, and both teams will have to bring their best games of the season if they want to find a way to win.
These are the matchups where teams step up and prove they can win a championship, making this one of the most important games in recent memory for both programs.
John Makuch can be reached at john.makuch@student.shu.edu.
Posted in: Sports