Top Ten Quarterbacks of the 2022-23 Season
Date: January 30, 2023
By: Justin Lotito
*This article was written prior to Championship Weekend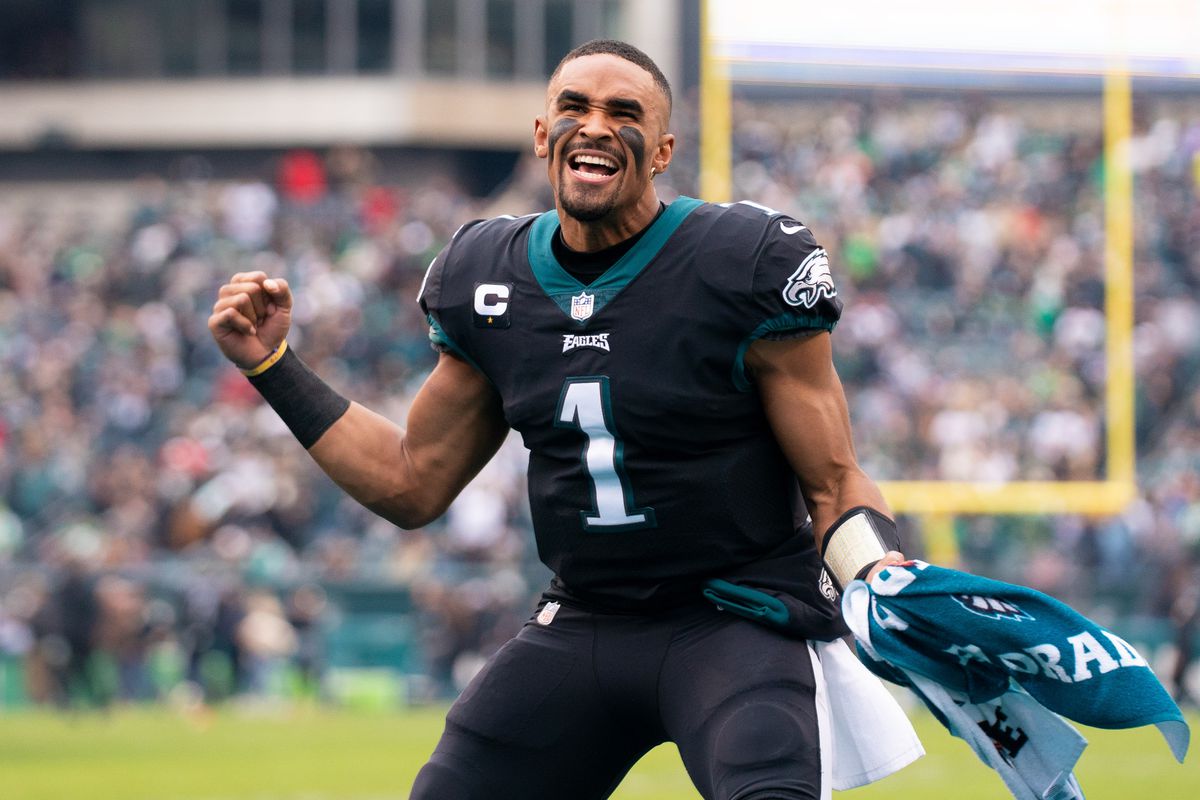 Bill Streicher/USA TODAY Sports
If I showed you this list before the season began, I think I would be banned from sports media. The 2022 regular season was the year of the unorthodox quarterback. Single callers who haven't been significant since the 2016 season balled out. Plus, you had Skylar Thompson starting and almost winning a playoff game. It was an outstanding season for quarterback storylines.
These rankings are based off of regular season play, so Justin Herbert will not be held responsible for one of biggest chokes in sports history.
10. Brock Purdy, San Francisco 49ers
Sure, Purdy may not be the most flashy, athletic, or best quarterback out there, but his stellar play cannot be denied. After backup quarterback Jimmy Garoppolo went down with a leg injury against the Dolphins, 49ers fans feared their run was coming to an end. However, Mr. Irrelevant himself, Brock Purdy, saved the day.
Mr Irrelevant ➡️ NFC Championship Game starting QB

What's next for Brock Purdy?@NewEraCap | @brockpurdy13 pic.twitter.com/KSXyu1vnxM

— NFL (@NFL) January 27, 2023
Some may argue that Purdy is a product of the 49ers system. While he does benefit from the system, Purdy still needs to make the reads.
In a limited nine games, Purdy put up an excellent stat line. He threw 13 touchdowns, with only four interceptions. Purdy completed 67% of his passes for 1,347 yards, for an average of 8.1 yards a play. He finished the season undefeated.
While Purdy was placed into the perfect position, his triumphs are undeniable.
9. Jared Goff, Detroit Lions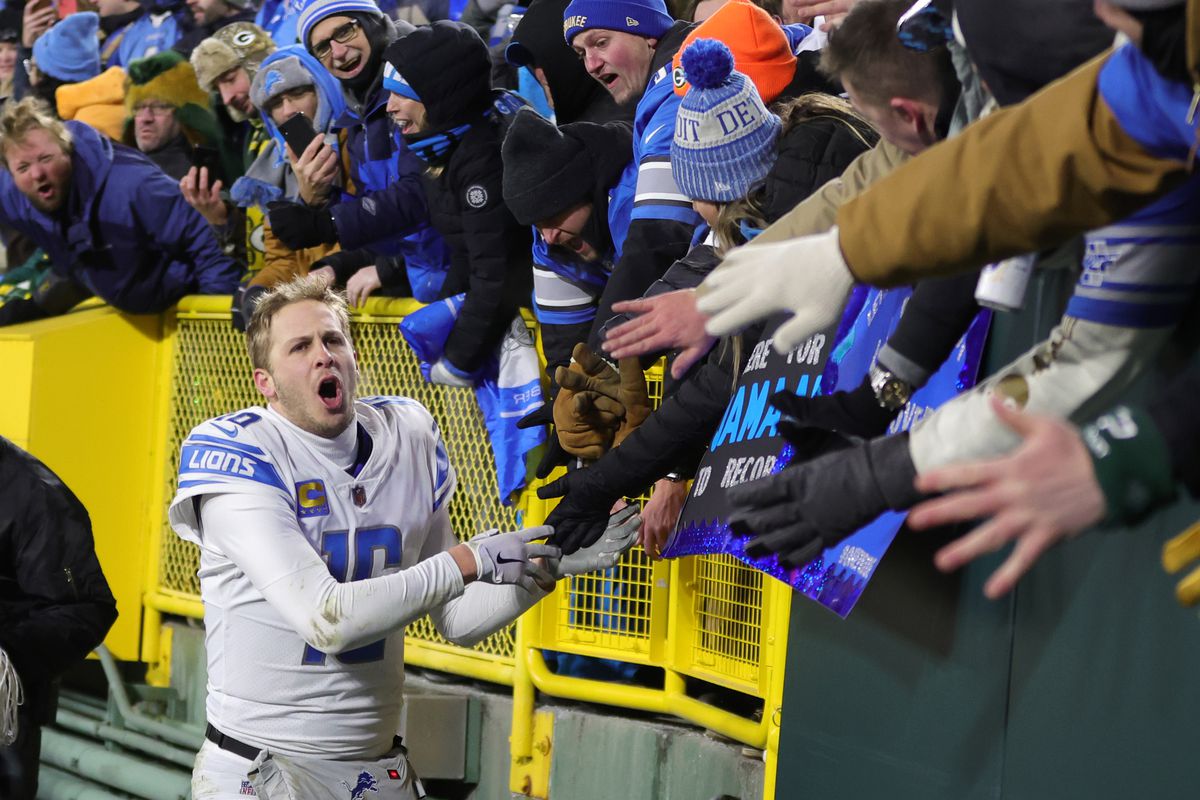 Stacey Revere/Getty Images
When traded to Detroit, fans and experts alike assumed Goff would be a bridge-quarterback. However, this season Goff proved he's more than that.
Goff had an incredibly efficient end to the season. He threw for 29 touchdowns, for an average of 7.9 yards a play. As his yards a play would suggest, he did not shy away from the deep shot. He also was available for all 17 games.
While Goff may not be the long-term starter in Detroit, he had an excellent year.
8. Justin Herbert, Los Angeles Charges
I like Herbert a lot. However, this season was a disappoint for him. While his lackluster campaign can be attributed to poor play-calling, playing through injury, and key weapons being hurt, he still needs to be held accountable.
Herbert is the only quarterback in the league who is relentlessly defended by the media. The issues leading to a decline in play that I mentioned, are issues quarterbacks like Tua Tagovailoa and Lamar Jackson have dealt with the past few seasons. Aaron Rodgers also dealt with the same issues this year, playing with a broken thumb and Allen Lazard being his top target this season, yet the media called for his head.
While Herbert had a disappointing season for his standards, he still had solid year. Herbert threw for 4,739 yards, for an average of 6.8 yards a play. Even though his 2022 campaign wasn't his best, I expect him to have a massive bounce back next year.
BABE WAKE UP JUSTIN HERBERT IS BEING JUSTIN HERBERT @NFL | #BoltsUp pic.twitter.com/t9tMgW8L9Q

— FanSided (@FanSided) September 25, 2022
7. Geno Smith, Seattle Seahawks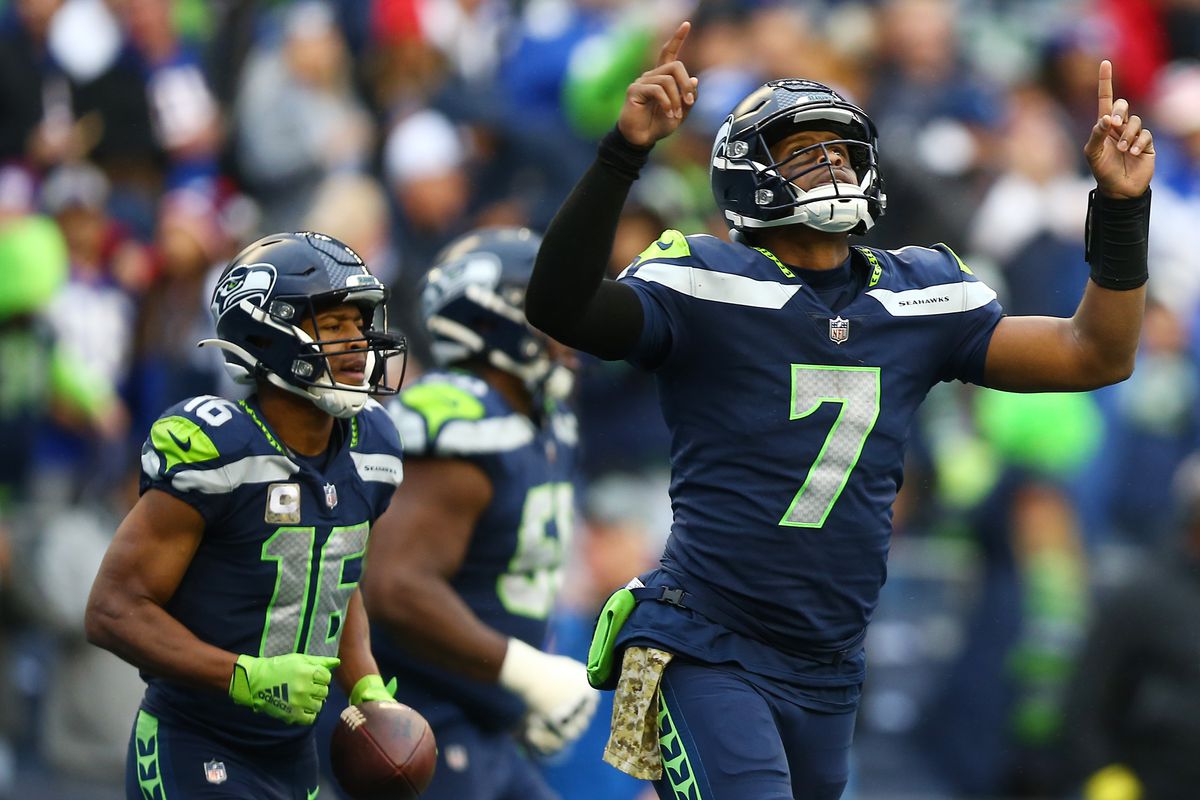 Lindsey Wasson/Getty Images
The comeback player of the year hopeful had a remarkable 2022 campaign. When Seattle traded long-time star Russell Wilson, many assumed this season would be a tank for the new franchise guy. However, Smith proved he is here to stay.
This season Smith threw for a stellar 4,282 yards, on an average 7.2 yards per play. He threw for 30 touchdowns and ran the ball for 366 yards. Not bad for a guy deemed a career backup.
The future is bright for the Seahawks, and if Smith builds off this year, they can be a dark horse Super Bowl contender.
6. Tua Tagovailoa Miami Dolphins
It seems like eons ago since Tua was a possible MVP candidate. After an outstanding start to the year, concussions derailed his season.
In only 13 games played, Tua threw for 3,584 yards, for 8.9 yards a play. With four-less starts than most quarterbacks, he threw for 25 touchdowns. Tua impressively finished with the second-best passer rating in Dolphins' history (105.5) just behind the legendary Dan Marino, who had a rating 108.9 in 1984.
60 yards for @cheetah. TD @MiamiDolphins!

: #MIAvsLAC on NBC
: Stream on NFL+ https://t.co/Fjz0sbDEsG pic.twitter.com/KjE1i1ITR7

— NFL (@NFL) December 12, 2022
While some argued that Tua was only good because of wide outs Jaylen Waddle and Tyrek Hill, his absence proved that is not the case. In the final few weeks, the team struggled to move the ball without him.
If Tua can stay healthy, the future is brighter than ever in Miami.
5. Trevor Lawrence, Jacksonville Jaguars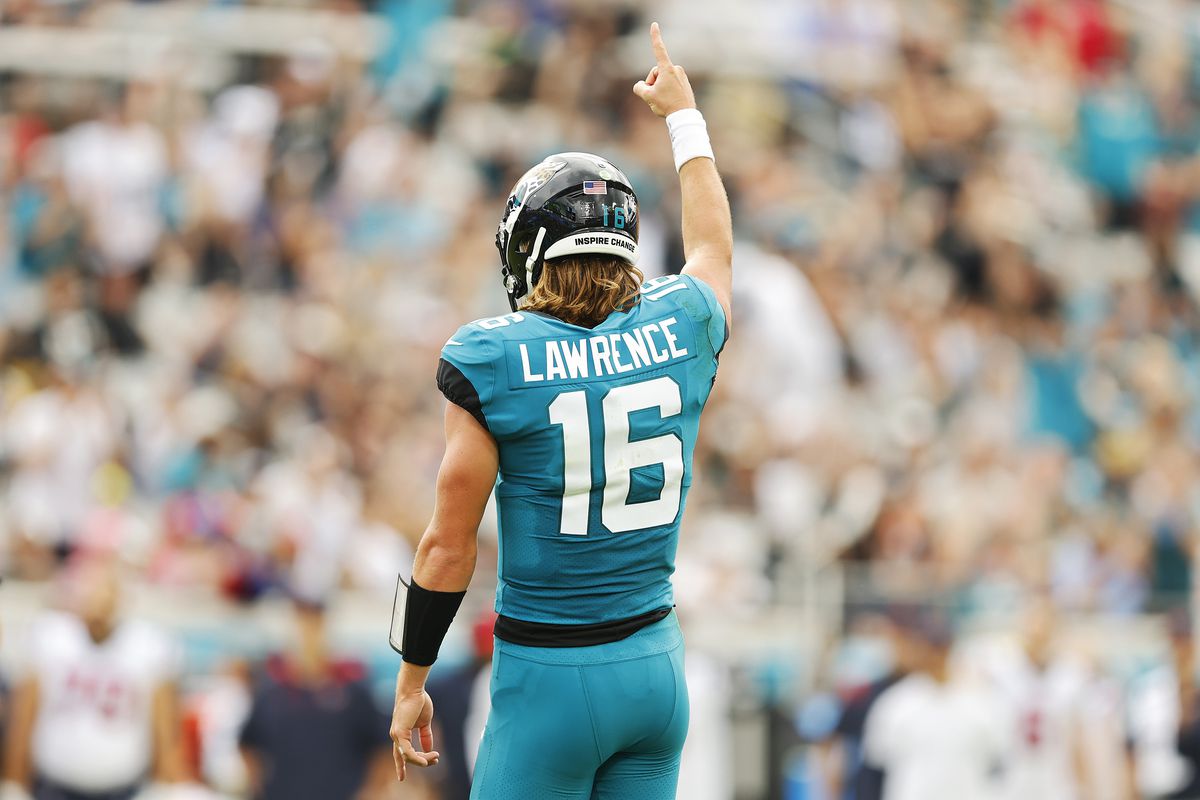 Michael Reaves/Getty Images
After a disappointing rookie season, and a slowish start to this year, Lawrence ended the season showing why he is a generational talent. Lawrence led the Jaguars to an AFC South title, and to a playoff berth, a year after having the NFL's worst record.
His best performance this year was against the Dallas Cowboys, putting the Jaguars on radar for the playoffs. In that performance he cooked up 318 yards, four touchdowns, and a passing rating of 109.
On the year, Lawrence threw for 4,113 yards, on an average of seven yards a play. He threw 25 touchdowns and ran for a nice 291 yards. While Lawrence's stats may not be better than some of the guys behind him, his impact this year cannot be denied. Next year Lawrence has the potential to finish even higher than top five.
4. Josh Allen, Buffalo Bills
Considering entering this season, Allen was being compared to a modern day Peyton Manning/Tom Brady, this season was a letdown for him. Before the year began, Allen was favored to win MVP. However, while he is a finalist, it is very unlikely to happen.
His regression can be explained by a many factors. The most major concern in his game can be blamed on him trying to play "hero ball." Allen tends to try to make heroic plays, resulting in pointless turnovers. This season he accounted for 19 personal turnovers, throwing 14 interceptions and fumbling the ball 13 times, losing five of them.
While he had a disappointing season, he still deserves a spot in my top four. This year in 16 games played, Allen threw for 4,283 yards for an average of 7.6 yards a play. Allen threw for 35 touchdowns and had 7 rushing touchdowns.
.@JoshAllenQB SNEAK! @BuffaloBills are on the board!

: #CINvsBUF on CBS
: Stream on NFL+ https://t.co/RqOcaBu1Zc pic.twitter.com/fZgBzzLcxO

— NFL (@NFL) January 22, 2023
Next year the Bills must attempt to rebuild their offense. Besides Stephon Diggs, Allen has mediocre at best talent to work with. You can't expect to make the Super Bowl with Gabe Davis as your second-best option.
3. Joe Burrow, Cincinnati Bengals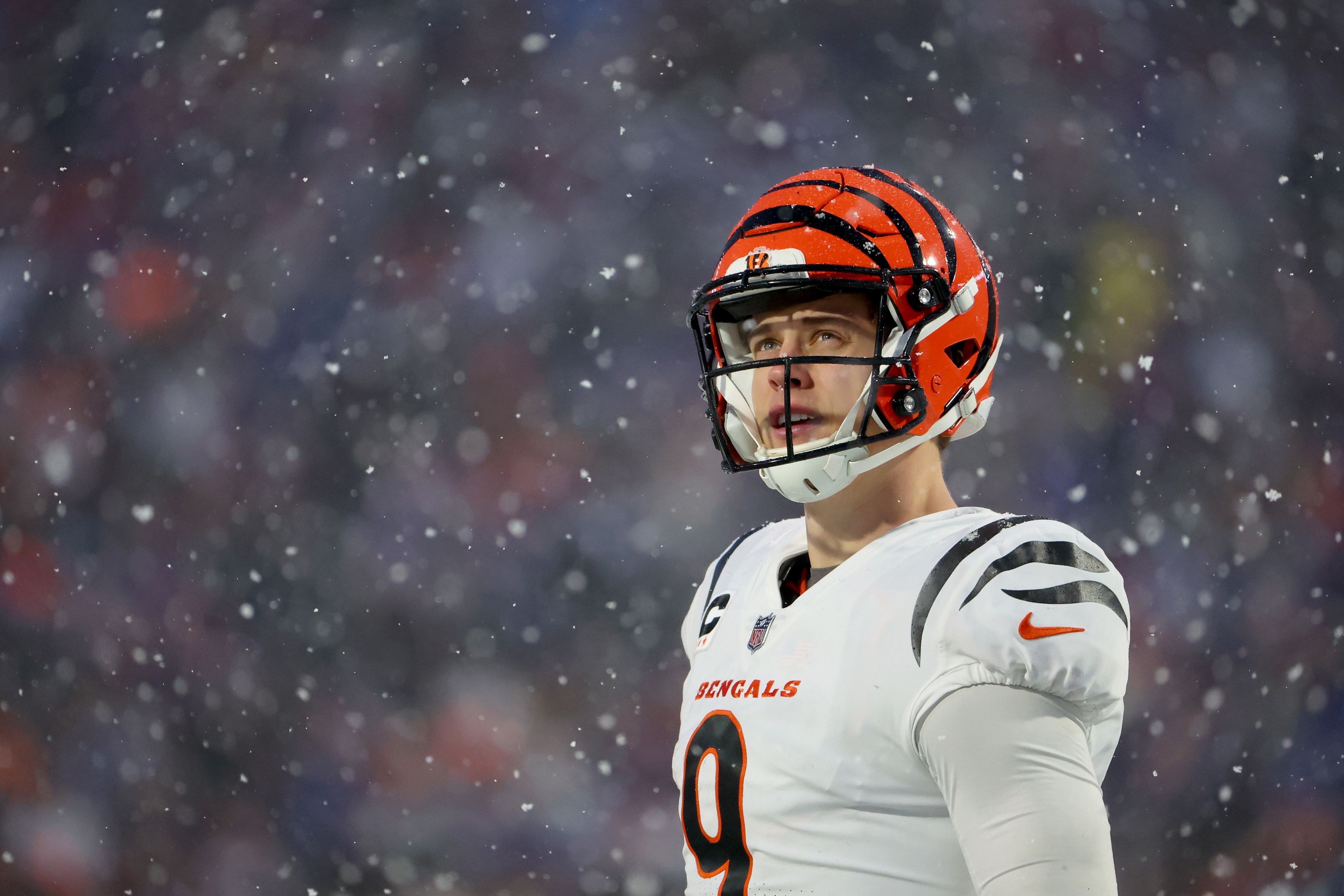 Timothy T. Ludwig/Getty Images
Burrow has continued to improve as a player following Cincinnati's surprise Super Bowl run. This season he finished as PFF's highest graded passer.
In 16 games played this season, Burrow passed for 4,457 yards, for an average 7.5 yards a play. He threw for 35 touchdowns and ran for 5 touchdowns.
Burrow has had a slew of excellent performances this year, with his most impressive game coming against the Atlanta Falcons. In an outstanding effort Burrow threw 481 yards, three touchdowns, and zero picks, for a passer rating of 138.2.
Burrow also threw for four touchdowns on two separate occasions.
As long as Burrow is town, the Bengals will be a Super Bowl threat.
2. Jalen Hurts, Philadelphia Eagles
Hurts made an incredible leap this season, being by far the most efficient passer in the league, only throwing six interceptions.
Before a shoulder injury slowed his campaign down, Hurts was in discussion for MVP. In 15 games, Hurts threw for 3,701 yards, 22 touchdowns, and had 13 rushing touchdowns. If only he didn't miss two games with injury, he could have had even crazier stats.
.@JalenHurts doing what he does

: #NYGvsPHI on FOX
: Stream on NFL+ https://t.co/W32lU4mm7c pic.twitter.com/6OqvEhI0Ax

— NFL (@NFL) January 22, 2023
With Hurts' outstanding progression, the Eagles will be a Super Bowl threat for the years to come.
1. Patrick Mahomes, Kansas City Chiefs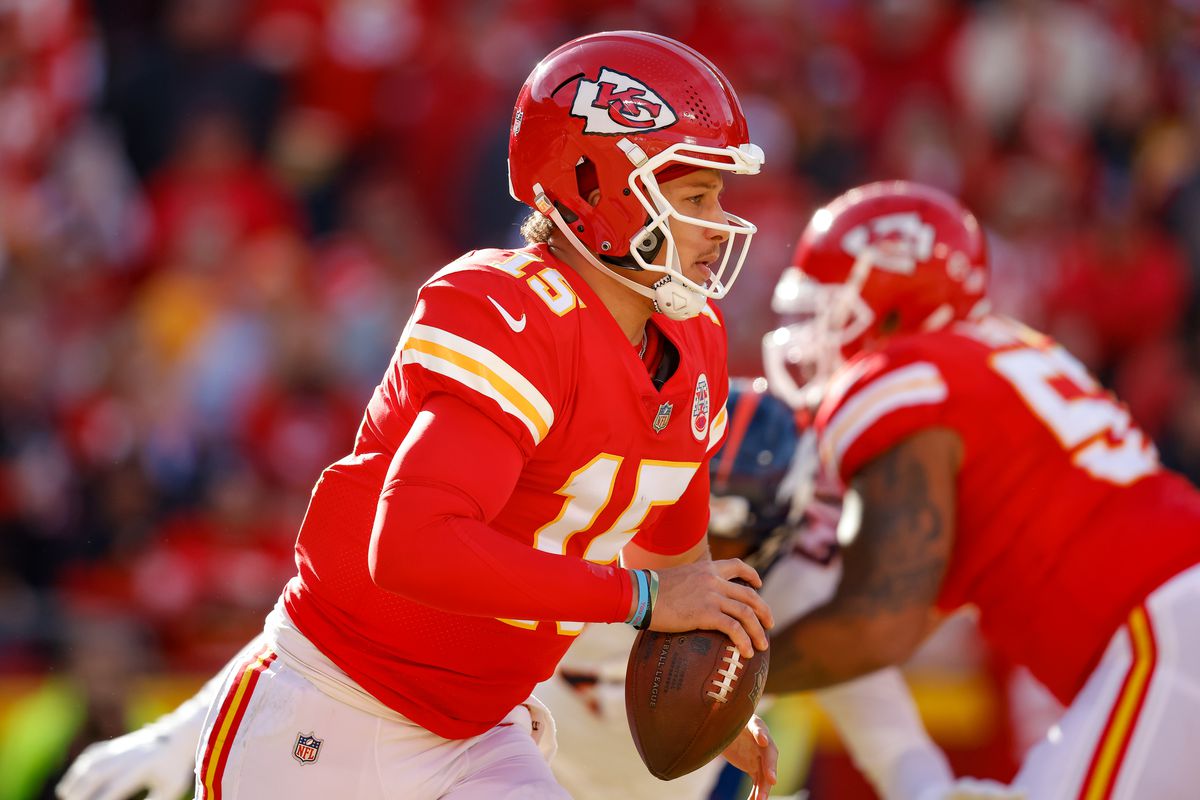 David Eulitt/Getty Images
Is anyone surprised? At this point Mahomes has already entered the top ten of all time discussion.
With Tyrek Hill being dealt to the Dolphins, many thought Mahomes would finally regress. However, that was far from the case, and now some may even argue he's better without Hill. Mahomes has done an amazing job at involving all his options. Like all greats, he elevated his teammates: running back Jerick McKinnon had a career year while being utilized in the passing game.   
Mahomes will most likely win the MVP trophy unanimously this season, proving he was the best quarterback of the 2022-23 season.
Justin Lotito can be reached at justin.lotito@student.shu.edu.