Top 10 2022 NFL Quarterbacks
Date: May 31, 2022
By: Jimmy Bliss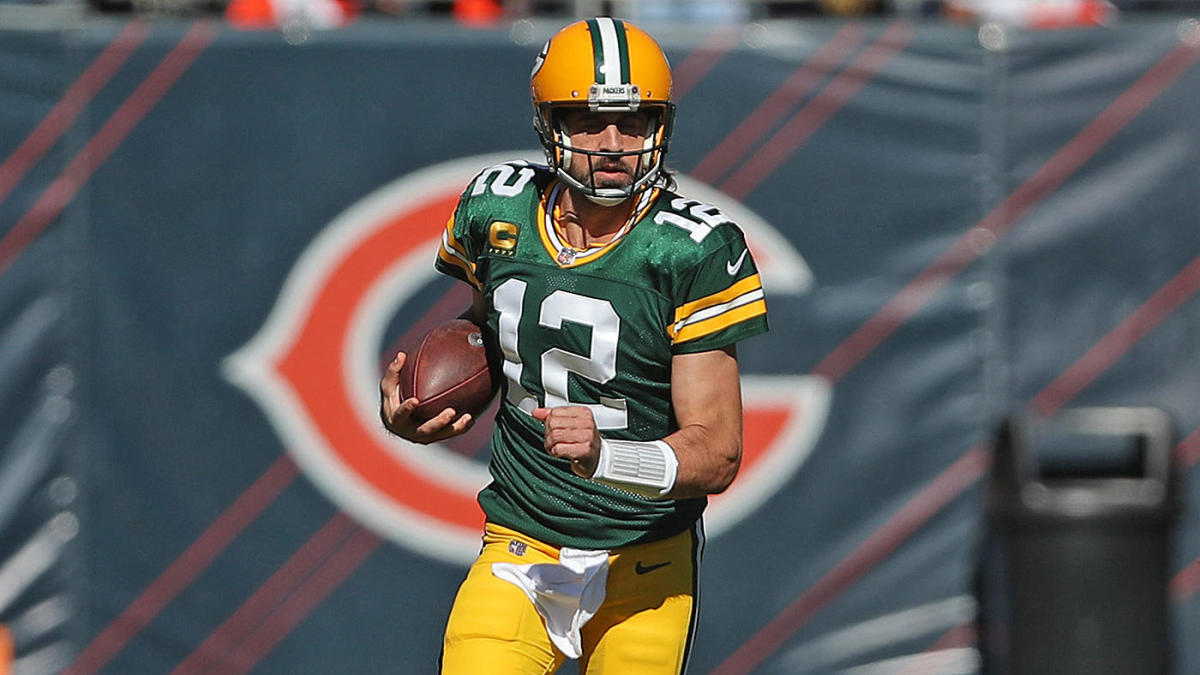 USATSI
The NFL season may be five months away, but it's never too early to look ahead to September. This league is increasingly all about having a great signal caller. If your team doesn't have one of these 10 quarterbacks, your team may be on the outside looking in for a 2022 playoff berth.
Of course, there are exceptions to this, as teams such as the 49ers and Titans do not have top-10 quarterbacks, but their team's supporting cast is well equipped to reach the playoffs.
These rankings are exclusively my opinion, and I'm open to hearing feedback from others. But without further ado, these are the signal callers I'd like to have most under center for the 2022-23 season.
10. Lamar Jackson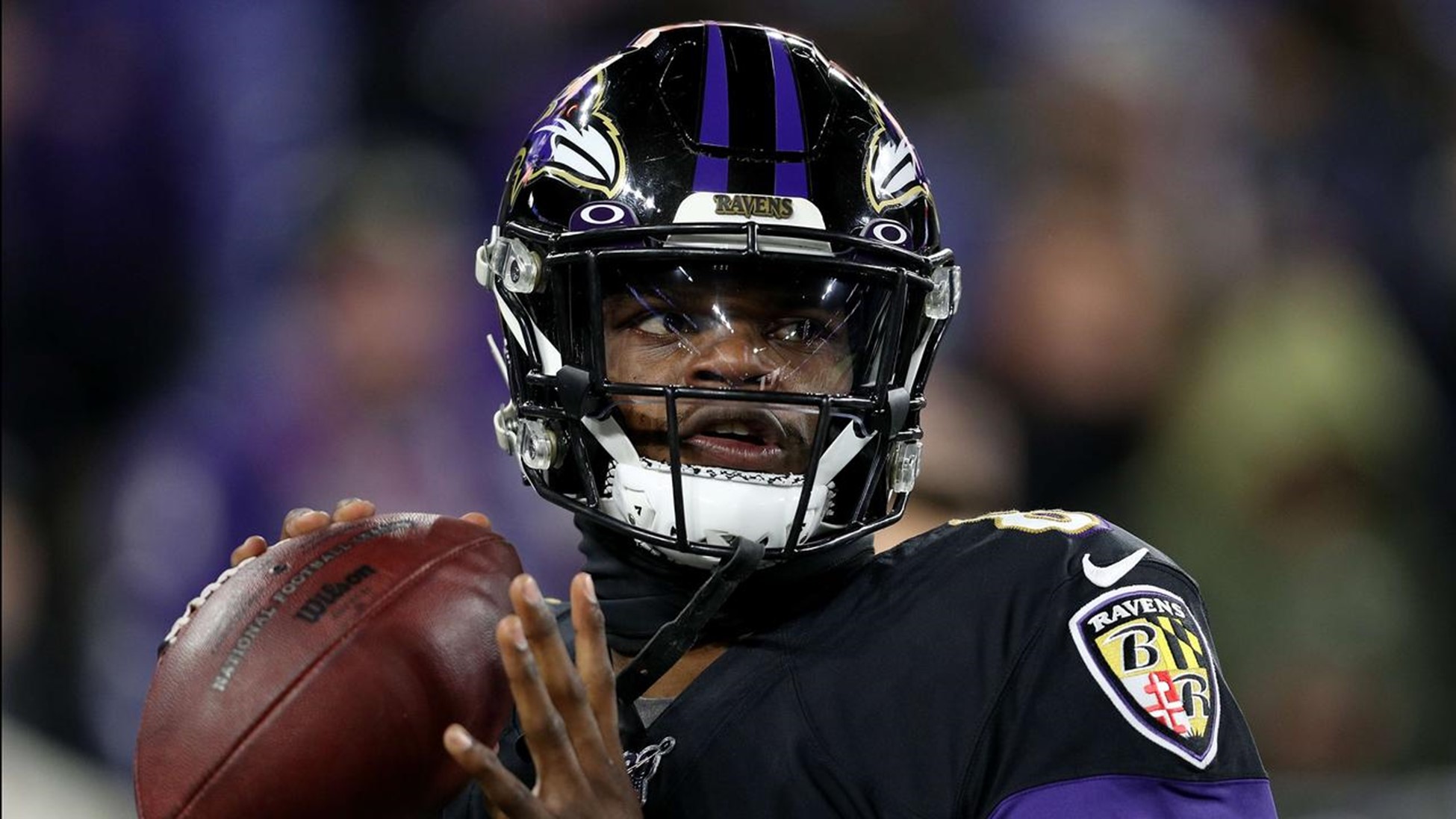 Patrick Smith/Getty Images/AFP
An injury riddled 2021 campaign stunted Lamar Jackson from reaching the top five, but he should still be considered one of the elite quarterbacks in today's NFL. Jackson has a unique skill that the league has never before seen, in the form of his mobility.
Don't be fooled, his average of 63.9 rushing yards-per-game was best in the league by quarterbacks. Jackson has shown he can throw the ball effectively in spirts, such as his Monday Night Football game vs the Colts, but needs to be more consistent before he cracks the top seven or top five.
Jackson has a very bright future ahead of him and deserves to be placed in the top 10.
9. Matthew Stafford
Reigning Super Bowl winning quarterback Matthew Stafford had his stock rise exponentially over the past 12 months. Since he became the starter in Los Angeles, Stafford has put the football world on notice.
He threw for 4,886 yards, 41 touchdowns and 17 interceptions during the 2021 season. Although the interception numbers are ugly, Stafford did not throw a single pick in the fourth quarter.
In fact, he led the NFL in fourth quarter passer rating, posting an impressive 126.4 rating. It's no coincidence that two of the greatest wide receiver seasons of all time came from Stafford targets. Calvin Johnson and Cooper Kupp have the most and second most receiving yards in a single season in NFL history, recording 1,964 and 1,947 yards, respectively.
Only QB with 50 passing TDs last season (incl. playoffs)

Matthew Stafford

( @RamsNFL) pic.twitter.com/eMDmHRkgXq

— PFF Fantasy Football (@PFF_Fantasy) May 22, 2022
Stafford would've had my vote to win Super Bowl 56 MVP with his 283-yard, three-touchdown performance. Albeit, he threw two interceptions, one of them hit WR Ben Skowronek square in the hands before being intercepted.
Stafford will be a top-10 QB for the foreseeable future.
8. Deshaun Watson
Because of legal issues, Deshaun Watson did not play a single snap in 2021. But his talent speaks for itself.
Over his past three seasons in Houston, Watson has accumulated 12,840 passing yards, 100 total touchdowns and 28 interceptions. He's carried the Texans to playoff berths in 2018 and 2019 despite having underwhelming rosters and a below average head coach.
Now, Watson is a member of the Cleveland Browns. He has an upgraded offense, defense and coaching staff since the last time he took the field. He'll likely thrive in a new system with new weapons with his new home.
Watson will likely not play all 17 games this season, as he's still awaiting discipline from the NFL, but when he returns, he's going to wreak havoc.
7. Joe Burrow
Raise your hand if you expected the Bengals to reach Super Bowl LVI in August. If your hand is raised, you're lying.
Joe Burrow was the heart and soul of Cincinnati this season. He brings a certain type of moxie whenever he walks into a room. That moxie was contagious to the rest of the Bengals during the 2021 NFL season.
When the sun comes out for the weekend ☀️ @KetteringHealth | @JoeyB pic.twitter.com/pmyIT7CAsW

— Cincinnati Bengals (@Bengals) May 28, 2022
Burrow wowed NFL fans this season, passing for 4,611 yards, 34 touchdowns and 14 interceptions. This came behind arguably the worst offensive line in the league, as well. He reformed his relationship with former LSU teammate Ja'Marr Chase, which didn't skip a beat.
Burrow has a huge future ahead of him, and as long as the Bengals can keep him upright, he will be considered a top-five quarterback very quickly.
6. Russell Wilson
2021 may have been a lost season for the Seattle Seahawks, but it was far from a lost season for Russell Wilson.
He suffered a finger injury on his throwing hand in September, which cost him a few games in the beginning of the season. But Wilson still managed to pass for 3,113 yards, 25 touchdowns and just six interceptions in 14 games. This came behind a subpar offensive line, poor tight end targets and in a run-first offense.
Wilson was traded to the Denver Broncos in March, and he will inherit a much better scenario than he had last season. Although his receiving core isn't as talented as the one he's leaving behind, the rest of the roster is a huge upgrade.
Denver's defense is among the best in the NFL, which will see Wilson get extra opportunities with the ball in his hands. On offense, Wilson's weapons are more than adequate, with Javonte Williams, Cortland Sutton, Jerry Jeudy and Tim Patrick looking to be a big factor in the "Mile High City."
Don't be surprised if you see Wilson competing for the league MVP down the stretch of the 2022 season.
5. Justin Herbert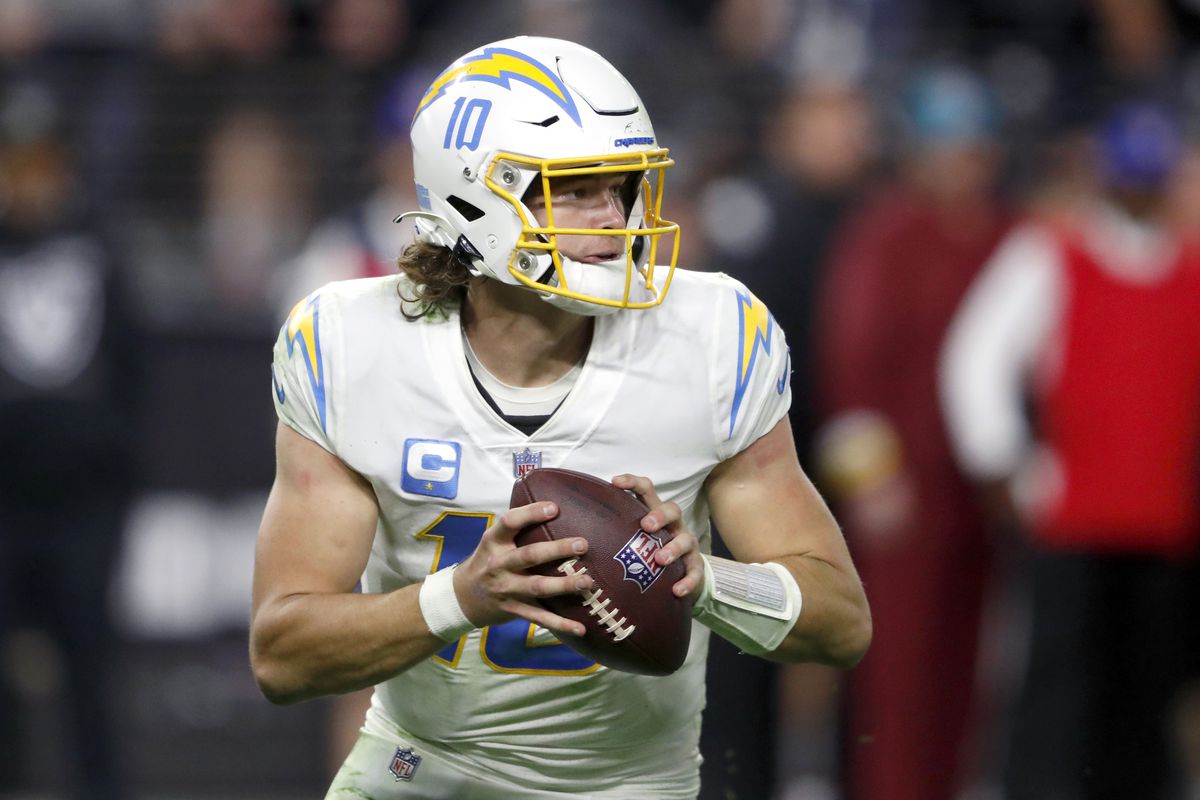 Steve Marcus/Getty Images
If the 32 general managers in the NFL were all asked which QB they'd want to start a franchise with, many would select Justin Herbert. He is one of the most talented quarterbacks in the NFL and is only 24 years old.
In his 32 games as a starting quarterback, Herbert has accumulated 9,350 passing yards, 77 total touchdowns and 25 interceptions. In the process, he has set NFL records for most passing touchdowns by a rookie quarterback, 31, the most passing yards-per-game by a rookie quarterback, 289.1, and the most 300-yard passing games by a rookie QB, eight.
In 2022, Herbert will look to make even more strides in his game. He'll look to make the playoffs for the first time in his young career, and if he does so, will announce himself as a true superstar in the NFL.
4. Josh Allen
There's a reason why the Buffalo Bills are the current betting favorite to win Super Bowl LVII. That's because they have Josh Allen under center.
He has every tool needed to excel in today's NFL. Allen can launch the ball 60+ yards in the air with precise accuracy. Even if the defense gameplans for his deep ball, he can carve up defenses with his legs.
Defensive backs struggle to tackle him, due to his 6-foot-5, 240-pound frame, linebackers can't keep up with his speed, and defensive linemen can't even get near him.
Allen passed for 4,407 Yards, 36 touchdowns and 15 interceptions in 2021. He also added 763 rushing yards and six touchdowns on the ground. But his most impressive stretch came during the 2021-22 playoffs.
Allen had a perfect passer rating against the Patriots in the Wild Card round, accumulating 308 yards and five touchdowns. He also added 66 rushing yards, in a game where the Bills did not punt.
Most passing touchdowns on play action passes since 2020

1️⃣ Josh Allen: 40
2️⃣ Tom Brady: 34
2️⃣ Patrick Mahomes: 34 pic.twitter.com/tN51Epvid7

— PFF BUF Bills (@PFF_Bills) May 29, 2022
Similarly, Allen had 329 yards and four touchdowns in the Divisional Round at the Chiefs. He rushed for 68 yards as well.
Allen now has the ability to read a defense in a hurry. Be warned, defenses, Allen is only going to improve going forward.
3. Aaron Rodgers
Back-to-back MVP winner Aaron Rodgers is a special quarterback. He's got a golden arm and takes care of the football unlike anyone else.
In 2021, Rodgers had 4, 115 passing yards, 37 touchdowns and seven interceptions. Not only this, but he led the Green Bay Packers to a 13-4 record, and the No. 1 seed in the NFC.
NFL fans may be underwhelmed with Rodgers' playoff runs over the past two seasons, as the Packers fell to the Buccaneers and 49ers at home. In his most recent playoff game, Rodgers had just an 18.7 QBR, which is one of the worst in his career.
Rodgers has the ability to carry the Packers to another NFC North title, but without Davante Adams, it'll be just a bit harder. I expect to see Rodgers take a slight step back in 2022.
2. Patrick Mahomes
The NFL's best young quarterback is Patrick Mahomes. Every time he steps on the field, he's must-watch TV.
In a "down" year for Mahomes, he managed to pass for 4,839 yards, 37 touchdowns and 13 interceptions. If that's a bad year, God only knows what a good year is for him.
Mahomes has a videogame-like style to his game. When the pocket starts to collapse, he may look distressed, but that couldn't be further from the truth. Mahomes will find an open receiver in even the toughest of situations. He may not even be looking at his intended receiver.
Mahomes' top receiving target, Tyreek Hill, may have been traded in the offseason, but if there is someone who can overcome this loss, it's Mahomes. Add in the fact that the Chiefs can draft and develop skill positions at a high level, and it looks like he'll be just fine.
Craziest part about this was dude acted like this was normal after he caught it…@_jross8 https://t.co/KuJ4a8DEPu

— Patrick Mahomes II (@PatrickMahomes) May 25, 2022
Mahomes will be one of the top MVP contenders for years to come.
1. Tom Brady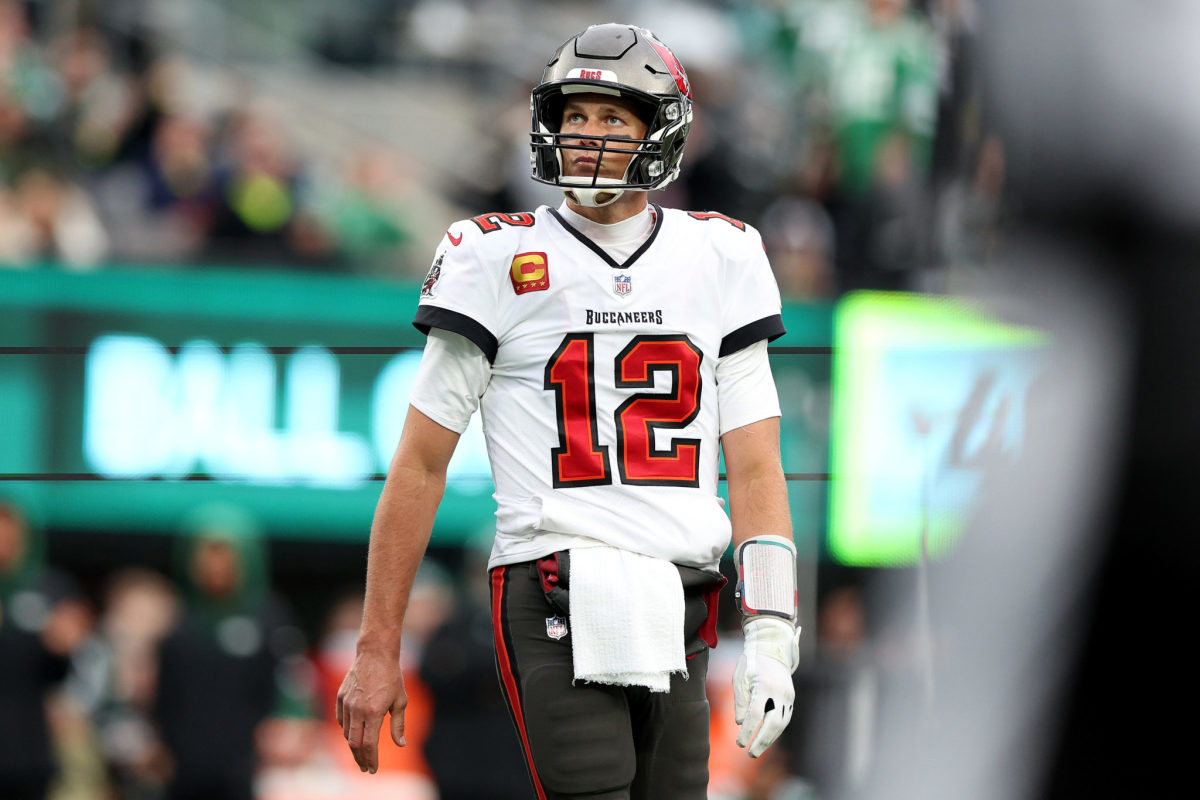 Elsa/Getty Images
Even at age 44, Tom Brady is the best quarterback in the NFL. Thankfully for NFL fans, he decided to unretire after hanging up his cleats for about one month this offseason.
Brady is often disrespected when it comes to ranking the best quarterbacks in the NFL. It never truly makes sense why he would be outside the top-two in any list, especially considering he is the greatest football player of all time.
In 2021, Brady had 5,316 Passing yards, 43 touchdowns and six interceptions. He led the NFL in completions, passing yards and passing touchdowns. It's surprising to see that he did not receive more votes for MVP, as he received nearly a quarter of the votes Rodgers did.
No matter what defense lines up against Brady, he finds a way to take advantage of it. Within a moment's notice, he figures out which receiving options will be open, and hits them in stride. All while making it look effortless.
If given the opportunity to hand pick any quarterback to lead your team in 2022, the clear answer has to be Brady.
Jimmy Bliss can be reached at james.bliss@student.shu.edu.
Posted in: Sports