This day in sports: the 2020 NFL Draft
Date: April 22, 2021
By: Chris Kiely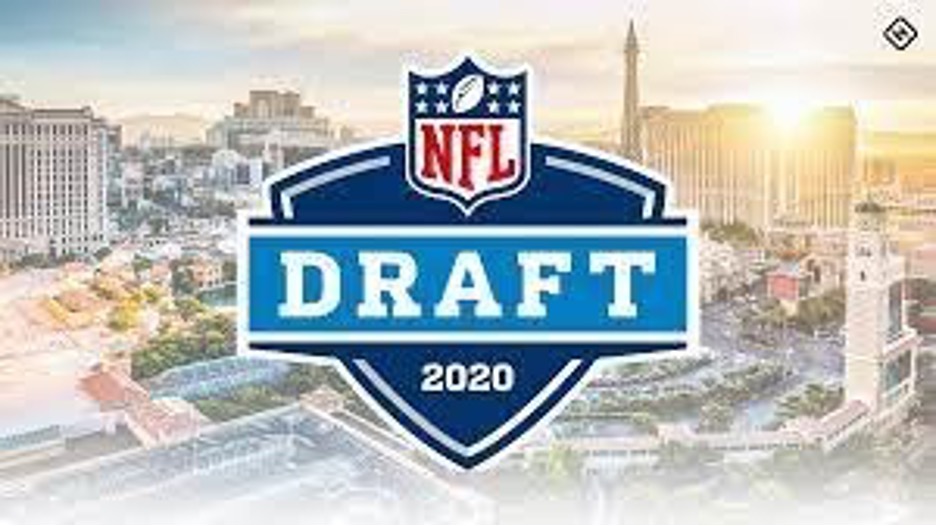 Tadd Haislop/Sporting News Illustration
The second week of March 2020 was a period of time people all across the globe would never forget. People headed into a week at the office, unknowingly that they would not see certain co-workers for over a year. Students on Spring break never returned back to school. All forms of entertainment closed down in a massive domino effect. One of those major ones were sports.
On that Thursday, the NHL, MLS, NBA, and PGA Tour all suspended their seasons. The MLB announced they were delaying the start of their season and the NCAA was cancelling all collegiate sporting events for the rest of the Spring 2020 Semester. With their season ending in early February, the only major sport to not feel the brunt of the COVID-19 Pandemic was the NFL.
However, their draft was coming up in late April, with it planned to be hosted in Las Vegas. The league quickly acted in having it go forward, but rather have it be virtual and not in Las Vegas. Six long weeks later, the draft arrived, and it was a draft unlike any other. All players celebrated getting drafted at home with friends and loved ones.
While it was not unusual to see players watch the draft at the home, the quantity of them was unprecedented. All of the analysts and reactions were from the studios of ESPN or at their crew's houses. All the selections by teams came through video conferences with Commissioner Rodger Goodell as coaches and owners also worker from their houses.
It created unforgettable moments such Tennessee Titans Head Coach Mike Vrabel's kids photobombing, Minnesota Vikings Head Coach Mike Zimmer's
phenomenal fireplace, and Bill Belichick's temporary replacement.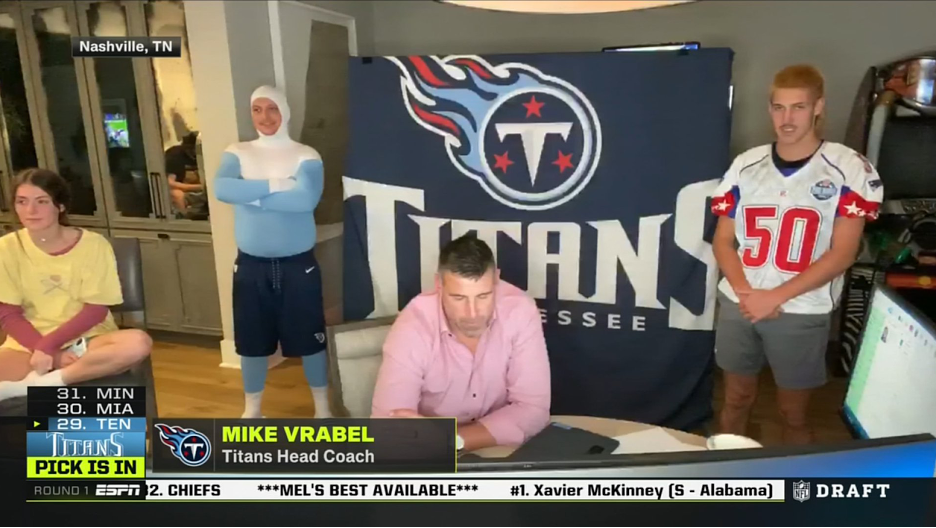 Jordan Heck/Getty Images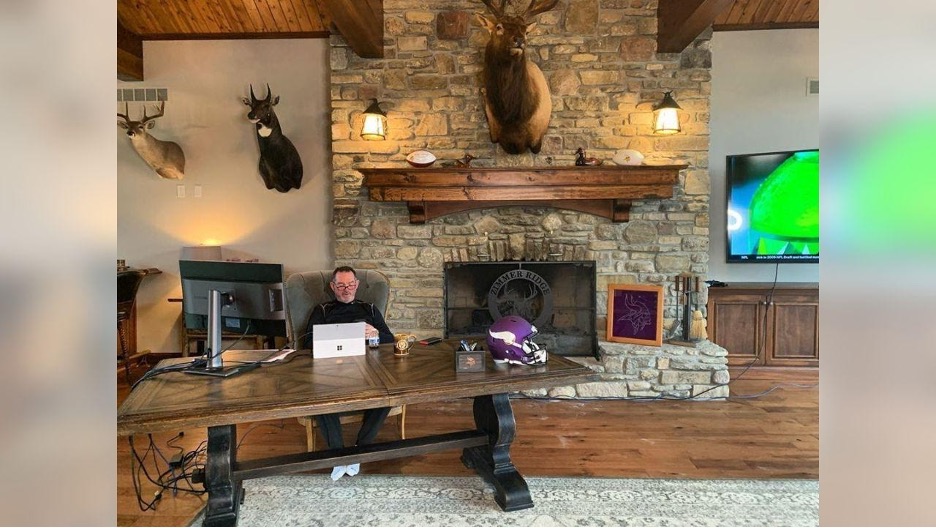 Blake Harris/Getty Images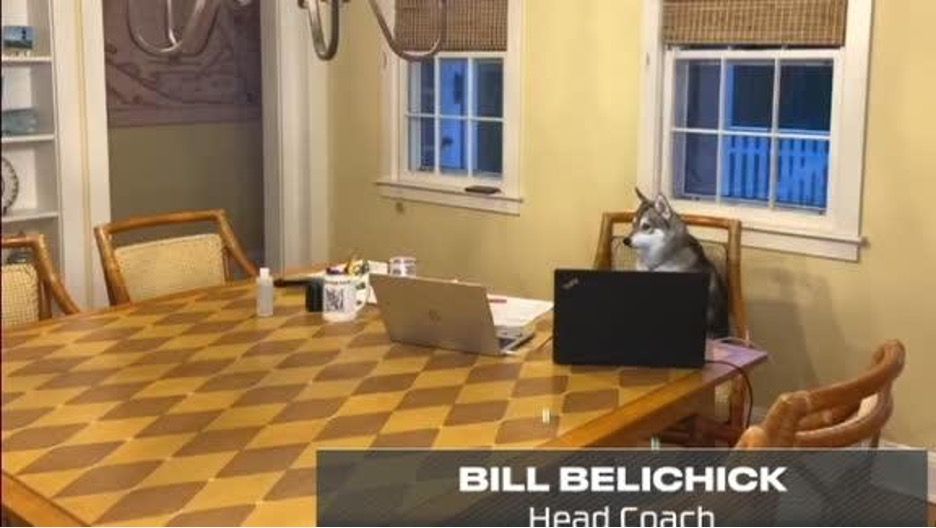 ESPN
As for the draft itself, it was quite an energetic draft. The first round totaled many teams that picked wisely in drafting players in positions of need. The Cincinnati Bengals went first overall and got their franchise quarterback in Joe Burrow, who was coming off the best college football season by a quarterback, winning the Heisman Trophy, and the National Championship at Louisiana State University.
It should be noted for everyone that eight times that the pick directly after the Cincinnati Bengal ended being a Hall of Famer. That will be likely good news for the Washington Football Team that went directly after them, when they drafted probably the best player of the draft in Defensive End Chase Young from Ohio State. Looking at it now, both picks will likely pay dividends for both teams.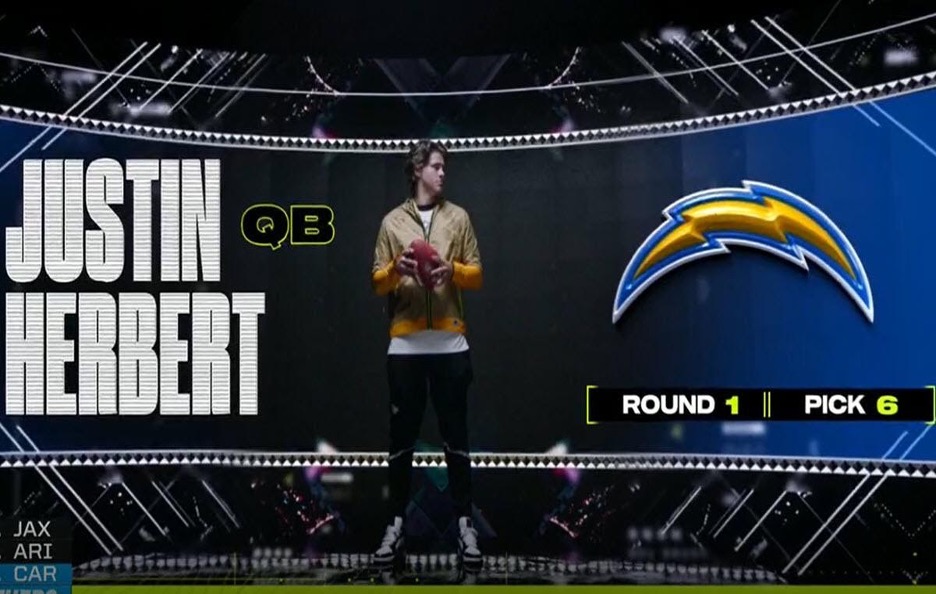 Gary Breedlove/ Getty Images
It was at pick No. 5 by the Miami Dolphins where things were getting interesting. The Dolphins, in desperate need of a quarterback, put all their chips in the pot, by drafting Tua Tagovailoa from Alabama. The Los Angeles Chargers went right after in which they drafted fellow quarterback Justin Herbert out of Oregon. The two picks back-to-back will be great to refer back to as their two careers go forward.
The draft proceeded in which teams picked wisely in selecting positions of need. The Panthers, Cardinals, and Jaguars all drafted defensive players for their struggling defenses. The Browns, Jets, and Buccaneers selected offensive lineman for protecting their starting quarterbacks. The Raiders, Broncos, Cowboys, and Vikings took wide receivers in order to make their offenses more threatening. The Draft was not all sunshine and rainbows. It has only been one year, but the Tennessee Titans were clearly the biggest losers of the draft so far, selecting Offensive Tackle Isaiah Wilson from Georgia.  The 350 pound lineman only played four snaps before getting cut by the Titans due to legal issues.
Of all those storylines, the biggest takeaway was the Green Bay Packers trading up to pick at 26th overall. Having been just one win away from the Super Bowl last year, Packer fans were hoping they would draft an offensive weapon to help Aaron Rodgers. Instead, they went the long-term route and picked Quarterback Justin Love from Utah State. Rather than focus on assisting their current All-Pro Quarterback, their team believed that Rodgers would not be in Wisconsin much longer.
Therefore, they decided to select a high-level quarterback to be mentored. One year into the experiment, it has worked, but not in the way they believed. With
the selection of quarterback, The Packers told their franchise quarterback non-verbally that they believed he was regressing. Rodgers went out on a mission this past year, throwing for over 4,200 yards, and 48 passing touchdowns.
With people stuck in their homes for over six weeks, the draft was a breath of fresh air for millions of people to feel alive and watch something take place that was not a replay. The viewership for the draft said for itself. Being the first somewhat live form of a sporting event since the pandemic hit, the event exploded in viewership.
Compared to its 2019 viewership of the draft, the NFL Draft in 2020 hit a new high in viewership with 15.6 million viewers watching the first round, a 37% increase compared to 2019.
As the 2021 NFL draft approaches, much has changed. The draft will be held physically in Cleveland, Ohio next week. This past year's draft was one of the many events on an infinite list that were taken for granted. It really showed people how much you appreciate something when it is gone.
Chris Kiely can be reached at christopher.kiely@student.shu.edu.
Posted in: Sports