The Evolution of Jordan Poole
Date: June 7, 2022
By: Matthew Soetebeer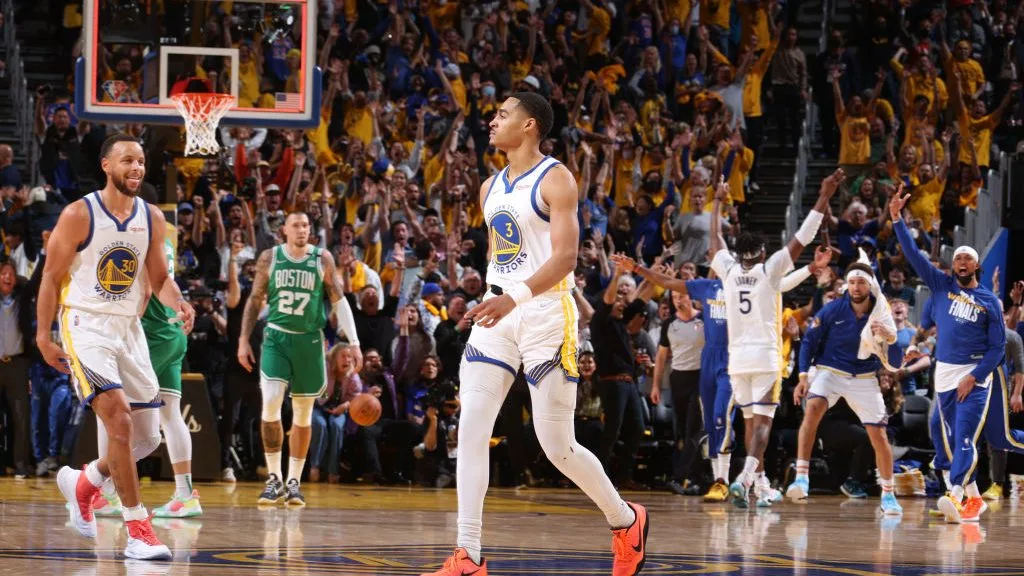 Nathaniel S. Butler/NBAE via Getty Images
It's a "Poole Party'' in San Francisco. From seemingly nowhere, Jordan Poole has gone from playing in the G-League last year to becoming a key piece of the Golden State Warriors success.
Nicknamed the "third splash brother," Poole replaced the injured Klay Thompson and continued to improve as the year went on. He's now getting comparisons to his teammate and two-time MVP, Steph Curry.
Poole is a late bloomer, similar to Curry, who took five years to become a household name. Poole is not on that level yet, but he is following a similar trajectory.
Listen in to hear Jordan Poole's halfcourt buzzer-beater as heard from around the world! pic.twitter.com/7nhPQDRaLn

— NBA (@NBA) June 7, 2022
In Curry's second season, he averaged 18.6 points-per-game, and in Poole's third season, he averaged 18.5 points-per-game. Both players were unpolished when they entered the NBA.
Poole recognizes his time in the G League as crucial to developing. He previously had a limited role on the roster but worked to earn significant minutes.
"I personally went down there and looked at it as live reps," Poole said regarding the G League. "I love to work on my game. I love to grind and try to better myself."
Any basketball player knows that confidence is crucial to shooting well. If a player lacks belief in their ability to shoot, it'll be a constant struggle. This is far from an issue for Poole though, according to his teammate, Draymond Green.
"It's a little irrational like why would Jordan Poole think 'I'm on the floor with Steph Curry, I'm on the floor with Klay Thompson, I should have the ball. I should be taking these shots.' It's very irrational, but you need guys like that," Green said.
Poole is aided by Curry to become the best player he can. He views Curry as a mentor and his advice is helpful because of their similar playstyles.
Steph Curry x Jordan Poole

(: @_JordanJimenez) pic.twitter.com/mjjAwcidNU

— Guru (@DrGuru_) June 6, 2022
Poole went from shooting around 28% from three in his rookie season to a much-improved number just above 36%. With his quick first step, tight handles, and high free-throw percentage, the Curry comparisons are going to continue as he develops.
Matthew Soetebeer can be reached at matthew.soetebeer@student.shu.edu. 
Posted in: Sports