The Best Uniforms in CFB: Week Two
Date: September 19, 2022
By: Chris Kiely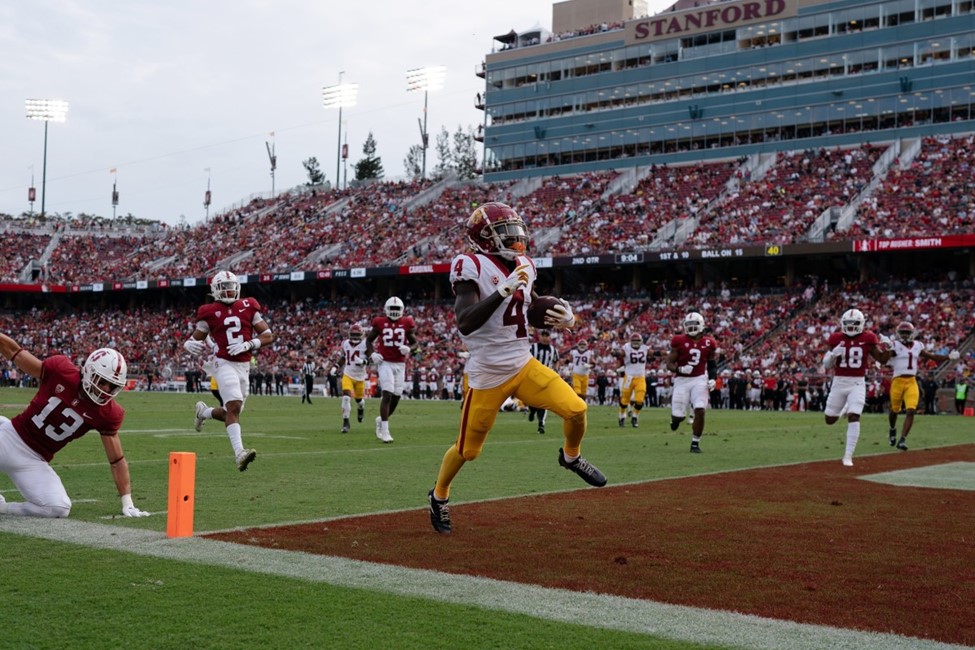 Stan Szeto/USA Today Sports
Week Two came and delivered in what was a very eventful slate of games. Personally, I refer to Week Two as the "Oh yeah, we have got 12 more amazing Saturdays to look forward to" Week.
In what was a beautiful day that had over 14 glorious non-stop hours of College Football, it goes without saying that there were some gorgeous uniform matchups.
It cannot be stressed enough that there were some fantastic choices by multiple equipment teams that did not make the top three list. They include Washington St. vs No. 19 Wisconsin and Mississippi State vs. Arizona.
With that, here are your best uniform matchups of Week Two.
Number Three: No. 1 Alabama vs Texas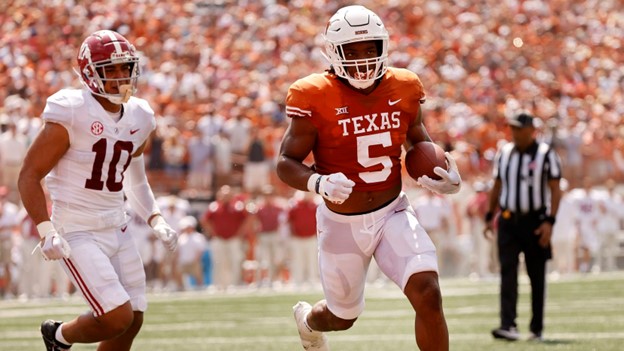 Tom Fox/Texas Longhorns Athletics
The biggest and most watched game of the day featured two of the most iconic programs in the history of College Football.
More importantly, they are two of the most unchanged uniforms in college football right now. While people might say that Alabama and Texas' jerseys are very boring and bland, there were two things about this uniform matchup that was appealing to the eye of the fan sitting at home.
First, these two teams have rarely played one another. Besides facing off in the BCS National Championship in 2009, the two storied programs had not played each other since 1982.
Second, the fact that the two teams have such a long and prideful history, and their uniforms have stayed unchanged, made this game give off a retro vibe.
It might be just myself, but the fact that their uniforms are not that different from what they wore when they played each other in the 1960s and '70s made it feel like an old black and white football game in color.
The other factor that made the uniforms pop was that the game was played at 11:00 a.m. central time. While the entire college football world was up in arms that this was played at noon eastern time, the morning Texas sun really made the white on both teams' equipment reflect strongly.
For Texas and Alabama, it simultaneously made the Burnt Orange and Crimson stand out even more with the white they wore. A great game with two programs not changing their uniforms for the game's significance resulted in it being a beautiful sight to see on the TV.
Number Two: Arizona State at No. 11 Oklahoma State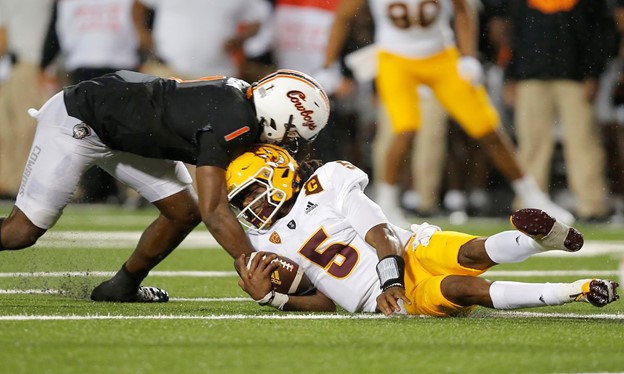 Bryan Terry/USA TODAY Sports
When it came to post-Alabama vs. Texas, FOX did not do their best in promoting or even mentioning their night game that featured the Arizona State Sun Devils and the No. 11 Oklahoma State Cowboys.
Then again, the game was quite uneventful as the Cowboys dominated after the first quarter and won by a score of 34-17.
For the uniform matchup, it featured some of the most uncommon color combos in college sports. Few teams either have black and orange or marron and gold, but they were very compatible in going up against each other.
For Oklahoma State, they went with the simple white on black on white with the wording of "Cowboys" on the helmet.
Arizona State did a good job as well with their uniform choice. Going with opposite of the Cowboys with color/white/color, the Sun Devils classic road yellow on white on yellow uniform was a perfect match with OSU.
Lastly, an aspect that helped make these uniforms look striking was the Oklahoma night sky.
Yes, the night sky.
I am not kidding when I say that there is not a blacker night sky for any College Football stadium than at Stillwater, Oklahoma. With contrast of the dark black sky and the bright field lights, this could a possible reason for why uniforms in night games at Oklahoma State always look superb.
While this feature is more visible in there night games in November, it proved that it is plausible for the classic Stillwater night skies to be seen in mid-September.
Number One: No. 9 Baylor vs. No. 21 BYU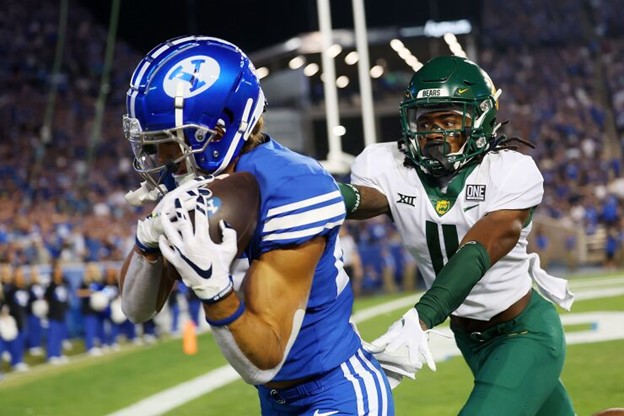 Scott Winterton/Desert News
There are uniform color matchups I like, there are ones I love, and then there are ones that are my favorite. In my eyes, few uniform matchups can be better than blue and white versus dark green and white.
That was what No. 9 Baylor vs. No. 21 Brigham Young had the opportunity to do on Saturday, and they delivered in a big way for a game that ended at around 2:30 p.m. EST.
For BYU, they have continued shifting back towards their classic blue and white uniforms, instead of using the Navy Blue and white. Not to mention the contrast of colors in their game Utah, it is a beautiful uniform with all blue.
For Baylor, they succeeded in their job as well. They correctly avoided going with their gold or all white jerseys in this game. They choose the green on white on green and it came out looking amazing.
With the best color contrast on the field right under Y Mountain, it should be a crime that this game was not put on earlier so fans could see this masterpiece.
Chris Kiely can be reached at christopher.kiely@student.shu.edu.
Posted in: Sports, Football, College Football