Recap: Women's Basketball Season Comes to an End in 72-54 Loss to Syracuse
Date: March 21, 2023
By: Nate Taylor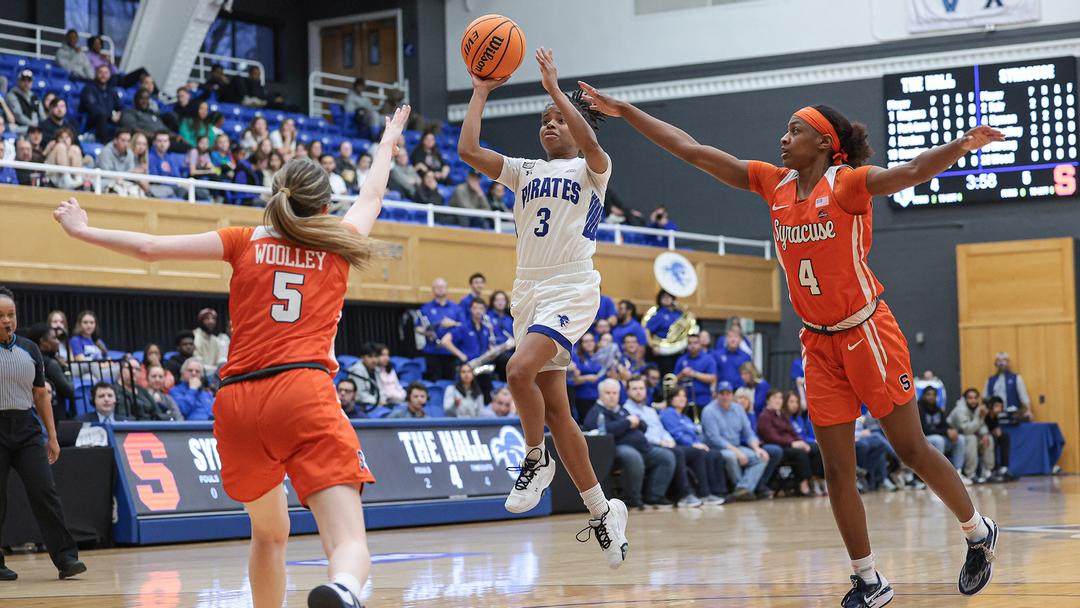 Seton Hall Athletics
The Seton Hall Pirates wrapped up their 2022-2023 season with a loss to the Syracuse Orange, 72-54, in the second round of the WNIT tournament.
Through the first quarter it seemed to be an evenly matched game, with a score of just 9-7 after 10 minutes of play. However, the Orange quickly took matters into their own hands as they outscored the Pirates by 20 in the second quarter.
After the slow start, Seton Hall came out firing on all cylinders to start the second half. They cut the lead down to 11 points entering the fourth quarter and seemed to have the momentum.
Azana Baines working hard down low!!#HALLin pic.twitter.com/2bWhbN5w8a

— Seton Hall Women's Basketball (@SHUWBB) March 21, 2023
However, Syracuse regained control of the game for the majority of the fourth quarter as they cruised to an 18-point victory to advance to the Super 16.
Seton Hall only won one of the four quarters and the intensity of the Orange proved too much for a Seton Hall team that struggled to get anything going.
Coach Tony Bozzella was adamant about the lapses in energy from that team that really allowed Syracuse to take advantage. "Our lulls in intensity cost us this game. They scored 26 points in the second quarter."
Syracuse was able to dictate the pace of the game and get inside, often having second and third chance opportunities. The Orange had 15 second chance points on 19 offensive rebounds.
Syracuse was led by Dyaisha Fair who had 24 points on 9-of-17 shooting from the field, to go along with some great defense.
Despite the loss, Lauren Park-Lane held her own in the matchup as she scored a team-high 23 points to go along with six assists, although she turned it over eight times.
One of the big questions that comes after this game is that of Lauren Park-Lane's potential return. Park-Lane scored a Seton Hall record 686 points this season to break the previous record which she set with 678 last season.
Coach Bozzella certainly would like his star point guard back next year. "I know if Lauren comes back to lead this team, we better damn well have some hard workers around her."
Bozzella is clearly very set on the work this team is going to need to put in this offseason to get to their goal of an NCAA tournament appearance.
Regardless of whether or not this was Park-Lane's last time in a Pirates uniform, it has been quite the career for No. 3.
What a move by Lauren Park-Lane!!#HALLin @WomensNIT @BIGEASTWBB @MarchMadnessWBB pic.twitter.com/XDIq34vUfG

— Seton Hall Women's Basketball (@SHUWBB) March 20, 2023
If she does come back, she'll likely break the all-time scoring record within a game. She sits at 1,905 points, just 20 points shy of the Pirates' all-time record held by Tabatha Richardson-Smith.
The Pirates will look towards the new season, with the uncertainty of their best player returning.
Nate Taylor can be reached at nathaniel.taylor@student.shu.edu.
Posted in: Sports, Women's Basketball