Recap: Women's Basketball Falls to No. 5 UConn, 103-58
Date: January 20, 2023
By: Jonathan Heite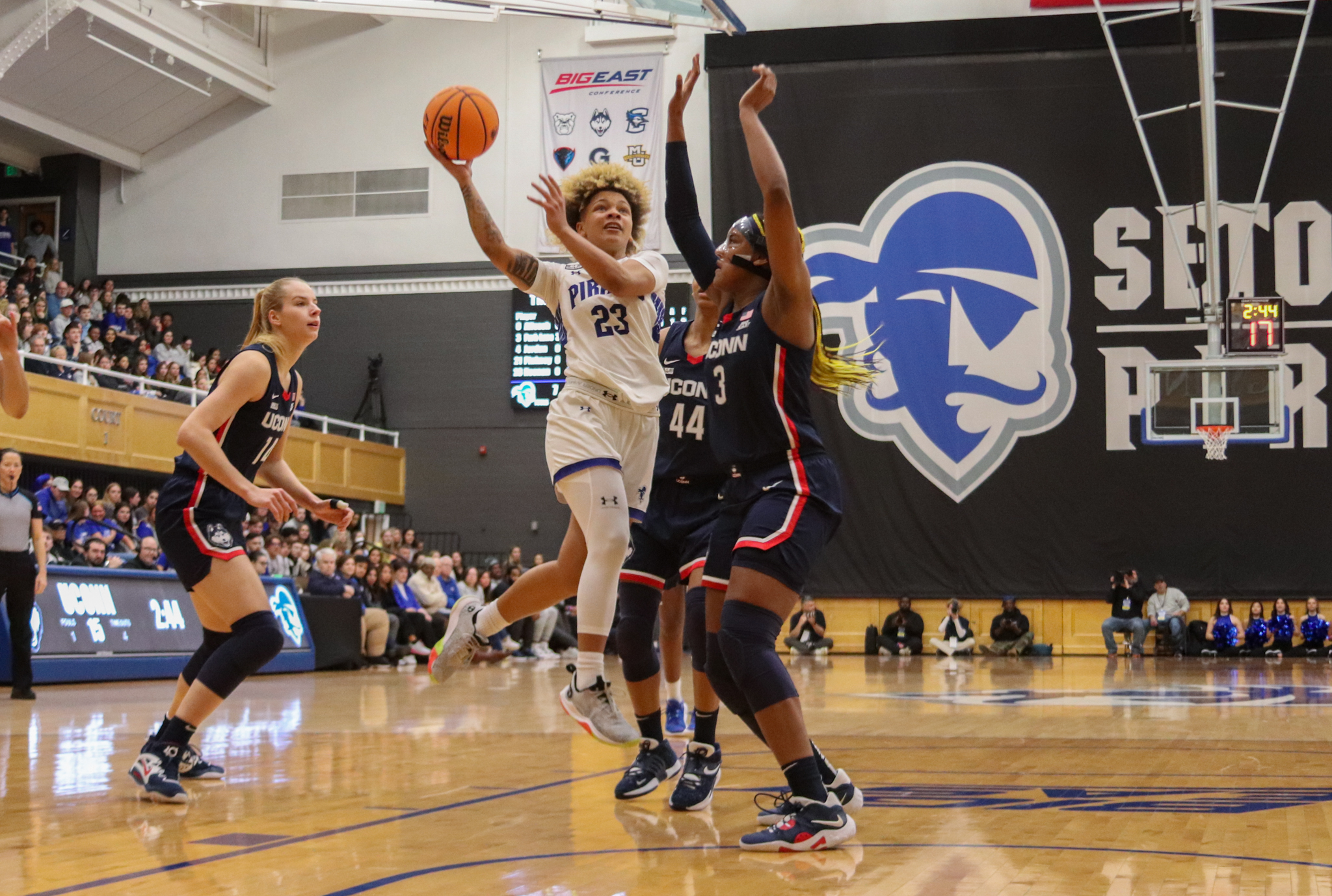 Kayla Fonseca/WSOU
The UConn women's basketball team are still as dominant as ever in the BIG EAST, despite their current roster situation.
On Tuesday night, the No. 5 Huskies defeated the Pirates, 103-58, in front of a sold-out Walsh Gymnasium. Multiple players on both sides contributed big-time performances, but UConn managed to play efficiently with only seven roster players due to their numerous injuries.
The Hall was led by Jala Jordan, who tallied 19 points, five rebounds, and one block, as well as Victoria Keenan, who knocked down four three-pointers for 12 total points. Look for both of these players to step up and provide important scoring over the coming weeks as the BIG EAST schedule becomes even more difficult.
Victoria Keenan starting to feel that long-distance touch!#HALLin pic.twitter.com/xoMMNLQsQg

— Seton Hall Women's Basketball (@SHUWBB) January 18, 2023
It was a quiet night for Seton Hall's dynamic duo of Lauren Park-Lane and Sidney Cooks, who scored nine and four points respectively. Azana Baines (reached 500 career points) and Shay Hagans (reached 700 career points) also added four apiece. Amari Wright (seven assists) and Mya Bembry (six rebounds) each finished with two points.
Another look at that pretty feed from Amari Wright to Jala Jordan!#HALLin @Marchmadnesswbb pic.twitter.com/7Zs77A5T2K

— Seton Hall Women's Basketball (@SHUWBB) January 18, 2023
UConn saw five of their seven total players end with double-digit scoring, with Dorka Juhasz (11 rebounds) and Aubrey Griffin (eight rebounds) each scoring a team-high 22 points for the Huskies. Aaliyah Edwards was close behind with a 21-point, 11-rebound double-double, and she also included three steals and two blocks.
Lou Lopez-Senechal also finished with 17 points, Amari DeBerry posted 13 points and eight rebounds, and lastly, Ines Bettencourt and Nika Muhl (13 assists) both ended with four points.
Seton Hall had an early 5-2 lead during the first quarter, but UConn was able to jump out to a 19-2 run that kept the Huskies ahead throughout the rest of the game. UConn was also able to shoot 56.5% from the field compared to the Pirates' 31.1%, as well as 10/15 from three-point range (Seton Hall ended 6/31).
With the loss, Seton Hall falls to 13-6 overall (6-3 in conference play), while the Huskies improve to 16-2 overall (9-0 in conference play).
UConn will next host Butler on Saturday, while the Pirates will hit the road and travel to Marquette on Sunday to face the Golden Eagles at 3 p.m. Ryan Johnston and yours truly will have the call from the Al McGuire Center in Milwaukee and be sure to stay locked into WSOU Sports' coverage of the Seton Hall women's basketball squad throughout the rest of the 2022-23 season.
Jonathan Heite is an Assistant Sports Director for WSOU Sports and can be reached at jonathan.heite@student.shu.edu.
Posted in: Sports, Women's Basketball