Recap: Vanzeir's First MLS Goal Sends Red Bulls to 2-1 Victory
Date: March 21, 2023
By: Joey Nardone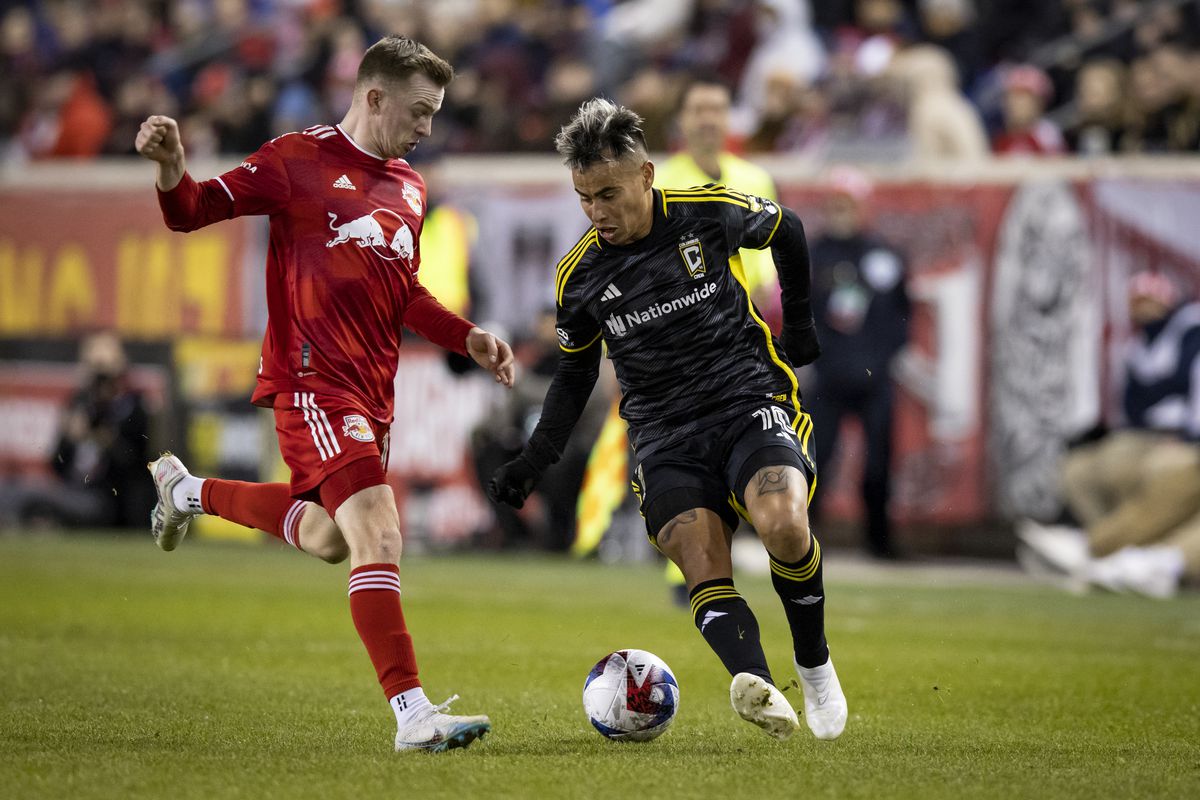 Ira. L Black – Corbis/Getty Images
"We needed this as a team" said Dante Vanzeir, the new transfer from Belgium that scored the game-winning goal in the 86th minute.
The game-winner from @dantevanzeir! @Audi | #RBNY pic.twitter.com/nh36t5orjR

— New York Red Bulls (@NewYorkRedBulls) March 19, 2023
The New York Red Bulls (1-2-1) took on the Columbus Crew (1-1-2) on a chilly night in Harrison.
The team was celebrating women's empowerment night which included music from DJ Ria at pregame and halftime, appearances from the Metropolitan Riveters New Jersey's professional women's hockey team, The GM of Gotham FC, players from the New York Liberty, and many players and coaches from local youth soccer programs at halftime.
The game started out slow as both teams were getting a feel for each other, Columbus was dominating in possession but were not stringing together any critical chances and the Red Bulls had a few shots, but only one on target.
Columbus's pressure all placed itself at once when a clearance from the goalkeeper led to a bad touch from defender Andrés Reyes, and goalkeeper Carlos Coronel was found out of position leading to Alexandru Mățan sliding the ball from outside the box into the net putting Columbus up 1-0.
After six minutes of extra time, the halftime stats were 63 percent possession in favor of Columbus, 37 percent to Red Bulls. Both teams had two corners, New York ended with one shot on target and Columbus with one on target, being the goal.
At half, New Jersey native Daniel Edelman was subbed off for a more attacking minded Elias Manoel, pushing New York into a 4-3-3.
After a more attacking start to the half by the Red Bulls, it all came to fruition in the 57' when Burke muscled off a defender and dribbled two more whose shot was saved, but the rebound was found by a well-positioned Luquinhas who buried the one-timer in the open side of the net tying the game at one.
74 minutes in, Dante Vanzeir was subbed on for Cameron Harper and the crowd erupted. Vanzeir joined New York towards the end of the January transfer window and has yet to start, but has been getting subbed on the past few games as he gets adjusted to the Red Bulls.
Just 12 minutes later, Vanzeir showed his knack for scoring goals as coach Gerhard Struber said postgame the "cross from Johnny Tolkin was very sexy," which Vanzeir at a tight angle one touched it on the back post, scoring his first MLS goal.
Columbus pushed numbers up and forced a great save from Coronel but were not able to score, ending the game 2-1 in favor of the Red Bulls.
Postgame, Struber said Luquinhas's goal "was luck but he was in the right position as well," and said this was a character defining game for the players, especially for how young the team is.
"These are moments that bring a group further together…gives everyone a big push and a big belief…this helps us grow."
Coach was also asked about key player Lewis Morgan's injury, but said he is "not sure at the moment," and hopes to know in the next couple of days.
Dante Vanzeir came out holding the match ball with a big grin saying that it will go in his living room. He started off by saying "this is the moment we were all waiting for," and "it was a great cross and I had time to think where I would place it."
Match ball #️⃣1️⃣ for @dantevanzeir pic.twitter.com/qjbKHmqu2i

— New York Red Bulls (@NewYorkRedBulls) March 19, 2023
Vanzeir was known in Belgium for his nose for the net and in his 20 minutes of play time, he really showed it. When asked about how he likes the MLS so far, he said that it is a "great league and (I) love the intensity…this is what MLS is like, in Europe maybe teams would play more defense (after going up 1-0)… but we also created more in offense."
The Red Bulls will play Charlotte on Saturday March 25 on the road.
Joey Nardone can be reached at joseph.nardone1@student.shu.edu.
Posted in: MLS, New York Red Bulls, Sports