Recap: Pirates Advance in WNIT After Solid 69-61 Victory Over Hawks
Date: March 17, 2023
By: Dovid Holtzman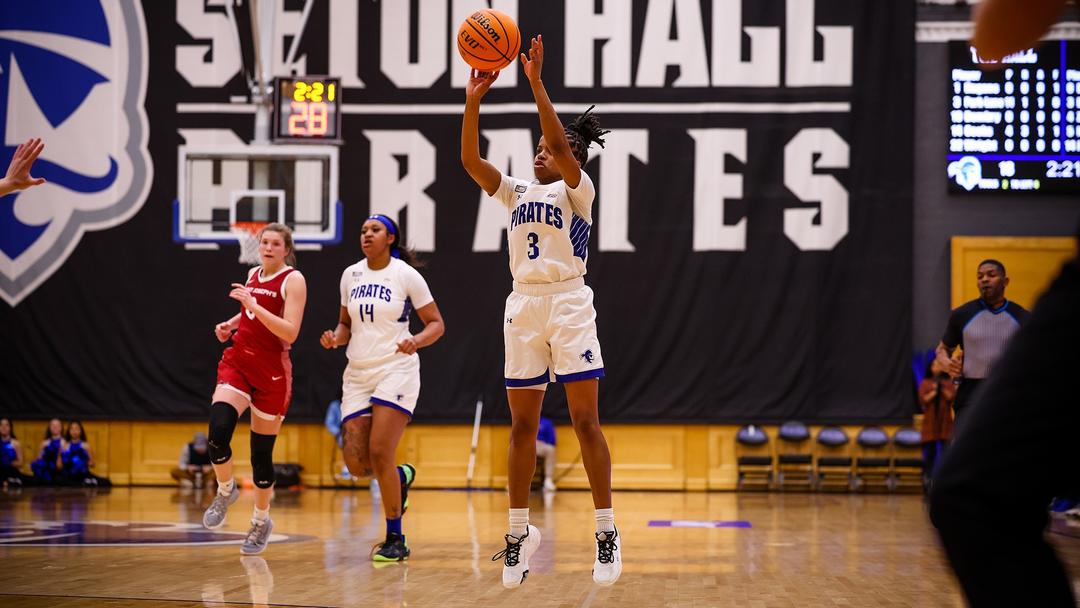 Seton Hall Athletics
The Seton Hall Pirates (19-14, 10-10 CONF) took down the Saint Joseph's Hawks (20-11, 9-7 CONF) 69-61 in the first round of the Women's National Invitational Tournament on Thursday night. The Pirates jumped out of the gate to a 19-point lead, a lead that carried the team through a St. Joe's comeback which brought the Hawks within two points of tying the game late.
Seton Hall opened with a commanding lead, breaking out to a 14-11 start that rested on three three-point buckets from Lauren Park-Lane.
But Saint Joseph's did not open weak either, scoring eleven points early distributed between Talya Brugler (17 PTS, nine REB), Laura Ziegler (18 PTS, five REB), and Olivia Mullins (10 PTS, five AST). From there, Seton Hall went on a 14-point run and showed stifling defense against St. Joe's to close the quarter up 31-13.
The second quarter came to a slower open, as the Hawks stepped up their defensive game, forcing seven turnovers, taking six fouls, and going on a 6-0 run to bring the game within 13, 35-22.
Sidney Cooks gets the block, and LP finds Baines on the fast-break!!#HALLin pic.twitter.com/1whPcNQXfb

— Seton Hall Women's Basketball (@SHUWBB) March 16, 2023
The Pirates matched blow-for-blow, as Sidney Cooks drained a second three-pointer to bring the half to a close up 42-26.
The third quarter did not look better for the Pirates, as the Hawks opened it with a seven-point run to bring the game back within ten, 44-34.
It was mostly a defensive battle from there, and fouls did not help Seton Hall, as Cooks racked up three and Mya Bembry (four PTS, five REB) earned four. The quarter closed with the Hawks on a 6-0 run to cut the lead to nine, 55-46.
One thing to note at this stage was a defensive adjustment the Hawks made after Lauren Park-Lane's explosive open to the game. After scoring 19 points in the first quarter, Park-Lane was kept under double coverage almost every moment she had the ball. Pressure from St. Joe's forced her to commit five turnovers and allowed her only two points in each of the second and third quarters.
St. Joe's kept it strong heading into the fourth, cutting the lead to just five points as the Pirates hung on for dear life. But with seven minutes on the clock, Sidney Cooks re-entered fresh from the bench, dropping five points in under a minute to stretch the lead back out to ten, 60-50.
A 11-3 run brought it to 63-61 with just two-and-a-half minutes to go as St. Joe's desperately worked to come back in the game late. Two Park-Lane free throws stretched it out to 65-61 with just over a minute on the clock.
A turnover, a travel, a foul, another two fouls. Two more Park-Lane free throws brought her total out to 30 and sealed the game, with a final score of 69-61.
The Pirates' offense relied on Park-Lane and Cooks for 47 of the team's 69 points. Park-Lane, a top five finalist for the Nancy Lieberman Point Guard of the Year award, posted her seventh thirty-point game of the season, going 7-of-16 from the field, 4-of-6 from long, grabbing five boards, and collecting three assists on the night.
Sidney Cooks was taken out after committing three fouls before the half, but when Seton Hall's offense dried up, putting her back in was exactly the spark the team needed. The graduate center posted her fifth double-double on the season, grabbing 10 rebounds to go with 17 points—including a critical three late.
In the postgame press conference, Coach Tony Bozzella said that Park-Lane, Cooks, and Bembry, "would not allow anything else" than the result tonight. He chalked up the team's strong performance to the experience of playing in last year's WNIT and the "tough environment" of the BIG EAST conference.
Talking about star point guard Park-Lane, Bozzella reflected that, "it's hard to be Lauren, there's a lot of pressure on her. She wants the best for Seton Hall, she loves Seton Hall."
On advice he gave her? "I said, 'Lauren, just go out and play your game. Just know that when you step on the floor you're the best player, and just relax about it. Don't feel the pressure, the pressure of being the best player, relax and be confident in being the best player.' And she did, and it showed a lot."
Speaking about the upcoming game against Syracuse, Bozzella pointed out the Seton Hall administration's willingness to support the program and keep the game at home. "Mr. [Bryan] Felt said to me, 'of course we're going to try to be home, [the] fans have been great all year. Pirate Nation deserves to have another home game.'"
Movin' on!!! #HALLin #UnfinishedBusiness pic.twitter.com/DE65DWkF4y

— Seton Hall Women's Basketball (@SHUWBB) March 17, 2023
"We want everyone to sell out. We want everyone to wear blue on Monday—no orange." Seton Hall is back in action at home on Monday night against the Syracuse Orange (19-12, 9-9 CONF). Tipoff is scheduled for 7:00 p.m., with coverage on WSOU 89.5 FM is set to kick off at 6:30.
Dovid Holtzman can be reached at dovid.holtzman@student.shu.edu.
Posted in: Sports, Women's Basketball