Recap: Marquette Breaks The Hall's Four-Game Win Streak in 74-53 Trouncing on Saturday
Date: January 23, 2023
By: Matthew Soetebeer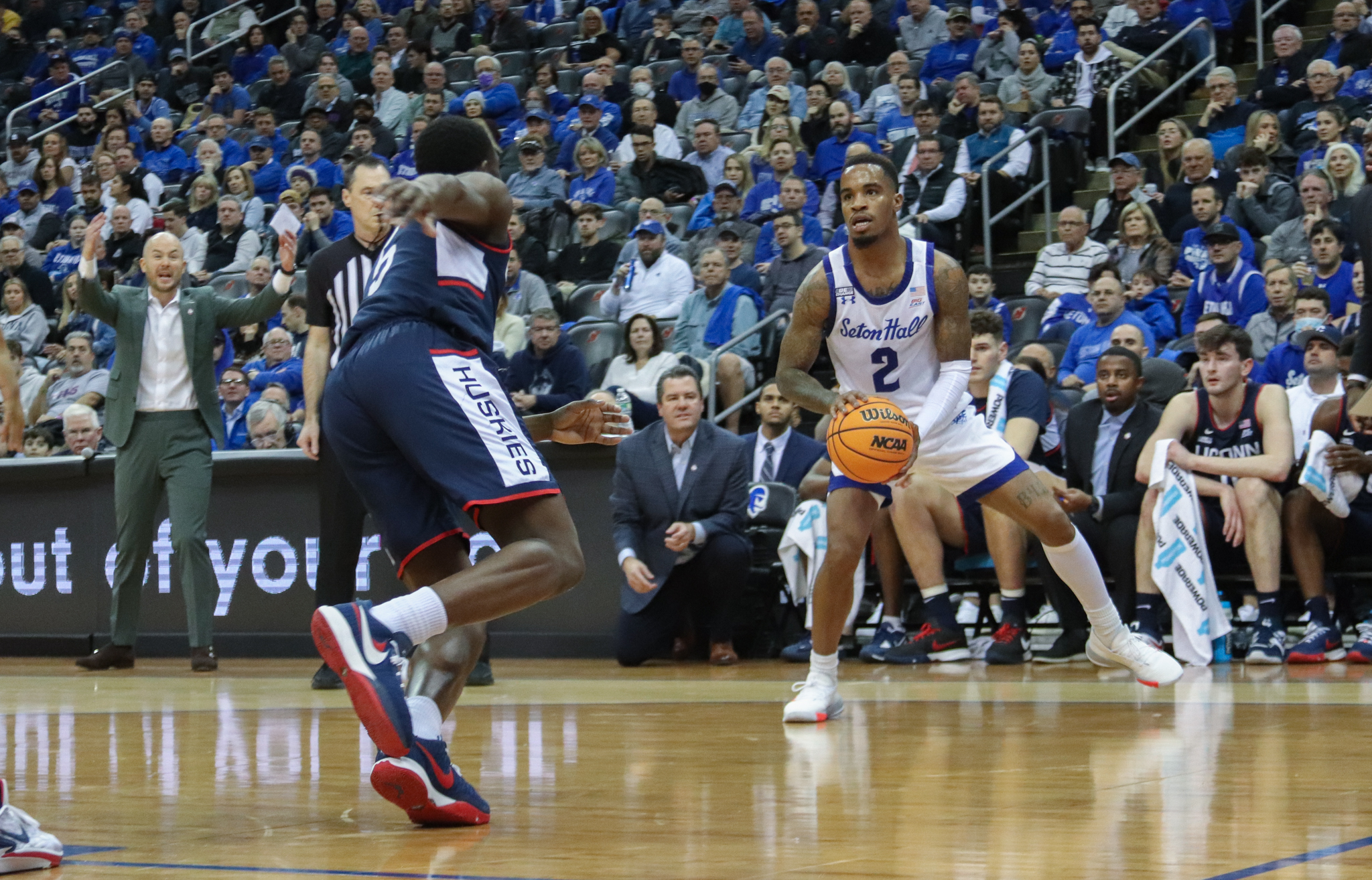 Kayla Fonseca/WSOU
The Seton Hall Pirates (12-9, 5-5 CONF) had a tough outing, losing to the Marquette Golden Eagles (16-5, 8-2 CONF) by a score of 74-53. This was their first loss of their past five games, and it was in disappointing fashion.
The game started out fairly even, with both sides scoring often. This was to be expected from Marquette, a team that has five players averaging double-digit scoring this season. 
On the other hand, the Pirates are known more as a defensive team. That still didn't stop them from going on an impressive 8-0 run, with the scoring spread out across the board.
it's a 7-0 run for @SetonHallMBB to tie it back up! pic.twitter.com/x2bN3grFRF

— BIG EAST MBB (@BIGEASTMBB) January 21, 2023
Throughout the second half, the Golden Eagles began to pull away. The score was 37-29 at halftime and Marquette guard Kam Jones had already made four threes by that time. Jones had finished the game with 22 points and was ultra-impressive. 
This was not a surprise, as Jones has been one of the best scorers in the BIG EAST all season long. He is averaging just over 16 points per game, and is one of the big reasons why Marquette is second in the conference. 
Oso Ighodaro was also impressive with 18 points, shooting 7-of-7 from the field. The Pirates were struggling to guard him, and the bleeding would not stop. He would also record three steals.
On the Seton Hall side of things, it was a quiet day offensively. Kadary Richmond was the team's highest scorer and had just 10 points. The Pirates' leading scorer on the year, Al-Amir Dawes, had a rough shooting night, going 3 for 10 from the field and shot 1 for 6 from three. Dawes has proven to be one of the best three-point shooters in college basketball, and this is a rarity for him. 
Another surprise was to see KC Ndefo only take three shots the entirety of the game. Ndefo is known for his defense and shot blocking ability, but he had back-to-back offensive performances that were eye-opening. He scored 16 points against DePaul and followed it up with 14 points and the game winner against UConn.
What hurt the Pirates the most was definitely their turnovers. They finished the game with 26 turnovers, and they lost valuable opportunities to score. It will be difficult to win games against talented teams if they are sloppy with the basketball. 
Final| Marquette 74, Seton Hall 53

Not our day today. We'll be back in action next Saturday at Butler. #HALLin ⚪️

— Seton Hall Men's Basketball (@SetonHallMBB) January 21, 2023
Looking towards their upcoming game against Butler, the Pirates need to focus on taking better care of the ball. Their offense has players who are capable of scoring, but they need to have more possessions. Butler is 3-6 in the BIG EAST, and they previously lost to the Pirates by a score of 76-51.
Catch all the action on WSOU 89.5 FM, where coverage starts at 3:30 p.m. before tipoff at 4:00, where Joe Matthews and Jonathan Heite will have the call.
Matthew Soetebeer can be reached at matthew.soetebeer@student.shu.edu.
Posted in: Men's Basketball, Sports