Recap: Hoyas Get the Best of the Pirates in 10-1 Routing
Date: March 25, 2023
By: Andrew Raccuglia
This article was originally written on March 18, 2023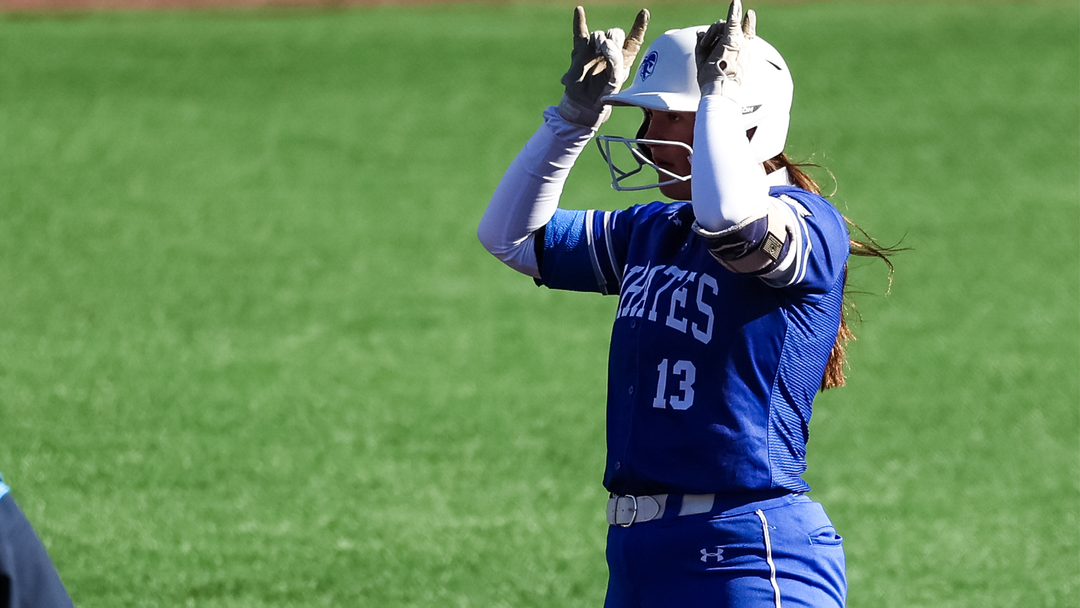 Seton Hall Athletics
The Seton Hall Pirates (12-10, 3-3 CONF) suffered a late-game breakdown to the Hoyas (6-18, 2-4 CONF) in the second game of a Saturday doubleheader this past weekend, losing 10-1.
The Hall's starting pitcher, Kelsey Carr, went three innings with only a one-run deficit, and Olivia Gilbert hit her second home run of the day, but error-laden sixth and seventh inning outings resulted in four runs scored in each, ending the Pirates' four-game winning streak.
After a quick first inning and leaving two and one runners stranded respectively in the second inning, the top of the third was the only early bright spot for the Hoyas.
Mid 2 | Kelsey Carr strands a pair as she induces this foul out to end the inning.#HALLin⚪ pic.twitter.com/8ygj6vrnjV

— Seton Hall Softball (@SHUSoftball) March 18, 2023
Georgetown's first batter up, Claire Turner, singled to shortstop before stealing second base. She was directly followed by Cameron Kondo, whose bunt single got Turner to third.
The next one up, Morgan Zamora, hit a sacrifice fly that got Turner home, and an error by catcher Regan Rand got Kondo to score, putting the Hoyas up 2-0.
Despite a triple by Andrea Perez, she was stranded on-base heading into the fourth inning. Relief pitcher Kyra Kreuscher replaced Carr on the mound, who led a quiet fourth inning for the Pirates' defense.
Now up to bat, senior Abby Wingo did get on base from a single, building a six-game hitting streak, where she is .529 in that stretch and currently has the highest batting average for the Pirates at .361.
With the score still at 2-0, Kreuscher ran into some late trouble in the fifth inning. After making two outs, she walked both Zamora and Mae Forshey, and a wild pitch got both runners in scoring position.
Luckily, Kayla Dunn grounded out to second base, leaving both runners stranded, and the Pirates still in position to strike back late.
But the Pirates had three up, and three easy outs in the fifth before the game broke open for the Hoyas.  
A leadoff single by Lorena Vasquez-Inzunza got her to second after an error by Perez at shortstop, and Gabby Park also got to second with a single got them in position once again.
Sophia Scarangella took advantage with a double, scoring one, and a groundout by Turner got Park home as well. With the score now 4-0, and Scarangella on third, Kondo hit a two-run homer, putting the Hoyas up 6-0.
Sydney Babik came to the mound following another walk, who closed out the inning after facing two hitters, and would remain on the mound for the seventh inning.
The Pirates tried to respond in the sixth, as Taylor Hill doubled and Lela Allen was walked, but were once again left stranded following two flyouts.
After Babik got one out in the seventh, a walk, a hit-by-pitch, and a fielder's choice once again put two Hoyas runners in scoring position. Samantha Miller got a sacrifice RBI, now putting them up 7-0, but with two outs. Then a single by Kondo turned into a two-RBI single on the throw, adding on two more.
Then a wild pitch to Samora got Kondo home, giving the Hoyas a resounding 10-0 lead. Finally, Dunn grounded out to Babik, putting them away into the final half-inning.
The Pirates' lone highlight came in an inning-leadoff one-run homer by Olivia Gilbert, which was her second of the day.
B7 | OG goes yard again! Her second of the doubleheader gets us on the board in the 7th.#HALLin⚪ pic.twitter.com/arlGozsf77

— Seton Hall Softball (@SHUSoftball) March 18, 2023
The Pirates had one run, six hits, and three errors on the game, compared to 10 runs, one hit, and no errors for the Hoyas.
With a final score of 10-1, the Pirates' four-game winning streak came to an end, dropping them to 12-10 overall and 3-3 in BIG EAST play.
The Softball team will look to bounce back when they travel to Omaha, Neb. for a three-game weekend series against the Creighton Bluejays, starting Friday.
After a double-header at Monmouth and at Stony Brook next week, the Pirates will return to Mike Sheppard Sr. Field on March 31 against the St. John's Red Storm.
Keep it locked on wsou.net for more coverage of the Seton Hall softball team with recaps of each game throughout the week.  
Andrew Raccuglia can be reached at andrew.raccuglia@student.shu.edu.