Recap: Devils Top Golden Knights in 3-2 OT Thriller
Date: January 27, 2023
By: Robert Steiner
This article was originally written on Jan. 25, 2023.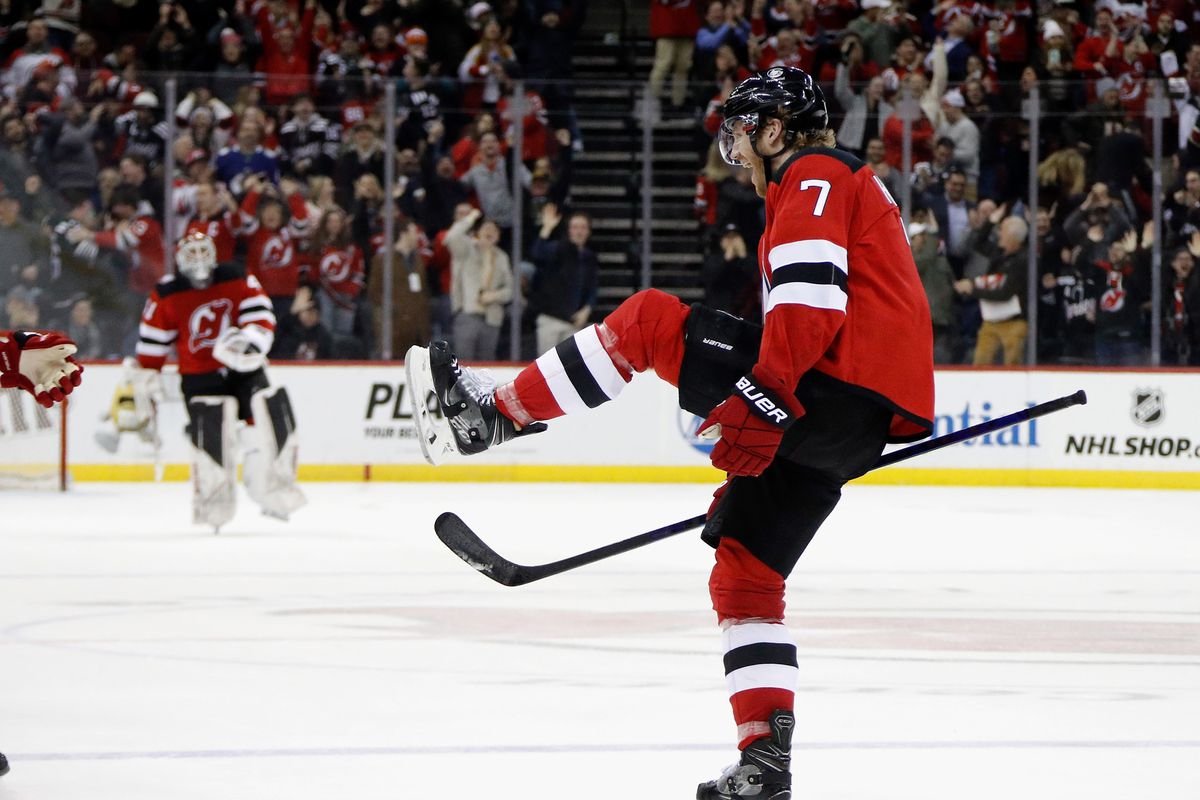 Bruce Bennett/Getty Images
On Tuesday night, the New Jersey Devils (31-12-4) won an overtime thriller 3-2 against the Vegas Golden Knights (29-17-3) on home ice.
This game marked the team's fifth game to go into overtime in their last nine, along with their second consecutive overtime win.
New Jersey opened up the scoring early on in the first period. Ondrej Palat snuck one past Logan Thompson as he fell to give the Devils a 1-0 lead less than four minutes in.
Pally tally gets us going! pic.twitter.com/mdVYi1zbwE

— New Jersey Devils (@NJDevils) January 25, 2023
Palat continued his solid return from surgery, and both Nico Hischier and Jesper Bratt notched assists on the goal. Bratt's assist was the 250th point of his career.
"They made some real nice plays," said coach Lindy Ruff on the Palat-Hischier-Bratt line. "Pally scored a nice goal, and I think he's getting close to form."
That goal was also Palat's first since returning to the lineup, and his first since Oct. 20. "It just feels good to contribute and score," he told reporters after the game.
For the rest of the period, however, neither team budged as both goalies traded amazing saves. Thompson was showing off impressive glovework, while Vitek Vanecek's acrobatics made the crowd at the Prudential Center erupt with cheers and chants.
In the second period, the Golden Knights were able to get back in the game. Eight minutes into the frame, Ben Hutton fired a shot past a crouching Damon Severson and Vanecek in net to tie the game. That was his second goal of the season, assisted by Nicolas Hague and Chandler Stephenson.
Less than three minutes later, Vegas took a 2-1 lead. As players crowded around the net scrambled to get the puck off the goal line, William Karlsson was able to get his stick in for a tap-in goal. Jonathan Marchessault and Reilly Smith were credited for assists on the go-ahead goal.
Towards the end of the period, the Devils found themselves in penalty trouble. New Jersey's Nathan Bastian and Vegas's Brett Howden were booked for fighting, and Bastian's boarding penalty was served by Miles Wood. Despite the penalties in the second period, the Devils had a perfect penalty kill throughout the game, allowing zero goals on three Vegas power plays.
For much of the third period, the goalies stole the show once again. On many occasions, "Vitek" chants started around the arena.
As the period was winding down, it was looking like Vegas was leaving Newark with a close 2-1 win. Dougie Hamilton had other ideas.
With only 1:10 left and an empty net, Hamilton was able to trick Thompson to tie the game late. Bratt got his second assist of the game, and All-Star Jack Hughes was credited for his 29th of the season.
However Jack made this pass, we can only assume black magic and witchcraft was involved. pic.twitter.com/S0IVSV2LLG

— New Jersey Devils (@NJDevils) January 25, 2023
Roughly halfway through overtime, Hamilton's heroics continued during the team's first power play of the night. Jack Hughes was able to get an improbable pass to Dougie, who would rip the game-winning goal past Thompson.
"We just know he's going to get it there," said Ruff about Hamilton's clutch goals. "He's got an incredible knack at getting pucks through."
Alongside Hughes getting his second assist of the night, Vanecek notched his first career assist on that goal.
With only two more games until the All-Star Break, Ruff reflected on his team and their first-half performance. "We like where we're at. We just want to continue to get better."
The final road trip of the first half starts Thursday night with a game against the Nashville Predators (23-18-6) at 8:00 p.m.
Robert Steiner can be reached at robert.steiner@student.shu.edu.
Posted in: Sports, NHL, New Jersey Devils