Recap: Devils Come Up Short in 4-1 Loss to Lightning
Date: March 17, 2023
By: Ryan Henry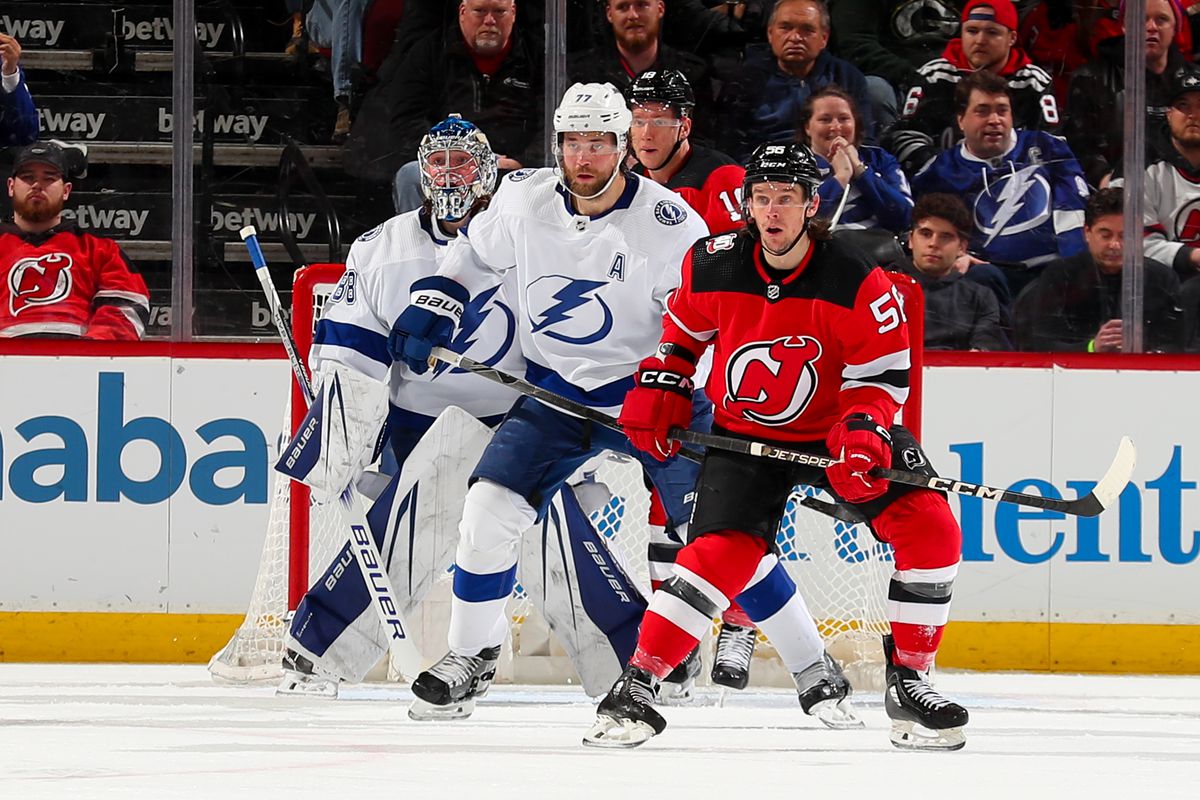 Rich Graessle/NHLI via Getty Images
Regarding the New Jersey Devils game against the Tampa Bay Lightning, there is both good and bad news. The bad news is that the Devils lost to the Lightning by a score of 4-1. The good news is that the Devils have a chance to redeem themselves as they play the Lightning again at the Prudential Center on Thursday.
The Devils looked like the better team after the first period. They had better offensive chances and stymied Tampa's usually potent offense.
New Jersey got on the board first as Damon Severson was in the right place at the right time, collecting the rebound off Timo Meier's shot and putting it in the net with 14 minutes left in the first.
Here's the video of the Damon Severson goal #NJDevils https://t.co/n90uViPsKl pic.twitter.com/usQtwhF8A8

— WSOU Sports (@WSOUSports) March 14, 2023
The Devils had a chance to take an early 2-0 halfway into the first period. Ryan Graves scored a goal but upon review it was ruled that Meier committed goalie interference and the goal was called off.
The beginning of the end for the Devils occurred with four minutes left in the first. Oddly enough, the Devils were on the powerplay after Ian Cole committed a tripping penalty. The powerplay lead to the worst-case scenario. Excluding the three total shots, they gave up a shorthanded goal to Anthony Cirelli to make it a 1-1 game.
Tampa Bay was a rejuvenated team in the second period. An early penalty kill only resulted in two shots allowed. A few minutes later, Brandon Hagel froze Graves and hit a wrist shot past Vitek Vanecek to give the Lightning a lead they wouldn't relinquish.
Brandon Hagel (@Bhags9) slows it down and rips it to give the @TBLightning the lead! pic.twitter.com/qZqpATBQgV

— NHL (@NHL) March 15, 2023
The Lightning would add two more goals in the second period to extend their lead to 4-1. Alex Killorn would add a goal five minutes after Hagel's to give Tampa their third goal. With less than one second to go, Nikita Kucherov hit the danger, sinking the fourth and final goal for Tampa Bay.
New Jersey struggled to get the puck out of their defensive zone in the third period as they recorded six shots on net the entire period. In stereotypical fashion, the Lightning played conservative with the game firmly in control.
The big storyline entering tonight's game was Ondrej Palat's first game back against the Tampa Bay Lightning. Palat spent his first 10 seasons in Tampa Bay, winning two Stanley Cups in 2020 and 2021. Palat didn't do much in his revenge game as he recorded just one hit and one shot in 16 minutes of ice time.
The Devils will only have two days to adjust as they'll play the Lightning again on Thursday.
Ryan Henry can be reached at ryan.henry@student.shu.edu.
Posted in: Sports, NHL, New Jersey Devils