Recap: Dawes and Jackson Breakout in 82-44 Beatdown vs. Wagner
Date: November 20, 2022
By: Matthew Soetebeer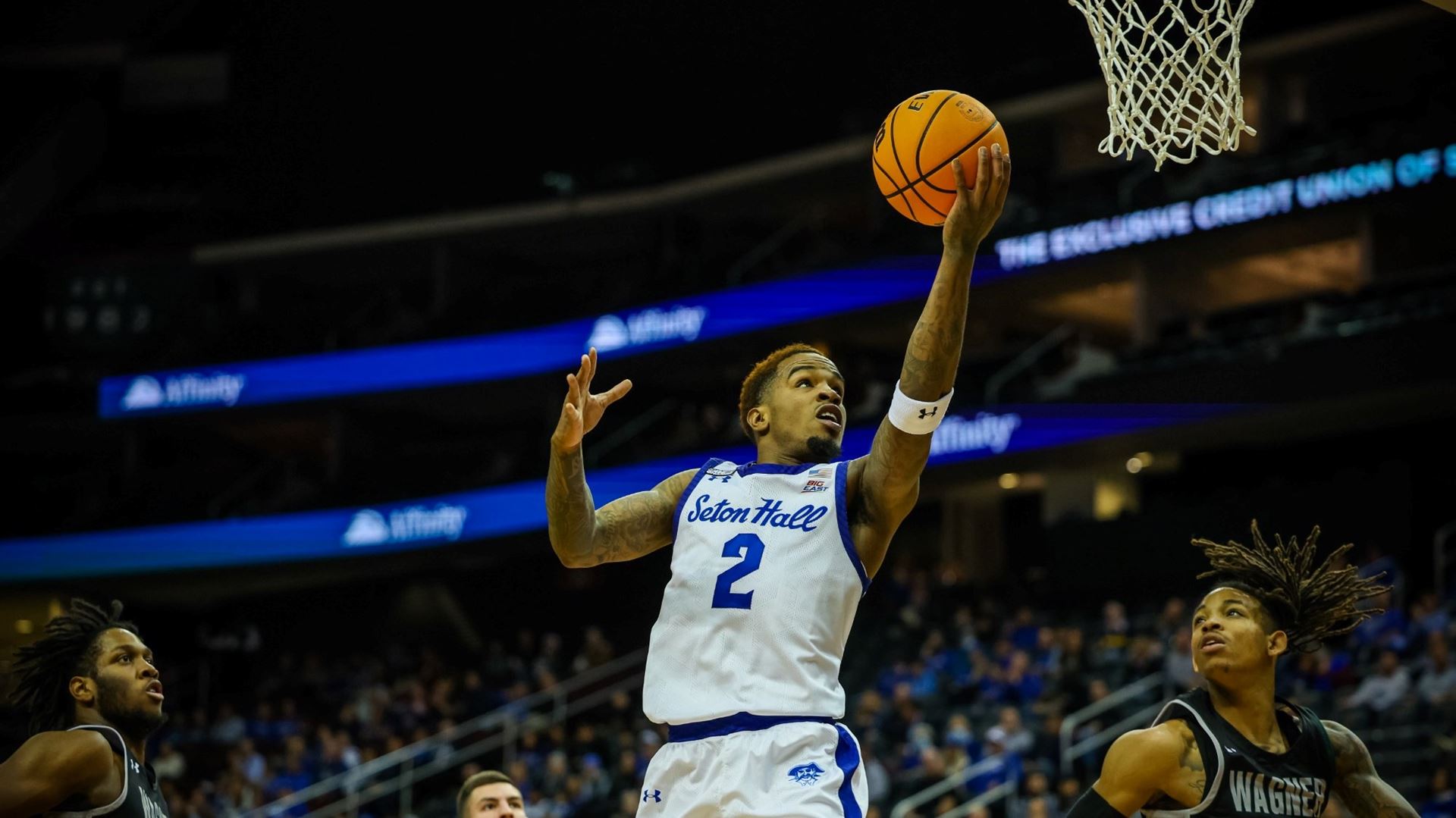 Seton Hall Athletics
The Seton Hall crowd was dead silent after Iowa guard Tony Perkins hit a free throw that was the nail in the Pirates' coffin. The Iowa Hawkeyes were victorious by a score of 83-67.
Wednesday's game against the Hawkeyes was a tough outing for The Hall. They struggled to get open looks offensively and were often forced into difficult shots. They needed a bounce back win to regain momentum, and they responded in emphatic fashion.
The Seton Hall Pirates (3-1) defeated the Wagner Seahawks (3-2) by a score of 82-44. They dominated the game on both sides of the ball and did an exceptional job of creating opportunities from three.
Despite the stellar performance, Pirates head coach Shaheen Holloway acknowledged that there is still work to do.
"I don't like our offense right now at all," Holloway said. "Our defense is way ahead of our offense."
The Pirates defense certainly brought their A-game, especially with their full court press. Guarding the opposition on all 94-feet of the court applied pressure to get nine steals.
Do your thing, 21 #HALLin ⚪️ pic.twitter.com/Nso6NNFSdR

— Seton Hall Men's Basketball (@SetonHallMBB) November 20, 2022
Guard Al-Amir Dawes started his first game for Seton Hall, and he proved why he was deserving of getting the nod from coach Holloway. He was scorching hot from three and finished the contest with 19 points, including five buckets behind the arc. He struggled shooting against Iowa but bounced back with his most impressive game of the season thus far.
Season-high 19 points for Newark's finest on 7-of-10 shooting

He's one trey away from tying his career high#HALLin ⚪️ pic.twitter.com/wdOTTlxaSn

— Seton Hall Men's Basketball (@SetonHallMBB) November 20, 2022
Dawes was nearly as impressive on the defensive side as he was offensively. He recorded three steals in three minutes that led to an 11-0 Hall run. It's become clear that the Pirates are a gritty defensive team and that they pride themselves on shutting their opponent down.
Guard Rahmir Moore was a bright spot for the Seahawks today, as he was the team's leading scorer with 15 points. He was their primary shooter throughout the game, and they relied on him to shoulder the offensive load against the Pirates exceptional defense.
Moore was the only Seahawk to have scored any points through the opening 10 minutes of the first half. 
Seton Hall forward Trey Jackson had a strong showing throughout the second half after not getting much action in the first. He ended the game with 16 points and was 3-3 from downtown.
His impact off the bench will prove to be a game changer for the Pirates if he can continue to be a spark plug and stay consistent shooting the three.
With competitive teams like Memphis and Kansas on the horizon, the Pirates need to have their best lineup prepared to battle.
Coach Holloway expressed in the press conference that he's been trying to find the lineup that plays with the most intensity; that ultimately decides what players will be on the floor when it matters most.
Matthew Soetebeer can be reached at matthew.soetebeer@student.shu.edu.
Posted in: Sports, Men's Basketball