Recap: Davis Brothers Combine for 19 Points in 70-49 Homecoming Win
Date: January 29, 2023
By: Antonio Dunston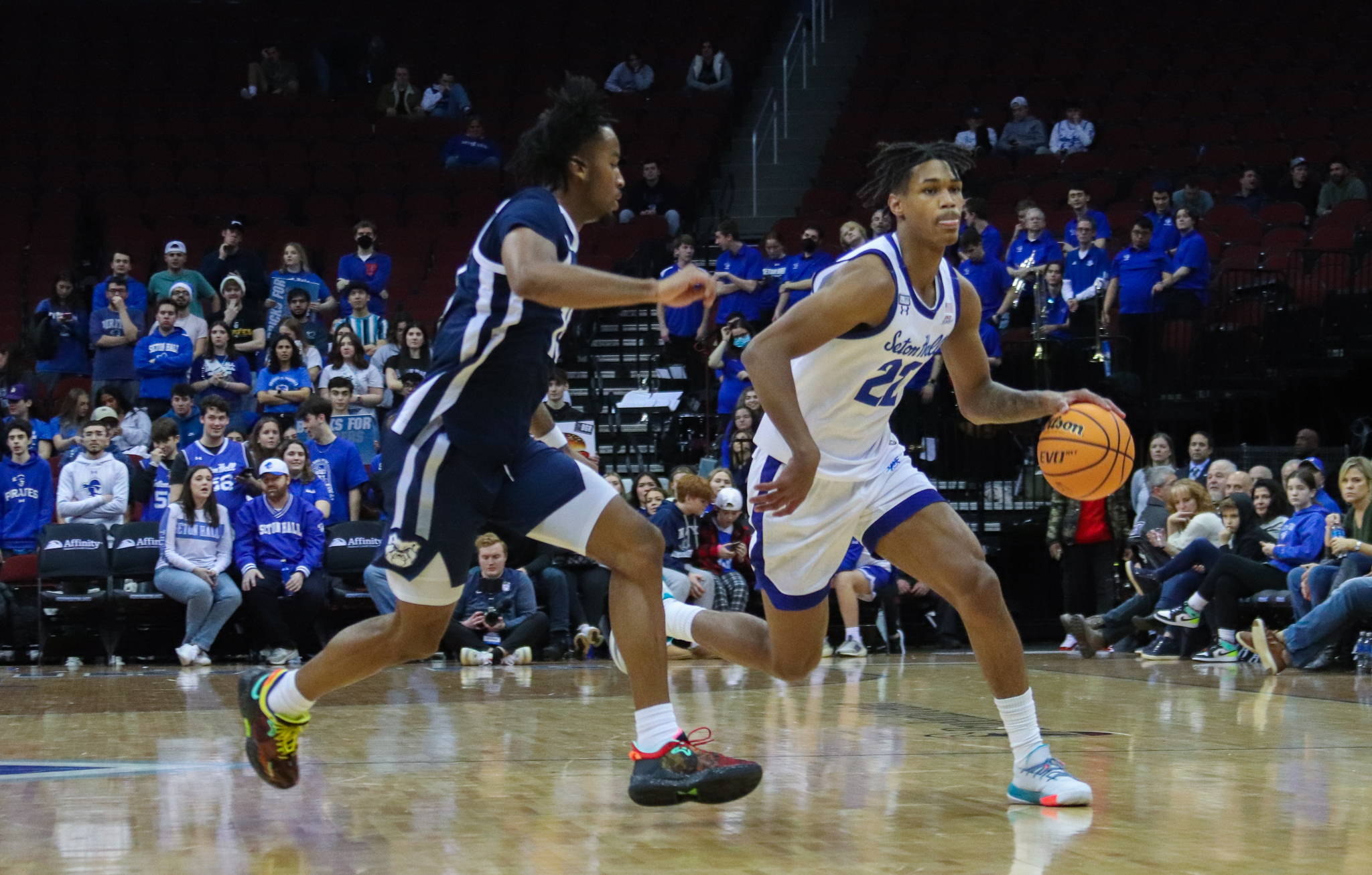 Kayla Fonseca/WSOU
The Seton Hall Pirates (13-9, 6-5 CONF) went on the road on Saturday afternoon and picked up another dominant win over the Butler Bulldogs (11-12, 3-9 CONF), 70-49. This was a step in the right direction after their latest loss to No. 16 Marquette was a poor representation of how this team would like to play.
The Hall came prepared to take on a Butler team that is very formidable on their home court, and looking to redeem the embarrassing 25-point loss they suffered in the Prudential Center just a couple weeks earlier.
From the opening tip, Shaheen Holloway's Pirates jumped on the Bulldogs and never looked back. After the first 10 minutes of the game, The Hall would stop trading baskets and put together a string of scoring to gain the lead.
With their defense holding strong, the Bulldogs struggled to score, mustering a mere 18 points on 7-of-20 shooting, and allowed the Pirates many scoring opportunities that saw them drop 38 points on 17-of-33 shooting.
Femi Odukale, KC Ndefo, Kadary Richmond, and Dre Davis did most of their damage in a first half that produced a 20-point lead going into halftime.
Femi has five points here early #HALLin ⚪️ pic.twitter.com/iYdyDbyOSP

— Seton Hall Men's Basketball (@SetonHallMBB) January 28, 2023
Shooting over 50% in the first half, combined with their stellar defense, Seton Hall was running away with the game early and easily.
Seton Hall held Butler to a season low 18 points in the first 20 minutes after previously holding them to 23 points in the first half in their last matchup. They also outrebounded them 21-8 in the half and outscored them 22-8 in the paint.
A similar blueprint from the first meeting was on display, attacking the rim on offense and limiting the big man Manny Bates on defense proved effective once more as the Bulldogs had no answer for it.
The Pirates remained in the driver's seat all night and the second half featured much of the same thing. Al Amir-Dawes began knocking down some shots and Dre Davis picked up right where he left off until an ankle injury scare late in the half.
It was a homecoming for the Davis brothers in Indianapolis, where they got to put on a show in front of their parents in the crowd. Dre tallied 15 points, draining all three 3-pointers, and Tae chipped in four points and six boards.
Kid from Naptown has eight off the bench #HALLin ⚪️ pic.twitter.com/usofll37ko

— Seton Hall Men's Basketball (@SetonHallMBB) January 28, 2023
Refusing to take their foot off the gas, the Pirates were determined to secure another conference win. They dropped 31 points in the second half, but it didn't matter because the Pirates added 32 to finish the Bulldogs in a similar fashion, only this time it was 21 points separating the two.
Dre Davis led the team in scoring, but key contributions came from Dawes' 11, Richmond's 10, Ndefo's 10, and Odukale's 9.
The Hall's great defense once again stifled the Bulldogs offense and held them to under their average scoring total of 70-plus points and 40% from three-point range.
Seton Hall managed another double-digit win and are hitting their stride at the right time. Outside of the Marquette loss, this team offensively and defensively are thriving and if they can continue with this momentum over conference opponents in a tough BIG EAST, they can make a serious push towards the NCAA Tournament.
Nothing quite like those wins on the road#HALLin ⚪️ pic.twitter.com/CDvZrlMfsD

— Seton Hall Men's Basketball (@SetonHallMBB) January 28, 2023
The Pirates now head to Queens to take on St. John's this Wednesday. Catch all the action right here on WSOU 89.5, where gametime coverage begins at 8:30 p.m. with Ryan Johnston and Justin Nicosia on the call.
Antonio Dunston can be reached at antonio.dunston@student.shu.edu.
Posted in: Sports, Men's Basketball