Recap: Seton Hall Takes Down Butler in Three Sets
Date: October 10, 2021
By: Chris Ellison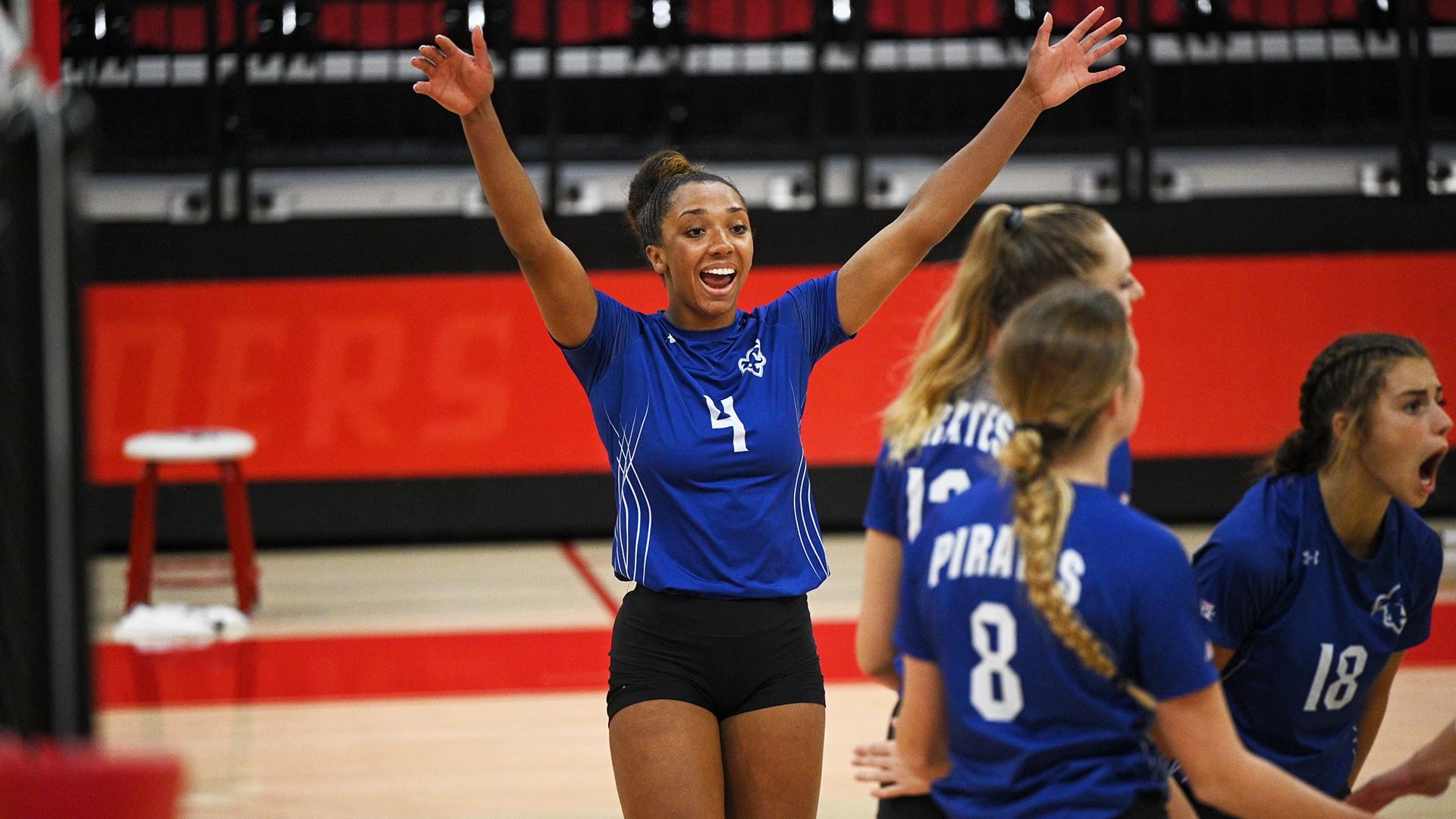 Seton Hall Athletics
Coming off Friday's 2-3 loss against Xavier, Seton Hall looked to bounce back strong against a gritty Butler Squad in a Big East matchup that took place on Saturday, Oct. 9. The Lady Pirates absolutely dominated Butler, winning in three straight sets (25-15, 25-21, 26-24).
Sophomore Perri Lucas had a team-high 13 kills with only three attack errors while Taylor Jakubowski came in right behind her, with her fourth straight double-double, tallying a team high 16 assists and 15 digs. She also had four kills to go along with the double-double. This is a huge win, as the Lady Pirates had come into this match losing six straight against Butler.
Seton Hall came out of the gate firing as they went on a 9-3 run early in the opening set. While leading 14-9, the Pirates when on to score the next six points to grab a 19-10 lead in the middle of the set.
With the Pirates up 23-15, Madeline Matheny secured two kills in back-to-back fashion to send the squad to a dominant 25-15 first set victory. Seton Hall was truly a powerhouse in this set, having a .367 attack percentage and committing just one attack error.
The Hall plays nearly mistake-free volleyball in a STRONG first set at Butler. Four kills for Madeline Matheny, including the Pirates' 24th and 25th points.#HALLin 🏐🏴‍☠️🏐 pic.twitter.com/6pSpZdaPov

— Seton Hall Volleyball (@SHUVolley) October 9, 2021
The second set was more of the same story as the Pirates continued to flex their offensive prowess. As the score was tied at two, the Lady Pirates proceeded to go on a 6-1 run with Jakubowski leading the way with a kill to bolster the Pirates' run to eight. Butler then scored to make it 8-4. After that score, Seton Hall took flight once again with five more points, leading to a 15-5 advantage after a kill by Amanda Rachwal.
Butler had something to say about this as they scored seven straight points after trailing 22-13. This cut the Pirates; lead down to two and also forced the team to burn two timeouts, but ultimately this was not enough, as the team held on to win the set, 25-21.
The Hall survives a late Butler run to take a 2-0 match lead in Indianapolis!!

Perri Lucas has a team-high seven kills, while Taylor Jakubowski has already collected her fourth straight double-double.#HALLin 🏐🏴‍☠️🏐 pic.twitter.com/YQJYIy2DLz

— Seton Hall Volleyball (@SHUVolley) October 9, 2021
The third set was the closest of the entire match. While trailing 11-6, the Lady Pirates went on a 7-2 run, which was led by Lucas who contributed two kills to tie the score at 13. The set was then tied five more times until the Pirates finally gained control late. The score was tied at 19, until Seton Hall got blocks by Lucas and Madison Frusha to put them up 23-20.
Butler did not take this lying down however, as they produced three match points to tie the set at 24. With the score tied, Butler committed a service error which put Seton Hall up 26-24 to win the final set.
𝙋𝙄𝙍𝘼𝙏𝙀𝙎 𝙒𝙄𝙉!!

Seton Hall sweeps Butler in Indianapolis for its second BIG EAST victory of the season!!

Pirate Leaders:
Kills - Lucas (13)
Digs - Murray (18)
Assists - Jakubowski (16)
Blocks - Frusha & Turner (3)#HALLin 🏐🏴‍☠️🏐 pic.twitter.com/41YKozV7Sy

— Seton Hall Volleyball (@SHUVolley) October 9, 2021
Seton Hall improved to 10-10 on the season and 2-4 in Big East play. Butler fell to 9-10 and a 3-3 conference record. The Pirates are now 6-9 in the all-time series against Butler and also improved to 6-6 in three set matches.
Seton Hall will return to action next weekend for a couple of road contests, as they face a DePaul team that is currently on a three-match losing streak. The Pirates look to capitalize off this momentum and come out with a win against the Blue Demons. The matchup will take place on Friday in Chicago at 8 p.m.
The Lady Pirates will then head to Marquette for a Saturday evening showdown at 6 p.m. Marquette is currently on a five-match winning streak in Big East play and do not look to be slowing down anytime soon as they are 14-2 on the season so far.
The Pirates will look to take down this powerhouse and solidify themselves as a top team in the conference. The DePaul matchup will be streamed via FloSports while the Marquette match will be streamed on Marquette's YouTube channel. Louie Pasculli and Jorie Mickens will have the recaps from each contest respectively, so be on the lookout for wsou.net to see their stories!
Chris Ellison can be reached at christopher.ellison@student.shu.edu.
Posted in: Sports, Volleyball, WSOU