Recap: Seton Hall splits weekend games at home
Date: February 28, 2021
By: Mike Leniart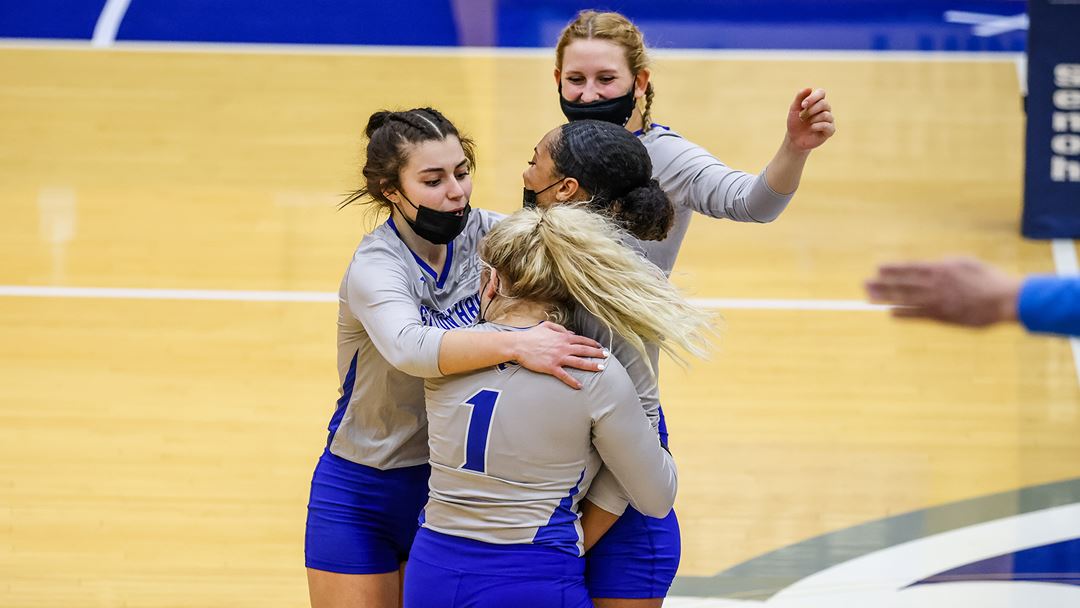 Seton Hall Athletics
The Seton Hall volleyball season got in full swing this weekend in South Orange as the Pirates hosted their second and third matches of the season. After sweeping Fairleigh Dickinson in three straight sets on Tuesday, the Pirates welcomed Hofstra to town Friday afternoon.
The contest went the full distance, all five sets, but the Hofstra Pride came out victorious winning 3-2. After falling behind and losing the first set, Seton Hall took the second set winning 26-24. The Pirates would control the third set and would take the match lead 2-1 after winning the set 25-20. Hofstra wouldn't look back after that and won a tight fourth set 25-22 and things would come down to the wire for the fifth and final set.
The set was tied at 14 a piece when Hofstra recorded back-to-back kills each on volleys to end the match and come out with the W. Despite the close loss, there were many positive takeaways for the Hall. Freshman Perri Lucas played exceptionally well recording 19 kills, six digs, four assists and two blocks. Taylor Jakubowski had a double-double with 42 assists, 15 digs and three blocks. In addition, junior Emilee Turner surpassed 250 career kills recording eight on Friday.
Seton Hall comes roaring back to win the third set, 25-18, and take a 2-1 match lead!!

Lucas has 14 kills and nine digs.
Ilieva has eight kills and 14 digs.
Jakubowski has 32 assists and seven digs.
Turner has nine kills and only one error.#HALLin pic.twitter.com/CyC4fitTl4

— Seton Hall Volleyball (@SHUVolley) February 27, 2021
It was a quick turnaround for the Pirates as they hosted the Sacred Heart Pioneers just 24 hours later at the Walsh Gymnasium. The Pirates took the early lead winning the first set 25-22. Sacred Heart would respond to tie the match after winning the second set 25-20. However, the Pirates would step up and take care of business finishing off the Pioneers winning the third set 25-18 and the fourth and final set 25-22.
Three Pirates (Lucas, Tsvetelina Ilieva and Taylor Jakubowski) all finished with double doubles on Saturday. Lucas recorded a game high of 18 kills and Jakubowski exploded with 44 assists. Julia Wilkins contributed four aces for the Pirates and Madison Frusha led the way in blocks with nine. Raygan Murray also chipped in 22 digs to lead the Pirates to victory.
The victory puts Seton Hall at 2-1 on the young 2021 season. The Pirates are back in action next weekend hosting Providence on Friday and Saturday evening at 5:00 p.m. Both matches can be heard on wsou.net.
Mike Leniart can be reached at micheal.leniart@student.shu.edu.
Posted in: Sports, Volleyball