Recap: Seton Hall splits series with the Musketeers
Date: May 9, 2021
By: Jimmy Bliss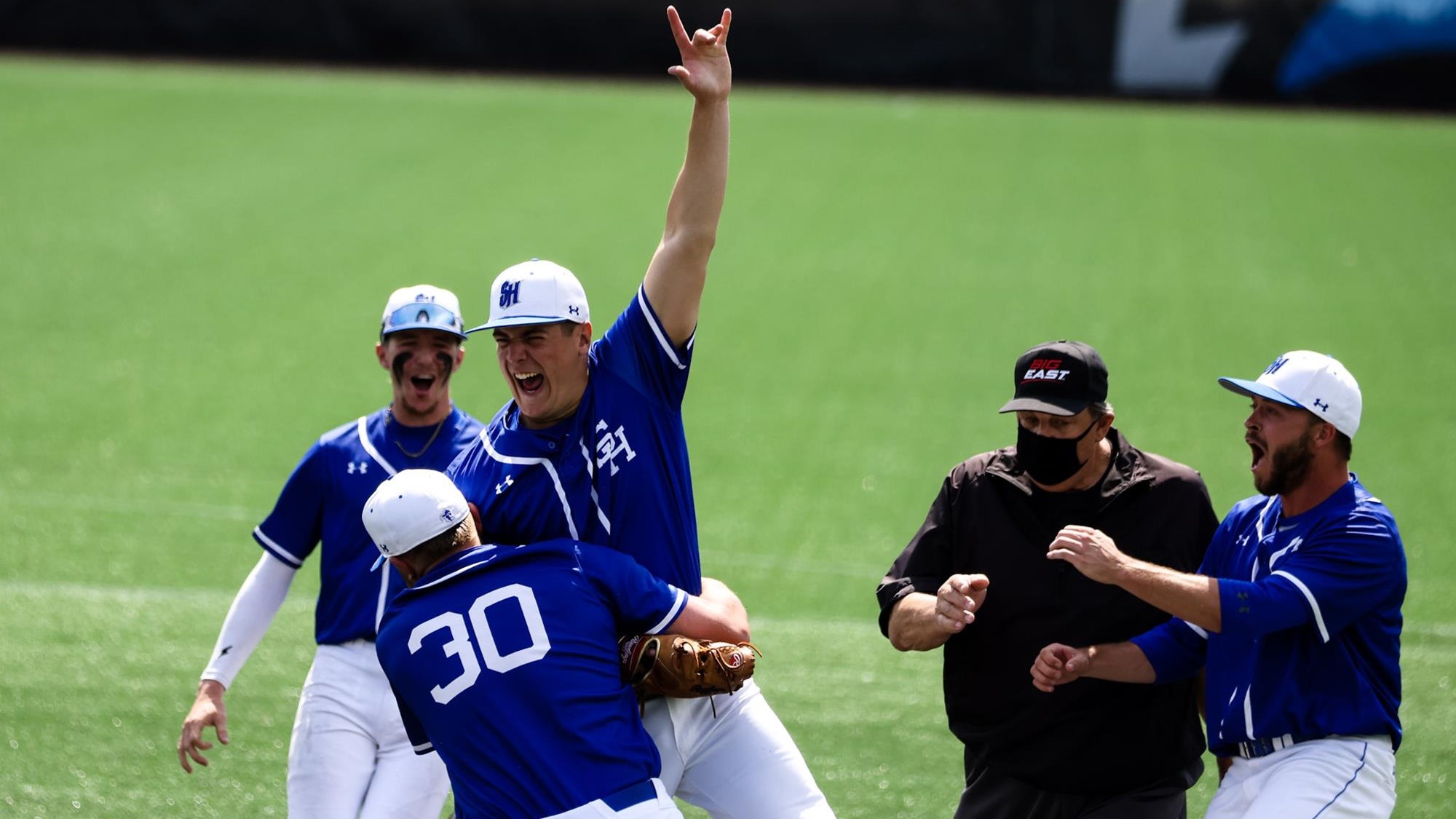 Seton Hall Athletics
When Seton Hall came into their series vs Xavier this weekend, they were 4 games above .500. 2 days later, they remain 4 games above .500, now standing at 21-17. Friday's doubleheader was split between the Pirates and the Musketeers.
In the first game, Seton Hall was led by an outstanding outing from senior pitcher Ryan McLinskey, pitching 6.2 innings, giving up three hits, one earned run and striking out eight. He seemingly had the answer to every question the Xavier bats asked of him. The game's final out was recorded by fellow senior pitcher, Sean Miller.  As for the bats, Casey Dana continued his stellar season by recording his 25th and 26th RBI of the year, as the Pirates won 4-1.
M4 | Casey Dana rips a single through to left field and plates Will Gale from third base!

As the game moves to the bottom frame of the fourth inning, the Pirates now lead 4-1!#HALLin pic.twitter.com/E6Ol5w0tPT

— Seton Hall Baseball (@SHUBaseball) May 7, 2021
The second game of Friday's doubleheader did not go as planned for the Pirates. Ethan Bosacker took the mound for Xavier and he did not disappoint. Going seven innings and only giving up five hits, one earned run and three strikeouts, he was able to command the game for the Musketeers. A two-RBI performance for both Andrew Walker and Luke Stephenson led Xavier offensively, en route to a 6-1 victory.
The third game of the series took place on Saturday afternoon, with David Festa soaking up the spotlight with a complete game performance. He had a phenomenal game, pitching seven innings, giving up two hits, two earned runs and striking out seven. The Pirates offense spread the love, with seven players each recording at least one RBI. Jerry Huntzinger batted in two Pirates, with Dana, Matt Toke, Collin Sheehan, Connor Hood, Tyle Shedler-McAvoy and Jonathan Luders each contributing one. When the dust settled in Cincinnati, the Pirates took this game 7-2, and took a 2-1 lead in the series.
T7 | !!!

Bases loaded, one out and Toke drives in two on a base knock!!! Pirates lead 3-2!#HALLin pic.twitter.com/JZKOjE9ojz

— Seton Hall Baseball (@SHUBaseball) May 8, 2021
The final game of the four-game set was a nail biter for the Musketeers. They found themselves leading all game long, but the game came to the final out. Seton Hall battled back to cut the Xavier lead to just one run, after recording a three run ninth inning. But alas, the Musketeers were able to hold on for the 7-6 win, knotting the series up at two games apiece. Jack Housinger accounted for three runs for the Musketeers, and Andrew Walker recorded two RBIs himself. As for the Hall, Alex Clyde batted in two, in an effort that came up just short.
Seton Hall is set to play their penultimate series of the season, beginning on May 14 against the Creighton Blue Jays. Be sure to tune into WSOU Sports for coverage on all things Seton Hall Sports.
Jimmy Bliss can be reached at james.bliss@student.shu.edu.