Recap: Seton Hall Loses Heartbreaker to Xavier, 1-0
Date: October 9, 2021
By: Haley Zemek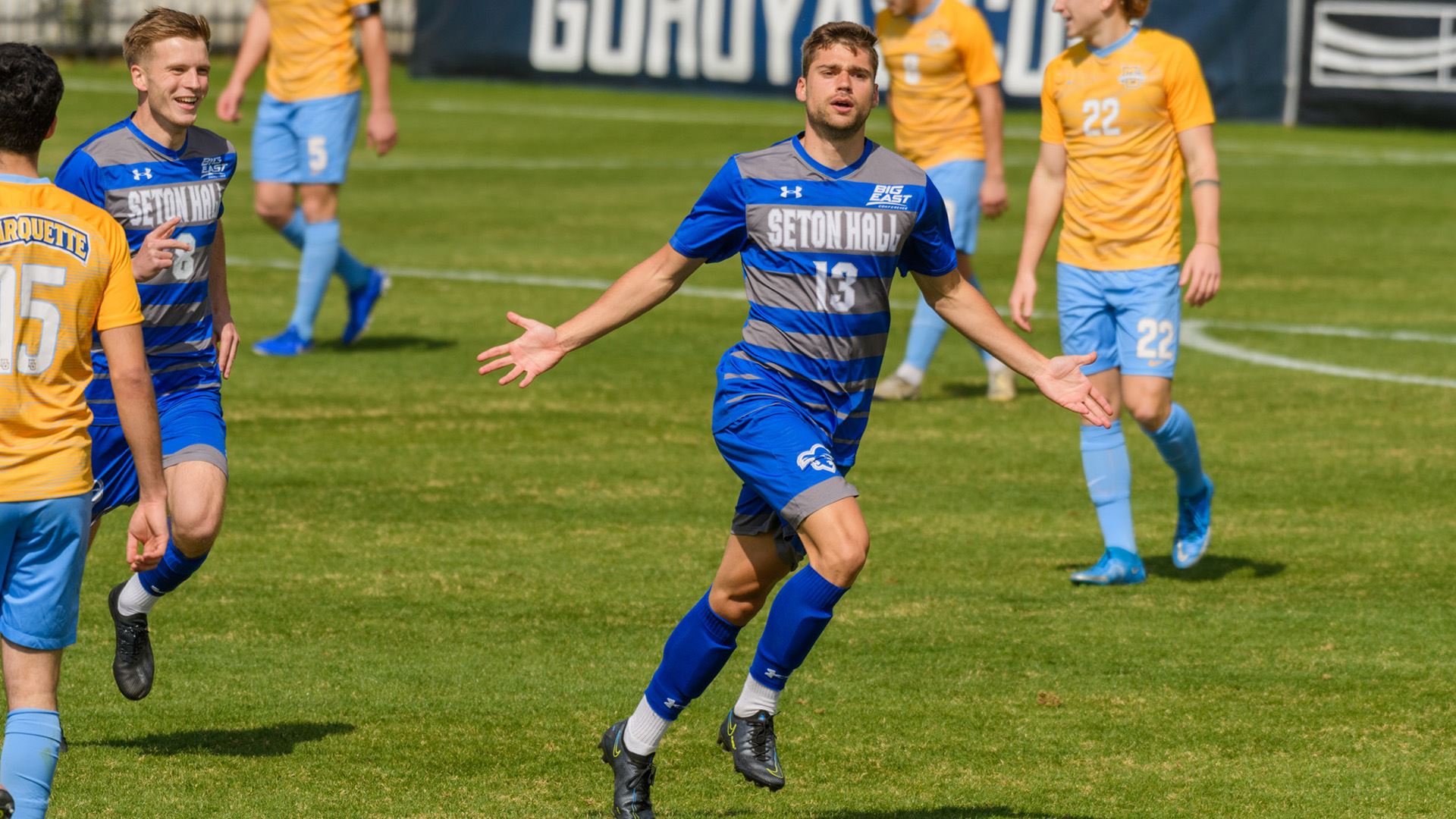 Seton Hall Athletics
The Seton Hall men's soccer team were looking to bounce back after a postponed match against Butler and a tough four game losing streak, but unfortunately did not prevail after losing to Xavier, 1-0, on Saturday night. Despite having a great first six matches of the season against numerous tough out-of-conference foes from across the nation, the Pirates have been struggling to secure a win in the Big East against some of the conference's most difficult competition. 
In the first half, the Pirates started off strong with three shots taken early but none were on net. The Musketeers only had one attempted shot overall in the first half, so this lack of offense was surely going to make for a tightly contested second period. This was a very defensive-oriented heavy first half, with lots of ball movement from both sides, and plenty of fouls but nothing to show for it. The score remained knotted 0-0 at the half. 
'48 | Another near miss for the Pirates! #HALLin pic.twitter.com/YP6PETJRIx

— Seton Hall Men's Soccer (@SHUMSOC) October 10, 2021
In the second half, both teams came out ready to dominate and overwhelm the opponent. Only a handful shots were taken for both the Pirates and the Musketeers, as Xavier won the shot on net advantage by match end, three to one.
In the 71st minute, Xavier was able to get on the board, with a big-time goal scored by freshman Taylor Rhinehart, which was assisted by redshirt senior Justus Kauppinen. There was nothing Seton Hall goalkeeper Andreas Nota could do about the play, as the shot was just too far out of reach. The Pirates had multiple attempts leading up to the end of regulation, but no shots were able to get on the scoreboard. 
FINAL | Musketeers 1, Pirates 0

The Hall will be back in action on Wednesday when they travel to DePaul for a 2 p.m. start.#HALLin ⚪

— Seton Hall Men's Soccer (@SHUMSOC) October 10, 2021
Looking forward, the Pirates will now shift their focus to their two upcoming away matches on Wednesday, Oct. 13, where they will face off against DePaul. This will be their first-time meeting since 2019 where Seton Hall came out victorious by a final score of, 2-1. Then, St. John's will be next on the season slate on Oct. 16. Last season, the Pirates were able to defeat the Red Storm on both occasions, 1-0 and 3-2 (OT). 
The next home match will be against UConn on Oct. 20 at 6:56 p.m. and will be held at the Owen T. Carroll Field in South Orange, N.J. Coverage of the game will be available on wsou.net. 
Haley Zemek can be reached at haley.zemek@student.shu.edu.