Recap: Seton Hall drops mid-week game to Stony Brook, 2-0
Date: April 15, 2021
By: Louie Pasculli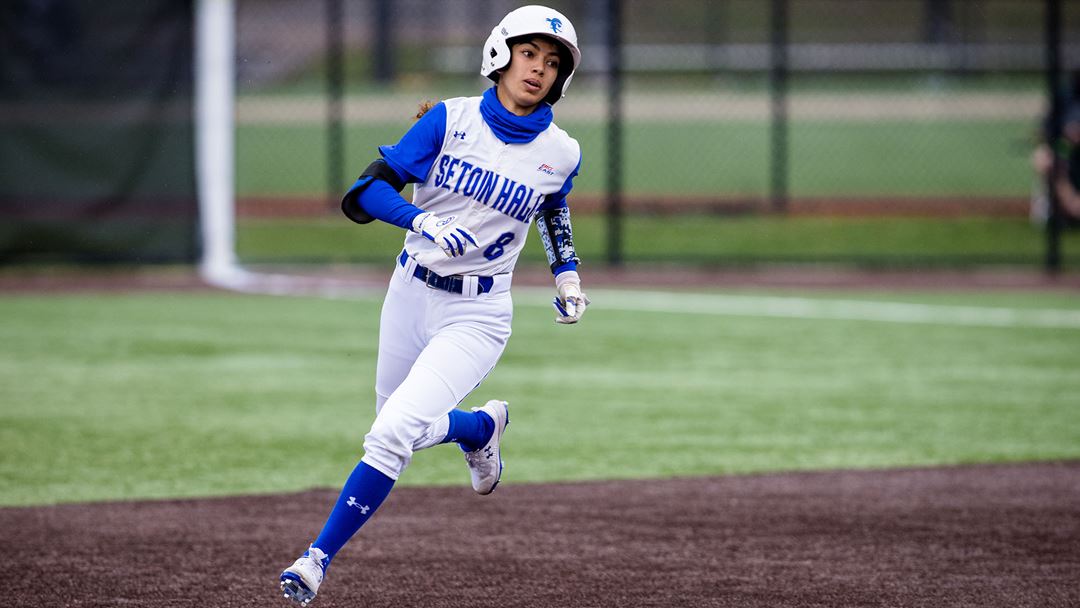 Seton Hall Athletics
Wins have been hard to come by for the Seton Hall University softball team thus far this season. Today, it seemed as though the Pirates could snag a victory against Stony Brook, but outstanding pitching prevented that. It was a nice Wednesday for softball as the temperature stayed right around 60 degrees and the clouds covered the sky for majority of the day.
Starting on the mound for Seton Hall was Shelby Smith who had a respectable outing.  he pitched four innings giving up five hits, zero earned runs, two walks and threw one strikeout. The only run scored in the first four innings of the game was officially scored as unearned for Smith. One of Smith's two walks came in the fourth inning to Seawolf Nicole McCarvill. She then advanced to third thanks to a single from Lindsay Osmer that found a gap in right center field. A few pitches later, Osmer stole second and a throwing error from Pirate catcher Hannah Alexander opened the door for McCarvill to score the first run of the contest. Smith eventually got out of the innings after tossing her only strikeout of the day and causing a lineout top shortstop Lela Allen. Smith was taken out after the fourth inning and, unfortunately for her, was given the loss.
The Pirates were yet to record a hit at this point in the game. Relief pitcher Kelsey Carr came in after Smith was taken out and the fifth inning was equally as troublesome for the pirates as the first. After knocking a single, Alina Lance advanced to second via a fielder's choice. A big RBI single from Kyra McFarland is what brought Lance home for the Seawolves' second run of the game. Carr didn't give up any runs after the fifth inning and finished the game with three innings pitched giving up one run on three hits, throwing two K's and walking one batter. The standout player form today's game wasn't from Seton Hall though as Stony Brook starting pitcher Dawn Bodrug pitched a complete game and held the pirates to only one hit.
T7 | Hannah Alexander with the great snag and hustle at first for the unassisted putout!#HALLin ⚪️ pic.twitter.com/0R5VHXwlyO

— Seton Hall Softball (@SHUSoftball) April 14, 2021
It was right fielder Janae Barracato who broke up Bodrug's no hitter in the bottom of the fifth when she roped a double to left center. Other than that, it was perfection from Bodrug on the hill and she pitched a seven-inning gem giving up no runs on only one hit and recorded six K's.
The final score was 2-0 and Stony Brook emerged victorious. Seton Hall drops to 6-16 on the season. The Pirates next two games are a double header at Stony Brook on April 17 and Seton Hall will look to grab at least one out of two games and improve their record.
Louie Pasculli can be reached at louis.pasculli@student.shu.edu.
Posted in: Sports