Recap: Pirates Take Fourth Straight Match After Defeating Marist in Five Sets
Date: September 8, 2021
By: Jimmy Bliss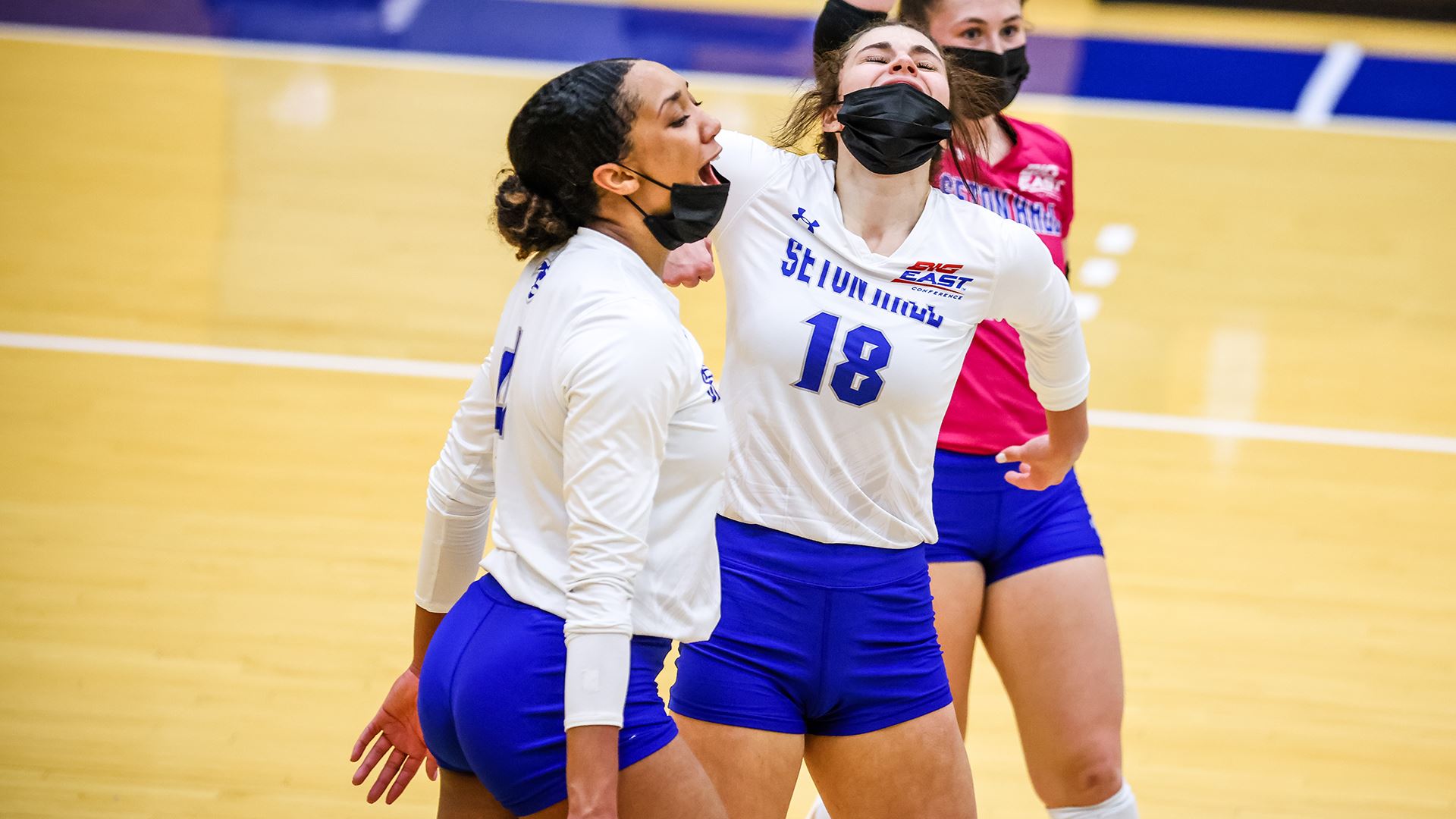 Seton Hall Athletics
It wasn't easy, but Seton Hall improved to 4-3 on the young season, defeating Marist by a score of three sets to two.
The Pirates were red-hot to start the match, dominating the first two sets. Seton Hall outscored Marist 50-29 to take a commanding 2-0 lead. It seemed like everything was clicking for the Pirates, and nothing could go right for the Red Foxes. But when the third set began, it was a whole new match. 
It's looking good in Poughkeepsie!! The Hall takes a 2-0 lead over Marist.

Perri Lucas has six kills to lead the Pirates. Reigning BIG EAST Defensive Player of the Week, Anna Holland, has a team-high 12 digs.#HALLin ‍☠️ pic.twitter.com/VL4JMlCGjc

— Seton Hall Volleyball (@SHUVolley) September 7, 2021
With their backs against the wall, Marist won the third set 25-21 after a wild back and forth contest. This gave the Red Foxes a little bit of momentum, and a whole lot of belief. They followed that up by running away with the fourth set, outlasting Seton Hall in every facet of the game. Set four ended in a 25-16 victory for the Red Foxes, bring an all-important fifth set.
With a winner take all mindset, Seton Hall quickly fell behind 3-2 in the final set. The fifth set, if needed, is always the first to 15 points as opposed to 25 in the previous four sets. The pressure was on the Pirates to make a move and come back home to South Orange, N.J. with a victory. But pressure makes diamonds.
Seton Hall was trailing 3-2 in the fifth, but has scored three straight. Timeout Marist with the Pirates up, 5-3!#HALLin

— Seton Hall Volleyball (@SHUVolley) September 8, 2021
In the blink of an eye, Seton Hall went on a rapid 11-1 run to take a 14-4 lead. This left Marist searching for answers as the Pirates found themselves in an unstoppable groove. The Red Foxes responded by scoring a point to stop the bleeding temporarily, but that was the final Marist point of the night. Katie Winkler ended the game with a fantastic kill, one of her eight all game long, to give Seton Hall a hard-earned 15-5 fifth set victory and take the Pirates over .500 for the first time this season.
Seton Hall was able to rely on star sophomore Perri Lucas yet again on Tuesday evening. Lucas contributed 12 kills, with 2.4-per-match, and 14 points overall. She was easily the best player on the floor all night.
Accompanying Lucas as the Pirates most influential player against the Red Foxes was Julia Wilkins. The junior registered 11 kills, with 2.2-per-match, and 12.5 points overall. This was a breakout game for Wilkins, and it couldn't have come with better timing. This standout performance will surely fill her with confidence moving forward, a wonderful sight to see as a Pirates fan.
PIRATES WIN!!

Seton Hall holds on for a dramatic five-set victory at Marist. The Pirates downed the Red Foxes, 15-5, in the fifth set.

Pirate Leaders:
Kills - Lucas (12)
Digs - Holland (31)
Assists - Bengi (19)
Blocks - Frusha (6)#HALLin ‍☠️ pic.twitter.com/GaBR7bMf08

— Seton Hall Volleyball (@SHUVolley) September 8, 2021
Seton Hall will hit the road once again this weekend, with their sights on the Big Apple tournament. On Friday and Saturday, they will take on Iona, Saint Francis – Brooklyn and Columbia, looking to add more momentum to their already confidence-filled team. Each game will be available to be viewed on ESPN+.
Keep up to date with all things Pirates Sports by checking out WSOU Sports on all our social media platforms. If you call yourself a Seton Hall sports fan, you have to follow the WSOU Sports Instagram, Twitter, and Facebook pages, as all the biggest SHU headlines are covered every single day.
Jimmy Bliss can be reached at james.bliss@student.shu.edu.
Posted in: Sports, Volleyball, WSOU