Recap: Pirates split weekend series with Friars
Date: March 6, 2021
By: Joe Matthews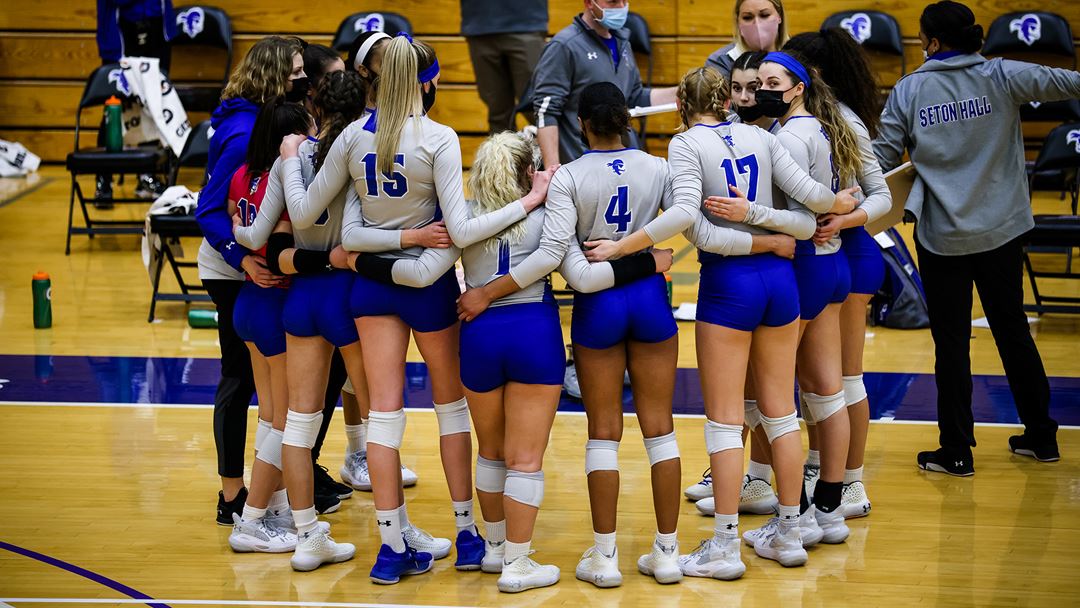 Seton Hall Athletics
Seton Hall Volleyball kicked off their Big East campaign this past weekend with a pair of matches against the Providence Friars. Heading into the weekend series, the Pirates stood at 2-1 on the season and were coming off of a 3-1 win against Sacred Heart on Feb. 27. That victory was driven by setter Taylor Jakubowski, who led the Pirates with a career-high 44 assists.
The Pirates and Friars first threw down on Friday evening, resulting in a Seton Hall victory in five sets. A back-and-forth affair, the Pirates started off down 1-0, dropping the first set. However, they battled back and won the next two. Providence took the fourth set to force a winner-takes-all fifth set, but the Pirates emerged victorious after a clutch comeback in the fifth set.
Seton Hall has battled back to take a 7-6 lead in set five!! Timeout PC.#HALLin pic.twitter.com/u6y0uacvPs

— Seton Hall Volleyball (@SHUVolley) March 5, 2021
The Pirates again got a great performance from Jakubowski, who tallied 43 assists. They were also led by freshman Perri Lucas, who stuffed the stat sheet with a team-leading 15 kills, eight digs, three assists, and two blocks. Despite the loss, Providence saw strong performances from Emma Nelson and Jennifer Leitman, who each had 16 kills.
The two teams had a quick turnaround, as they squared off again on Saturday evening. The script was flipped in this affair, as Providence made quick work of Seton Hall with a 3-0 victory. The Friar-win was engineered by strong play from a number of players. Leitman again led Providence with kills with 12. Emma Fink and Nelson also tallied 8 kills. The Friars also got an excellent performance out of Allison Barber, who had 28 assists and 15 digs.
For Seton Hall, they had some strong performances in the defeat. Freshman Tsvetelina Ilieva led the Pirates with 14 kills. Lucas recorded nine kills to go along with a team-high 11 digs, and Jakubowski put up 28 assists and eight digs. One of the brightest spots in this whole series was the play of their freshmen, which shows that the program has a bright future for this season and for their program in general.
Both Providence and Seton Hall will exit the weekend 1-1 in Big East play. Seton Hall will look to improve on that record as they host St. John's for two straight next Friday and Saturday. Be sure to tune in to the online stream at wsou.net for all the coverage you need for those two matches.
Joe Matthews can be reached at joseph.matthews@student.shu.edu.
Posted in: Sports, Volleyball