Recap: Pirates go 2-1 in series against Fordham
Date: April 3, 2021
By: Michael Stamm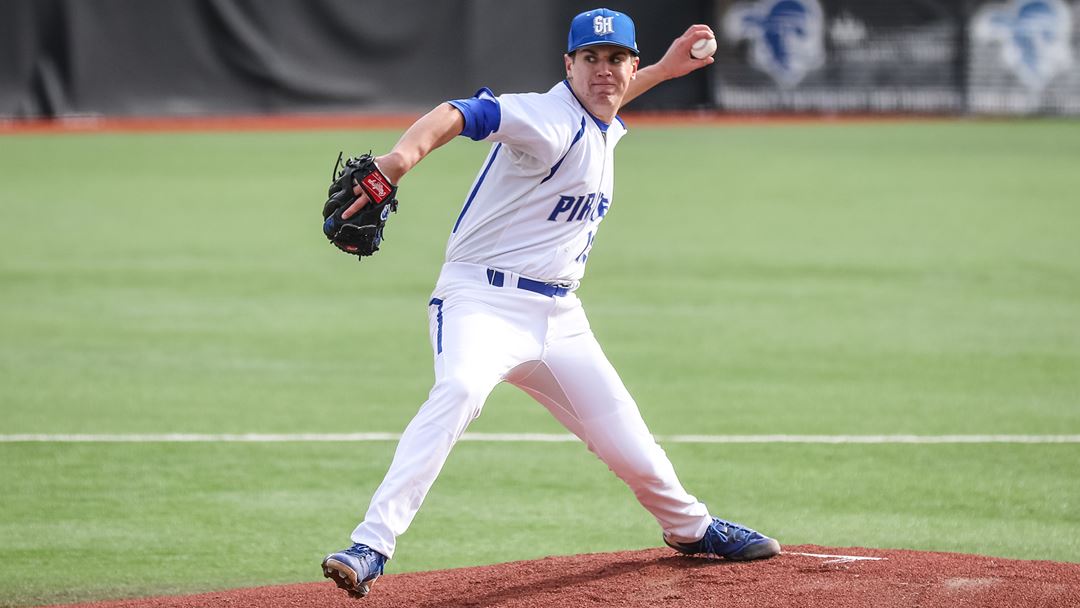 Seton Hall Athletics
This past week, the Seton Hall baseball team traveled up to Bronx, NY to take on the Fordham Rams in a three-game set. The Pirates were coming off some tough losses to Davidson coming into this series as they lost all three games.
The Pirates knew in the first match they had to get the most out of their starting pitching to get ahead of a good Fordham team. Tyler Burnham got his first win of the season as he pitched six full innings, allowing only two hits and no runs. Seton Hall took advantage of that impressive game from the lefty. In the fifth inning with Steve Grober on third and Jonathan Luders on second, Devin hack singled through the right side and advanced both players to home plate as the pirates took a 2-0 lead.
The DH for Fordham, Alvin Melendez would hit a home run off Brennan O'Neill in the bottom of the seventh. The Pirates though responded right back. Alex Clyde hit a perfect sacrifice bunt that allowed Tyle Shedler-Mcavoy and Matt Toke too score pushing the Pirates lead to 4-1.
Fordham did not leave the first game without a fight as they pushed the game to 4-3 in the bottom of the ninth, but Sean Miller came in for the save to win the first game of the series for the Pirates.
B7 | BASES. CLEARING. TRIPLE. 👊

Clyde creates some breathing room as the Pirates now lead 8-4!#HALLin pic.twitter.com/wmoyiMmDAJ

— Seton Hall Baseball (@SHUBaseball) April 1, 2021
The Pirates grabbed that momentum and ran with it back to South Orange, N.J. as they blew out Fordham in the second match 11-4 on Friday. Alex Clyde and Jerry Huntzinger both had huge games as they both accounted for 2 or more runs. The Pirates didn't keep it close for most of the game, but a huge six run seventh inning was the dagger. Ryan Mclinskey got his first win of the season, as he struck out six rams in five innings
Seton Hall was looking to get a sweep of the Rams headed into Saturday. However, the hitting frenzy did not roll over into the last game. The first hit for the Pirates did not come until the bottom of the fourth and they would only get on base two more times for the remainder of the game. David Festa did his best to keep it close, and he did for seven innings striking out 12 batters. The game stayed stagnant at zero until Zach Selinger of Fordham doubled to center field bringing in the only run for the game.
Looking ahead the Pirates have six days to recoup and prepare for the Butler Bulldogs who they will face in a three-game series all at Owen T. Carroll Field. While Fordham will also prepare for a four-game series against St. Bonaventure
Michael Stamm can be reached at michael.stamm@student.shu.edu.