Recap: Pirates go 0-3 over the weekend at Davidson
Date: March 29, 2021
By: Domenic Perri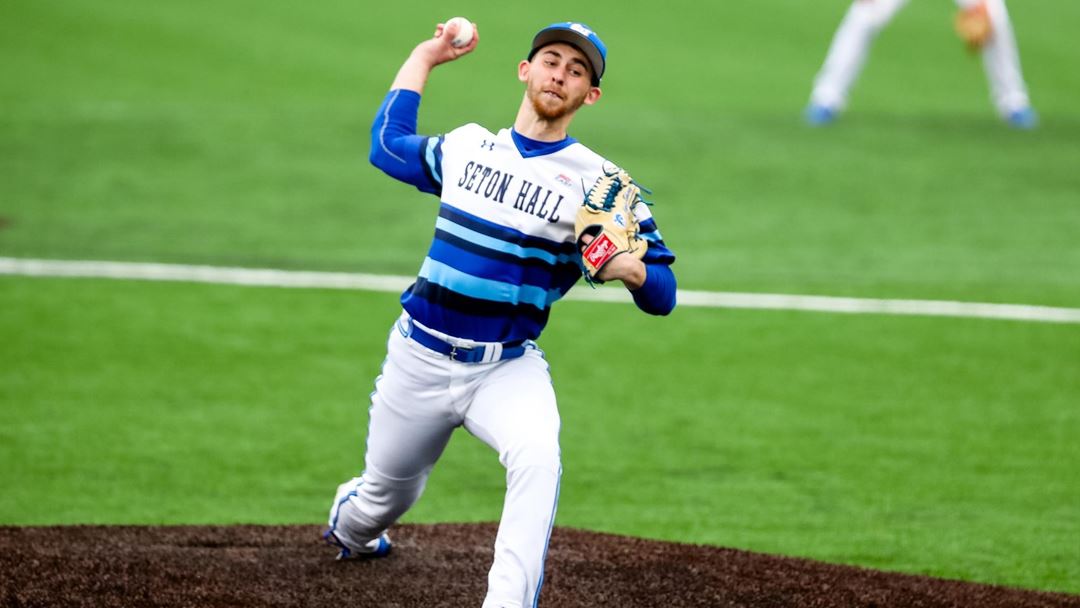 Seton Hall Athletics
This weekend, the Seton Hall baseball team travelled down to Davidson, N. C. to take on the Davidson Wildcats in a three game weekend series. Coming into the series, the Pirates took on George Washington and won two out of three games in an exciting series.
They knew they had to keep their bats hot to keep the momentum going into Davidson… and hot they were early on, as the Pirates took a quick 5-3 lead in the third in game one. Both offenses would fall silent, as the Pirates' Brennen O'Neill and the Wildcats' Jacob Peaden took the mound and were putting on a show. O'Neill and Peaden would both throw four strikeouts each and together only allow three hits.
The Pirate's would maintain their 5-3 lead coming into the ninth and were looking to close this one out to go on a three-game win streak. Except Davidson's offense started getting hot, as they got three hits and capitalized on a passed ball and three walks. Davidson pulled through with the 6-5 comeback win with a walk-off walk.
M6 | New pitcher ➡ Mark Anderson

Shine leaves with a 1-0 lead. He went 5.0, struck out 5, 0 runs.#HALLin pic.twitter.com/omoFZXzdlL

— Seton Hall Baseball (@SHUBaseball) March 28, 2021
Davidson's momentum would end up carrying into Saturday's night game as the Wildcats' starting pitcher, Blake Hely, would end up throwing 8 1/3 innings with six K's. Despite that, the Pirates fought back and kept the game tied 1-1, thanks to smart baserunning from Jerry Huntzinger. Going into the ninth, The Hall would use a righty combo of Cole Patten and Drew Conover on the mound, but they were unable to maintain the 1-1 tie. The Wildcats would get two quick walks and a double to close out the back-to-back walk-off wins, but the Pirates looked hungry to get their revenge during Sunday's game.
To start off the game, the Wildcats would take the early lead though due to a home run and consistent hitting. Davidson would be in control until the sixth, when the Pirates put together some great small ball hitting. Hits from Jerry Huntzinger and Devin Hack would get them the perfect opportunity to score with runners on second and third. Huntzinger would quickly score on a ground ball from Matt Toke, advancing Hack to third. A quick sacrifice fly would also bring in Hack from third, tying the game 2-2. This smart baseball gave Seton Hall a little bit of confidence as they hoped to pull out with a win in the series. The Wildcats' bats would still be too much for them and seventh, they strung together three singles to go up 3-2.
This lead would hold up due to the Davidson pitching only allowing one hit in the last three innings. With this Davidson completed the 3-game sweep of the Pirates in a very exciting and close series. Seton Hall next faces Fordham at home, while Davidson travels to take on Wofford.
Domenic Perri can be reached at domenic.perri@student.shu.edu.