Recap: Pirates Fall in Straight Sets to Providence to Finish 2021 Season
Date: November 22, 2021
By: Jonathan Heite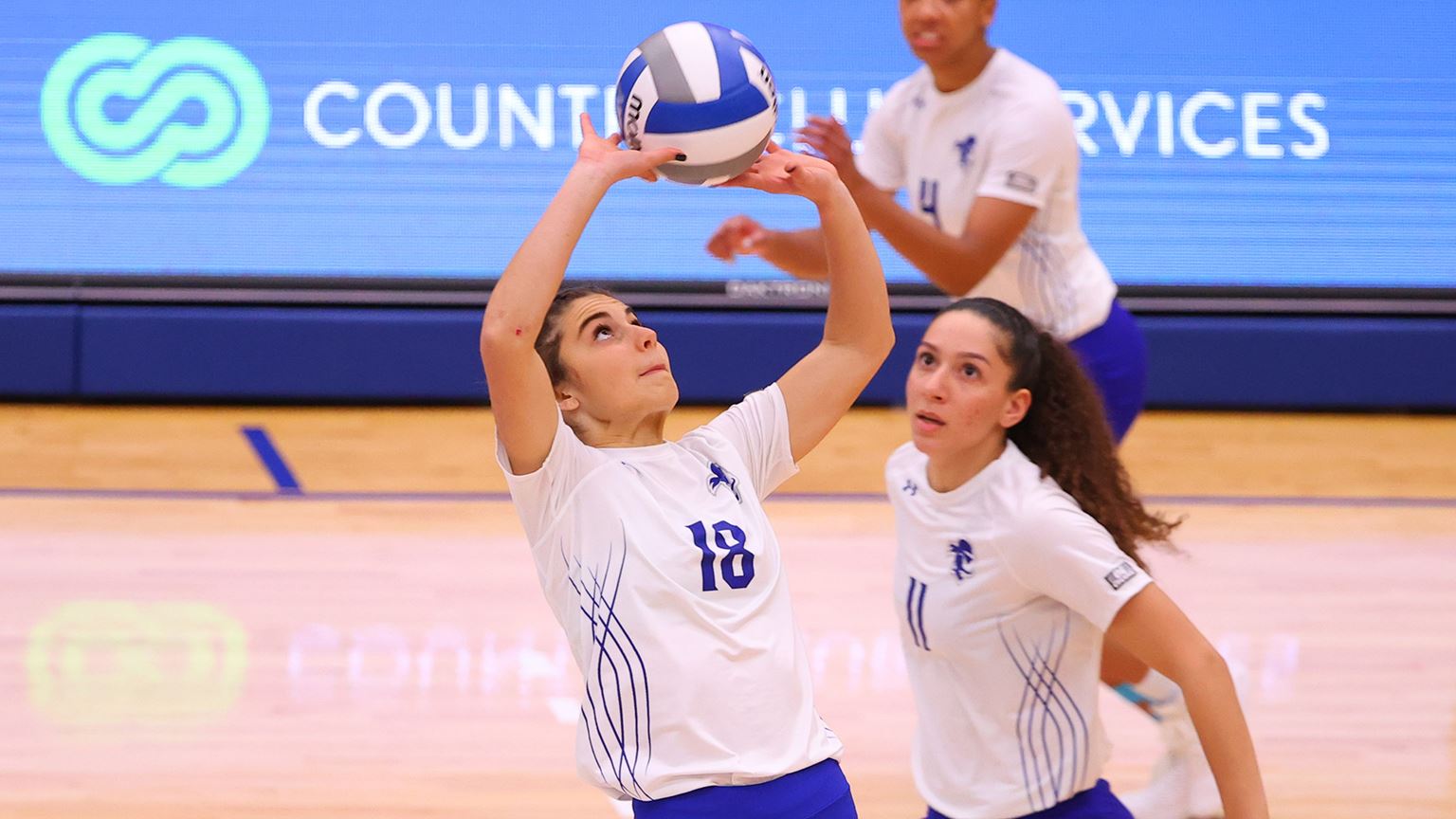 Seton Hall Athletics
In their last match of an improved 2021-22 campaign, the Seton Hall women's volleyball team ended the season with a three-set loss on the road against the Providence Friars.
It was a tightly contested contest, as the Pirates fell to the Friars by set scores of 25-22, 25-21, and 25-21 to cap off a season that saw Seton Hall end a 14-18 record overall (6-12 conference).
The Sunday matinee saw sophomore Taylor Jakubowski shine, as she collected her 23rd career double-double and 16th this season, along with a stellar 14 assists and 12 digs. Junior Madeline Matheny was superb right behind her, with 10 kills and nine digs, and sophomore Perri Lucas tallied nine kills.
The Pirates 2021 season comes to an end with a loss at Providence. Taylor Jakubowski had a double-double with 14 assists and 12 digs.

Madeline Matheny had a team-best 10 kills to go with nine digs.#HALLin 🏐🏴‍☠️🏐

— Seton Hall Volleyball (@SHUVolley) November 21, 2021
The final stat totals heavily favored the Friars, as Providence took control of the attack percentage (.223), kills (37), and blocks (12). On the flip side, the Pirates ended with a .147 attack percentage, 35 kills, and five blocks.
Providence finished the season with a 16-15 record overall (4-14 conference), and in this match, freshman sensation Shaliyah Rhoden collected 11 kills (team-high) along with a .391 hitting percentage. Other top performers included graduate student Allison Barber, who tallied 30 assists and seven digs, and seniors Natalie Benson and Mackenzie Taylor, who chipped in nine digs apiece.
Compared to a 4-7 finish in the COVID-riddled 2020 season, this year saw the Pirates make great strides from multiple contributors of all grade levels.
Some of the top statistical performers for Seton Hall included Lucas, who led the team with a resounding 303 kills on the season, followed by Matheny with 186 and sophomore Tsvetelina Ilieva with 176. Jakubowski and sophomore Cagla Bengi finished with 553 and 508 assists respectively, freshman Anna Holland secured a team-high 426 digs with Jakubowski's 313 right behind her and tied for the team-best in blocks was graduate student Amanda Rachwal and senior Madison Frusha (127).
The sophomores were a huge part of the youth movement this team currently has, and with the loss of some big-time seniors, the program is certainly in good hands going forward. The balance of youth and veteran leadership is one of the reasons this team was unique and successful, and this roster in particular will not be forgotten in the Seton Hall women's volleyball legacy.
Seton Hall Athletics
The team had their highs and lows throughout the season, but with the reopening of a newly renovated Walsh Gymnasium in South Orange, N.J. in the middle of the year, the excitement was palpable throughout all their matches.
If you missed any of the action throughout the season, be sure to look at wsou.net for all the recaps from every single match played either on the road or at home, and stay on the lookout for when the team makes their next appearance in the fall of 2022!
Jonathan Heite is the Web Editor for WSOU Sports and can be reached at wsousportswebeditor@gmail.com.
Posted in: Sports, Volleyball, WSOU