Recap: Pirates End Homestand with Victory Against Lehigh, 1-0
Date: September 12, 2021
By: Michael Stamm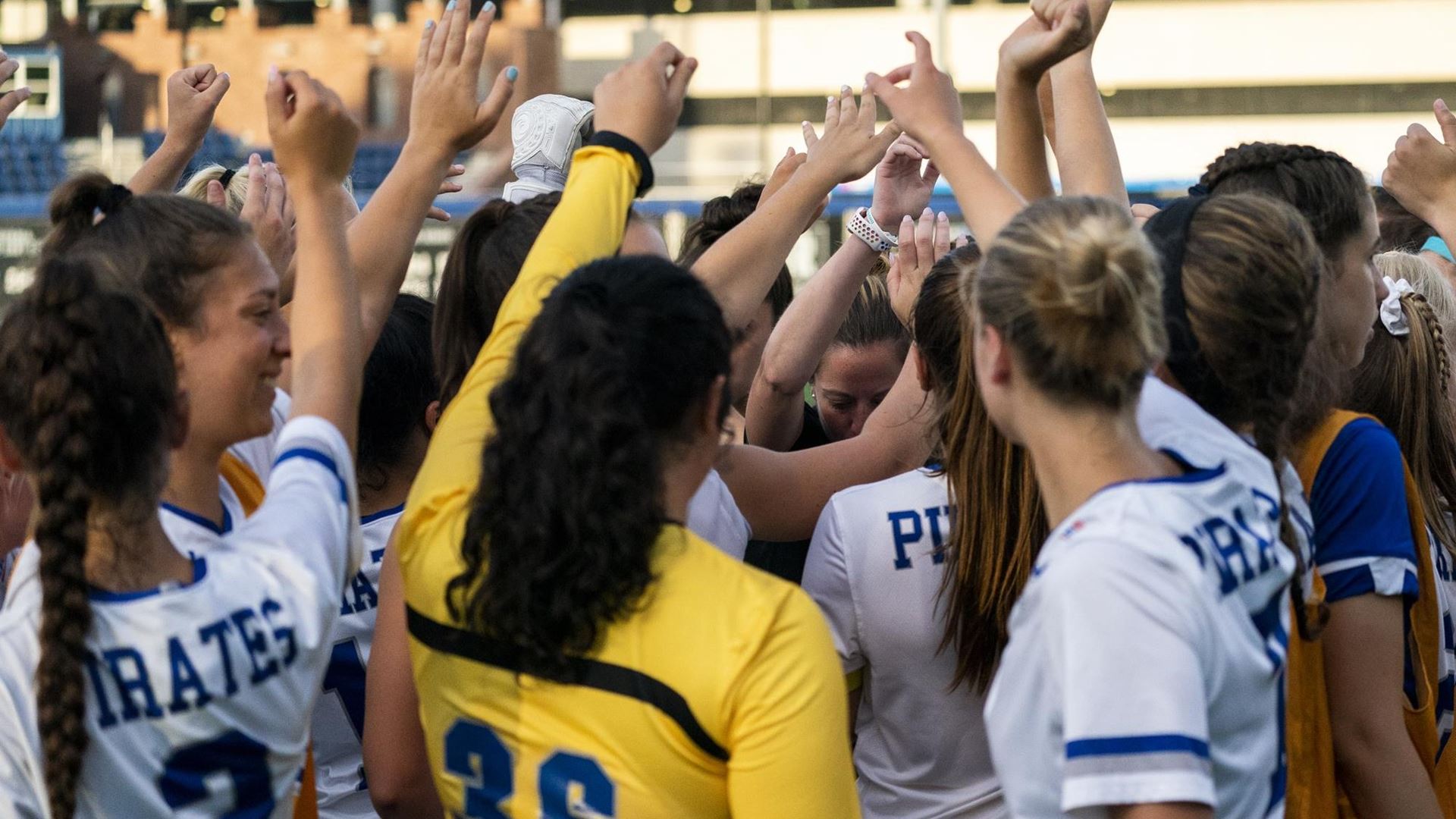 Seton Hall Athletics
The Seton Hall women's soccer team won their second game in a row after beating the Lehigh Mountain Hawks 1-0 in a home game Sunday afternoon. The game improved the Pirates record to 5-2-0 on the season and dropped the Mountain Hawks record to 2-4-0.
Seton Hall currently leads the all-time series with Lehigh (4-1-1), and the last meeting before Sunday came in 2012, which was a 2-0 Pirates' victory in Bethlehem, Pa. The last matchup at Seton Hall was a 1-1 draw the year prior. The first-ever meeting was Lehigh's first varsity game in program history, which ended up as a 3-0 Lehigh win on Sept. 11, 1991.
This game also wraps up a three game homestand for the Pirates, where they went 2-1-0, including a 1-0 loss to the Drexel Dragons and a 6-3 rout over the Iona Gaels.  
Seton Hall would score the lone goal of the game in the third minute, which was all they needed to take down the Mountain Hawks. Freshman Natalie Tavana sent a pass to the far side of the pitch and found classmate Sophie Liston. Liston sent a cross into the box that found the foot of junior Julia Aronov who converted and put the Pirates ahead 1-0. 
'2 | JULES STAYS

Sophie crosses it in and finds Julia in the box!!! 1-0 Pirates.#HALLin pic.twitter.com/XOtO0xElpH

— Seton Hall Women's Soccer (@SHUWSOC) September 12, 2021
Aronov's third goal in last two games puts us on the board first #HALLin pic.twitter.com/T7o8FSGcG7

— Seton Hall Women's Soccer (@SHUWSOC) September 12, 2021
In the 25th minute, Liston looked to have an opportunity to score a goal of her own, but it hit off the post and was picked up by the Lehigh keeper Violette Bonvallet, who finished her day with five saves. 
The Seton Hall defense was spectacular all day, and their back-end captain continued her spectacular season. Pirates' goalie Grace Gordon finished with six saves despite constant pressure from Lehigh.
The Mountain Hawks got stronger in the second half, as they fired 10 shots (six on goal) over the game's final 45 minutes. Lehigh had a string of six straight shots (from six different players) between the 64th and 79th minutes, five of which were on target, but Gordon stopped them all to earn the shutout.
Final shots were 15-14 in favor of Seton Hall while the Pirates held a 3-2 edge in corner kicks. The Pirates also committed more fouls with nine while the Mountain Hawks finished with six. 
Senior Pirate Laura Hooper led the game in shots on goal with two. Sophomore Ava Schaller was tied for the lead in shots for Lehigh with three along with Emma Roesing and Wendie Fisher, who each had one shot on goal. Seton Hall continues to improve this season after a bad 2020 season that saw just two wins. The Pirates have already clinched their best record since 2016 when they went 5-11-1. 
2

We finish the homestand on a high note! Aronov's goal and stingy defense leads us to our fifth win #HALLin ⚪ pic.twitter.com/6b8qYe3gdX

— Seton Hall Women's Soccer (@SHUWSOC) September 12, 2021
The Pirates will next travel across the Hudson River to face off against the Columbia Lions, who are on a three-game winning streak after beating Farleigh Dickenson 3-0 and improving their season record to 3-2-1. The game will take place at Rocco B. Commisso Soccer Stadium in New York on Friday, Sept. 17 at 6 p.m. 
This matchup will be the start of a three game road series for the Pirates that sees them start Big East play against Villanova and Butler. 
Michael Stamm can be reached at michael.stamm@student.shu.edu.
Posted in: Women's Soccer, Sports, WSOU