Recap: Pirates drop needed-win at Georgetown, 81-75
Date: February 20, 2021
By: Cameron Kharazmi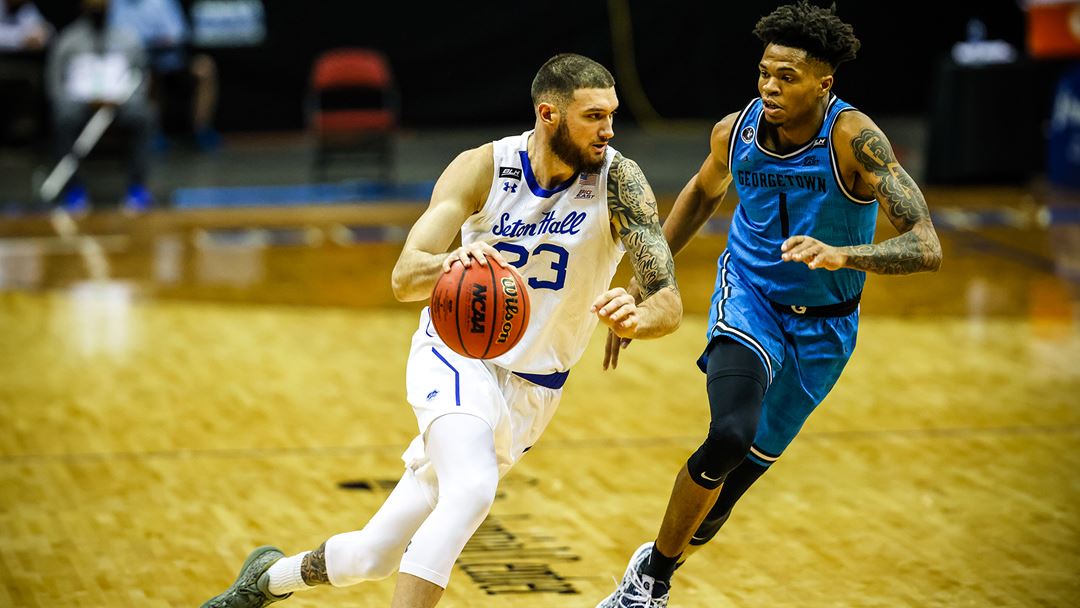 Seton Hall Athletics
After winning four consecutive games, the Seton Hall Pirates suffered a devastating upset at the hands of the Georgetown Hoyas by a score of 81-75. In a back-and-forth game that saw five ties and seven lead changes, the Pirates were unable to overcome a great shooting performance from the Hoyas.
Georgetown seemed to control the game-flow early, holding a lead for the majority of the first half, whilst shooting 50 percent for the entirety of the game, averaging 62.5% from downtown, hitting 10 of their 16 three-point attempts. The Pirates shot a measly 28.6% from three tonight, only hitting six of their 21 attempts, to follow with 43.3% from the field. Fouls were another killer for the Pirates tonight, as they committed 21 fouls to Georgetown's 13, notably fouling Georgetown on two big threes that turned into four-point point plays for the Hoyas.
Evidently, season-long themes played true in this contest. The Pirates are now 0-12 when allowing more than 70 points in a game, while Georgetown moves to 7-0 when they score 70 points or more.
OH MY MAMU pic.twitter.com/2Dqc1liEyO

— #BIGEASThoops (@BIGEASTMBB) February 21, 2021
From a player perspective, Seton Hall was anchored by an inspired performance from senior Sandro Mamukelashvili, who caught fire late in the first half with two straight threes after a slow start to the game. He finished with 22 points, five rebounds, and three assists, shooting 50% from the field.
While much came from Mamukelashvili, not much came from elsewhere, as Jared Rhoden, the team's leading scorer in the first half, went scoreless in the second, while Myles Cale fell short of expectations, scoring only eight after his career high of 30 in the last contest against Georgetown. Shavar Reynolds provided good help, scoring 13 points and hitting all of his four free throws, while the rest of the team failed to hit double-digits in the points column.
Given their shooting percentage, there was a much more complete approach from the Hoyas, who had five players score in double figures, with forward Jamarko Pickett leading them in scoring with 20. Qudus Wahab was able to do damage inside once again, getting a double-double with 11 points and 11 rebounds.
Qudus Wahab on what this game means for the team: "It's saying a lot. It's saying we are starting to play together as a team."

— Hilltop Hoops (@HilltopHoops_) February 21, 2021
In a game that looked to be one of the easier on their schedule down the stretch, Seton Hall was unable to close against what was perceived as a lackluster Georgetown team, and now faces real questions as to whether they could make the NCAA tournament. While most brackets had them in or on the bubble, the Pirates needed these kinds of wins to pad their record and prove themselves to be the kind of team that could compete with the best in the nation.
Speaking about the team in the postgame presser, head coach Kevin Willard often alluded to the team's physical condition, stating that, "three games in six days is a lot in this conference; when you play a team that's been off for seven days…maybe you won't play your best."
However, Willard remains optimistic, saying to the media that he thinks the team is "in a good spot, I like where we're at. We just need to rest a couple days."
With their backs on the line, the Seton Hall Pirates will need to win the rest of the games left on their regular season slate to find placement in the NCAA tournament. While such a thing may not seem feasible given their woes lately, this Pirate team has shown resolve this season, and hopes to find their groove at the best possible time to do so.
Cameron Kharazmi can be reached at cameron.khrazmi@student.shu.edu.
Posted in: Men's Basketball, Sports