Recap: Pirates Drop First Three Matches at Weber State/Utah State Invitational
Date: August 29, 2021
By: Jonathan Heite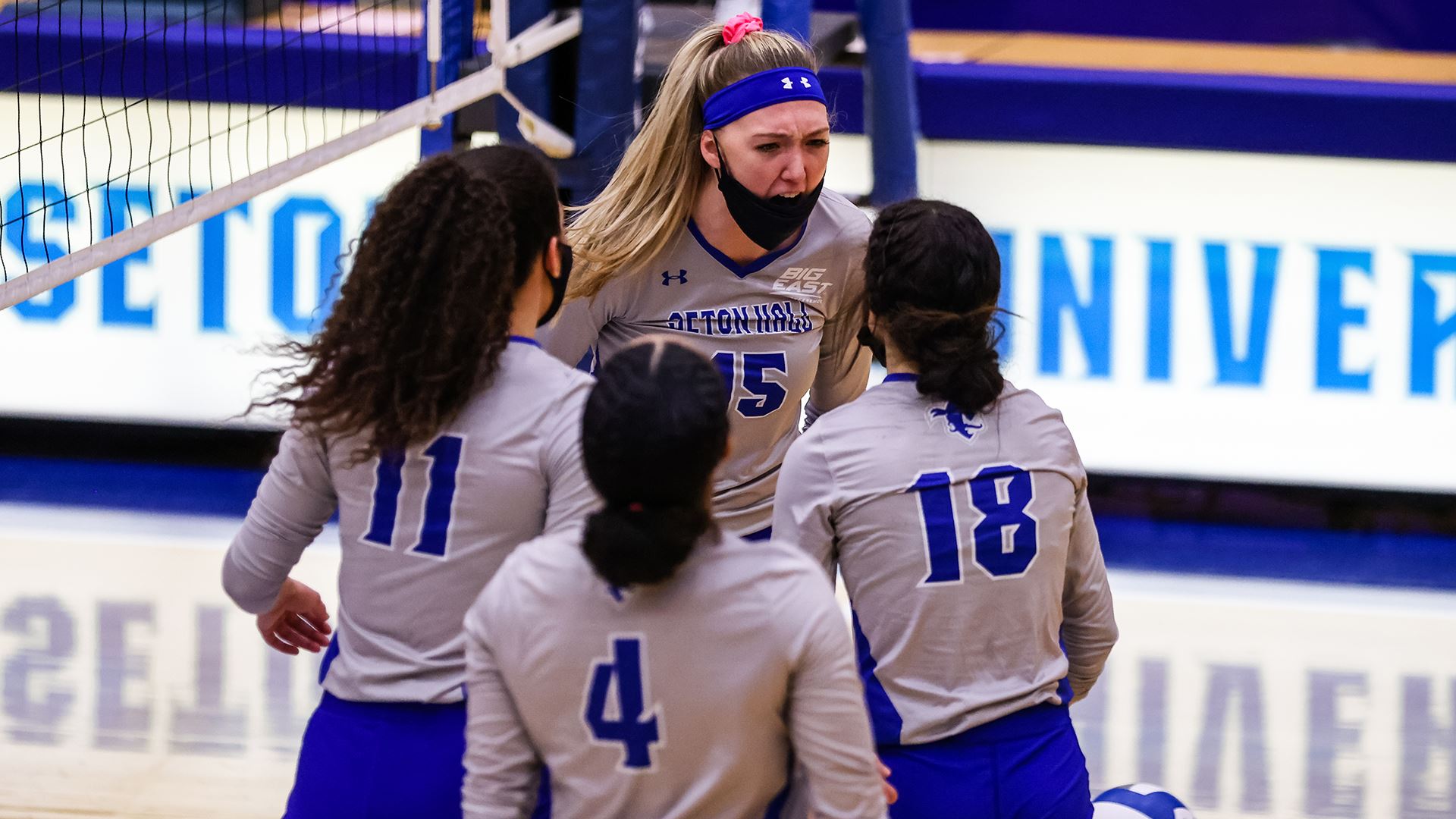 Seton Hall Athletics
After an unprecedented "super sports" spring season that had numerous collegiate sports who normally played in the fall playing in unusual circumstances last March, the fall season is officially back.
This past weekend brought the return of Seton Hall women's volleyball, as they traveled to Utah for the Weber State/Utah State Invitational to go toe-to-toe against three opponents in two different cities. It also was even more meaningful for the program as it was the first time in two years they played other programs outside of the Big East.
Season opener loading…⏳ pic.twitter.com/xXPtNd8gmu

— Seton Hall Volleyball (@SHUVolley) August 27, 2021
On Friday, the Pirates opened up against Weber State in Ogden, Utah, but dropped the first match of the year in three sets (25-20, 25-17, 25-20). Despite the box score, senior Emilee Turner was able to make her return to her home state (from Kaysville), ending with nine kills and a .368 percentage on the attack. Sophomore Tsvetelina Ilieva also contributed nine kills, junior Raygan Murray collected 12 digs, sophomore Taylor Jakubowski tallied 13 assists and eight digs, and sophomore Cagla Bengi had a team-high 18 assists and five digs.
The first set was very tightly contested, as it took a 7-1 Weber State run to take the initial frame, as they also erased an early 18-15 Seton Hall lead. However, the second set was all Weber State, as they were able to maintain a .441 attack percentage after securing an early 15-10 advantage to go on to win. In the third and final set of the first contest, Weber State controlled the tempo, grabbing early 7-1 and 19-12 leads. The Pirates put up a valiant effort in the last set, trimming the point difference to three, as well as having a better attack percentage (.361).
Seton Hall falls at Weber State, 3-0, to open the 2021 season. They'll be back in action tonight against North Dakota.

Pirate Leaders:
Ilieva - 9 kills & 7 digs
Turner - 9 kills & 2 blocks
Murray - 12 digs
Jakubowski - 13 assists & 8 digs#HALLin 🏐🏴‍☠️🏐 pic.twitter.com/yEhnFNZwTU

— Seton Hall Volleyball (@SHUVolley) August 27, 2021
In a short seven-hour turnaround, Seton Hall then turned their attention to the North Dakota Fighting Hawks in Logan, Utah. This match was close throughout, but North Dakota took care of business and defeated the Pirates in four sets.
The first set was exciting to watch, with the lead changing six different times before North Dakota grabbing five out of the remaining six points to secure the victory. The second set would then be the best of the weekend for the Pirates, winning 24-22 after scoring a .294 attack percentage. The third and fourth sets would go back to the Fighting Hawks, as they were able to go on an 8-2 run in the third and an 11-2 run in the fourth to hand Seton Hall their second loss of the weekend.
Seton Hall drops the fourth set and the match, 3-1. Taylor Jakubowski finished with a double-double.

The Pirates will wrap up play in Utah tomorrow when they face host Utah State at 1:00 p.m. ET.#HALLin 🏐🏴‍☠️🏐 pic.twitter.com/XWab5Y9B2X

— Seton Hall Volleyball (@SHUVolley) August 28, 2021
Some positives emerged for the Pirates from some big-time contributors, as Jakubowski collected a difficult to accomplish 20-20 double-double, with 20 digs and 20 assists. Sophomore Perri Lucas led the way with 14 kills after an impressive freshman campaign last season, Turner was right behind with 11 kills and eight digs, and graduate student Amanda Rachwal/senior Madison Frusha tallied nine kills each.
To cap off the weekend in a Sunday matinee back in Logan, Utah, Utah State was next on the slate and swept the Pirates in three sets. The host team controlled much of the first set, which included a massive 12-3 run to rout the Pirates by a score of 25-11. The next set would be much more difficult for the Aggies, as Seton Hall would lead for the majority before Utah State secured the final four points after a 24-22 Pirates' advantage to take the second (26-24).
The last set of the three matches included a late Pirates' push with three straight points but would end up falling 25-19 to end the first slate of games. Ilieva led the way with seven kills, Jakubowski distributed 14 assists, Murray collected 11 digs, and Rachwal had five blocks in the tough loss.
Seton Hall falls in three sets to Utah State to finish up their competition out west. The Pirates will play in the Fairfield Invitational next weekend.

Pirate Leaders:
Kills - Ilieva (7)
Digs - Murray (11)
Assists - Jakubowski (14)
Blocks - Rachwal (5)#HALLin pic.twitter.com/fYlZYwb5pE

— Seton Hall Volleyball (@SHUVolley) August 28, 2021
Putting the games aside, this weekend showed that the Pirates still have a great combination of veteran and underclassmen contributors on the squad and will look to build upon some solid performances next weekend at the Fairfield Invitational. Seton Hall will go up against Fairfield (12:30 p.m.) and Hofstra (4:30 p.m.) on Friday and finish off with Kent State on Saturday (11:00 a.m.). It will be another exciting weekend of volleyball and another great test for the Pirates in the early stages of the season.
Jonathan Heite is the Web Editor for WSOU Sports and can be reached at wsousportswebeditor@gmail.com.
Posted in: Sports, Volleyball, WSOU