Recap: Pirates draw NJIT in season opener, 3-3
Date: February 18, 2021
By: Joe Matthews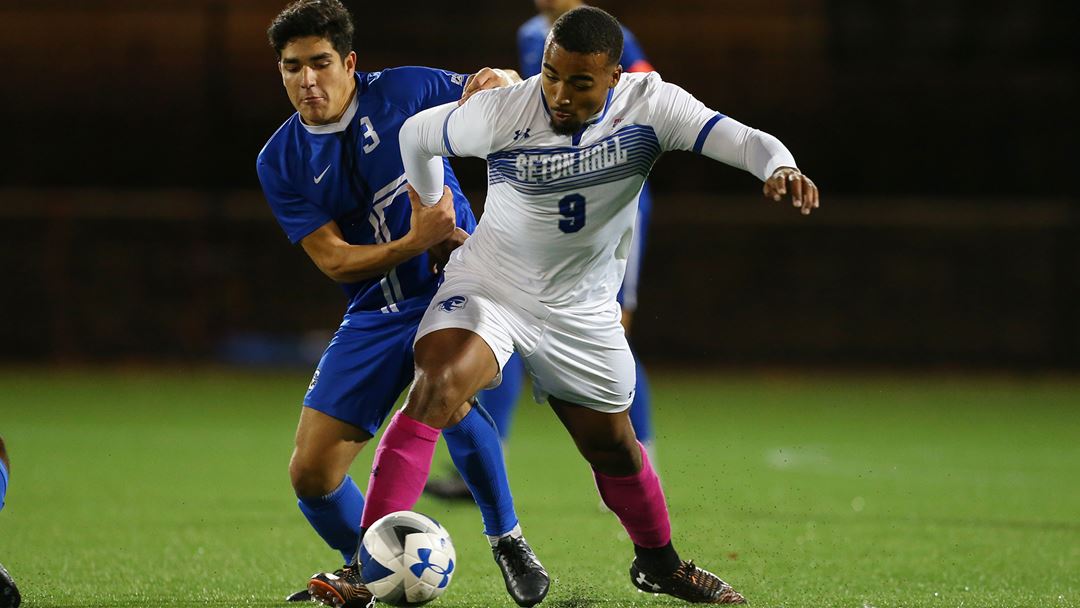 Seton Hall Athletics
The Seton Hall Men's Soccer team kicked off their 2021 campaign with a 3-3 draw against the NJIT Highlanders. The interstate battle went back-and-forth, and even into double overtime, but it ultimately resulted in a stalemate.
The scoring was started by NJIT's Sergio Pita, who picked up the first goal of his collegiate career in the 14th minute. Seton Hall roared back at the end of the first half, however. Sophomore defender Johannes Pex found the net twice, scoring in the 23rd minute and the 42nd minute. Thanks to the two Pex goals, the Pirates went into halftime with the lead.
After the half, NJIT came out determined to get back in the game, and they took the lead. Zach Halma scored at 65' to tie it up, and then Rene White put NJIT in front at 78'. However, that lead didn't last long, as two minutes later at 80', Seton Hall junior CJ Tibbling tied the match up with a goal.
'23 | Pirates 1, Highlanders 1

GOOOOAAAAAAALLLL!

Johannes Pex evens the score with the first goal of the year for the Pirates! Credit the assist to Camil Koreichi!#HALLin🔵⚪ pic.twitter.com/tAK9IIlquZ

— Seton Hall Men's Soccer (@SHUMSOC) February 17, 2021
After that, there wasn't much action for the remainder of the match. NJIT got three shots on goal in overtime but failed to convert on all three. Over the course of the match, the Pirates outpaced the Highlanders in shots on goal, by a margin of 12-4. However, good goalkeeping by NJIT's Samuel Reisgys held Seton Hall to just three goals on those shots. Reisgys finished the match with nine saves. On Seton Hall's side, they held NJIT to just those four shots on goal, but three of those four shots resulted in a score.
After a well-fought match, both teams will look to build on their performances as the soccer season gets underway. NJIT next match comes on Sunday, against another Big East opponent in St. John's, who are coming off of a 1-0 victory in their season opener.
As for the Pirates, their next match will be the home opener, with La Salle travelling to South Orange, N.J. to face off. La Salle is also on a trip through the Big East, as they will be coming off of a 2-1 victory over Villanova. That match will be at 3:00 p.m. on Saturday. WSOU will have coverage of that match-up, with the amazing duo of Michael Daly and Ryan Johnston on the call from Owen T. Carroll Field.
Joe Matthews can be reached at joseph.matthews@student.shu.edu.
Posted in: Sports